Even though Indie and Brook are only 6 and 4 years old respectively we have still been through quite a bit of children's luggage already.  The girls have grown so quickly and this has definitely changed the type of girls suitcases that they need. We've learnt a thing or two about not only packing suitcases but also buying the right kids suitcase depending on age and the type of trip we are taking.
We have found some of the best suitcases for girls from across the internet but we also wanted to share a few tips about buying girls luggage and how to get it right, so here goes…
Why Have Children's Luggage
If you are new to travelling with kids you might be wondering what the benefits are to buying the girls their own travel bags.  I'm convinced there are a few benefits, especially if you are planning on going on frequent family holidays.
Having separate girls suitcases is a great way of making the most of the carry on baggage allowance when you are flying.  As soon as you have to buy them their own seat on a plane at two years old, they are entitled to have their own children's carry on luggage.  If you are only going on a short trip, or you pack very efficiently, a whole family could travel with carry on luggage perhaps for your summer holidays or city breaks.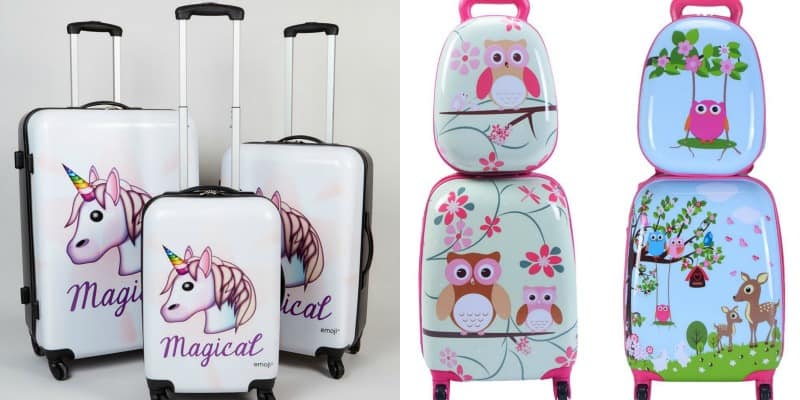 We have also found that having girls suitcases means that the kids are a lot more inclined to pack their own luggage.  I've always been in charge of writing the packing lists in our house, and I know there are certain things the girls always like to take.  Now they are old enough to pack their own toys, books, teddy and colouring in their suitcase all they need is a little prompting from me.  Every little helps when you live in a busy house like ours.
On the flip side, if they do forget something I can say to them that they had the chance to think about what they wanted to take and perhaps they need to think about what items they pack a little bit more.  Even if they are only packing children's hand luggage, it's still an opportunity for them to take responsibility for what they want to pack and think about the types of activities they want to do when they are on holiday.
The other great thing about girls suitcases is they tend to be really easy to identify.  If you know you are going to be spotting your suitcase on the carousel or picking out your luggage at the cruise terminal before the trip home, then a pretty patterned suitcase is going to catch your eye and the kids also have a better chance of seeing it.
Get The Right Girls Suitcase
Different kids suitcases suit different types of travel better. It's worth thinking about the types of holidays and trips you are going to be taking over the next few years before you buy a girls suitcase. If you know you are going to be flying a lot then buying lightweight suitcases should definitely be a priority.
If you know that you are going on a lot of road trips in the next few years, then soft cases are probably going to suit you better as they fit into the back of cars easier than hard cases.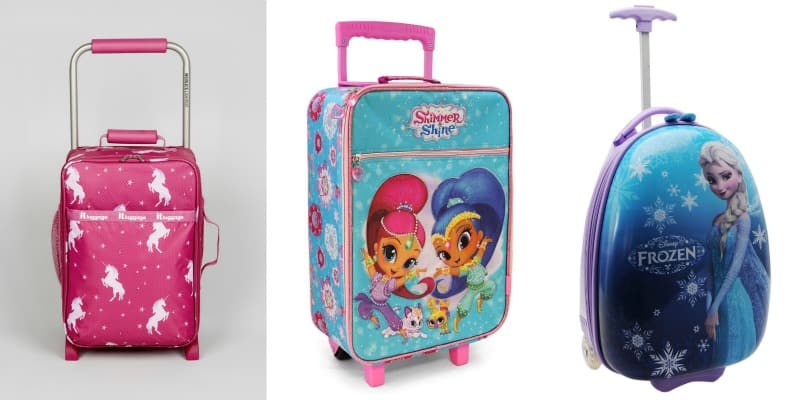 Also, be realistic when it comes to the age of your kids and how likely they are to be carrying their own luggage through departure lounges and hotels.  This is where ride on and scooter suitcases can really save the day as they are a lot more fun than pulling children's suitcases on wheels.
We have also found that we have changed or updated the girls luggage every two to three years while they are small.  This is because they have outgrown their Trunki suitcase or their tastes have changed.  I'm pretty confident that we will have to buy less pretty suitcases as they get older, but it's worth remembering that things change really quickly while they are young.
Best Girls Suitcases
Brook & Indie have been helping me choose the best girls suitcases for our list and I think they have picked something for everyone from a great toddler suitcase to luggage sets for older girls.  I'm a huge fan of the unicorn suitcase to be honest and can see us making a purchase very soon!
Image
Description
Details
Features
Matalan Unicorn
4 Wheel
Suitcase Set
Hard Case
Large: 77cm x 54cm x 29cm
Medium: 68cm x 47cm x 25cm
Small: 56cm x 37cm x 22cm
4 Wheels
Extendable handle
Lightweight
Matalan IT
Luggage
Unicorn Cabin Case
Soft Case
Size: 43.5 x 26 x 17cm
Capacity: 15L
Weight: 1.09kg
Lightweight
Multiple pockets
Water bottle pocket
Soft handles
10 year warranty
Trunki Pink
Ride On
Suitcase
Hard Case
Size: 46 x 21 x 31 cm
Capacity: 18L
Weight: 1.7kg
Ride On
4 Wheels
Carry handles
Shoulder Straps
Secure locking system
Cabin Max
Teddy Suitcase
Soft Case
Size: 50 x 20 x 34 cm
Weight: 1 Kg
Capacity: 34L

Carry teddy on outside
Cabin size
Easy grip handle
Bottle holder
Madisson
Love Paris
Suitcase
Hard Case
Size: 32 x 18 x 46 cm
Weight: 2 Kg

4 Wheels
Lightweight
Matalan IT
Luggage Block
Cabin Case
Hard Case
Size 46 x 29 x 20cm
Capacity 23L
Weight 2.35kg
Robust design
Easy to identify
4 wheels
Extendable handle
10 year warranty
Costaway Kids
Luggage Set
Hard Case
Size: 30.5 x 21 x (47-82.5) cm

Suitcase & Backpack
4 Wheels

Best Character Suitcases for Girls
We also had to create a whole separate list for their favourite character suitcases and these ideas are great for young girls who travel a lot.  If you have a Disney suitcase fan or are looking for a My Little Pony suitcase, Brook & Indie didn't want you to be left out.  If they had their way I think we would have all of these girls suitcases and kids hand luggage in our loft right now.
Image
Description
Details
Features
Matalan Disney
Minnie Mouse
4 Wheeled Suitcase
Hard Case
Large: 77x 54 x 29cm
Medium: 68 x 47 x 25cm
Small: 56 x 37 x 22cm
Weight: Various

4 Wheels
Extendable Handle
Set available
Matalan
Paw Patrol
Pink Skye
Suitcase
Soft Case
Size: 46 x 3 x 14cm


2 Wheels
Extendable handle
Octonauts
Suitcase
Soft Case
Size: 36 x 50 x 20cm
Capacity: 26L
Weight: 2 kg
2 Wheel
Front Pocket
Back Pocket

Disney Frozen
Elsa Trolley
Suitcase

Hard Case
Size: 19cm x 48cm


2 Wheels
Extendable handle
Carry handle
Light up wheels

Mr Men
Little Miss Sunshine
Suitcase
Hard Case
76cm
4 Wheels
Extendable handle
Shimmer & Shine
Children's Luggage
Soft Case
Size: 17 x 33 x 46.5cm
Weight: 1Kg

2 Wheels
Adjustable handle
Front pocket

My Little Pony
Carry on
Suitcase
Hard Case
Size: 46x 32 x 23cm
Weight: 1.73Kg

2 Wheels
Easy grip handle

We all hope that you love our girls luggage suggestions if you are thinking about updating the family suitcases.  Picking the right girls suitcases can be a great way of encouraging your kids not only to love travel but also learn the important skills that go into making great holidays and lasting memories.
This post does contain affiliate links, so if you love our suggestions and you decide to make a purchase, I might receive a few pennies at no extra cost to you.