This year I have come to realise that Germany is a fantastic destination for family travel.  When I was given the opportunity to visit the country again to find out about the best things to do in Hamburg with kids, I knew I wanted to share it with Brook, my 3 year old daughter.  We left Daddy and Indie at home for the weekend, and we headed to the Holiday Inn Express at Stansted Airport to begin our Hamburg with kids adventure.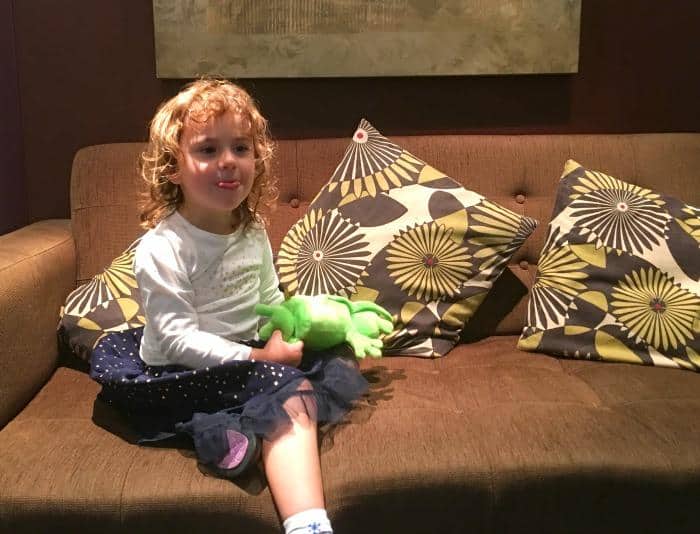 I was really looking forward to sharing this weekend break to Hamburg with my daughter.  For me, city breaks with children are the ultimate in spending quality time together.  As a family, we believe it's really important to make time for being with our children individually and I know Daddy and Indie had an awesome time back in the UK while we were on our Hamburg weekend break.
Travelling with kids does take effort, but I firmly believe it's well worth it given what they will see, learn and do while they are visiting new places. Hamburg is a great destination to visit with kids, as it's so easy to get around both via public transport and on foot.  Getting around Hamburg with kids is no problem at all, mostly because the city is incredibly flat.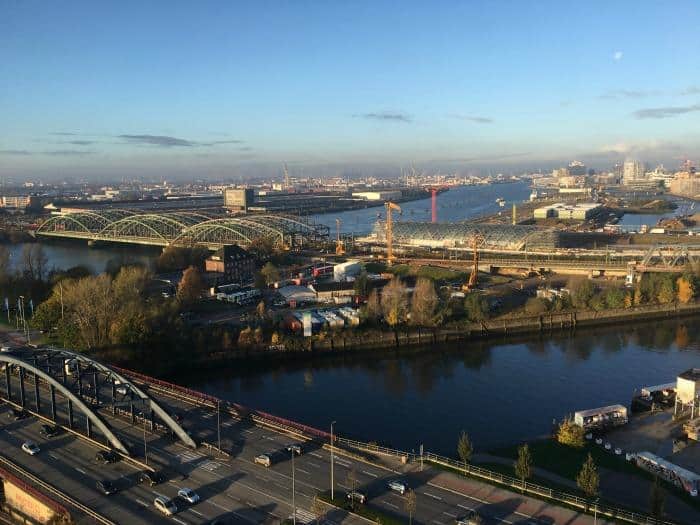 Why You Need The Hamburg Card To Travel
During our city break we used a 3 day Hamburg Card which provided us both with unlimited access to public transport including bus, train and harbour ferry.  It also included great discounts on Hamburg tourist attractions.  A Hamburg Card for one adult and 3 children aged between 6 and 14 for 3 days is only 25.50 Euros (children under 6 years travel free).
Other benefits of the Hamburg Card are:
Harbour tours, Alster trips and city tours: up to 30% discount
Attractions and museums: up to 50% discount
Musicals and theatre: up to 28% discount
Discounts for restaurants and coffee shops
How To Get To Hamburg From The Airport
We caught the train from Hamburg Airport to Central Station before making our way to the bus station.  When we emerged from the train station, I did have a moment of disorientation.  Suddenly I realised I was completely responsible for getting myself and my daughter around Hamburg, and I was keen to get my bearings quickly.  Fortunately, my CityMapper app had it all under control and I was soon feeling like 'I got this!'
Taking the bus to the Holiday Inn Hamburg before we started sight seeing was a good move.  We needed to unload our bags and freshen up a little before visiting our first Hamburg attraction.  It also gave us the chance to get to learn a little bit more about the hotel.  Here's our hotel review if you need some ideas for where to stay in Hamburg with kids.
Things to do in Hamburg with Kids
Chocoversum
We didn't have too much planned for our first day in Hamburg, but we did have a tour at Chocoversum booked. This turned out to be just the boost we needed after an early start flying to Hamburg from the UK.
Both my daughter and I adore chocolate and there were plenty or opportunities to taste it during our visit.  The highlight was being able to make our own bar that we bought back to the UK.  It's a great tourist attraction for chocolate lovers looking for things to do in Hamburg during their stay.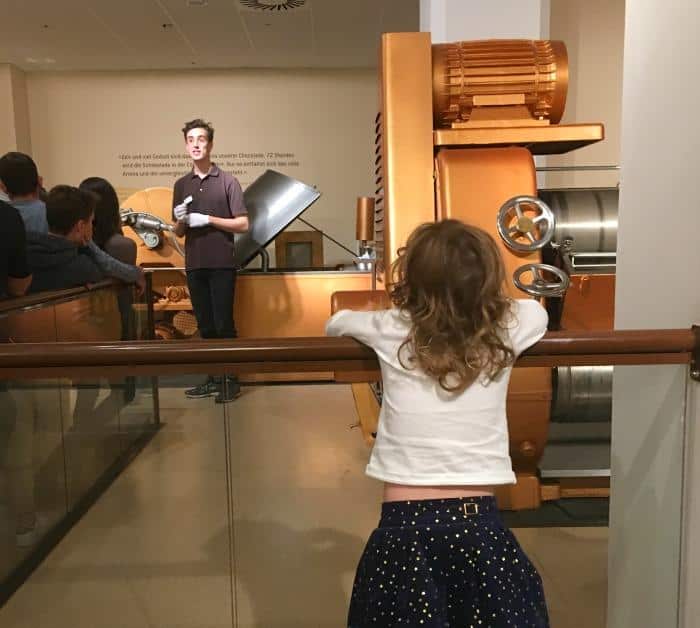 The Better Burger Company
We spent some time walking around the city to get more of a feel of Hamburg before hunger finally kicked in.  I soon realised it was a great destination for shopping and food!
We stumbled upon the Better Burger Company, and I thought this would be a great place for us to have some food.  Unfortunately my daughter decided that sleep was more important and took a nap in her pushchair just as we arrived.  Burger for one then!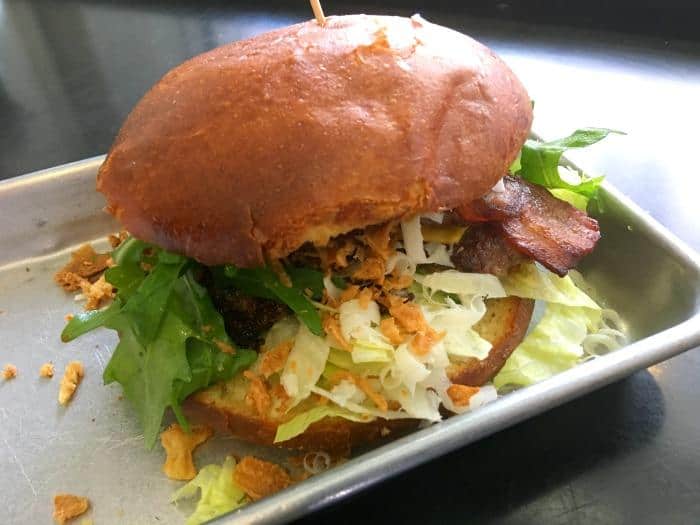 I couldn't pass up the opportunity to try one of their burgers, so while she slept I pulled up a stool and tucked in.  It was delicious, and Brook really missed out if you ask me.
Day 2 in Hamburg with Kids
After a relaxing evening in the hotel, we were feeling refreshed and ready for day 2 in the city.  The weather wasn't the best, so it was time to look for what to do in Hamburg with kids when it rains.  It turned out it was the perfect opportunity to go and see what Miniatur Wunderland was all about.
Miniatur Wunderland
I really didn't know what to expect from this popular Hamburg tourist attraction, and I think that sometimes having no expectations can be a good thing.  Miniatur Wunderland turned out to be a real highlight of our 3 days in Hamburg and both my daughter and I throughly enjoyed our time here.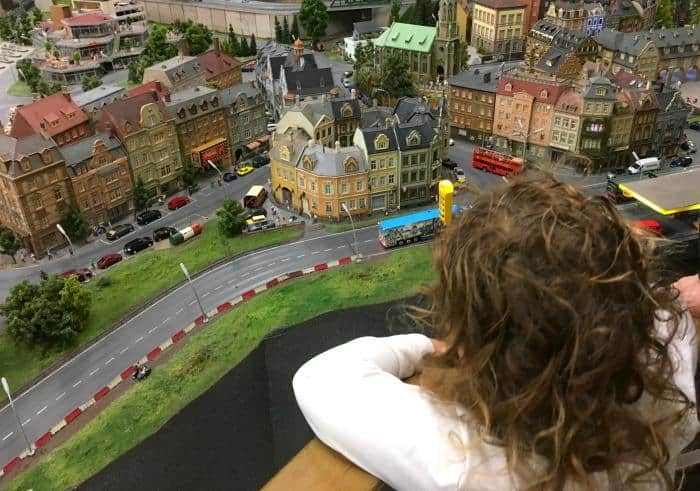 Brook was literally mesmerised by the different models we saw there.  Whole cities have been recreated in miniature, and the details are just incredible.  It's a brilliant Hamburg attraction for people of all ages, and of course the language you speak really doesn't matter at all.  I would recommend this being at the top of your list of things to see in Hamburg, whether you are travelling with children or not.
Harbour Boat Tour with Barkassen-Meyer
After leaving Minatur Wunderland, my daughter and I headed in the direction of the harbour.  It's such a key feature in Hamburg it's definitely worth exploring.  We made our way towards Barlassen-Meyer at bridge 6 and joined the harbour boat tour.  My daughter really enjoyed the boat trip, and it gave us both the opportunity to see the city from a different angle and learn lots of interesting facts about Hamburg.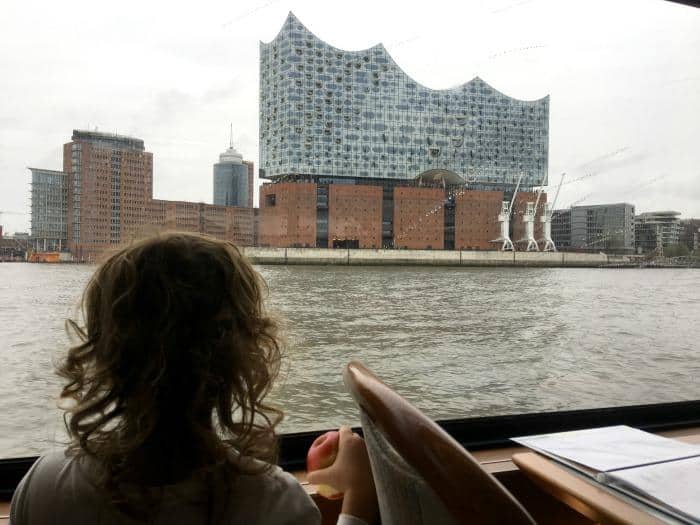 Hamburg Rathaus
Our encounter with Hamburg Rathaus was accidental, I'm slightly embarrassed to admit.  Having learned that the key to travelling with kids is to pace yourself, we were actually on the bus heading back towards the hotel because Brook was getting tired and grumpy.  As we reached the stop for Hamburg Rathaus my 3 year old declared she needed to use the toilet.
It was the perfect place to jump off and take a closer look at Hamburg's famous town hall.  We found a public toilet, so avoided what could have been a little disaster, and spent some time just enjoying the beautiful building and taking a look around the square.  Hamburg Rathaus is definitely worth adding to your list of things to see in the city.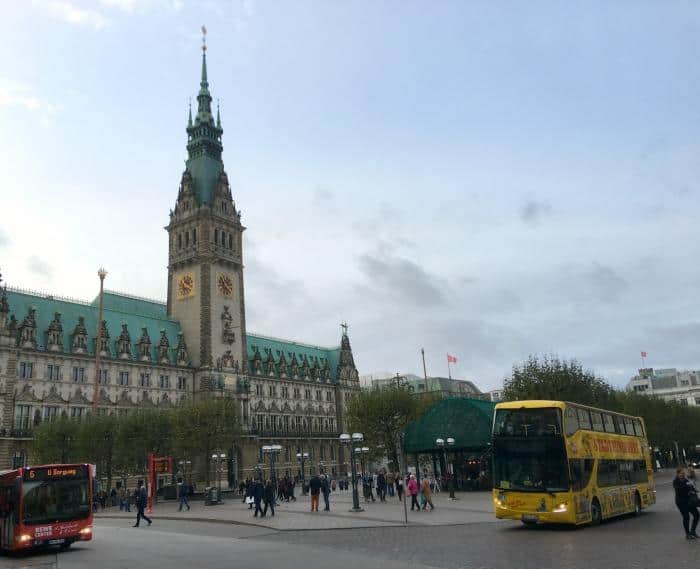 The bus stop was really close by so we just hopped back on again and headed back towards our hotel for the evening.  It seemed Brook quite liked to watch a few German cartoons in our hotel room before bedtime.
Day 3 in Hamburg with Kids
Tierpark Hagenbeck
After a rather mighty breakfast at the Holiday Inn Hamburg, we headed slightly out of town to find Tierpark Hagenbeck, which is Hamburg's closest zoo.  It took us about 40 minutes by bus and subway, but it was well worth the trip.  The subway station is just around the corner from the zoo entrance so public transport is a great option for visiting Tierpark Hagenbeck.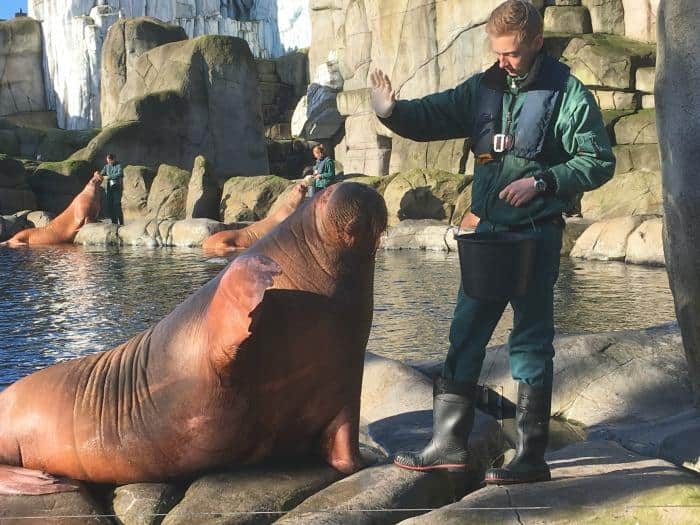 We spent a good half a day at Hamburg zoo and the aquarium, and to be honest we could have spent longer there.  My daughter loved meeting all the animals, especially the walruses.  I really felt that the zoo was doing some great work to provide the animals a healthy and stimulating environment as well as contributing to animal conservation and education.
Maritime Museum Hamburg
After visiting Hamburg zoo, we headed back into the city to visit the International Maritime Museum of Hamburg.  I really wasn't sure if my daughter and I would enjoy visiting here, but it turned out to be the best place to end our Hamburg city break.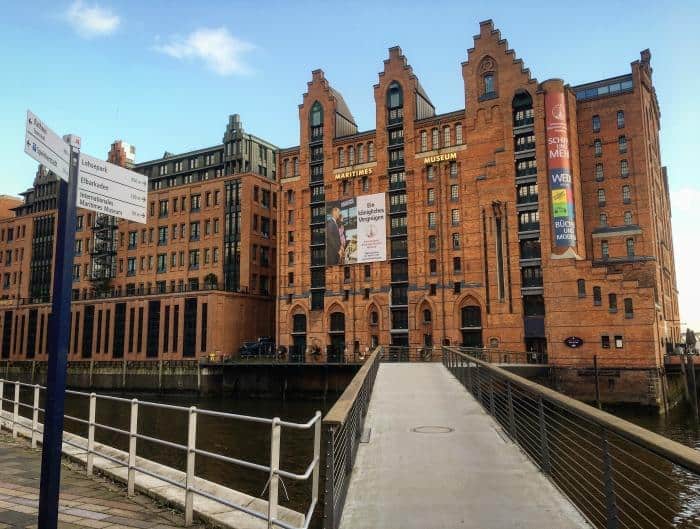 The building is incredible and inside they have some really interesting exhibits.  My advice to you is to start at the top where Peter Tamm's collection of model ships lives, as that is pretty impressive in itself.  My daughter really enjoyed seeing all the different ships, especially the Lego ship in the children's play area.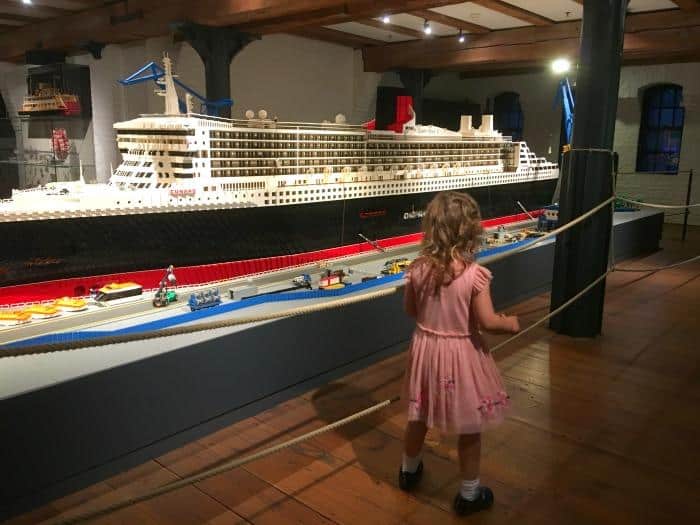 Our visit to the Hamburg Maritime Museum really bought together all of our experiences in Hamburg and gave us a greater understanding of the history and culture of the city. I'd strongly recommend visiting this museum if your not sure what to do in Hamburg.
That pretty much bought our short break in Hamburg to an end.  All we had to do was pass by the hotel and collect our bags and make our way back to Hamburg Airport on the train.
I'm not going to lie to you at all, it was hard work in terms of walking around the city with a child in a pushchair, but only in that my feet were really tired.  That would have happened with or without kids in tow.  City breaks aren't necessarily relaxing, they are about exploring, seeing as much as possible, and learning about the local history and culture.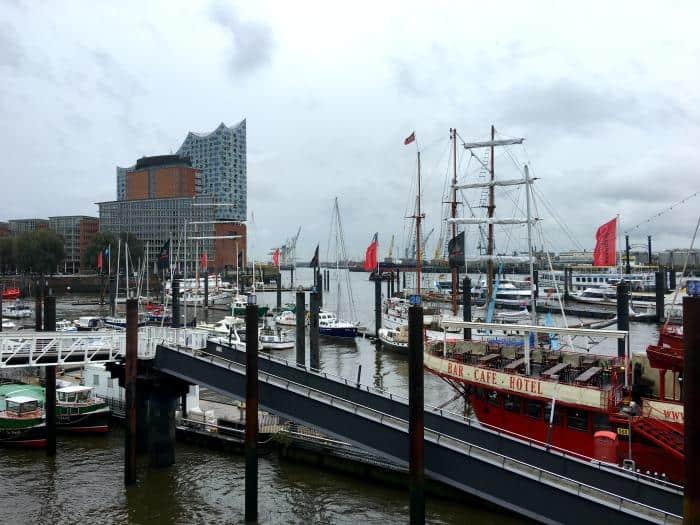 One thing I did notice while visiting Hamburg with my daughter was that she asked when we would be going home quite a bit.  This was sweet in one sense, but worried me in another.  I don't want her to grow up feeling nervous travelling and visiting new countries.  Our 3 days in  Hamburg together was the start of showing her that with a little 'can do' attitude, getting out and exploring the world can be a great fun.
Further Reading For Planning Things to do in Hamburg with Kids
11 Absolute 'Must-Dos' For An Affordable Family Trip In Hamburg – Home and Horizon
A Long Weekend in Hamburg  – A Diary of a Jewellery Lover
Getting Festive at the Hamburg Christmas Markets  – Fly Drive Explore
Three Days in Hamburg  – A Moment With Franca
We were invited to Hamburg as a part of the Come To Hamburg project and the attractions mentioned here were provided on a complimentary basis in return for being featured in this post about things to do in Hamburg with kids.
Pin for Later