I can't believe I've not written a 'things to do in Nottingham' post until now.  I've lived in the city for well over 20 years and all three of my children have grown up here.  I'd like to think that makes me a bit of an expert on things to do and what to see in and around Nottingham, many of which myself and my family have personally experienced.
Nottingham has a lot to offer people visiting here, and it's great to see more and more tourists enjoying our lovely city.  Seeing as Nottingham is just 30 minutes from East Midlands Airport by car, it makes perfect sense for people to be visiting this UK city more often given the accessibility.
Nottingham has a pretty small city centre compared to other cities in England and that makes it really easy to get around.  If you are travelling to Nottingham with children you should be able to walk around the city without a problem.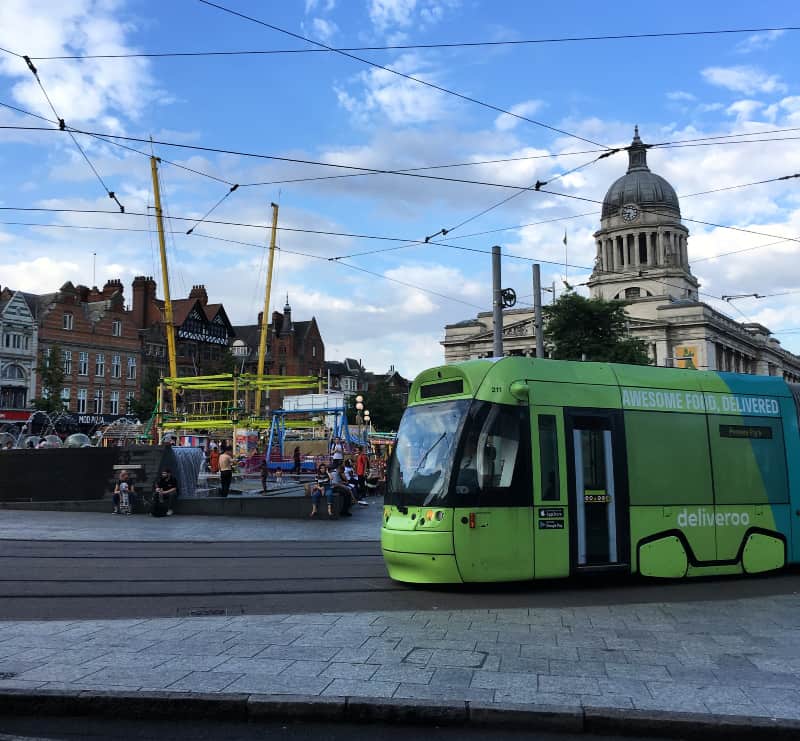 There is a tram service and there are good bus connections if you are staying outside the city.  Nottingham is in the East Midlands, and as a result it is pretty landlocked.  What it does have in abundance just outside of the city is wonderful countryside.  Sherwood Forest to the north of Nottingham is a beautiful place to explore and there are lots of parks and country houses to visit in Nottinghamshire.
If you enjoy walking then the Peak District in Derbyshire isn't to far from Nottingham either.  It's brimming with walks, quaint English villages and rolling hills.  People living in Nottingham are very lucky to have such beautiful countryside right on the doorstep.
Things to do in Nottingham
If you are planning a short break to Nottingham or even a day trip then you will probably want to focus on the city centre.  These things to do in Nottingham will help with your planning and are perfect if you are looking for family friendly activities.
Old Market Square, Nottingham
You are bound to stumble across the Old Market Square in Nottingham during your visit, so it's worth a mention.  The Council House building over looks the square and there are 2 lions at the front.  The lions are pretty famous locally as a meeting place for people planning to catch up in town so it's great spot for people watching.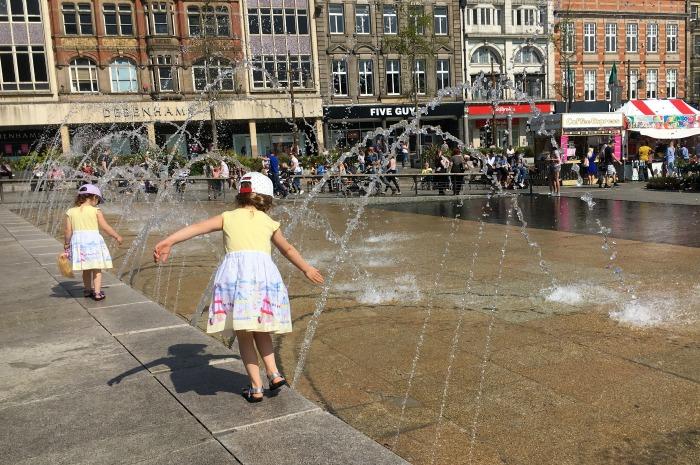 The Old Market Square is used for a number of events throughout the year, so always check with the tourist website for what's on.  The most famous event is when the beach comes to town.  As I said, we are landlocked so we turn the Old Market Square into a beach with sand, stalls and seaside activities for 6 weeks in the summer.  You can even buy Nottingham Rock.
There are also some lovely fountains in the Old Market Square that children often play in on hot days, so have a towel and change of clothes to hand in case anyone wants a paddle.
The Old Market Square is surrounded by shops, restaurants and cafe bars as well so there is plenty to keep you busy during your visit to Nottingham.
Shopping in Nottingham
Nottingham has also been a place people like to visit for shopping for many years.  Behind the Council House you will find the stylish Exchange Arcade which is has a number of famous fashion retailers and you can also enjoy the glass dome roofs.  For a similar shopping experience head to Flying Horse Walk for a selection of Nottingham's independent retailers and high street chains.
There are also 2 large shopping centres in Nottingham, intu Broadmarsh and intu Victoria Centre where you will find a huge selection of high street retailers and restaurants.
The Cornerhouse
If you are planning on a trip to the cinema or want a wider selection of bars and restaurants then The Cornerhouse in Nottingham will tick a lot of boxes.  There is a Cineworld cinema here with IMax screens and you will also find bars and restaurants like Bella Italia and Pizza Hut to name but a few.  You can also play indoor adventure golf at The Lost City.  For more information on opening times and prices visit here: https://www.lostcityadventuregolf.com/nottingham/adventure-golf/
Nottingham Contemporary – Art Gallery
The Nottingham Contemporary is the city's modern art gallery and there are many interesting exhibitions and events held here.  They also provide a number of family friendly activities at the weekends and through out the school holidays.  The Nottingham Contemporary is free to enter, but donations are welcome.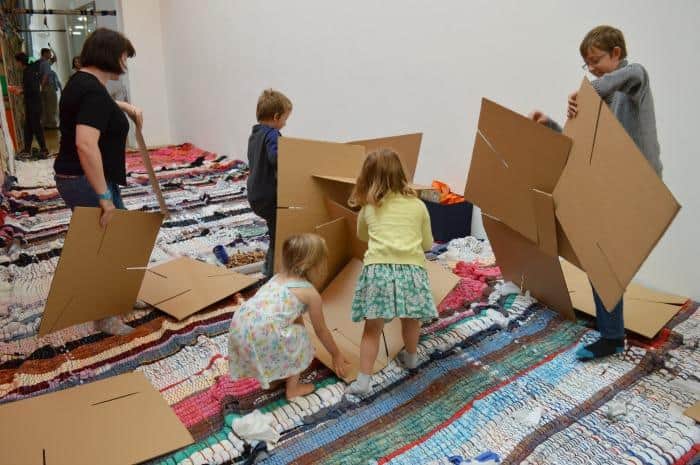 Where to find it:
Nottingham Contemporary, Weekday Cross, Nottingham, NG1 2GB
Nottingham Castle
At the time of writing this list of things to do in Nottingham, Nottingham Castle and the Museum of Nottingham Life are both undergoing a massive refurbishment program and will reopen in 2020.  For more information visit here: https://www.nottinghamcastle.org.uk/
City of Caves
The City of Caves is part of a hidden maze of over 500 original sandstone caves underneath the streets of Nottingham dating back to the dark ages.
Take a tour to investigate the social history of the caves and learn more about the events that once happened inside these fascinating underground dwellings. As part of your visit you will see the only medieval underground tannery in the country, head to the Anderson air raid shelter where thousands of people sought refuge during WWII and explore the remnants of Drury Hill Victorian slums.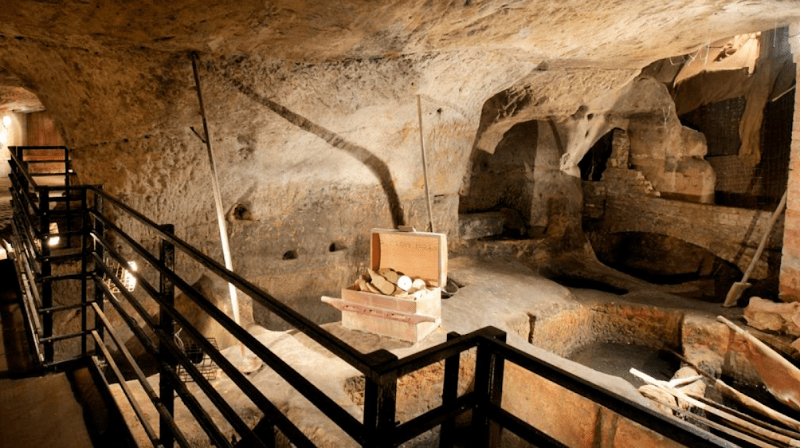 Ticket Prices:
Adults: £7.95
Under 18s: £6.95 (Under 5s go free)
Students: £6.95
Over 60s: £6.95
Family ticket £24.50 (max.2 adults)
The City of Caves and the National Justice Museum are twinned attractions and you can buy tickets to visit both locations at a reduced price.
Where to find it:
Upper Level, intu Broadmarsh Shopping Centre, Nottingham, NG1 7LL
National Justice Museum – Nottingham
At the National Justice Museum in Nottingham you will be inspired to become active citizens. You will take part in fun and engaging activities, exhibitions and educational programmes relating to law and justice.
Based at Nottingham's historic Shire Hall and County Gaol,  you can delve into the fascinating history of justice through time. You will get to meet many historical characters, explore the immense Justice collection, take part in a range of interactive games and activities, and discover how law and justice contribute to all of our lives.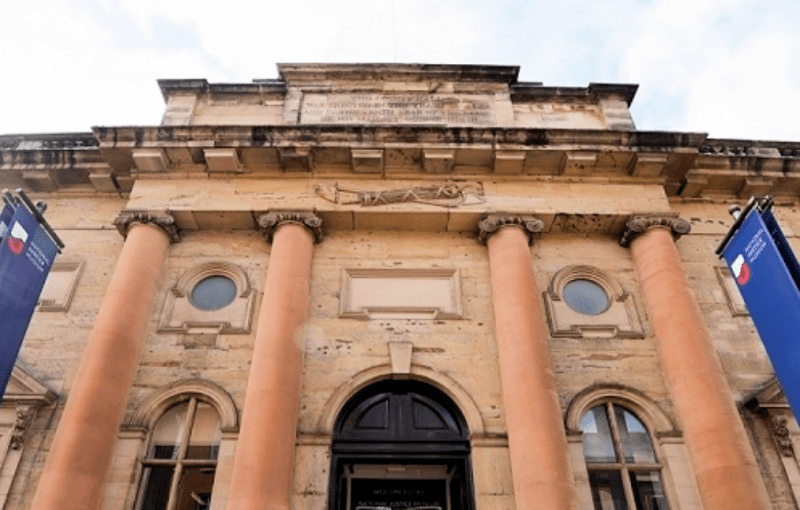 Ticket Prices:
Adult: £10.95
Under 18s: £7.95 (Under 5s go free)
Students: £9.95
Over 60s: £9.95
Family ticket: £32.50 (4 people, max 2 adults)
Where to find it:
National Justice Museum, High Pavement, Nottingham, NG1 1HN
Wollaton Hall and Deer Park
Wollaton Hall is a prominent Grade One listed building with reconstructed period room settings ready for you to explore, as well as being home to the city's Natural History Museum.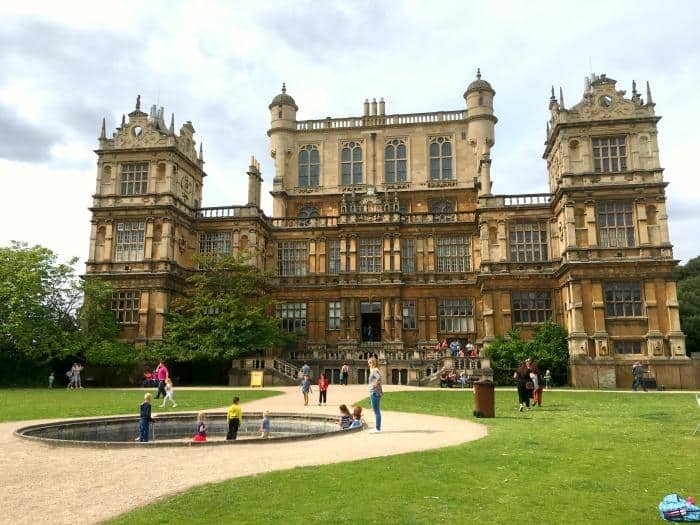 Standing prominently on a natural hill overlooking the park, Wollaton Hall is set in five hundred acres of spectacular gardens and parkland where deer freely roam. Interesting fact: The hall was used as the setting for Wayne Manor in the 2012 Batman film, Dark Knight Rises.
As well as cafe's and the beautiful grounds, there is also a large children's play area and in the summer Wollaton Hall is home to Nottingham's Splendour Festival and other local events throughout the year.
Where to find it:
Wollaton Park, Nottingham, NG8 2AE
Nottingham Industrial Museum
Come and learn all about Nottinghamshire's industrial heritage at the Nottingham Industrial Museum in the grounds of Wollaton Hall.  The fascinating collection explores the rich industrial history from Tudor mines to the world's first video recorder.
It is open every weekend (plus Bank Holidays from Easter to Late Summer) and you will have five galleries of objects reflecting local industries such as mining, railways, bicycles, motorcycles, lace, telecommunications, pharmaceuticals, tobacco and printing to explore. There is also the collection of working steam and diesel engines.
There are also regular children's activities and family tours making the museum an ideal attraction for families.
Ticket Prices:
Adult £3.00
Concession / Student £2.00
Children (aged 0-15) FREE (must be accompanied by an adult)
Where to find it:
The Courtyard, Wollaton Hall And Deer Park, Nottingham, Nottinghamshire, England, NG8 2AE
Stonebridge City Farm
Stonebridge City Farm is a must visit free attraction in Nottingham for children.  Just outside the city centre you will find a farm with pigs, horses, goats and sheep as well as an array of small animals and tortoises.  There is also a working vegetable garden, cafe and small play area.
They also host numerous events and activities throughout the year so pop along for a fun filled family activity.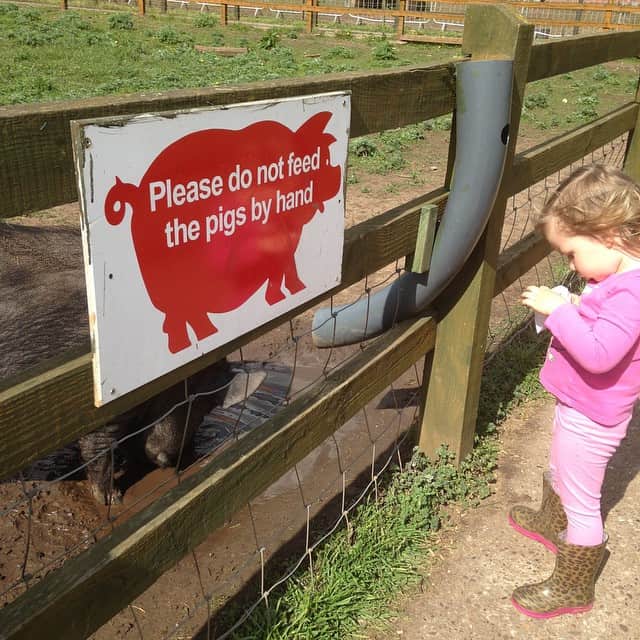 Where to find it:
Stonebridge City Farm, Stonebridge Road, St. Ann's, Nottingham NG3 2FR
Green's Windmill
I've always found it slightly quirky that there is a working windmill in Nottingham and it's one of the things I love about living in the city.  Green's Windmill and Science Centre is another free attraction in Nottingham that is particularly good for young children.  You can learn all about Green's Mathematical Theory and even go inside a working mill and learn how flour is made. They also hold various events and activities throughout the year.
Where to find it:
Green's Windmill, Windmill Lane, Nottingham NG2 4QB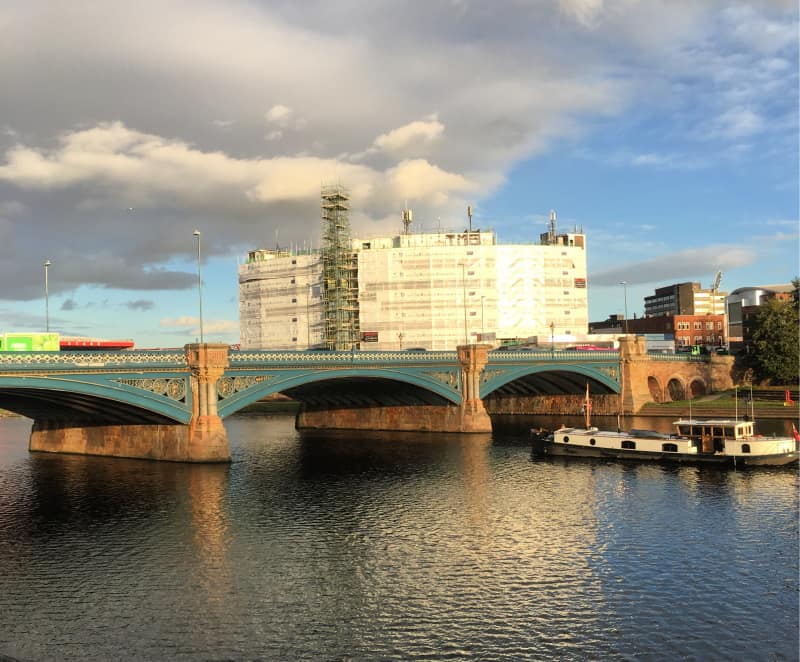 You will also find a whole list of family friendly activities that you can do in Nottingham if you have any time left after you've ticked all these attractions of your list.  If you want to squeeze in a visit to a bowling alley, visit a climbing centre or even try roller skating then you will find all these activities in Nottingham and many more besides.
Skating at the National Ice Centre is a must for any Torville and Dean fans and there are also lots of theatres you may wish to book tickets for the Theatre Royal Nottingham or the smaller Djanogly Theatre at Lakeside Arts.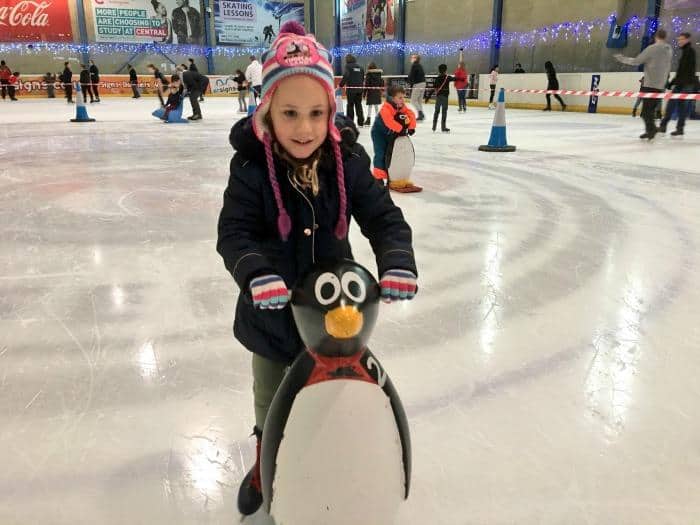 It doesn't stop there either with boat trips available along the River Trent,  a huge selection of water sports and outdoor activities available at Holme Pierrepont Country Park and a number of famous sporting attractions including Trent Bridge, Nottingham Forest and Nottinghamshire Country football grounds.
I'm sure you will agree there is no shortage of things to do in Nottingham for anyone who is deciding to visit the city.  Have I missed anything off the list?  What things to do would you add to this list of Nottingham attractions?