If you are looking for things to do with the kids this October, then we have the perfect list of spooky activities for half term. There's plenty of things to do in Nottingham this Halloween to keep the kids entertained. If you are in search of places to go with the family, then read on for all the activities you could you could possibly need!
Things to do in Nottingham for Halloween with Kids
Nottingham Halloween Trail
Dates 18th – 31 Oct
The It's In Nottingham Halloween Trail is back and it's FREE!
You are invited to discover more of Nottingham City Centre with your family for FREE! Put on your favourite fang-tastic costumes and Trick or Treat your way around their fun map to hunt their 7 hidden spooky characters. Don't forget to dress up for the occasion!

To help you find your way around they've created a handy map which you can collect for FREE from the Nottingham Tourism Centre. The map will also be available on their brand new app. To take part simply go to your mobile app store and search 'It's In Nottingham' and download the app. The app will be available 18 – 31 October 2021.
Halloween Fun at Nottingham Castle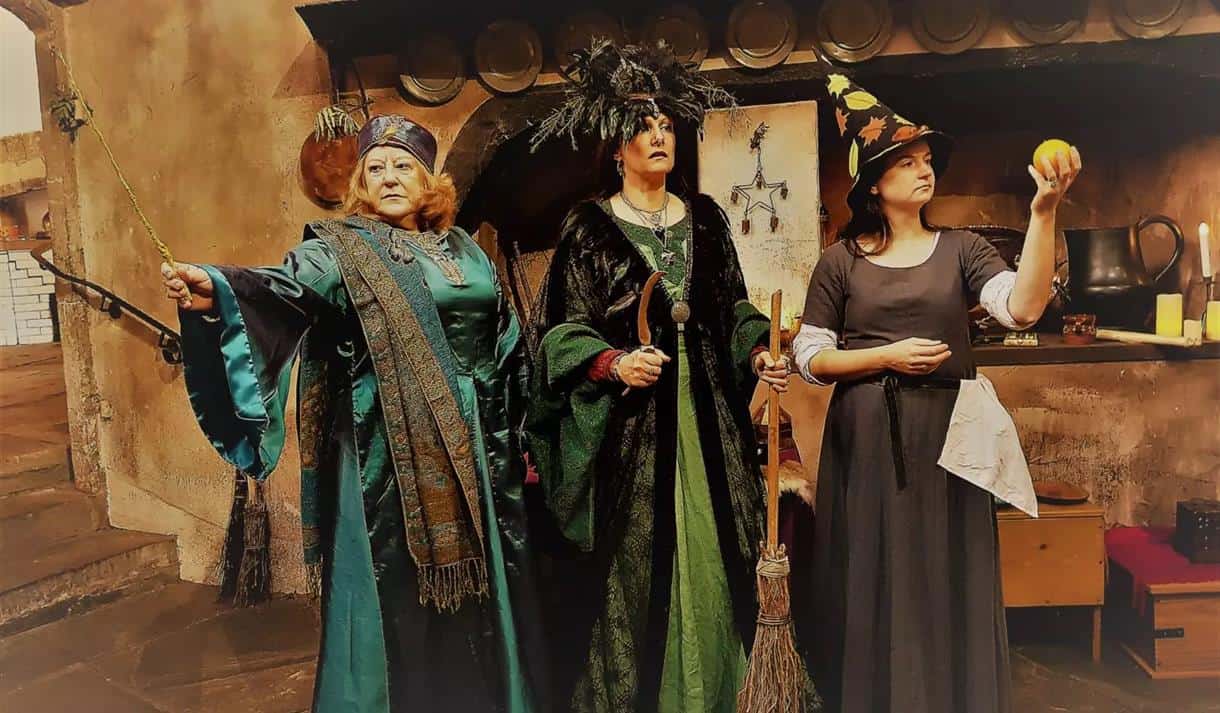 Dates: 29 Oct – 31 Oct 10am – 5pm
Coming to Nottingham Castle this Halloween! Black Knight Historical proudly present 'Abramelin's Academy of Arcana', an amazing and interactive School of Wizardry!
Abramelin of Thebes, wizard to Kings and Pharaohs, proudly presents his esoteric school (founded in 2160BC) for gifted and talented students in the arcane mysteries of wizardry and witchcraft.
Join wizard Abramelin and his mystical friends Morgana the Oracle, Melchizadek of Caerfyddin, Margot Henbane of Avignon, Devorguila of Geary, Nystul of Britannia, Estrella Darkmoor of Hurncastre and Fizban the Fabulous as they entertain, educate and fascinate in the oldest of the mysterious arts – Divination, Herbology, Arcane Wisdom, Dragonlore, Grimoires, Astrology, Pyromancy, Distillation, Potions, Druidry, Theology and Alchemy.
General Admission Prices Apply
Nottingham Castle Trust
Lenton Road
Nottingham
NG1 6EL
>> Check Out The Latest Halloween Costumes on Amazon Here <<
Sherwood Forest Halloween Activities
There's a packed list of things to do at Sherwood Forest this Halloween. If your family love outdoor fun, there's plenty to choose from including have-a-go archery, witches and warlocks den building and the spooky Sherwood Halloween trail! Prices and dates vary depending on the activity so check out the website for more information.
Manor Farm Park & Woodland
Dates 16th – 31st October
Join Matlock Farm Park this October half-term, for their famous Spooky Maize Maze and all-new Ghoul School!
Young thrill-seekers will love the Spooky Maize Maze, with frights and sprites around every corner, along with Ghoul School, a new twenty-minute audio extravaganza, teaching kids how to become perfect little monsters!
And the Halloween family fun doesn't end there, with a free pumpkin for every paying child to take home and carve.
Kids' Ghost Hunter Tours at National Justice Museum
Dates 23-24 Oct
Catch the pesky ghosts this October at the National Justice Museum
Around Halloween, the National Justice Museum becomes a hive of paranormal activity. Are you brave enough to help the over-worked Ghost Hunter catch the pesky ghosts which are causing mayhem throughout the museum?
Recommended age 5-10 years old
Please wear comfortable shoes and wrap up warm, as it can get a little cold in the prison. 
Tours last approx. 1 hour.
A Muddy Halloween – Kids Outdoor Party!
Dates 28 Oct, 10:30–11:30
Enjoy an outdoor experience with your children, taught by a qualified teacher at Matlock Farm Park this Halloween.
Time to party Muddy Style! Here are some of the activities expected to experience:
-Pumpkin smashing, roast a marshmallow, potion-making, mud monsters, natural arts and crafts, pond dipping for eyeballs and bats!
– Party games for prizes and parachute games.
Suitable for ages 2-8 years.
Family Ghost Walk at Newstead Abbey
Dates Sat, 30 Oct, 20:00 – Sun, 31 Oct, 12:00
Join the Family Ghost Walk this Halloween at the Newstead Abbey grounds. Meet the friendly witches who will tell you the stories of some of the most famous spectral residents with the day time family ghost walk through the grounds of Newstead Park.
Tour length: 45 minutes
Site entry & car parking charges apply
Wheelchair & pushchair accessible
Dino Kingdom at Thoresby Park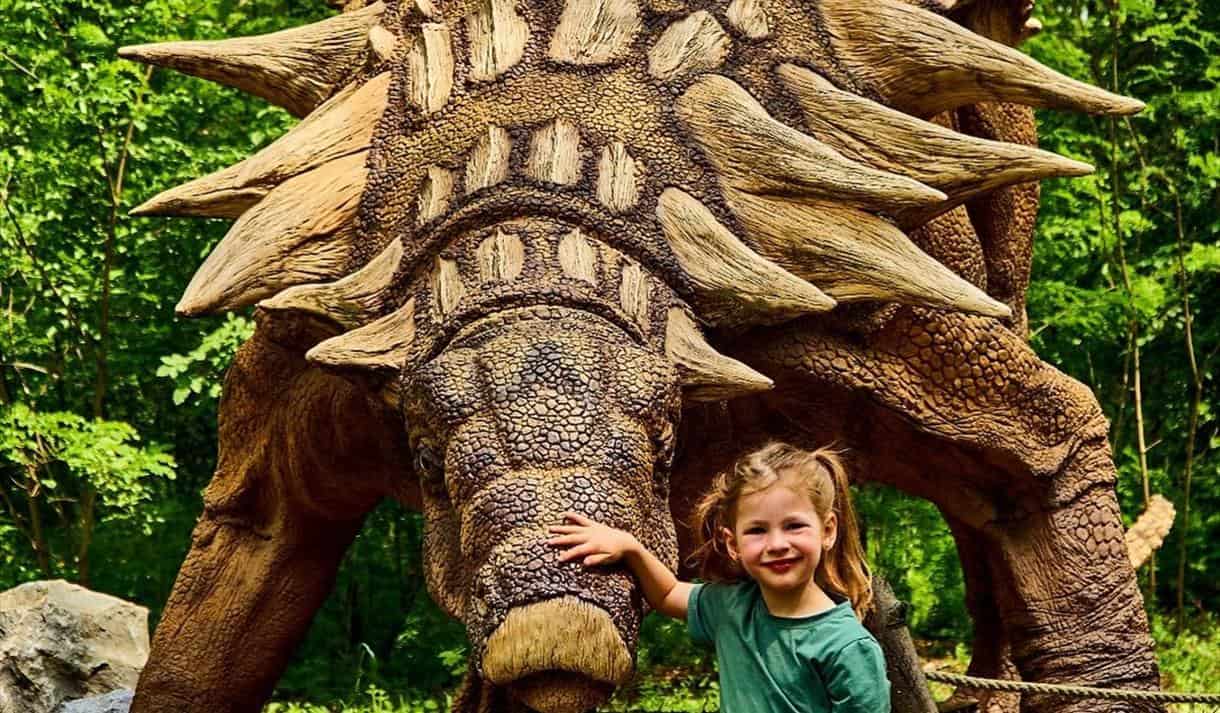 Dates 15th Oct – 31st Oct
Dino Kingdom is taking over Thoresby Park for two weeks this October with 100 prehistoric beasts set to be unleashed to roam across the plains and woodlands of the beautiful historic landscape!
This epic adventure will bring ancient history back to life with jaw-droppingly realistic dinosaurs including the gigantic T-rex, King of the Jurassic era, and all kinds of other animatronic creatures that can move and roar! Coming from the creators of the award-winning Lightopia Festival, this will be a chance to journey back millions of years to the time when these majestic beasts reigned over the land and see them as they would have lived in a natural outdoor habitat.
Family Scream Park 2021 at Twin Lakes
Dates 16th – 31st Oct
Visit the ever popular family theme park for a packed list of Halloween activities including pumpkin carving, a Halloween hunt, wand making, broomstick flying lessons and lots more!
Halloween Trail at Belvoir Castle
Join us on a family friendly Halloween trail through the dooms and into our formal gardens.
Be careful not to disturb the undead as you enter the Castle dooms, meet frightful guides in disguise, solve spooktacular mysteries and activities.
Spectacle of Light at Rufford Abbey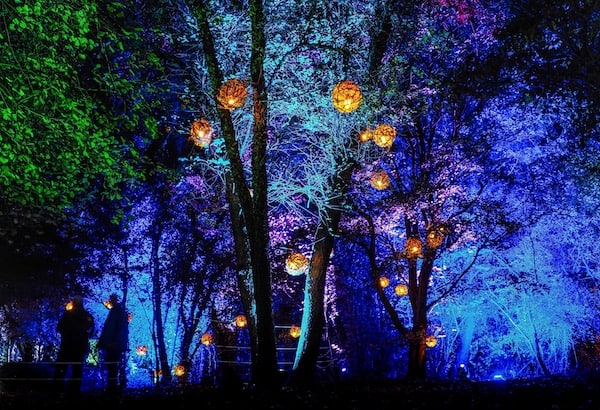 Dates 28th Oct – 14th Nov
Enjoy the brilliant Illuminated highlights along this magical trail around Rufford's stunning grounds. Gaze at the garden of Glowing Spheres. Walk through the Kaleidoscope of Colour and marvel at the flickering Field of Fire!
Captain your own ship and scale the castle walls as you explore the night-time wonder of the amazing Adventure Play Area. Surprising sculptures, meteors, Moroccan lanterns and much, much more!
We are sure that you'll agree that there is plenty of fun to be had in and around Nottingham this Halloween with the kids. The only challenge you have is picking which events to go to! Perhaps you could try and fit them all in! Have a spooky time whatever you decide to do.