We are huge fans of the Lakeside Arts Djanogly Theatre in Nottingham so we couldn't wait to see this year's Christmas performance, Red Riding Hood.  Going to the theatre at this time of year is one of our favourite family Christmas traditions.  When the weather is cold and damp, and the days are cold and dark there's no better way to lift the spirits in my book.
The Djanogly Theatre at Lakeside Arts is a lovely venue perfect for family friendly theatre.  It's small and intimate which means there really are no bad seats.  The whole theatre seats around 230 people to give you an idea of just how small it is.
Red Riding Hood is a collaborative production with Engine House Theatre of Mike Kenny's imaginative adaption of the classic children's fairytale, Little Red Riding Hood.  The script tells two stories and ingeniously weaves the them together in this charming piece of family theatre.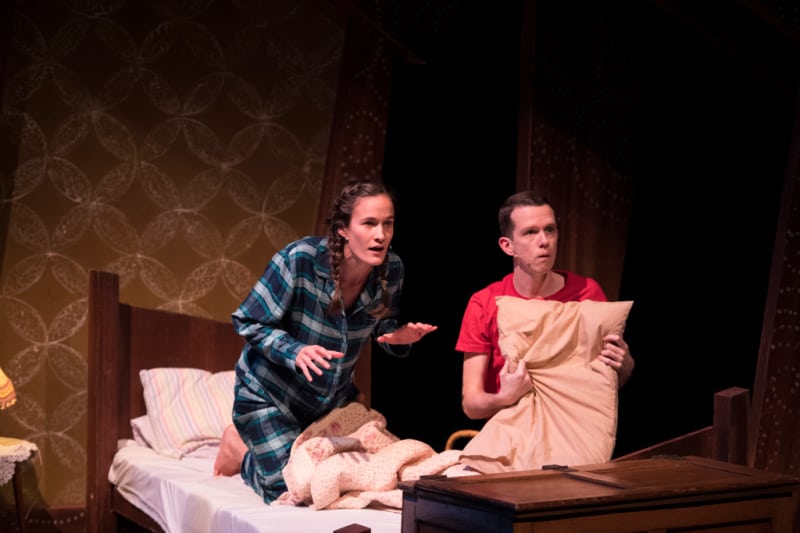 The little brother is far too excited to sleep and pesters his sister into telling him a story.  It will be easy for parents of siblings to relate to the antics in the bedroom, and the younger audience may well see a little of themselves on stage too.
The pair begin to tell the story of Red Riding Hood and her catastrophic visit to her sick Grandma's house.  All the dress up and imaginative use of toys and household objects that kids are used to doing come into play as the story of Red Riding Hood unfolds.
The 2 actors play every role with outstanding presence, switching between brother, Red Riding Hood and Grandma etc in one of the most convincing performances I've seen.  The set is beautifully rustic and draws the audience into the siblings imaginative overnight stay at Grandma's house perfectly.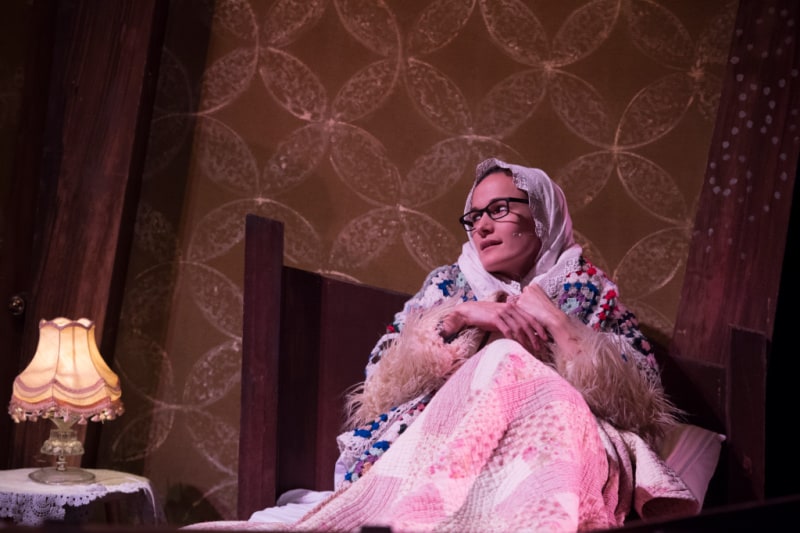 Everything about this performance is charming and magical.  The acting, the singing and the donut eating will capture the whole family's imagination.  If you haven't added Red Riding Hood at Lakeside Arts to your list of things to do in Nottingham this Christmas I would really recommend you grab your tickets now.  The festive theatre treat you are going to get for just £8.50 per ticket will blow you away.
Red Riding Hood is showing at Lakeside Arts Djanogly Theatre in Nottingham until Sunday 30 December. Tickets are priced from £8.50 and the show is 55 minutes long without an interval, which is perfect for young theatre goers. The performance is suitable for children aged 5+ which we would completely agree with.
If you would like to buy tickets to see Red Riding Hood visit Lakeside Arts website.
You can also call the Box Office on 0115 8467777 or visit Nottingham Lakeside Arts, University Park, Nottingham NG7 2RD.
We were provided with a family ticket to see Red Riding Hood at Lakeside Arts in exchange for this review, but all thoughts and opinions are our own.