Fossil hunting is such a fun holiday activity for kids visiting the Jurassic Coast. When we spent time in Devon, we visited Seaton beach with the girls. We didn't really have a plan for our fossil hunting but we ended up finding rocks full of fossils. There were large rocks full of small molluscs that must have died at the same time. The girls were so excited to find them, it was like they had struck gold.
It got me thinking that if we had a plan or some tips for how to find fossils on the beach we might have found a few more. I often recommend taking a holiday on the Jurassic Coast to my friends and family, and suggest that they take their kids fossil hunting. I've been asked questions like do you need a fossil hunting kit or where's the best fossil beach so I wanted to share this guide with families who are interested in this holiday activity.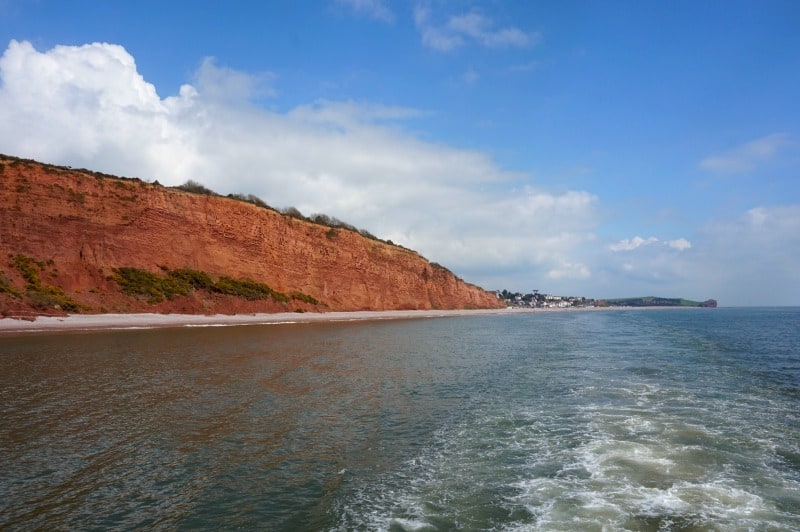 Tips For Fossil Hunting Along The Jurassic Coast
Before you start fossil hunting there's a couple of things you should know. It's recommended that you should only collect loose fossils that you find on the beach. It's important not to chisel or dig out Jurassic Coast fossils. There are also places where fossil collecting is not allowed, so take a look at local information before you start exploring.
The other thing to remember when you are fossil collecting is to stay safe. It's advised to visit a fossil beach during low tide and stay away from cliffs and potential landslides. Parts of the Jurassic Coast are very fragile and prone to erosion so being cautious about where you go is strongly recommended.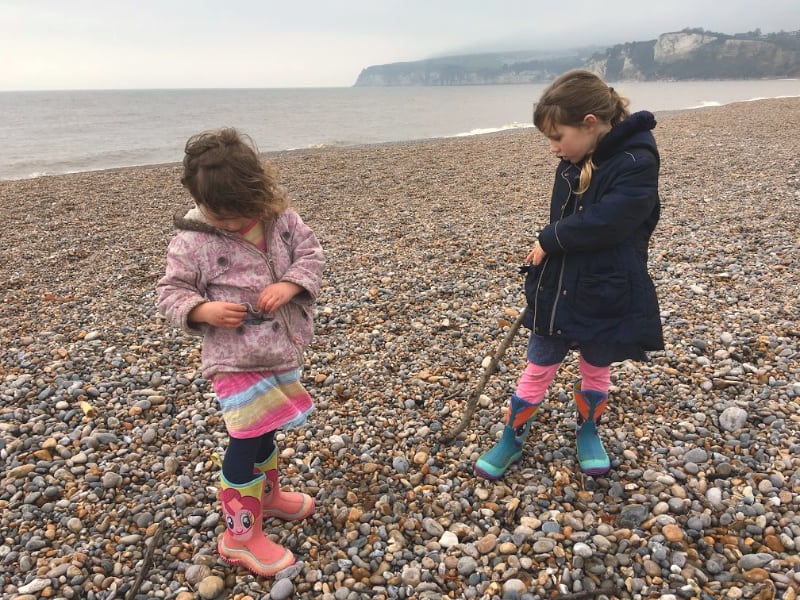 Jurassic Coast Beaches – Devon
Seaton beach is a stone beach and is a great place to start fossil hunting. Seaton Jurassic is also nearby and I highly recommend a visit here if you are interested in Jurassic Coast fossils. You may find yourself near to a different beach in Devon so here are other locations good for fossil collecting
Sidmouth
Lee Bay
Hooken Cliff
Valley of the Rocks
Beer Head
Fremington
Hopes Nose
Pinhay Bay
Croyde
Budleigh Salterton
Daddy Hole
Hooken Cliff and the Valley of the Rocks are known for best results for fossil hunting. Both are suitable for families, but Hooken Cliff would suit older children better due to access and the nature of the location.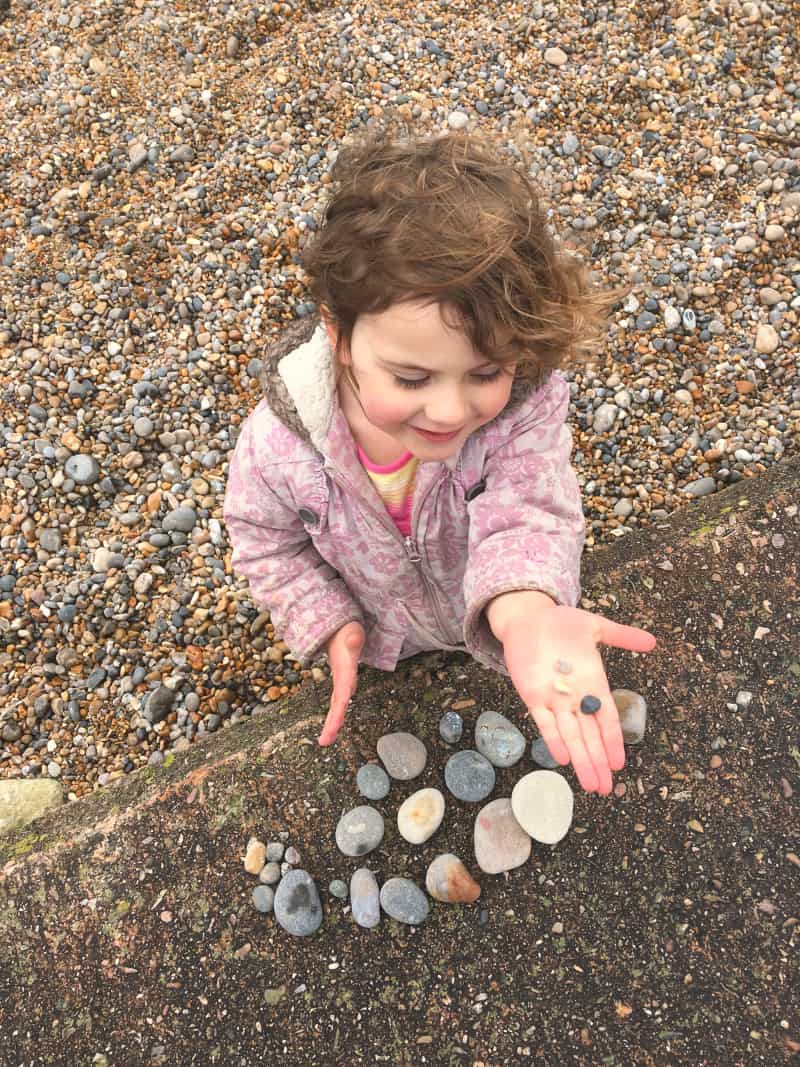 Jurassic Coast Beaches – Dorset
Dorset is a really popular location for fossil hunting. It's the home of the Jurassic Coast World Heritage site so it makes sense that you will find lots of great specimens here. Lyme Regis draws lots of visitors looking to get started with fossil hunting and is a great place to visit if you are interested in joining a guided tour or finding out more about the history in the Lyme Regis Museum.
Lyme Regis is a very popular holiday destination and so the beach can get crowded, especially in the summer. There are many fossil beaches in Dorset so consider visiting one of these during your holiday.
Pirates Cove
Cogden Beach
Langton Herring
Seatown
Hengistbury Head
Tidmoor Point
Charmouth Beach
Burton Bradstock
Poxwell Quarries
West Bay
Dancing Ledge
Redcliff Point
Perryfield Quarry
Church Ope Cove
Portland Bill
West Weare
Wake Regis
Osmington Mills
Horn Park Quary
Thorncombe Beacon
White Nothe
Monmouth Beach
Stutland Bay
Freshwater Bay
Eype
Swanage
Chapman's Pool
Durlston Bay
Watton Cliff
Kimmeridge Bay
Ringstead Bay
Lulworth Cove
Bowleaze Cove
As you can see, Dorset is the perfect place for Jurassic Coast fossil hunting and there's no shortage of beaches to choose from. Seatown is an excellent source of fossils at low tide and is perfect for children of all ages to go fossil hunting. Ringstead Bay is also a great fossil beach for children and has good facilities including accessible parking, toilets and places to get refreshments nearby.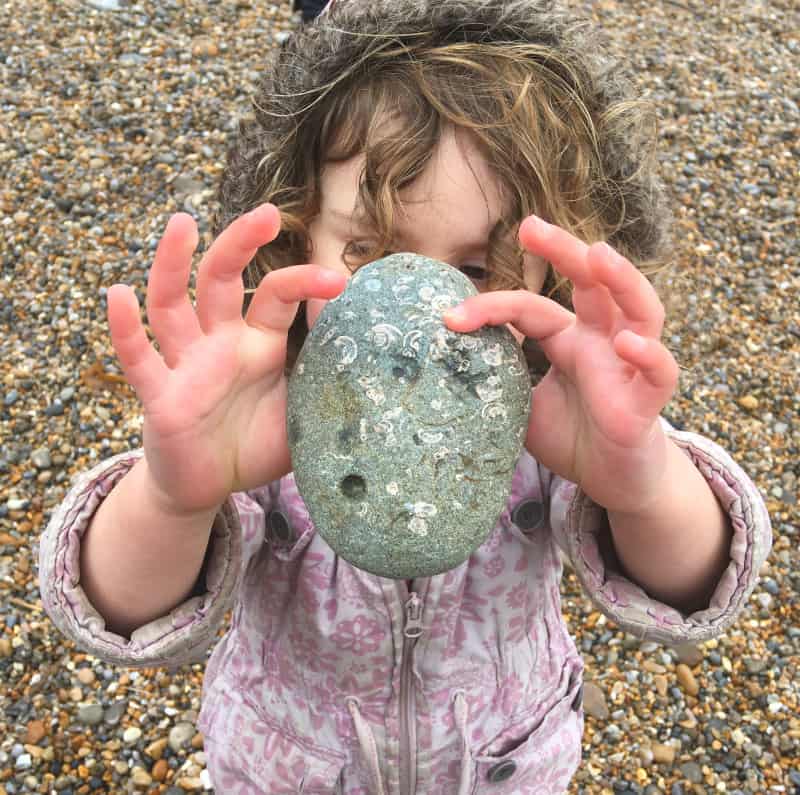 Fossil Hunting Equipment
When it comes fossil hunting kits you really don't need a lot for this activity. When we visited Seaton beach we didn't have any equipment and we still managed to find a fossil on the beach. Unfortunately we didn't know the type of fossils they were until we took the rock to Seaton Jurassic. We also might have missed them if the stone had of been dry. Fossils are a lot easier to spot when the rocks are wet.
If you are going fossil hunting with kids I would recommend taking a magnifying glass and a small brush to clean off mud and debris. You will also find a notebook to record your fossil finds and a camera just in case you find a fossil which isn't loose.
A fossil guide will also help you identify the types of fossils that you find. It helps to know what you are looking for if you want your fossil hunting to be successful so having something like this guide to hand will you make the most of this fun holiday activity.
Family Friendly Places to Stay in Devon
Luxury Apartments in Devon: Cofton Holidays
Glamping in Devon: Our Stay at Crealy Meadows – Review
Caravan Holidays Devon: Staying at Andrewshayes Holiday Park