Can I be honest with you for a second? Before writing my blog, we hadn't had much luck with caravan holidays and my husband relishes reminding of a not so successful holiday we had back in 2012 when Indie was a baby. I've been determined to turn this round and show him that caravan holidays, especially in Devon can be a great option for a family in 2018. When we received an invitation to stay at Andrewshayes Holiday Park near Lyme Regis, it seemed like the perfect opportunity to show him that, when done right, caravans are comfortable, budget friendly and they make for a perfect UK staycation with kids. All we had to do was buy some new luggage sets for teens because our last set broke, pack everything up and hit the road!
In the past, I had my own caravan with the help of the beautiful people at Auto Finance Online who arranged finance for me, but due to financial circumstances, I had to sell it in the end. I still love caravaning though!
and here's why….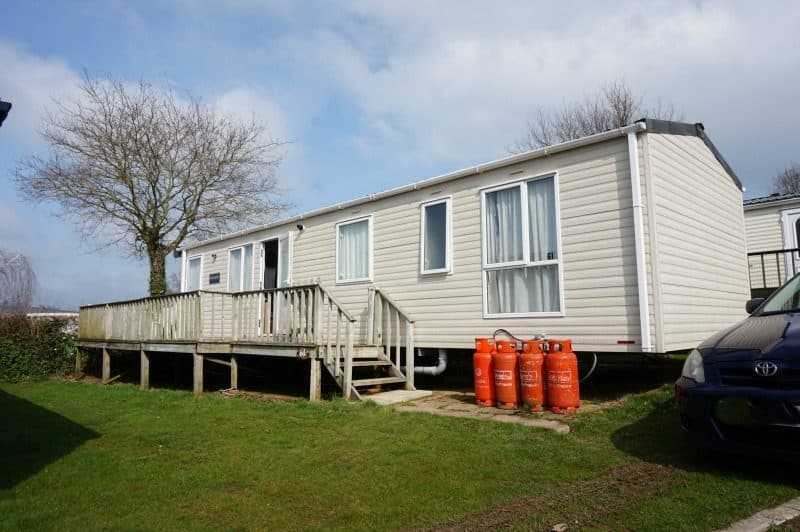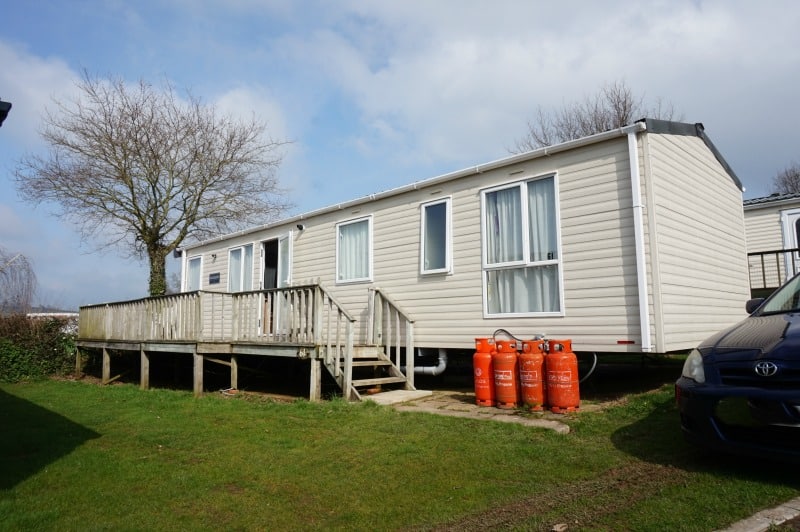 Arriving At Andrewshayes Holiday Park Devon
We were already in East Devon before starting our holiday at Andrewshayes Holiday Park, and we had had a very busy day visiting the Board Cafe in Exeter and the Donkey Sanctuary in Sidmouth. The kids were tired and we were ready for our tea, so what we needed was a warm and friendly welcome and an efficient check in. I'm very pleased to say we got both, and from the outset it was apparent that we were really going to enjoy our stay at Andrewshayes in Dalwood.
About Andrewshayes Holiday Park, Dalwood
Before I talk about our self catering holiday in Devon too much, I want to give you a bit of history about Andrewshayes Holiday Park. This is a family run business, that is now with it's third generation and for me it really showed. The team at Andrewshayes Holiday Park go out of their way to look after you, and nothing is too much trouble.
The business started when people looking for campsites in Devon would pass the farm and ask if they could pitch a tent on the land. Seeing as this was becoming more and more popular, they decided to put a sign up offering camping for passing holidaymakers.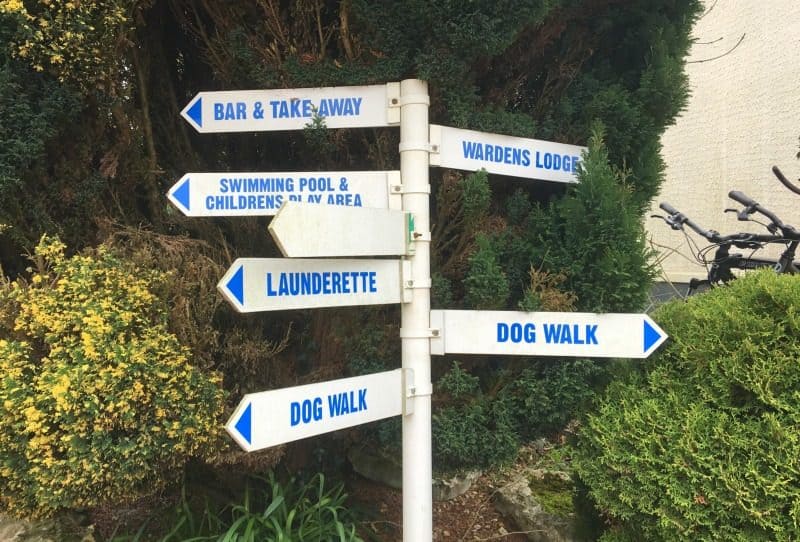 From here, the original campsite has grown into a very popular family holiday park offering a range of self catering accommodation to suit everyone's needs including holiday cottages with hot tubs, static caravans, camping, glamping pods and they also provide hook ups for tourers and motorhomes. When it comes to holiday accommodation in East Devon, Andrewshayes Holiday Park definitely has it covered.
The First Day on the Caravan Site
It's was all about getting settled when we first arrived so first off we went straight to find our 3 bedroomed caravan with the map we were given at reception. The first thing that struck me was the beautiful view, as well as how well presented our caravan was. We had a patio and outdoor seating, and indoors was very comfortable too, with a dining table and lots of sofa space. Seeing as we put the girls to bed around 7 and would probably be spending the evenings at the caravan this suited us perfectly.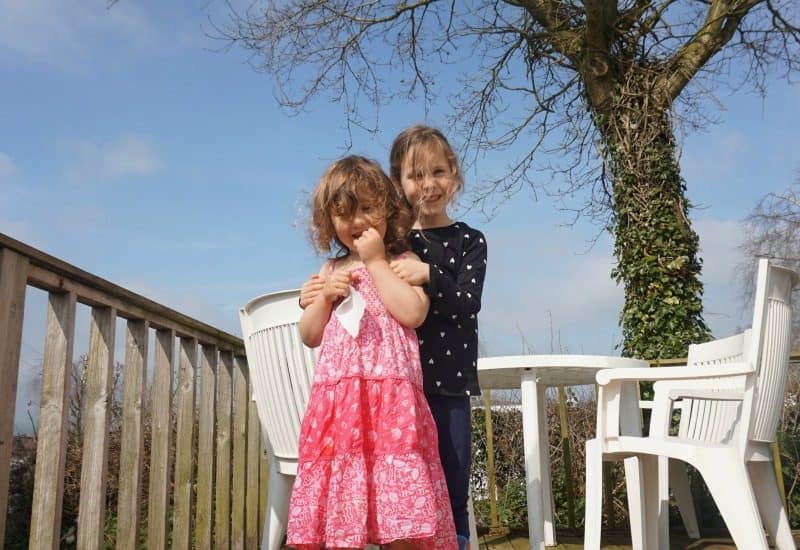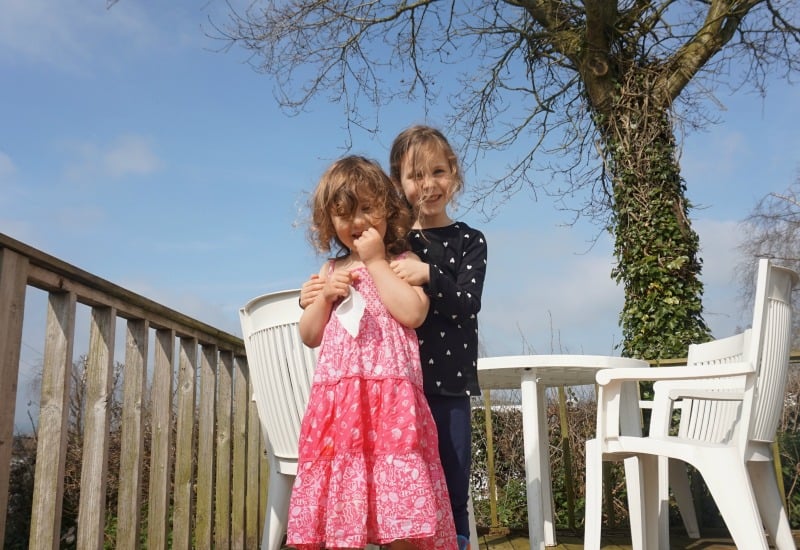 I left the family to check out the rest of the caravan while I went to see what the menu was like at the onsite bar and cafe and see if I could pick up a few supplies from the shop. The shop was technically shut, but they very kindly allowed my to get what I needed and come back and settle up in the morning. This was so helpful for us and ticked so many boxes in terms of customer service.
I was really impressed with the menu in the cafe as well as the prices, so I went back to our caravan to get the family for dinner. The food and service were great, and we'd happily recommend popping in during your stay at Andrewshayes if you want to eat out one night. There is plenty of outdoor seating when the weather is nice, and the children's outdoor play area is right next door, which is perfect for families.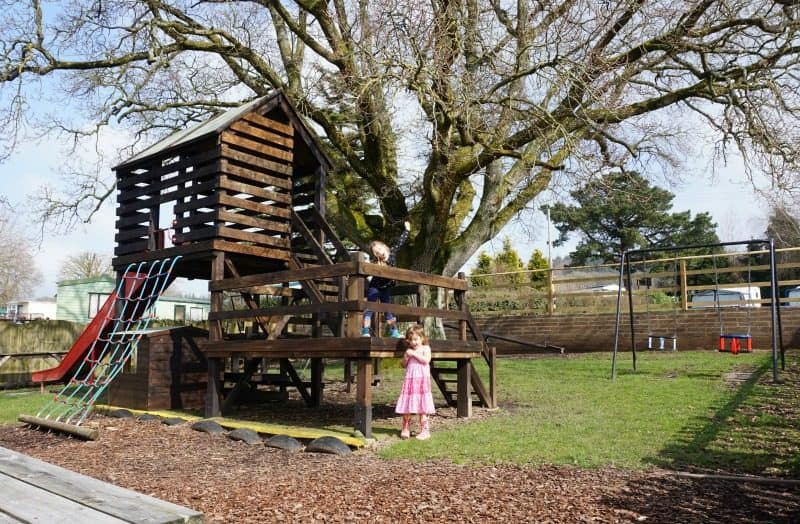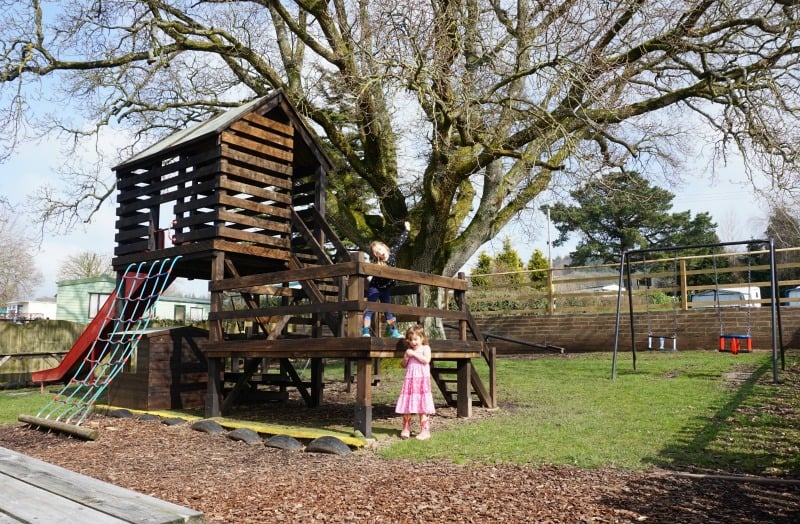 We settled in and felt at home very quickly, which I think is always a great sign when it comes to taking the kids on any kind of holiday. We were really looking forward to getting out and about and exploring East Devon from our new base over the next few days.
The Beauty of Self Catering Accommodation
Having self catering accommodation in East Devon meant we could completely set our own agenda and everything was at our own pace. The girls were able to enjoy their usual breakfast routine which usually consists of croissants, cheerios and a bit of TV before getting dressed. Daddy and I could relax with our coffee and eggs on toast while the girls gave us a moment of peace and quiet.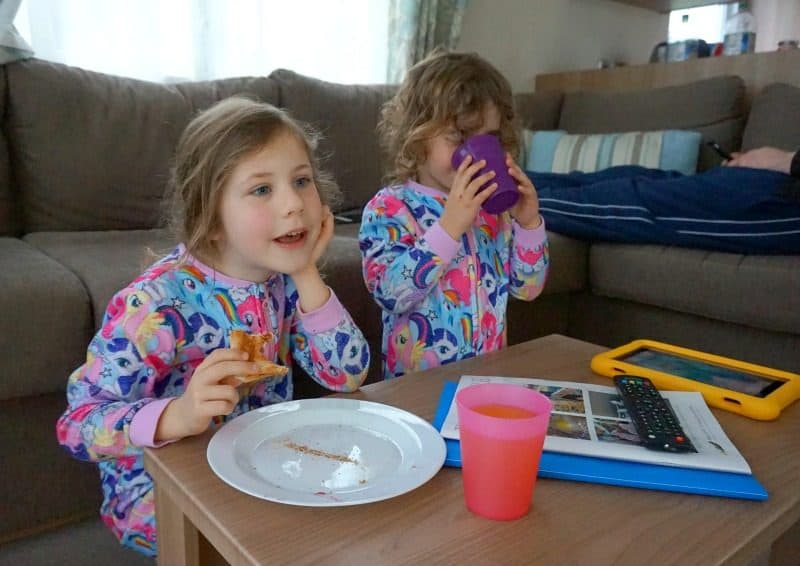 Having a fully equipped kitchen meant we could make picnics before leaving the caravan and enjoy a family meal when we got home, which really helps if you are looking for budget friendly ways to make the most of your holiday. If you eat out all the time, it can feel like all you've done is visit cafes and restaurants and the cost can soon mount up. When it comes to our kids, they take ages to eat too, and it can really effect our plans for a day out if we aren't prepared with picnics and snacks.
Once we were organised for the day we jumped in the car and made the most of visiting the local attractions. During our stay at Andrewshayes Holiday Park we visited Seaton Tramway and Seaton Jurassic. This is a great day out in Devon but I'll share more details later in another post. We also went to Wildwood Escot, which we can also throughly recommend and it's really near to Andrewshayes too. Another highlight was a visit to Exmouth and the Jurassic Coast boat tour with Stuart Line Cruises. You can certainly keep yourself busy if you stay here and there is lots more inspiration on Devon's Top Days Out if you need it.
Back at the Holiday Park
Now, I don't know how many holiday parks there are with indoor swimming pools in Devon, but Andrewshayes Holiday Park has a great one for small children and parents, like me, who can't swim. It's a really good size pool with plenty of tables and loungers around the sides. The pool itself is about 1 metre deep across the entire pool and it's heated, which I really liked.
There is also a small splash pool for babies and toddlers who aren't ready for the big pool just yet. Also, the pool is only for people staying at Andrewshayes Holiday Park and it's completely free for guests to use from April through to October. The pool is open daily and closes at dusk.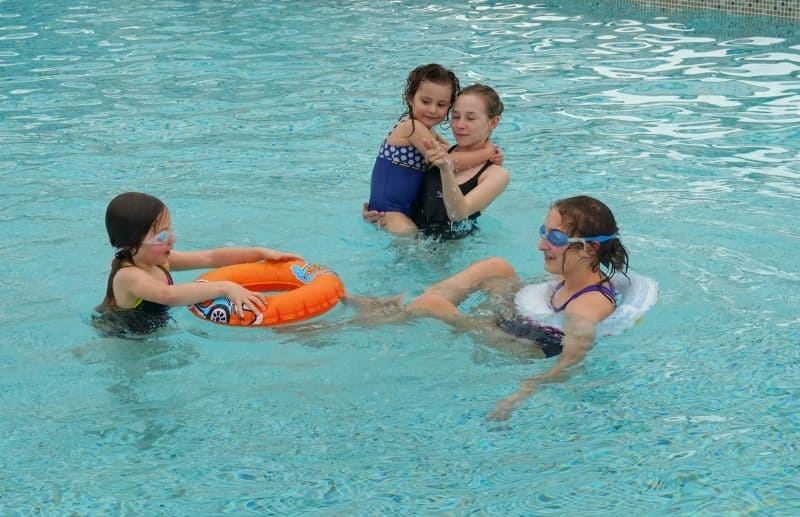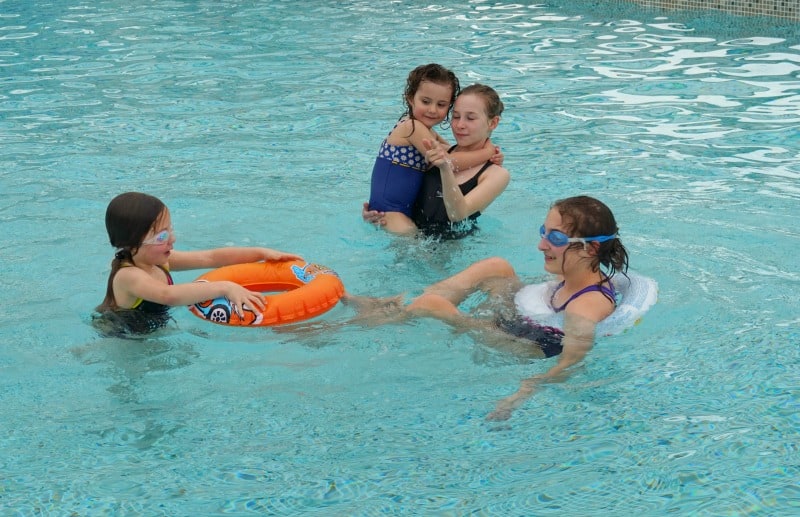 The girls loved coming back from their days out and burning off their last bit of energy in the swimming pool. They got the chance to make new friends, which is something I have really fond memories of doing on holiday when I was a kid. I also got the chance to catch up with Clare who not only runs Andrewshayes Holiday Park, but also writes Flip Flops or Wellies blog, which is an excellent resource for families wanting to make the most of their time in East Devon.
Final Thoughts on our Devon Holiday
We really enjoyed our stay with Andrewshayes Holiday Park in Devon as it provided everything a family with small children could want from a holiday and we loved the family run aspect to the business. Everyone was so helpful with any question or query we had and we really felt they put a lot into their customer service.
The onsite facilities were perfect for us, and we really enjoyed the use of the indoor swimming pool and children's play area. They don't provide evening entertainment or late night discos, but for our family this worked well as it meant quiet evenings and regular bedtimes, which I know some parents really value, even on holiday.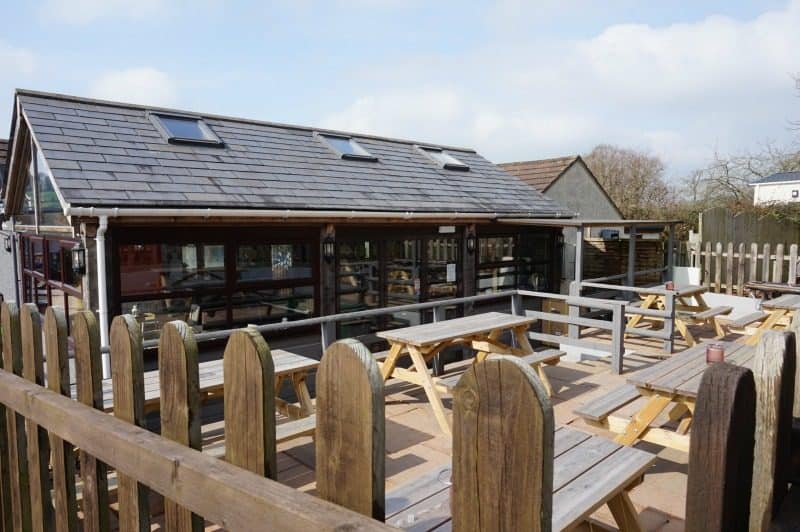 You also have access to a shop, an indoor toddler play area and a games room. There is also plenty of tourist information available to inspire your days out, and the staff are happy to answer any questions or solve any issues should they arrive. Our gas bottle needed changing one morning, and it was dealt with really quickly and the issue didn't effect our stay at all.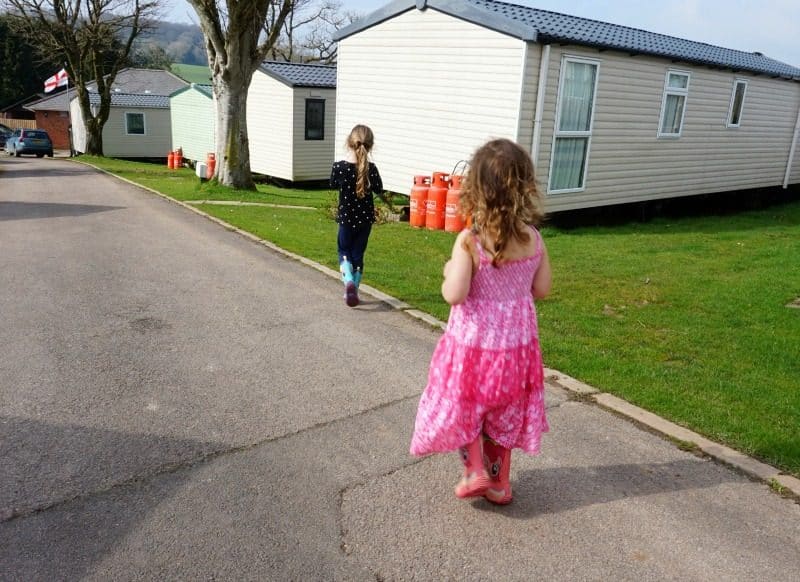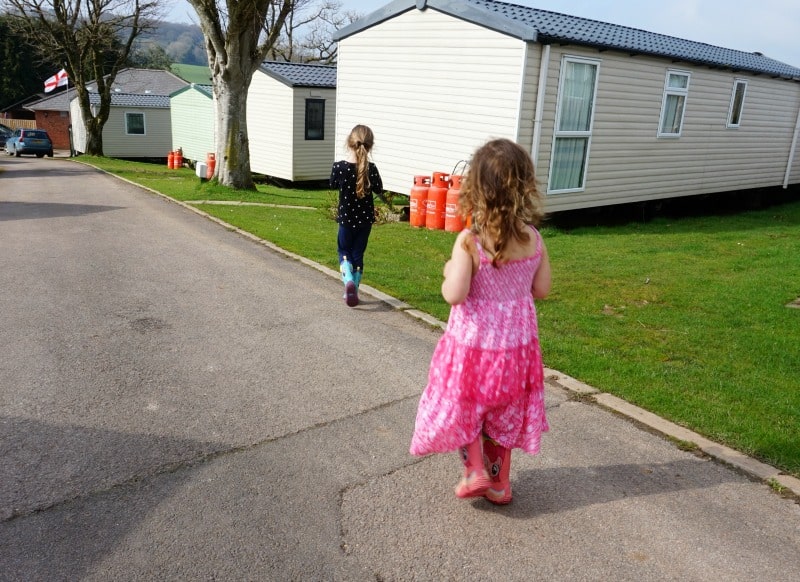 The only thing you might want to consider about staying at Andrewshayes Holiday Park is that they don't provide free WiFi. A WiFi service is available at £10 per day, but it's not a fibre optic connection. To be honest, this didn't effect the quality of our holiday at all, in fact it probably helped. If we have WiFi the temptation for both my husband and I is to work in the evenings when the kids have gone to bed, but actually we were able to switch off a bit which made for a pleasant change.
Andrewshayes Holiday Park is also surrounded by beautiful countryside and scenery and provides easy access to places like Lyme Regis, Seaton and the Jurassic Coast.
Useful Information about Andrewshayes Holiday Park

Andrewshayes Holiday Park
Dalwood
Axminster
East Devon
EX13 7DY
Phone: 01404 808 523
Email: [email protected]
Follow Andrewshayes Holiday Park on Twitter, Facebook or Instagram
Know someone who would enjoy this post? Please do share it with your friends and followers, as it would literally make my day.
For the latest blog posts, offers and giveaways don't forget to subscribe to Zena's Suitcase. You can also follow the latest updates on Twitter, Facebook, Instagram and Pinterest.
We were provided with a complimentary holiday at Andrewshayes in exchange for this review, but all thoughts and opinions are our own.