When I was looking up things to do in North Devon, The Milky Way Adventure Park was one of the first places to come up in my search. It was not far from where we were staying in the Hartland Peninsula and it's near to Bideford too.
If you want to visit The Milky Way, you need to visit the website and book in advance. As it was half term, tickets were popular, but we were lucky enough to get a time slot on the Bank Holiday Monday. With the weather being so nice, The Milky Way were able to release extra tickets and we booked quickly before they were all gone.
Things to do at The Milky Way
As soon as we arrived at The Milky Way we went straight outside. It was a glorious day, and we wanted to make the most of it. Brook and Indie headed straight for the bouncing pillows. A member of staff was helping the children socially distance by allocating children from the same family a strip on the pillow to play on. This worked really well and Brook and Indie had plenty of space to play whilst keeping safe.
Once they were out of steam on the bouncing pillows, they wasted no time in dragging an inflatable tyre up the Galaxy Rider. When they reached the top there was a staff member making sure everyone was socially distracted and the slide was clear at the bottom.  Once it's safe to slide the kids jumped in their inner tube and flew down the slide. Given the amount of turns they had on the Gravity Rider I'd say they loved it. 
Planet Play is the indoor play area at The Milky Way and is free to use during your visit.  The staff members were managing the numbers and ensuring anyone going in to play sanitised their hands properly. There is some drop slides here, so if you want to go on these make sure your little ones are wearing trousers to avoid friction burns. The staff warned us about this so Brook and Indie gave these a miss. They still had lots of fun on the play equipment that was safe for them to use. 
Ninja Stars is the new assault course at The Milky Way Adventure Park. This costs £2.95 for the first go, and then £1 for any additional goes. This attraction looked great for older kids but Indie and Brook stuck to the soft play area during our visit.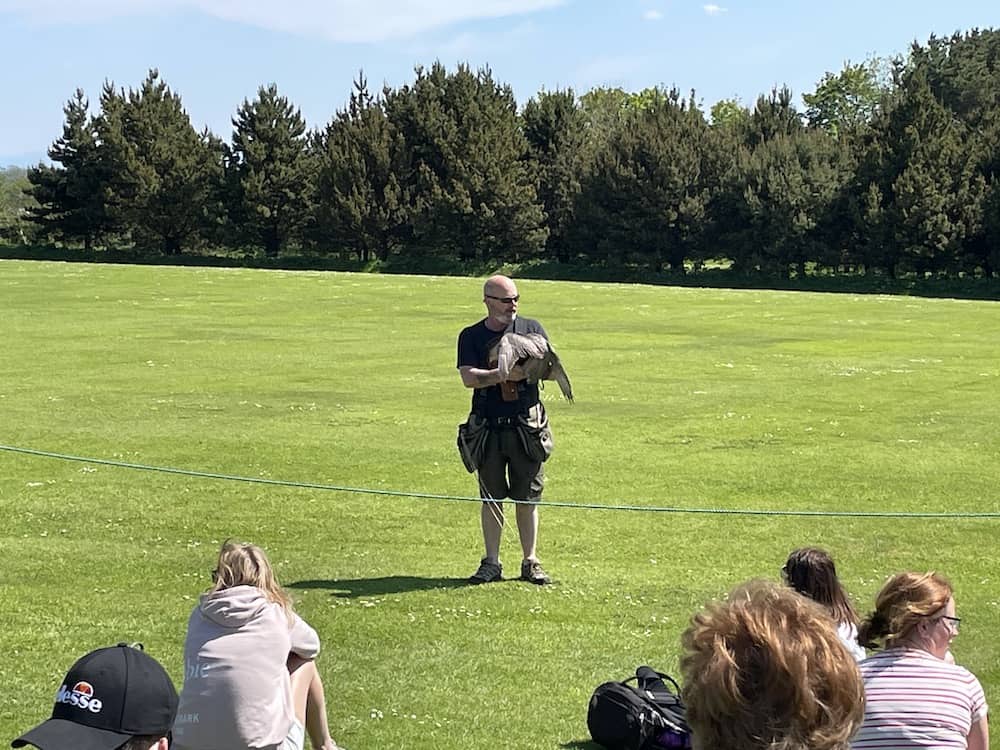 We love a little variety to our days out, so we were pleased to discover that there were shows scheduled throughout the day at The Milky Way. There was an indoor and outdoor Birds of Prey show. Brook loves birds so we saw both of these, and they were great. We learnt lots of facts about the different birds and some cool things about their personalities too.
We also enjoyed the magic show by Merlin in the afternoon. He was incredibly funny, and had some great tricks. he audience participation was great too. Indie and Brook were desperate to make it on stage, but sadly they didn't get picked. We'll have our fingers crossed for next time though!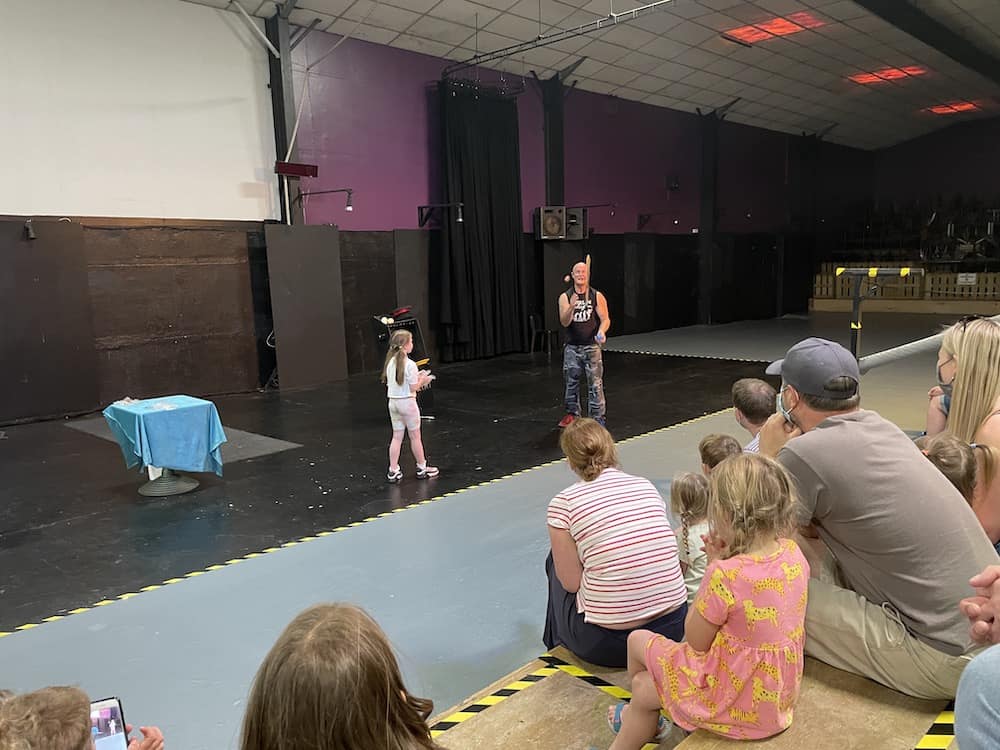 There are two rollercoasters at The Milky Way, the Cosmic Typhoon and the Cosmic Caterpillar. To ride The Cosmic Typhoon you need to be at least 1.2m tall, which Brook and Indie are. This was their favourite rollercoaster, and were able to ride it many times due to the short queues and restricted numbers.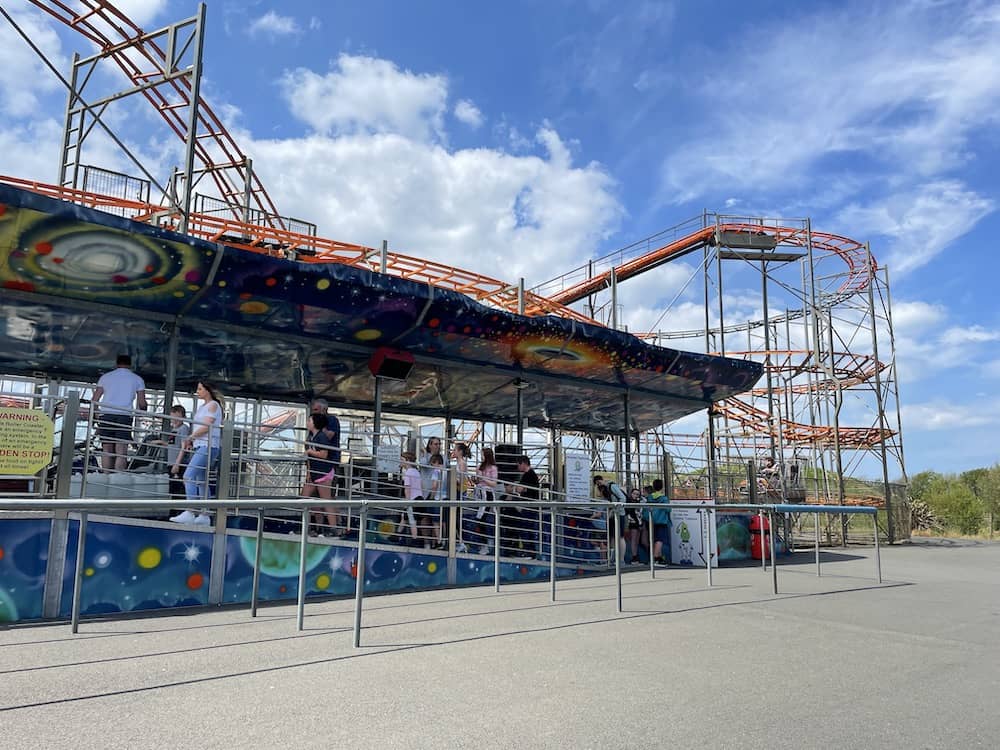 We also got lost in the maze and took a short ride on The Milky Way railway, both of which were much more up my street!
The one ride I really loved was the Droid Destroyer Dodgems. They were so fast and a lot of fun. We revisited this ride a lot throughout the day too. We caught one of the last rides of the day, and managed to get it all to our selves, which was brilliant timing on our part.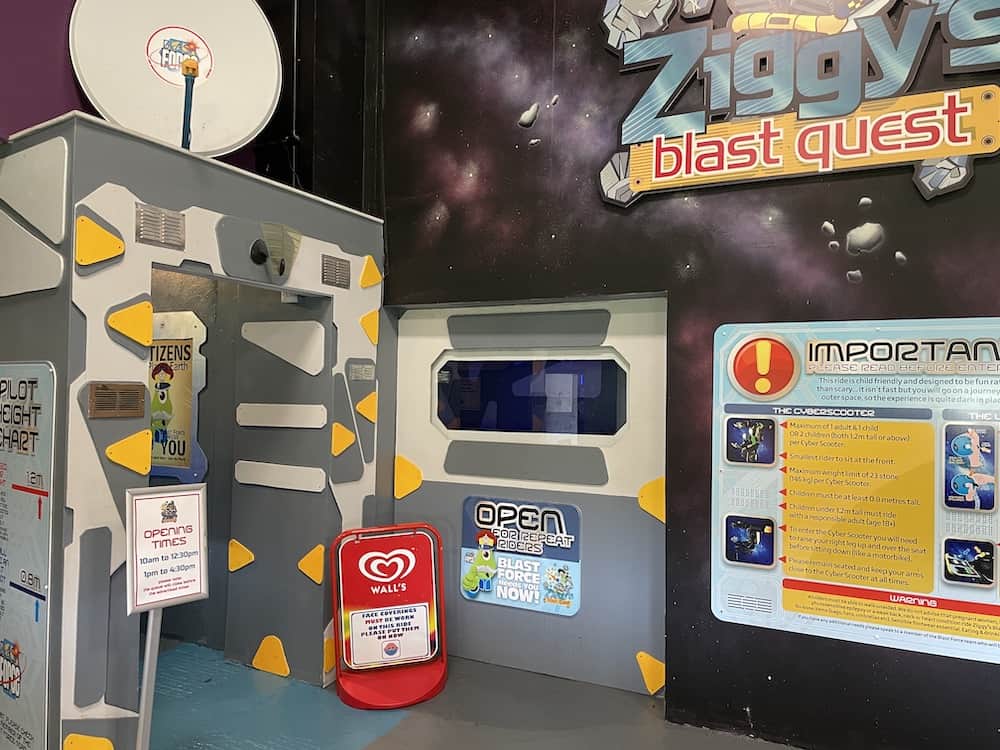 Ziggy's Blast Quest was a really big hit with Brook and Indie too. This is a fun interactive ride where the kids take the Cyber Scooter equipped with Blasteroid Lasers. They have to use them to blast the meteors before entering the earth's atmosphere. This was another popular ride for Indie and Brook and they were able to take multiple turns often without a wait in between, which helped to keep the fun going.
While we were at The Milky Way, we also discovered they had a Sci-Fi Memorabilia collection on display including Darth Vader, R2D2, a police phone box and much more. Daddy is a bit of a sci-fi geek so this was right up his street.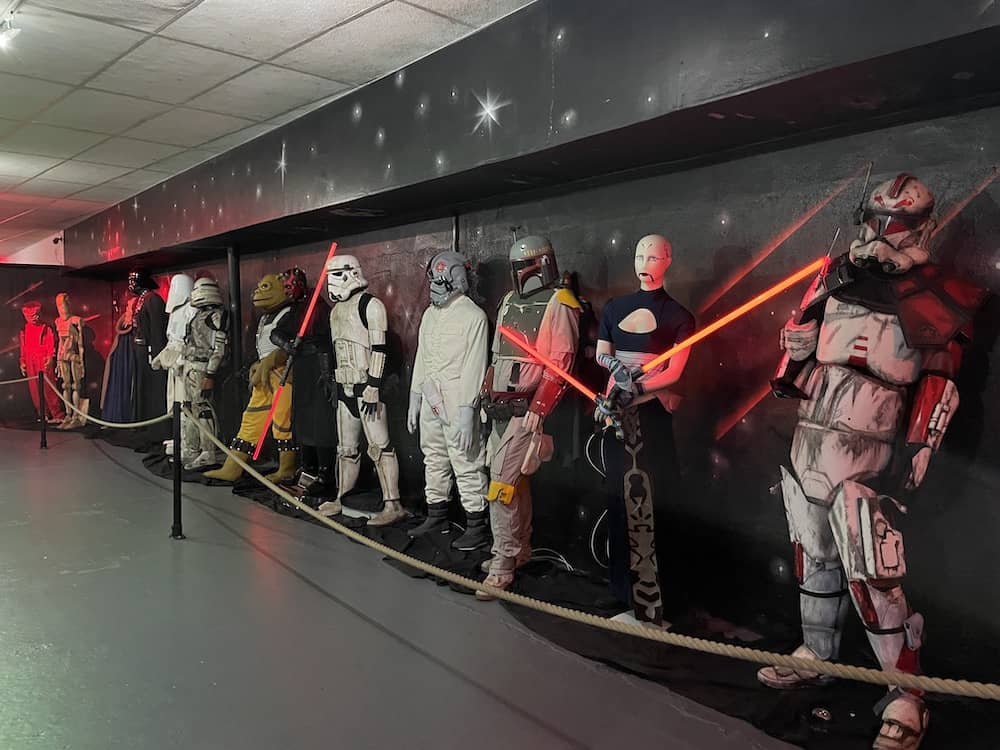 During our visit to The Milky Way we also stopped at the Planet Play Cafe, which we found to be reasonably price with a good selection of drinks and snacks. There is another restaurant, but this was closed during our visit. There's also a 9 hole putting green and you can take a closer look at the Birds of Prey at the North Devon Birds of Prey Centre.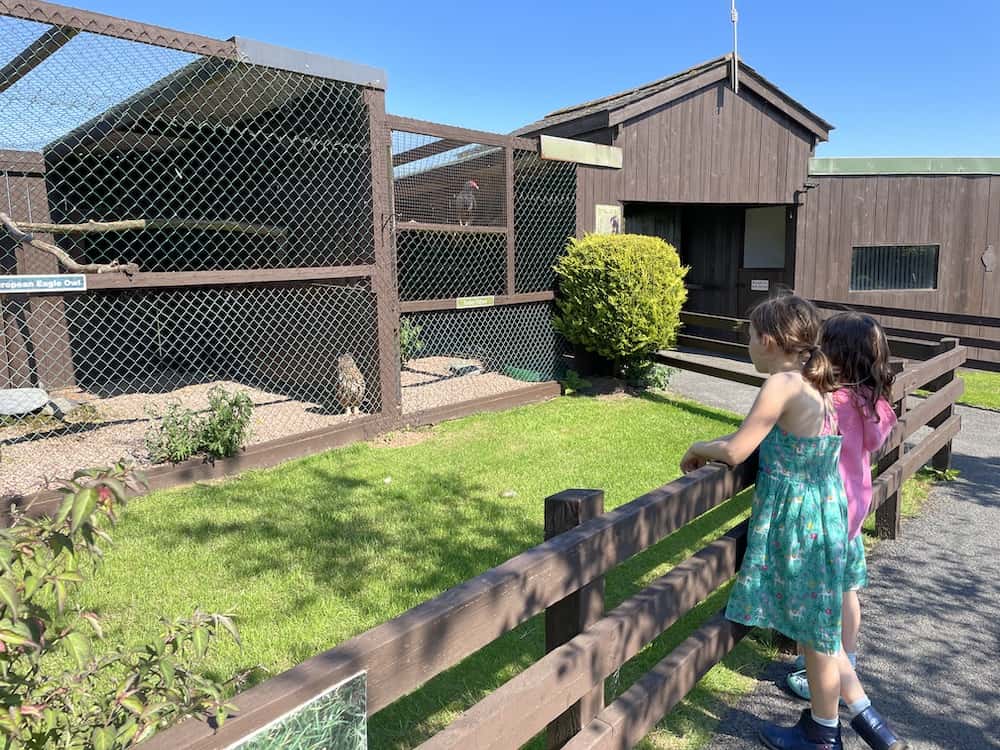 What age is The Milky Way for?
Brook is 7 years old and Indie is 9 years old and they both loved The Milky Way. I also feel they will enjoy visiting here for the next few years too. The park is perfect for younger children, but if you have teenagers with you they will still have a great time, if you manage their expectations. The Milky Way isn't a high adrenaline theme park, but more a family friendly day out with a variety of attractions and shows to enjoy.
Final Thoughts on The Milky Way, Devon
From a covid safe point of view, we really felt The Milky Way was talking everyone's safety very seriously. Firstly the restricted numbers meant the park never felt crowded and there was plenty of space, indoors and outside, to socially distance. There was plenty of hand sanitising stations throughout the park and lots of signs to help with social distancing. It was great to see everyone wearing masks when they needed to as well.
We also throughly enjoyed our day out at The Milky Way. We hardly had to queue for anything, the most that we had to wait was 5 or 10 minutes for the most popular rides. We loved the variety of the attractions, being able to enjoy high speed dodgem rides, magic shows and sci-fi exhibitions all in one place.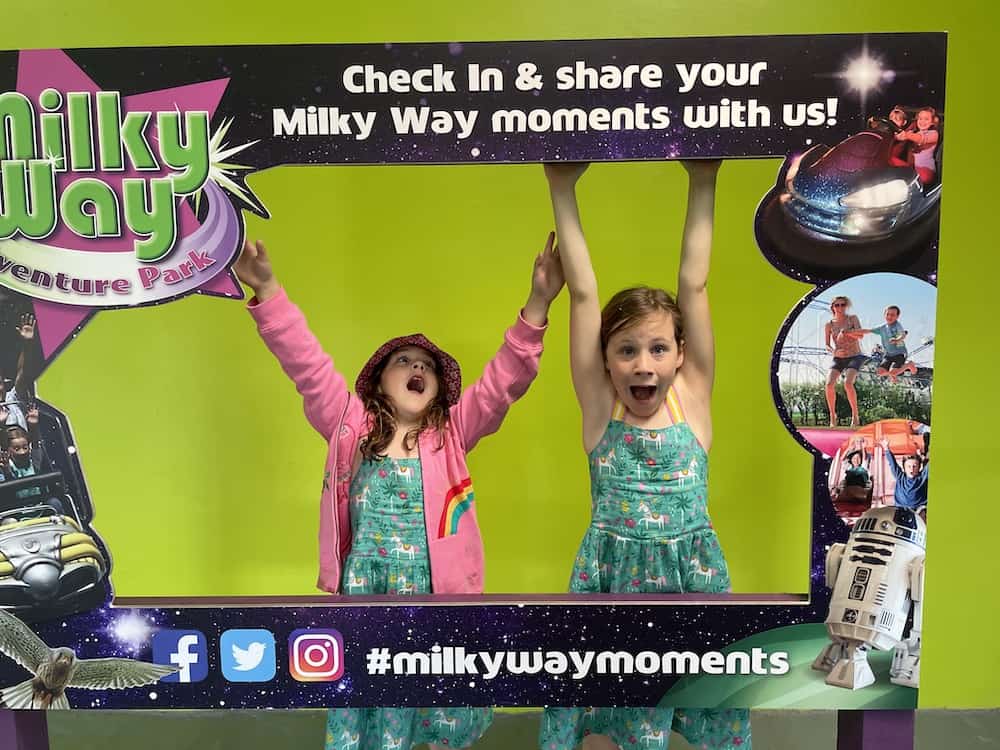 I'm also a huge fan of the reduced numbers, as this made for a really relaxed day out. This was our first visit to an adventure park since the pandemic began and it was a lovely toe back in the water for us as a family. Being in big crowds or surrounded by lots of people does cause a little anxiety for both us and the children now, so seeing numbers being carefully controlled for everyone's safety was reassuring on so many levels.
Where is The Milky Way, Devon
If you are planning a visit to The Milky Way Devon it's well signposted on the A39 (Atlantic Highway) Devon. The address and postcode are
The Milky Way Adventure Park – Higher Clovelly, Bideford, North Devon, EX39 5RY
 01237 431 255
 [email protected]
Ticket Prices at The Milky Way
During half term week the ticket prices were:
Adult 16+ £15.95
Children 4-15 £15.95
During term time the ticket prices are a little cheaper
Adult 16+ £13.95
Children 4-15 £13.95
Children 1-3 £6.95
Under 1's Free
Ticket prices are reduced again if you have an EX postcode and annual passes tickets are also available.
When we booked the tickets we picked a time slot as entry to the park is staggered for safety reasons. When we arrived we were in the park quickly. We had already downloaded The Milky Way app, so we were full steam ahead for a great day out.
Have you visited The Milky Way, Devon yet? If you are visiting North Devon, save this post to your list of things to do now.