Devon is very much a favourite UK holiday destination for us these days.  You may have spotted that we stayed at Crealy Resort in October and I decided to take the opportunity to go to North Devon for a few days as well.  I'm a huge fan of making a few stops when we are on a road trip.  It keeps things interesting and adds way more adventure to our holiday.
We packed up our glamping tent and took the hour long journey from Exeter to Combe Martin in North Devon.  We had had glorious weather while we were at Crealy Resort, but on the day we decided to travel, Devon was subjected to a pretty big storm.  It added a bit of time to our journey – but we managed to arrive safe and sound in Combe Martin later that afternoon.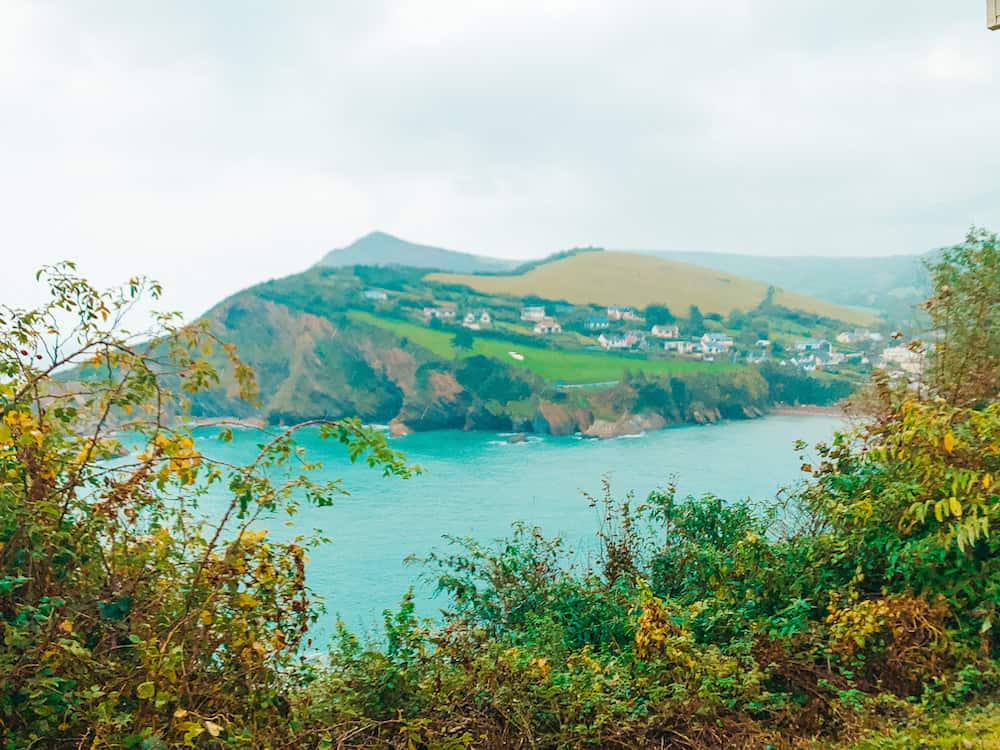 I had a caravan booked at Sandaway Beach Holiday Park just outside Combe Martin which is a great location if you want to explore Ilfracombe, Woolacombe and Barnstaple.  I'd researched a lot of holiday parks for our 3 days in North Devon, and John Fowler Holidays was ticking all the right boxes in terms of price and location.  I was keen to have a self catering holiday and the caravans looked comfortable with a good amount of space.  By this point in the holiday we were also ready for a TV and of course our own toilet and shower.  After glamping at Crealy, having a toilet and shower of our own felt like a bit of a luxury.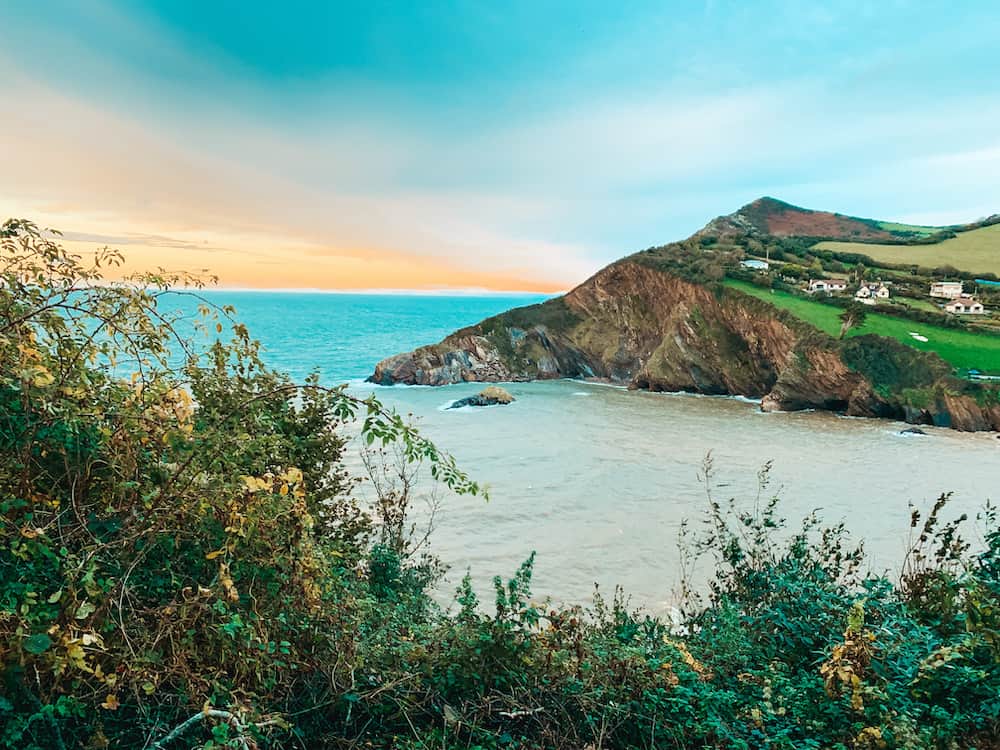 The weather in North Devon was very dramatic when we arrived.  We got checked in and headed straight to the caravan to get settled in.  When we got inside, I was overjoyed with the location.  We had taken the road round the edge of the caravan park and which also happened to be the side of the cliff.  Our view from the caravan was directly over Combe Martin beach – and it was incredible regardless of the stormy weather we were experiencing.

After a very busy few days celebrating halloween at Crealy Resort, we were all looking forward to putting our feet up and enjoying the view (or in Brook and Indie's case catching up with some children's TV).  If we had of booked a North Devon hotel with that kind of view I think it would have cost significantly more than my 2 bedroom gold caravan through Hoseasons did.
Hele Beach
Relaxing is great but we always reach a point where we are keen to get out and about and explore the area.  The whole point of being in North Devon was to see it after all.  The storm looked like it was slowing down so we decided to head towards the beach.  We drove towards Ilfracombe and I spotted Hele beach along the way – it seemed like a good place to stop and explore.  Brook and Indie were armed with spades and wellies so it was all looking good for some family fun.
It was fantastic to be on the beach and get some fresh sea air.  The kids were digging in the sand but what really caught their attention was the rock pools.  I did my very best to encourage them to stay at the edge, but their curiosity and bravery got the better of them.
We were all really enjoying being on the beach until Brook slipped and fell, bottom first, into a rock pool.  It was about 6 inches deep and big enough for her clothes to be soaked and wellies to be filled with water.  Our trip to the beach came to rather an abrupt end and Brook wailed all the way back to the car.  I wasn't too worried, as we were only a few minutes from Sandaway Beach Holiday Park and she'd be in the shower in a few minutes.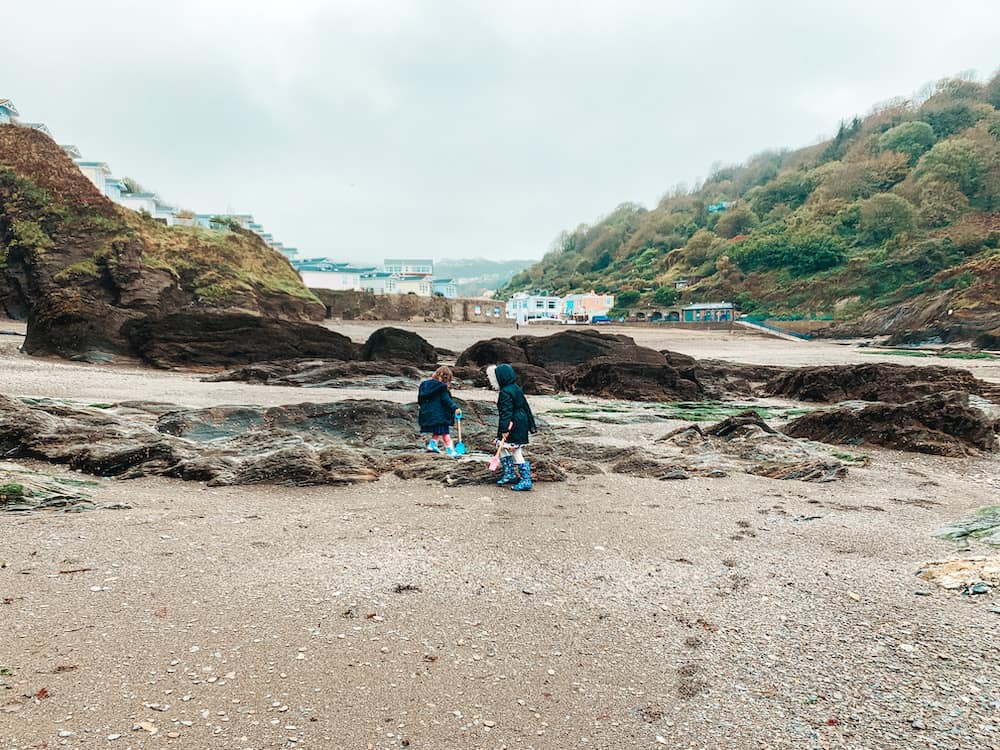 We got the wet things off Brook and covered her in a blanket before heading back down the road. Unfortunately we met a car parked across the road – it looked like a tree had come down so the route back to the caravan park was blocked.  We turned round to try and find an alternative route.
Even though the storm was slowing down, the rain water was still causing problems on the road.  There's quite a few hills in North Devon and the rain water was coming down them at quite a rate.  We thought we had found a safe route after one failed attempt, but it turned out there were floods on the road.  I assessed the water level – and given that I had the kids in the car, one who needed a hot shower and warm clothes – I decided to plough on.  The Audi behind me decided better of it, and in retrospect that's exactly what we should have done.  We got through one, only to hit two more floods, with no other option but to keep going at that point.
Fortunately we made it through each one with the kids and the car unscathed – but I would definitely rethink that approach if I was faced with that scenario again.  I was just relieved to get back to the caravan and get Brook showered and changed.  We decided to go to the club house at the holiday park for the kids disco and a game of bingo.  It was pretty cheesy holiday entertainment – but the kids loved it and it took our mind off our earlier adventures.
Combe Martin Beach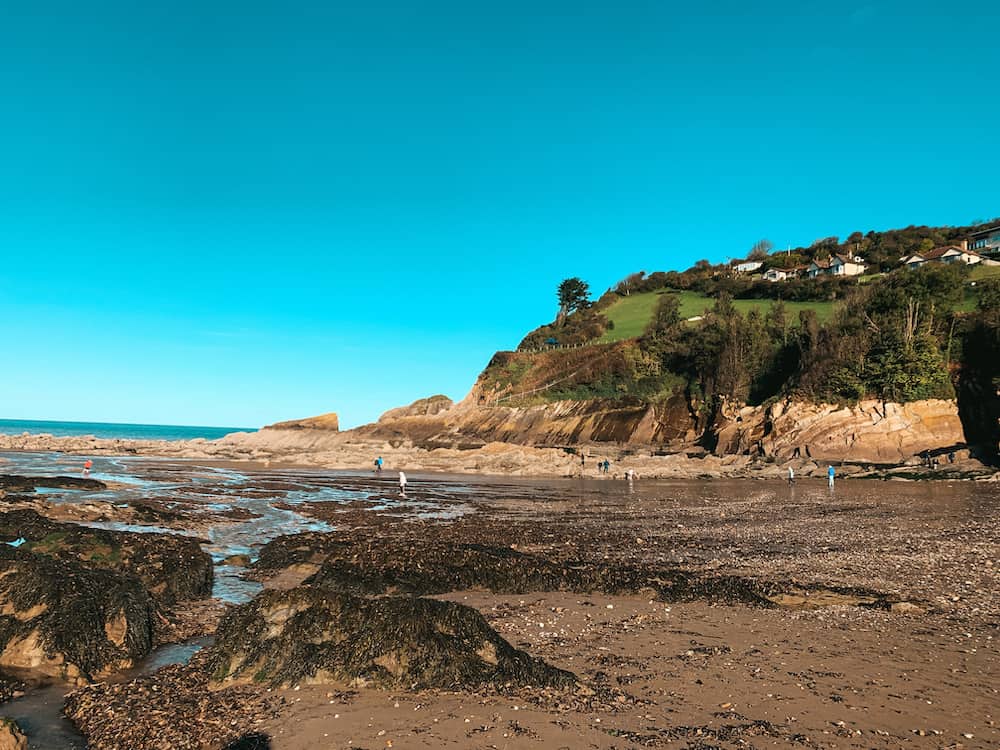 The following day the sun shone over North Devon and I was keen for us to make the most of it.  We visited Combe Martin beach first.  It was just two minutes in the car and it was good to get back on the beach with the kids.  I reminded Brook to be careful as we didn't want another mishap!  Kids forget very quickly though, and I had to keep a close eye on them both.
It really was a refreshing start to the day – blue skies, sea air and beautiful views.  We stayed for about an hour before heading off to explore our next destination.  I found a National Trust property, Arlington Court, just outside Barnstaple, so given we are National Trust members I was keen to go and take a look.  They had a pumpkin trail which the kids were keen to do and it helped us explore the grounds.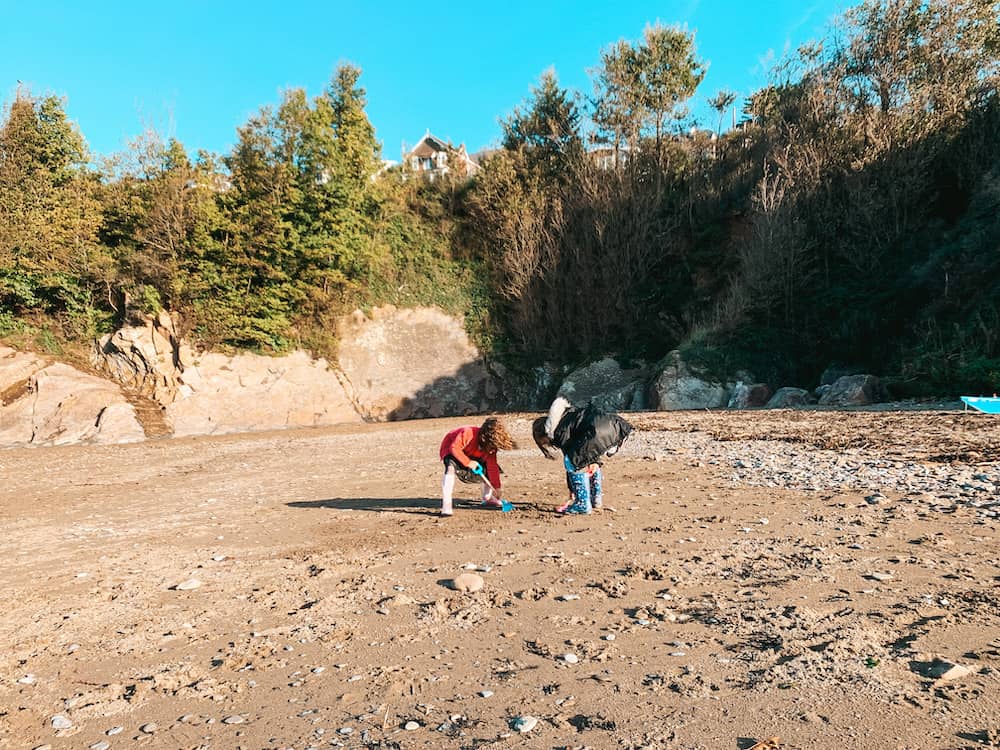 Arlington Court is a wonderful National Trust property, the gardens and outdoor play areas are great for families.  We also visited the National Trust coach museum while we were there, which was an unexpected treat.  What we didn't manage to do was actually go into the house!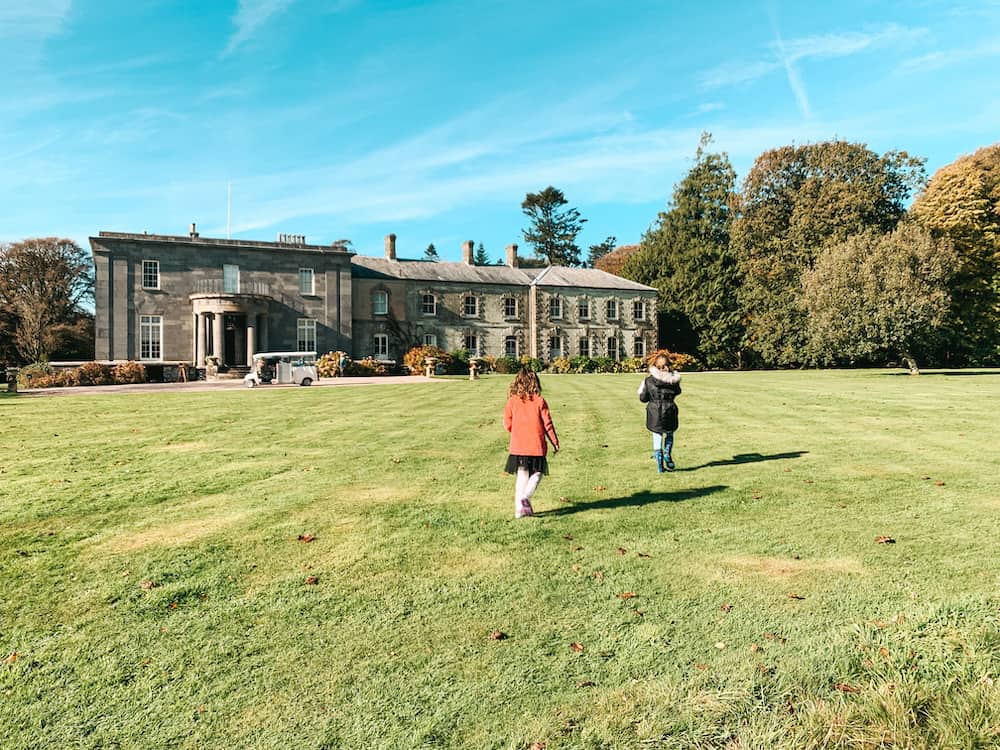 It was so nice being outside that we decided to make the most of it.  I was also keen to visit Ilfracombe that day, and the kids were happy about heading back to the beach again so we made our way to the next stop.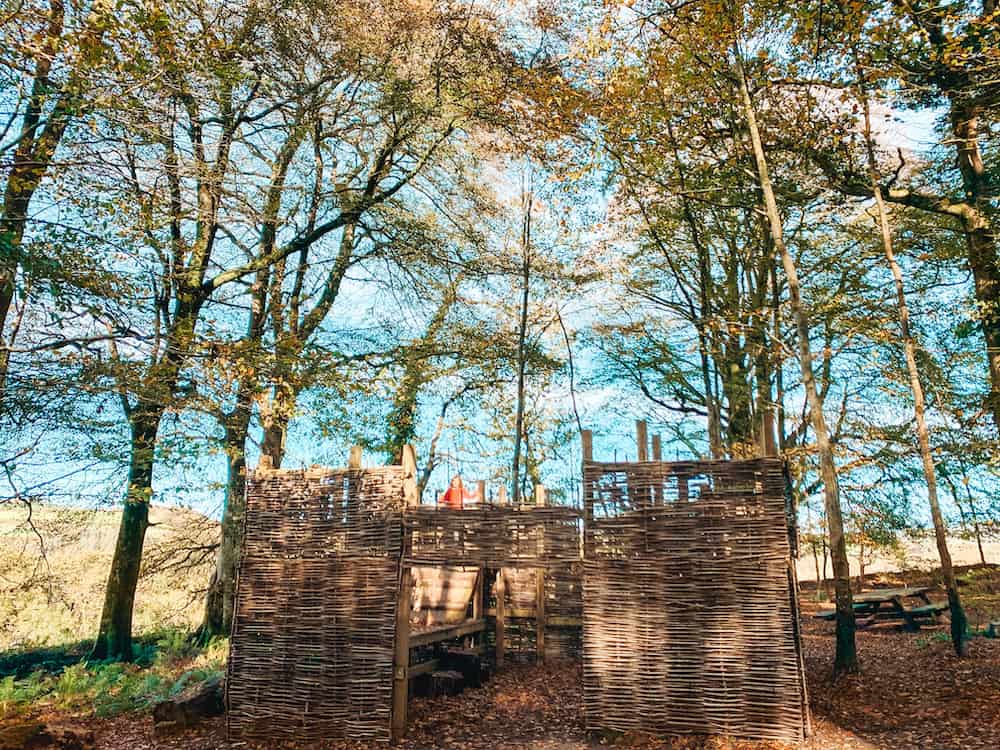 Ilfracombe
We found a cafe along the sea front to get dinner and then played on the beach until sunset.  The clocks had gone back, so we didn't have long, but it was still nice to be able to visit the town.  I had wanted to go to Woolacombe as well, but with the storm and the slip in the rock pool, it wasn't meant to be this time.  It felt like there was a lot more to see in Ilfracombe but given we had already had a busy day I didn't want to risk pushing the kids any further incase they got too tired and cranky.  Instead I made a mental note to return one day and explore more of the local sights.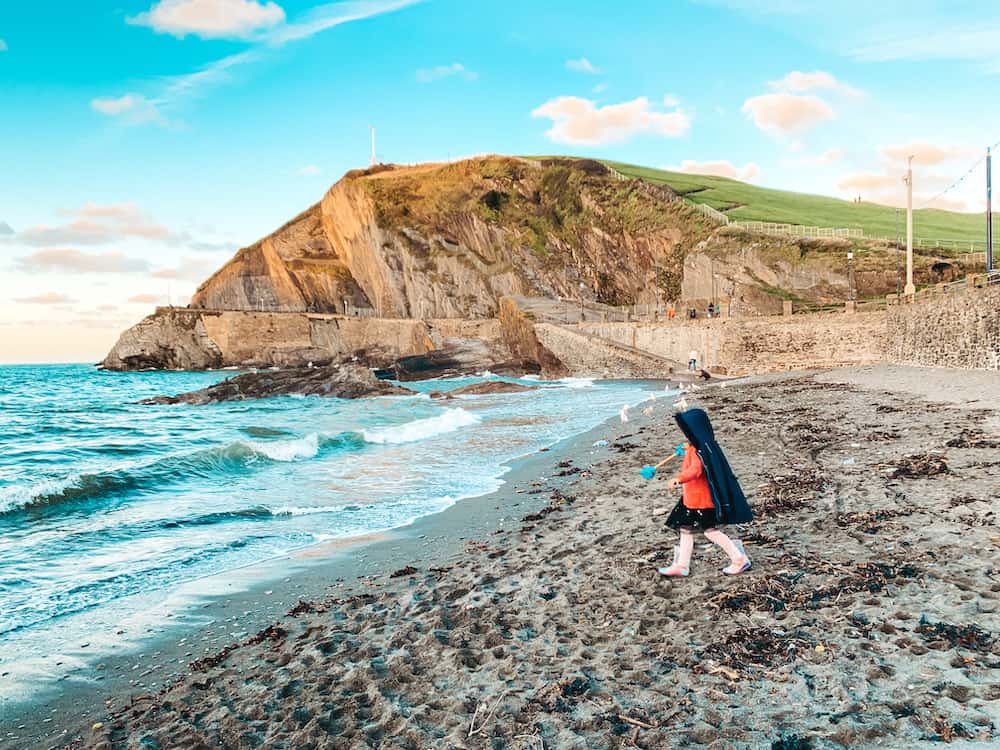 We ended our last day in North Devon back at Sandaway Beach Holiday Park for another evening of live entertainment and a game of kids bingo.  We had had a lovely week, and a wonderful introduction to North Devon.  We are certain we will be back again in the future.  The trip back to Nottingham was uneventful, and included a stop at Gloucester Farm Services, which is a favourite of ours on the M5.
I had been slightly worried about a UK holiday for October half term, but we really did have a lovely week, with the majority of the weather being very kind to us during our stay.  Yes, we did experience a storm, but given the landscape this was a pretty incredible experience also.
Have you been to North Devon before?
Pin for later