When we were planning things to do in North Devon, the other attraction near to where we were staying was The Big Sheep. I have to admit, I was pretty curious about a day out that featured sheep as the star of the show. As with all days out these days, booking in advance is essential, and we managed to get tickets to visit The Big Sheep on the Friday afternoon.
Unlike other attractions we had visited in Devon, we had the choice of visiting in the morning or the afternoon. Our tickets allowed us to visit at 2pm and have access to The Big Sheep for 3 hours. We were a little worried this wouldn't be long enough, but actually we did manage to see most things we wanted in this time.
Everyone arrived at the same time to enter the park. As we entered The Big Sheep, we were given a time slot for visiting the indoor play area and a timetable for the shows. The Big Sheep had everything well organised, which was very good news given we were only in the park for 3 hours. The Big Sheep isn't a huge place either, so all the rides and activities were easily accessible during our visit.
Things to do at The Big Sheep
The kids soon found the bouncing pillows and Honey Pot ride, both of which were a huge hit. It was funny watching Brook on the bouncing pillows. It was another hot day in Devon, and the bouncing pillows get pretty hot in sunny weather. This made her bounce super high though, which she loved. The chair swings were also perfect for Brook and Indie to go on together, which is a win all round.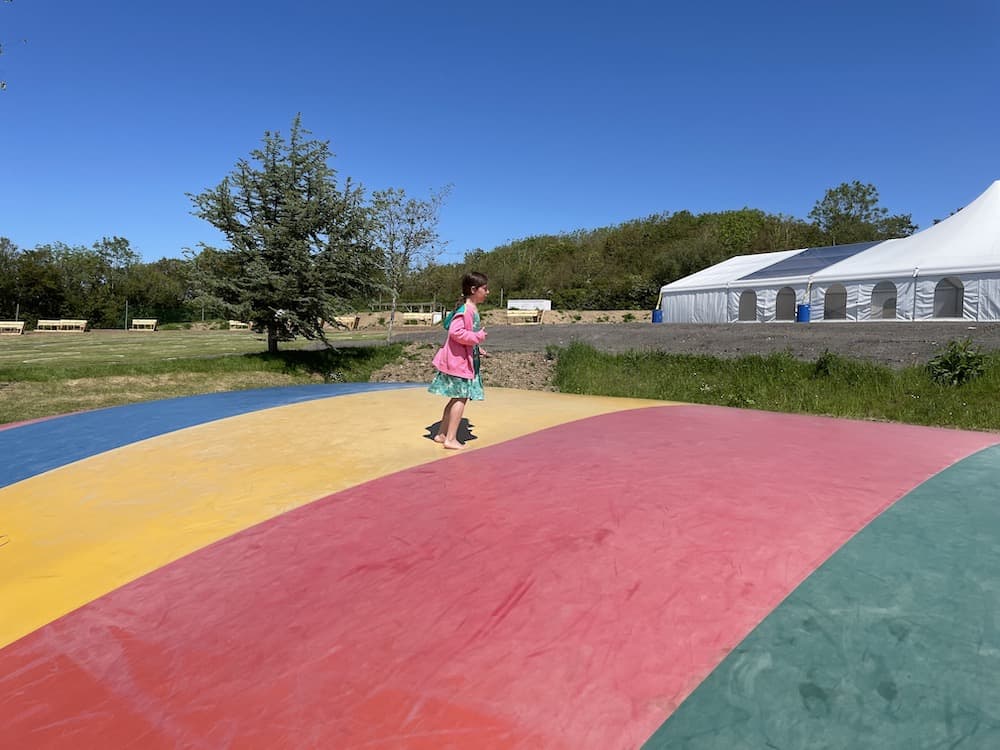 We made sure we were on time for the Sheep Show with Farmer Chris in the main arena. It's a popular event at the park for obvious reasons, but there was plenty of space for everyone. We were introduced to the different varieties of sheep that live here, and learnt some cool facts about them too. It was fun seeing each sheep take the podium to his or her signature tune. Some of the sheep even had a trick up their sleeve, which was cool to see. I won't spoil the surprise though!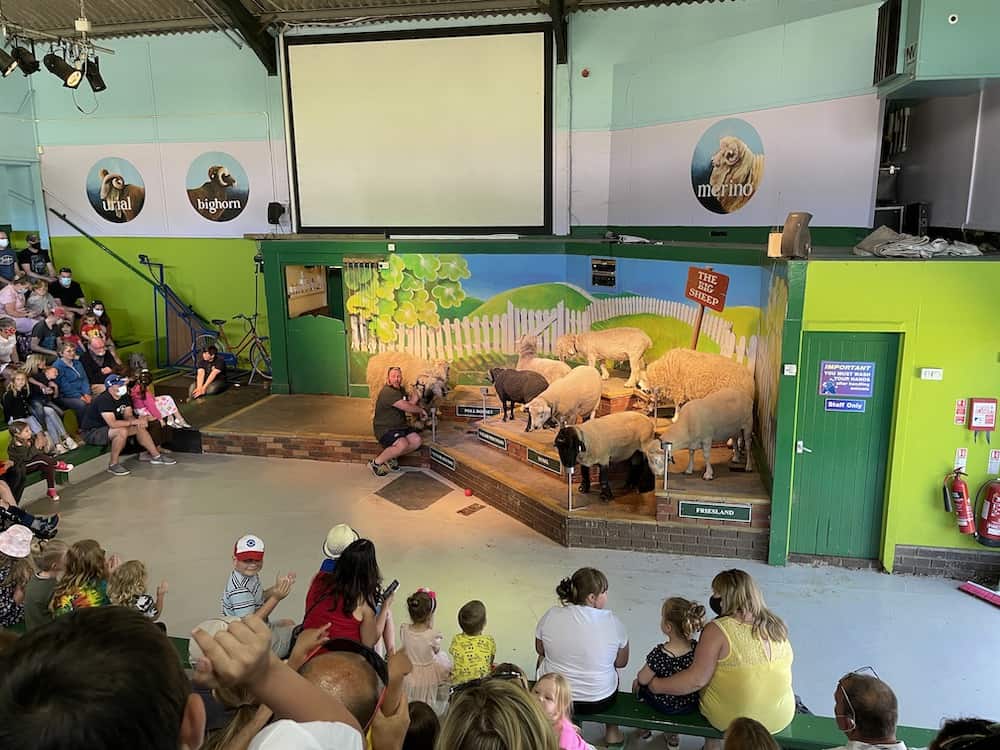 In between shows we headed over to the roller coaster and the swinging chairs. Brook and Indie love these rides, and it's great they are able to go on them independently. The queues were short too which was helpful for managing excited children.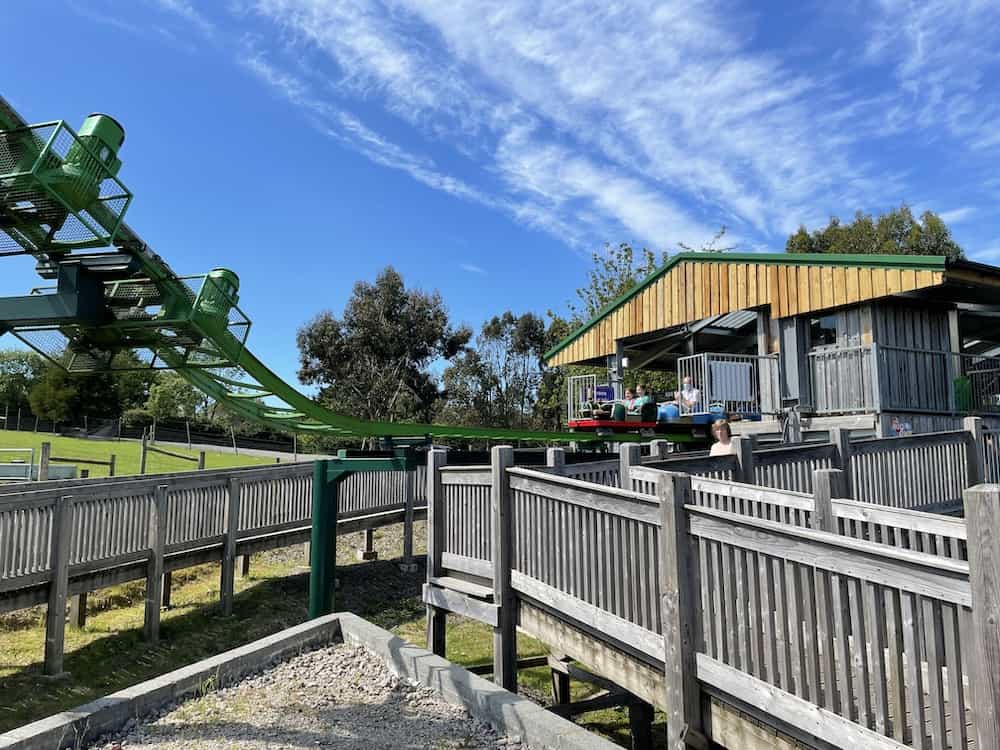 Our next stop was the Duck Trails with Farmer Chris and his 16 year old sheep dog Joe. Obviously some ducks were involved as well as some audience participation. Joe was an expert at herding the ducks even through the tightest of gates, despite his senior years. We love shows that are a little bit different and the Duck Trails definitely ticked that box.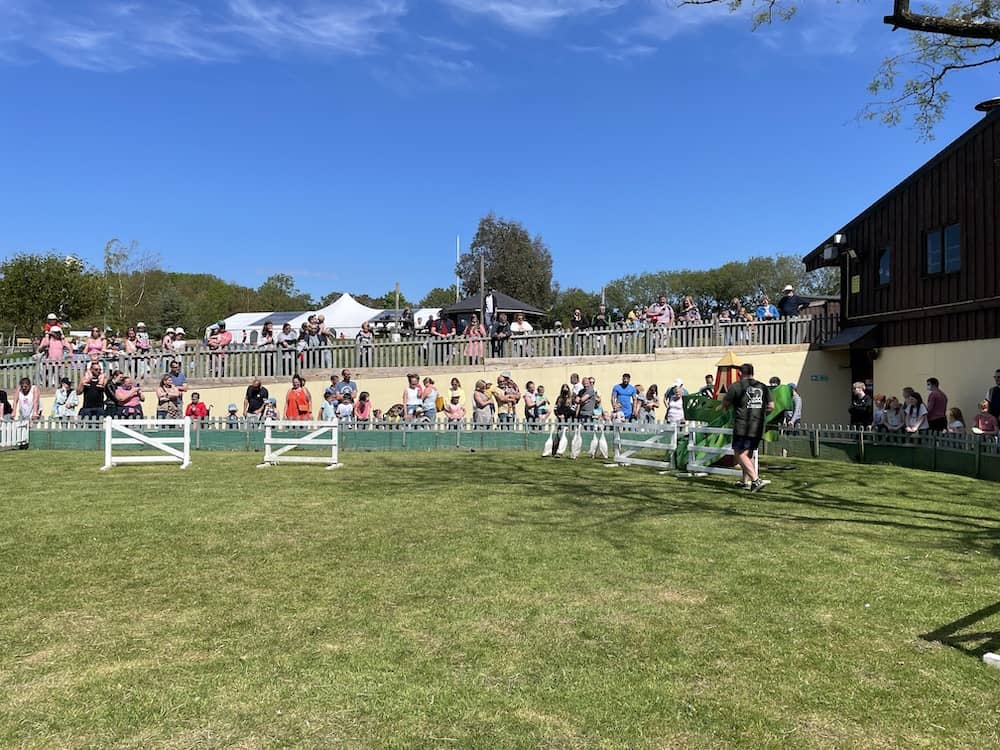 After the Duck Trails it was time for us to visit the indoor play area. It was great to see the numbers being managed so well here so the children could play safely and the parents could enjoy a quiet cup of coffee. It's a big play area with great slides and lots of places for the kids to explore.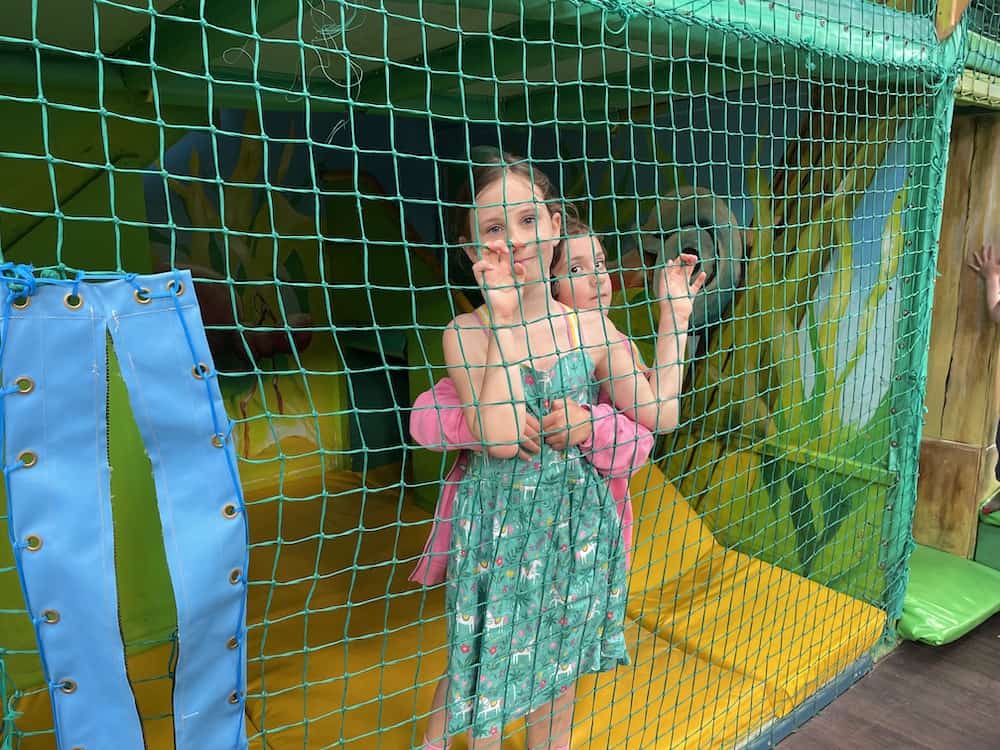 The main event at The Big Sheep is the Sheep Racing! I have to confess I've never seen sheep race before, so this was a first. It was a nice touch that you could put a bet on your favourite sheep and win a small prize if they finished first. It was a fun atmosphere and the sheep were all in fine form, with sheep number 2 coming in first!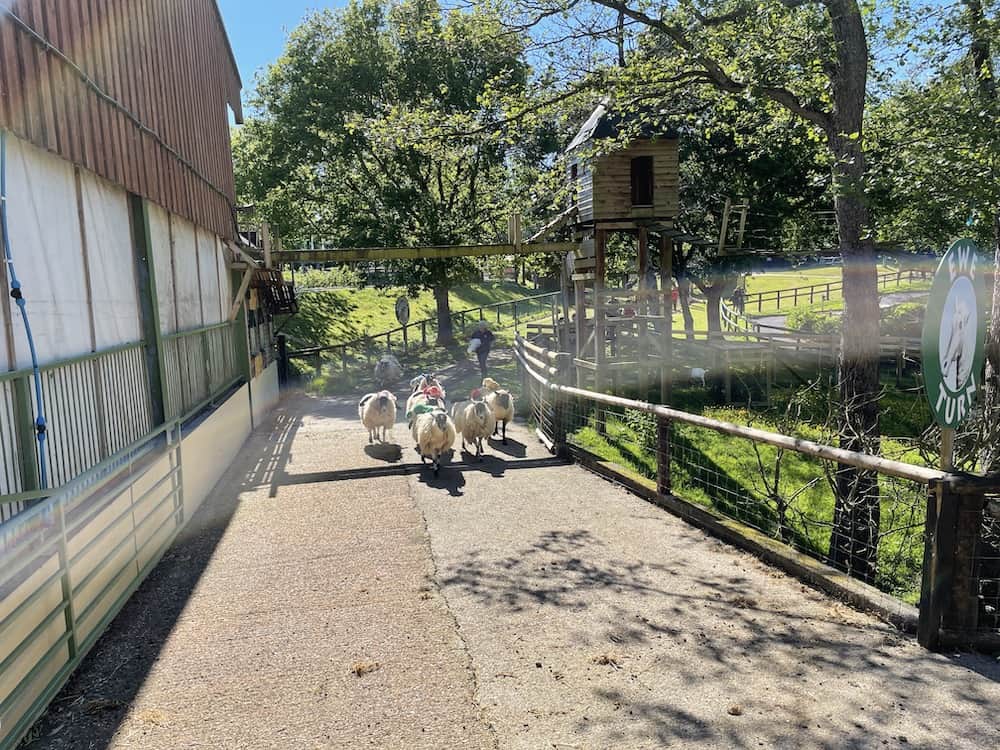 As we were right next to the animal barn, that was where we headed next. I'd preordered 2 bags of animal feed for our time at the Big Sheep, and Brook and Indie throughly enjoyed feeding the sheep and goats with it. We also got to see ducks, miniature pigs and even puppies! We were desperately trying to work out how we could get one from Devon to Nottingham, but gave it up as a bad idea. Getting a new puppy will just have to wait a bit longer.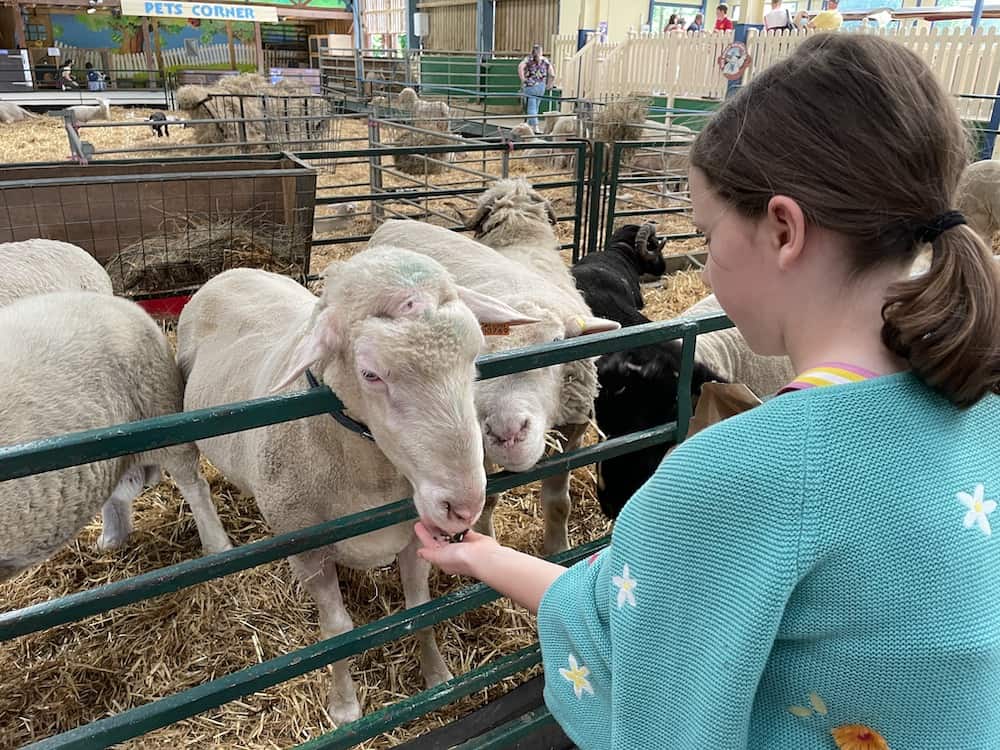 What age is The Big Sheep for?
Indie and Brook are 7 and 9 years old and they both had a great day at the Big Sheep. It is definitely aimed at younger children who love animals, but that doesn't mean older kids won't have a good time here, it's just a case of managing their expectations.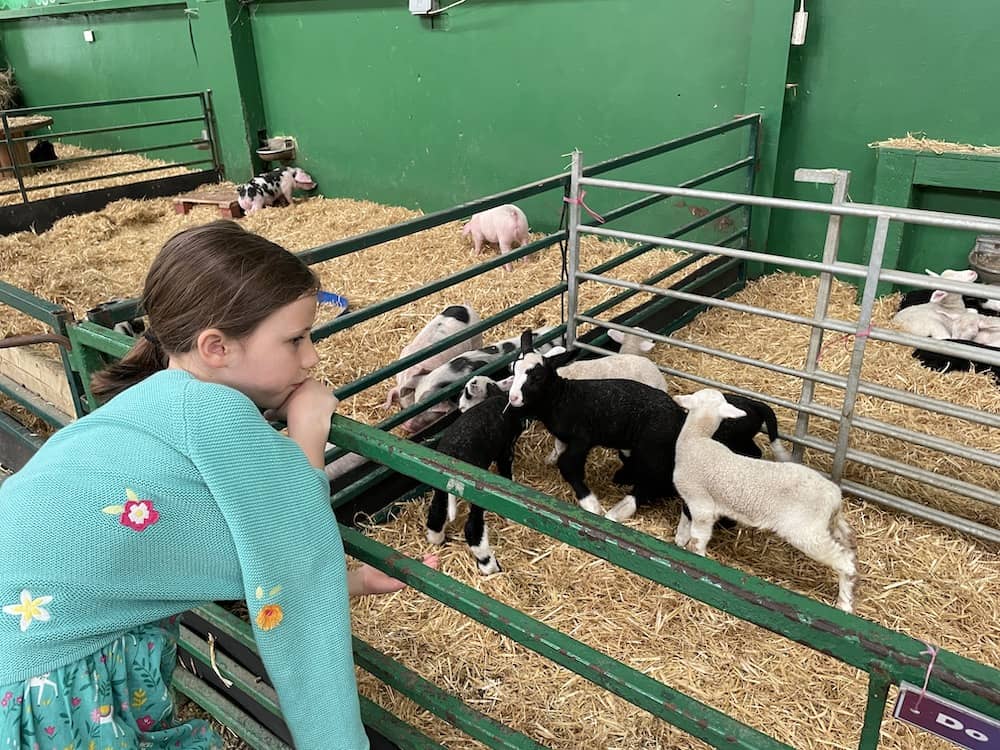 Final Thoughts on The Big Sheep
We had a really lovely afternoon here, made even better by the restricted numbers. Was 3 hours long enough? I'd say, just about. I think the optimum time would have been 4 hours, as we didn't get quite everything in we wanted to do, and Brook and Indie would have like to squeeze a couple of more rides on the roller coaster in.
It was really well organised though, and there was plenty of hand sanitising stations located around the park. It was also really good value for money, at £10 per person. We also really enjoyed the sheep fun, and getting to know more about this popular farm animal.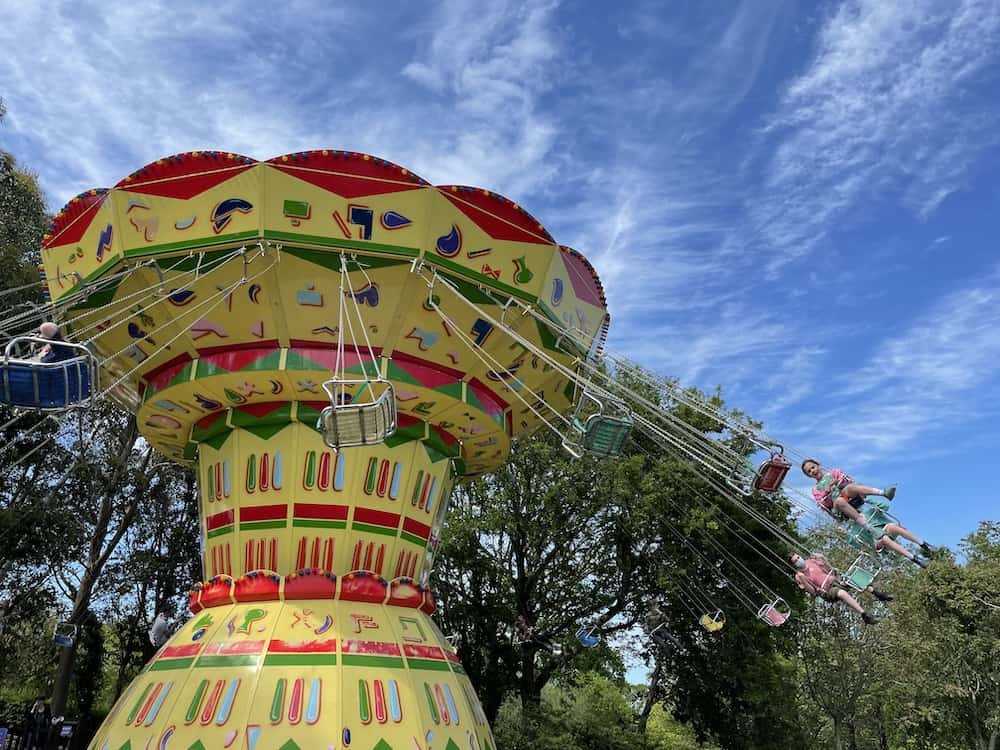 Where is The Big Sheep
The Big Sheep is just off the A39 near Abbotsham in North Devon. The address and postcode are
The BIG Sheep, Abbotsham, Bideford, Devon, EX39 5AP
Telephone: 01237 472366
Enquiry Email: [email protected]
Ticket Prices at The Big Sheep
I've already mentioned how much it costs to visit The Big Sheep, Devon but there are a few exceptions
Adults £10
Children £10
Children under 3ft £4
Babies under 12 months free
Access to whole site
Adults £14.95
Children £14.95
Children under 3ft £6
Babies under 12 months £2
Some rides in the Big Sheep have a small additional charge, including the quad bikes and tractors.
There are also discounts available for people with a Devon postcode. For more information visit https://www.thebigsheep.co.uk/times-and-prices/
Have you visited The Big Sheep, Devon yet? If you are visiting North Devon, save this post to your list of things to do now.