Last year we took Princess along to see Peppa Pig's Big Splash Tour.  We went with friends, who have a little girl who is also a big Peppa Pig fan.  I'd go so far as to say bigger than Princess!
The pair of them thoroughly enjoyed the show, spending every minute on their feet singing and dancing.  The weren't the only ones either, all the young theatre goers were on their feet too.  The atmosphere was brilliant.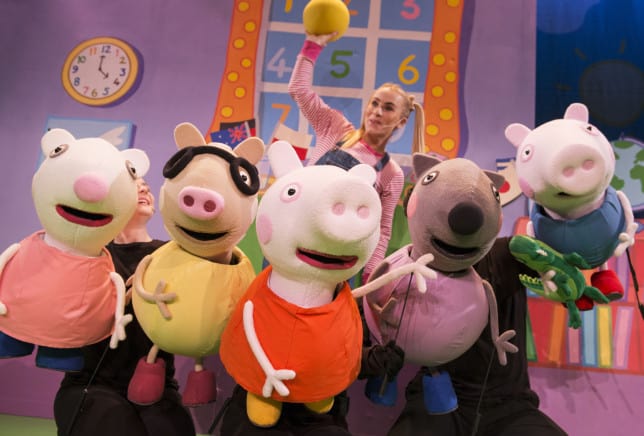 We have heard that the new Peppa Pig tour has just been announced, and we had to share it with you all and your little Peppa Pig fans.  Here's what the show's creators have to say about the new show:
About Peppa Pig's Surprise
A new Peppa Pig live stage show, PEPPA PIG'S SURPRISE, is announced with autumn 2015 theatre dates now on sale. Produced by leading children's theatre team Fiery Light, in partnership with licensor Entertainment One, this brand new show marks the seventh consecutive year of Peppa Pig live theatre tours (first tour in 2009) and the fourth Peppa Pig stage production in total.
PEPPA PIG'S SURPRISE will tour for over fifteen months throughout the UK and into Ireland and will include a sixth consecutive Peppa Pig Christmas West End run (details tba). The show will have its world premiere at the Orchard Theatre in Dartford with first preview on 24 October.
It's a lovely day and Peppa is playing outside with her friends. Mummy Pig and Daddy Pig have got a surprise for her and her younger brother George but no matter how hard they try, they cannot guess what it is. In PEPPA PIG'S SURPRISE audiences will enjoy interactive fun, games and, of course, surprises. This charming, colourful new show features new songs and new life-size puppets. PEPPA PIG'S SURPRISE promises to be the perfect theatre show for all pre-schoolers.
Currently one of the most popular shows on the UK and Ireland theatre touring circuit, Fiery Light's Peppa Pig live stage show experience has now gone international with a production running in Australia and another opening in the US in autumn 2015. There are also licensed productions of the show in Spain, Italy and Latin America Richard Lewis once again has adapted for stage episodes from the hit TV show, created by Astley Baker Davies, and he also directs.
Have you been to see Peppa Pig's Live Show's?  What did your Peppa Pig fan think? For the latest information about tour dates and tickets, head to www.peppapiglive.com!
Free Download:
Keep your little one enterained with the Peppa Pig Colouring In Activity Page