Let's talk about dolls for a second.  When I found out I was going to have daughters I made a decision not to encourage them having dolls for toys.  I soon came to realise that I was breaking one of my own golden rules of parenting.  Restriction is a tricky path to go down if that is all you rely on.  Teaching balance and how to make informed choices will stand any child in much better stead than restriction in the long run.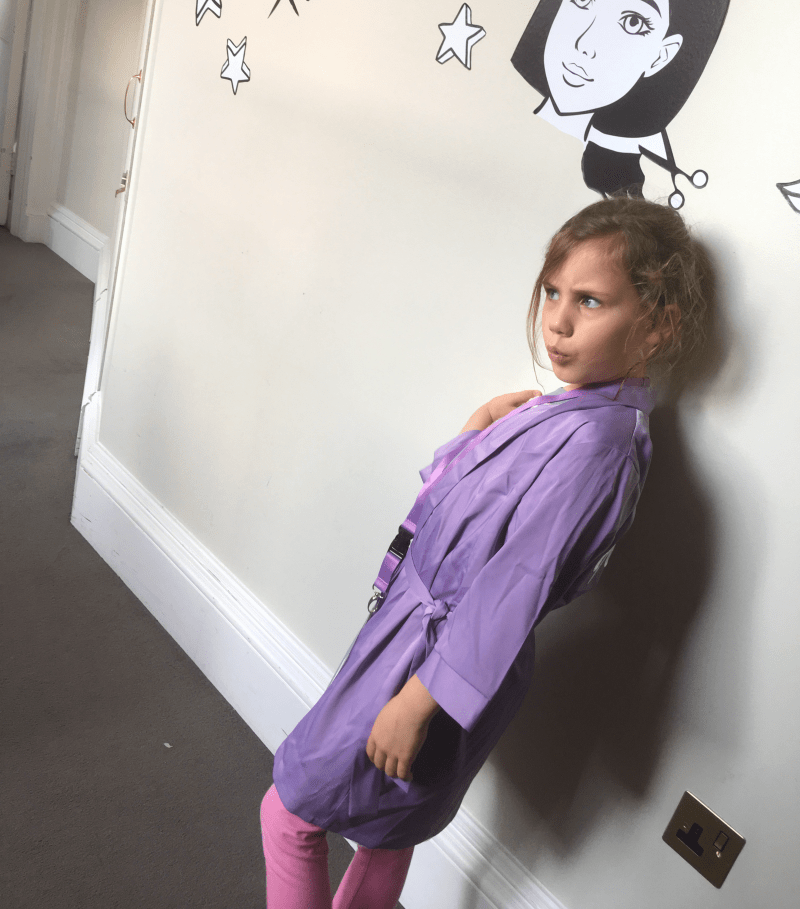 So hang on a minute, I thought we were talking about dolls?  We are, and what I realised was that the girls both wanted to play with dolls and a few have made an appearance in their lives over the last 6 years.  Dolls have played a huge part in their role play games and seem to help foster their nurturing and caring nature.  The issue isn't letting them play with dolls, the issue is letting the play with a range of toys that allow them to express themselves.
The particular toy phase we have reached is wanting to style and dress dolls.  Indie creates the most wonderful and elaborate hairstyles, and she's very particular about what her doll's wear.  When we were invited to the launch of the I'M A GIRLY fashion doll in London last month, I knew Indie would love to meet the latest styling doll to arrive in the UK.  I was really excited to see her reaction, as well as all the other children who went along.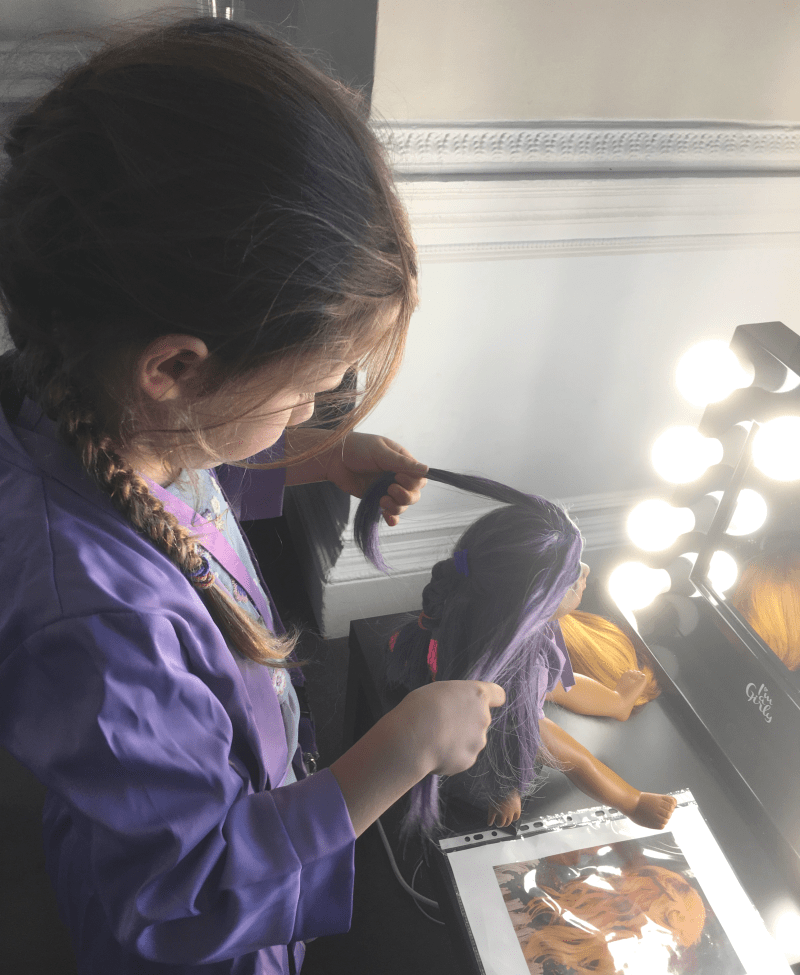 These high end fashion dolls hit the shelves in Hamleys and Harrods last month, starting at £109 each.  Obviously I was keen to know if the I'M A GIRLY doll could justify such a price tag.  Well, honestly I have not come across a doll of such great quality and that Indie has connected with so quickly.  She realised immediately that the hair had great possibilities and it was Lola that really captured her imagination.
I think it was obvious from the moment we met the I'M A GIRLY dolls and started choosing outfits for them that they had been designed by kids.  The I'M A GIRLY brand prides itself on a KIDS4 KIDS approach and the range is inspired by designs from 9 to 13 year olds.   You can see they have had a hand in the accessories for a start as the outfits having budding young fashion designers written all over them.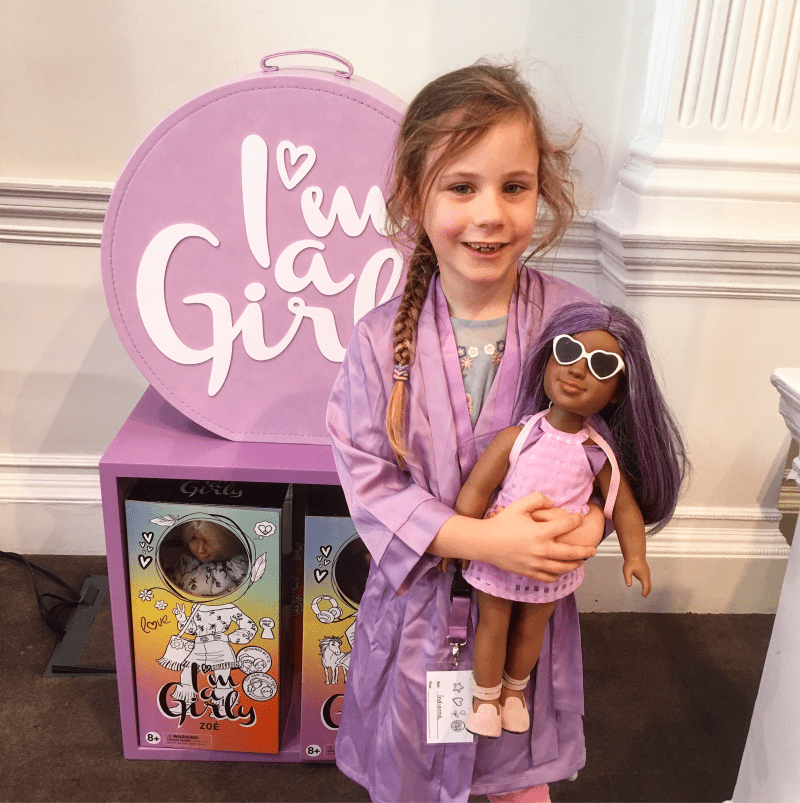 The hair is probably one of the most impressive features of this doll.  Lola has the most amazing purple hair, but check out Jasmine's impressive curls or Zoe's flowing blond hair.  Given the hair's quality I can never see them becoming matted or frizzy, no matter how many times it is brushed, plaited or styled.
The other fabulous feature is that you can change the dolls hair with a number of beautiful wigs, so if Indie, or any other child for that matter feels like performing a real haircut, it really doesn't matter.  The unique 'CUT HAIR, DON'T CARE' feature really does mean that the possibilities are endless.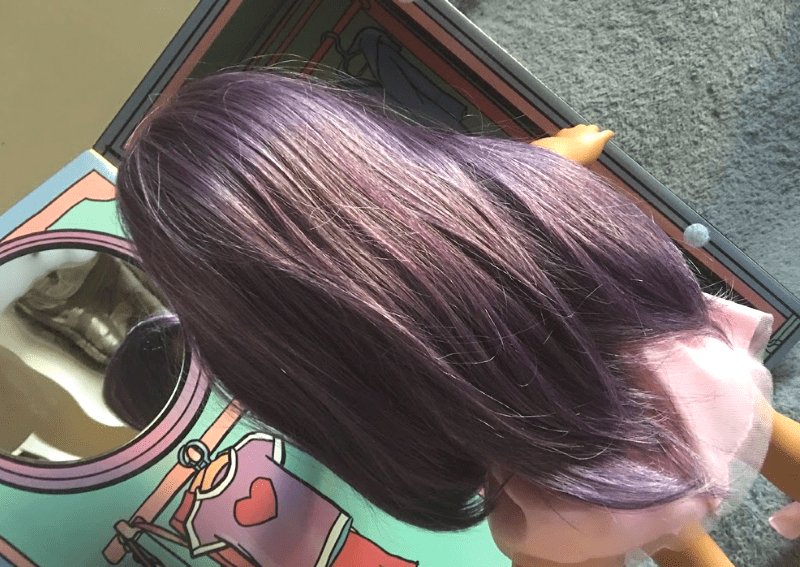 Indie also spotted immediately that Lola's box was going to provide her with a great place to keep the I'M A GIRLY doll and her clothes.  The design makes for a perfect wardrobe, and the mirrored discs provided can be stuck to the box window to finish the look.  None of the packaging has to be thrown away!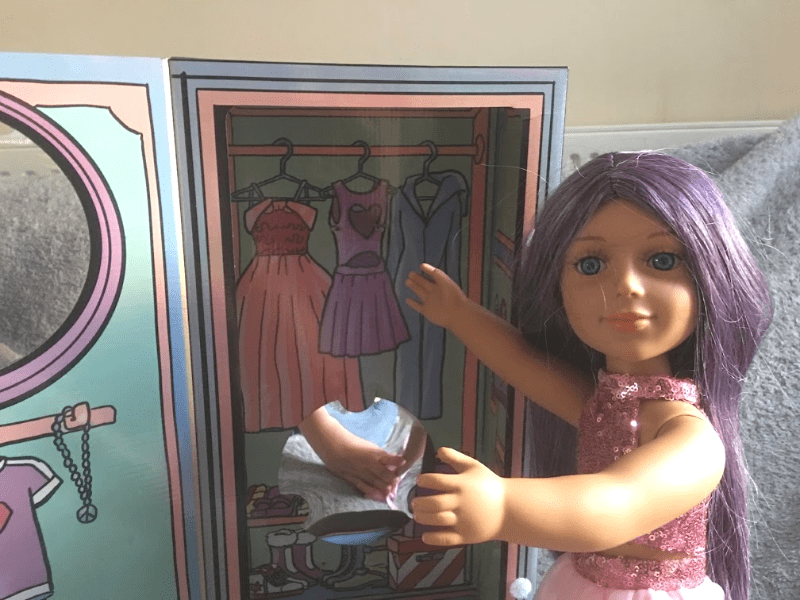 I thought I would save the best until last though.  While we were at the I'M A GIRLY launch event the thing I enjoyed the most was seeing all the children there able to pick dolls to play with that they could relate to.  The doll not only has beautiful features, but healthy body proportions and a range of skin tones too.  Seeing different ethnic backgrounds represented in this way across the range was so refreshing and is one of the reasons why I would strongly recommend the I'M A GIRLY range if you have a child in your life that enjoys playing with dolls.
This post is part of a paid project with I'M A GIRLY and BritMums, promoting the I'M A GIRLY Fashion-Dolls, new high-end fashion dolls that just landed in Harrods and Hamleys. They are hip, cheeky, trendy and a bridge between childhood and teenage years. See the dolls and accessories at https://www.imagirly.com/uk/