Last week it was our 4th wedding anniversary and it coincided with Jamie's Italian inviting us along for a complimentary meal. I couldn't believe what perfect timing it was, and I thought it would make a lovely place to celebrate such an important occasion.
Now, with the girls being so small we haven't left them with a babysitter, or their big brother for the evening. The truth be told, they are a bit of a handful! They are both at nursery now, so seeing as daycare is in place, we decided going for a daytime date and having lunch would work just as well.
The staff at Jamie's Italian are very welcoming. We were taken straight to our table and reminded that the toilets were in the basement, but more about that later. Our waitress was delightful. She went through the special dishes available that day and we trusted she had been made familiar with the dishes before service commenced. She was also able to talk about dishes we had questions about, which I always find really helpful. The Italian language is beautiful and that definitely comes across in the naming of their foods, so if you want to check out an Italian restaurant where you are, then you may want to do a quick Google search on key phrases like 'italian restaurants in jacksonville fl', for example, so you too can enjoy these amazing flavours and get a taste of Italy.
We started with the Artisan Bread Basket and the first thing that hits you about this dish is how pretty it is, it was beautifully presented. It contained an excellent selection of breads including rosemary focaccia, sourdough and grissini sticks. The dish came with olive oil, balsamic vinegar and the most amazing olive and sundried tomato tapenade.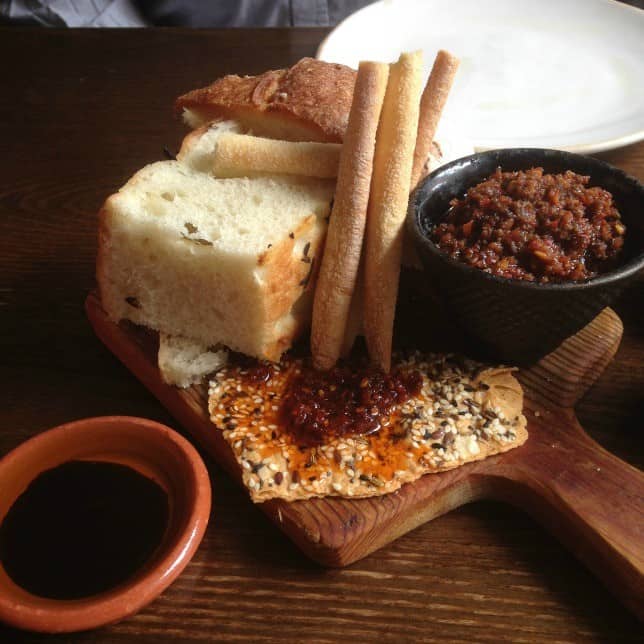 We spent some time deliberating over our mains and finally decided to order the Fish Of The Day, which was salmon served with puy lentils and cherry tomatoes and Darren ordered the Italian Steak Frites. They both looked so beautiful, that we dived in before I got the camera out! I quickly realised my school girl error and managed to get some snaps before too much damage was done.
The salmon was beautifully cooked, and the bed of puy lentils was flavoured with just the right amount of garlic. The dish was complimented with a side of Funky Chips. These little beauties are triple cooked and finished with rosemary and garlic. I throughly enjoyed them. There was lots of flavour to the whole dish and it's definitely something I'd order again, even though the cherry tomatoes migrated to my husbands plate 🙂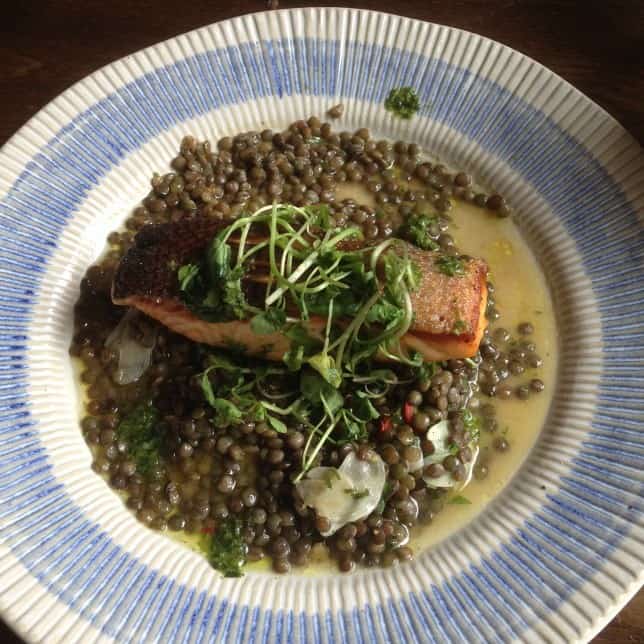 Darren really enjoyed is steak too, it was melt in your mouth and from where I was sitting it looked amazing. He wasn't sure he was going to like the Kale Slaw, but he was pleasantly surprised. He polished it off, which is saying something as I struggle to get him to eat his greans!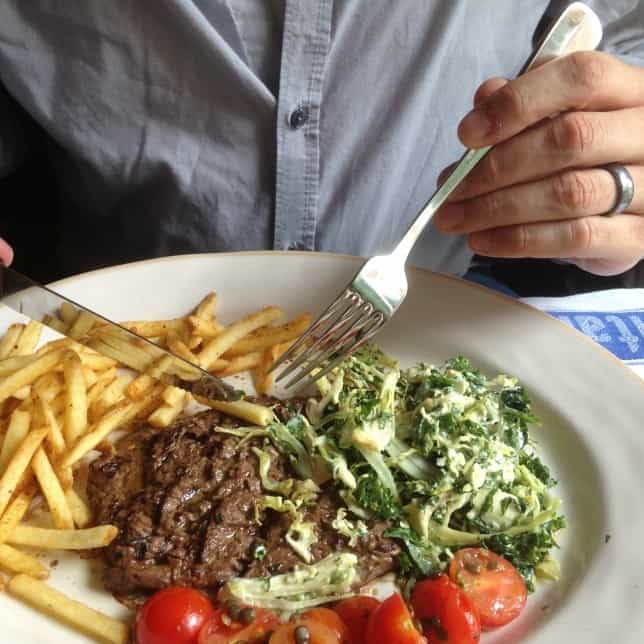 Would you like dessert? Well it would be rude not too wouldn't it. I went for the Amalfi Lemon Meringue Cheesecake, as this sounded like dessert heaven combining my two favourite choices in one. The meringue was super light and squidgy, not too sweet at all. The lemon cheesecake base was smooth and creamy from the mascarpone but I would have like a little more lemon zing if I'm honest.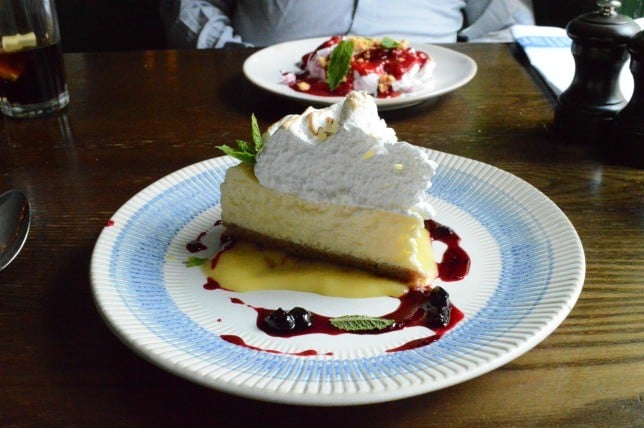 Darren choose a raspberry meringue dessert from the special menu (mental note to self to write down the special's when dining for a review!). It reminded me of an Eton Mess, but better looking. He enjoyed it by all counts, and certainly wasn't sharing!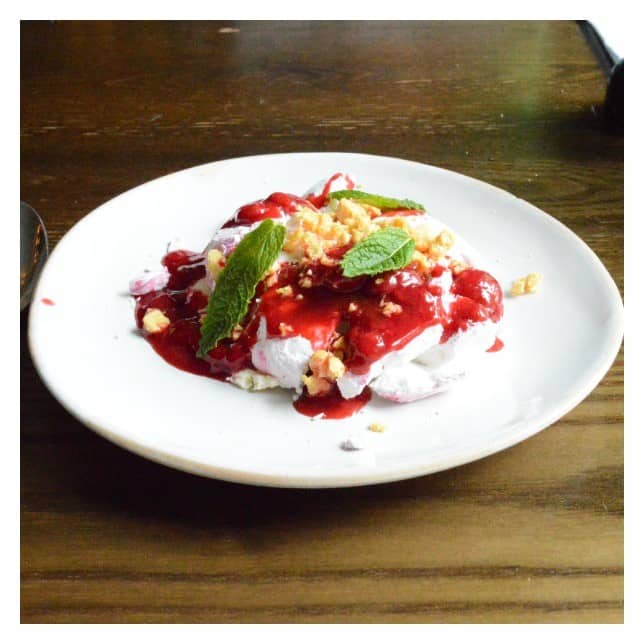 Now then, I mentioned the toilets. Before we visited Jamie's Italian, I searched twitter for reviews and one of the first one's I saw was a review of the toilets! I daren't read it as I believe the toilets say a lot about an establishment. If it was negative, I would have been put off before we even got there. Nature called and said it was time to venture into the basement, and I was tense with anticipation about what was going to be down there.
Well, these have to be the most interesting toilets in Nottingham, by any stretch of the imaginations. Set in caves and home to the wine cellars, they are what can best be described as rustic. You have to see them for yourself, but beware the uneven floor!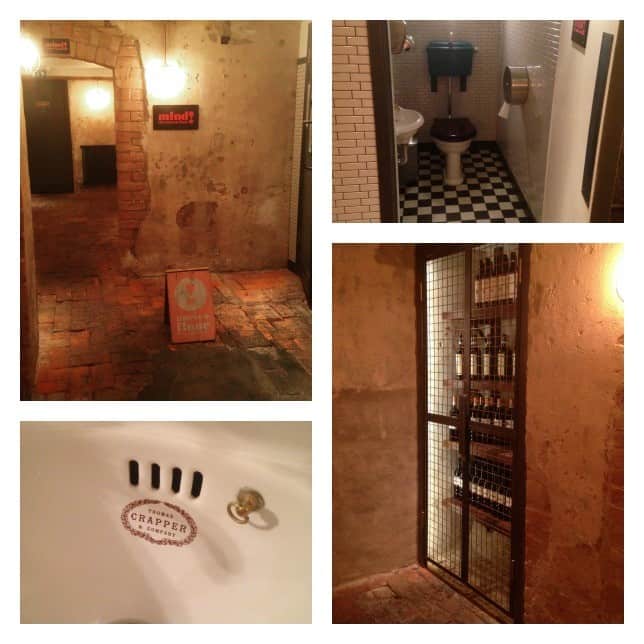 Overall, we enjoyed our wedding anniversary date at Jamie's Italian, the food was delightful and there was a great choice from the usual pasta and pizza dishes, to fish and burgers. The decor made you feel like you were sat in an Italian living room, with a cosy rustic feel to it.
Our meal was provided complimentary by Jamie's Italian but I have no regrets about writing this review and sharing this post with you all.
We've also been to