I took my 3 year old to see Grass at Lakeside Theatre this weekend.  She was very excited as she enjoy's the theatre a lot and Nottingham Lakeside is one of our very favourite places.
We left Daddy and Little Pudding at home as I don't think the 1 year old would have sat still like she used to now that she has found her feet.  It was nice for just the two of us to go along though, and we were both excited about seeing the performance together.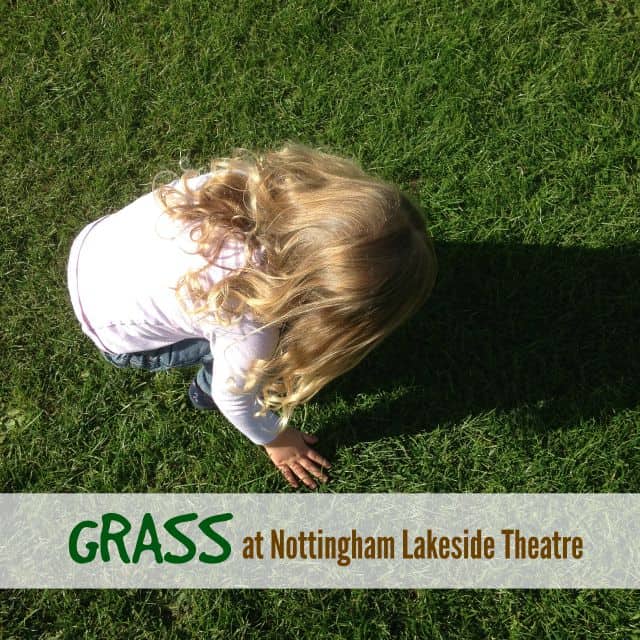 We were greeted at Nottingham Lakeside by a fantastic exhibition called Swarm.  The wall was literally covered in beasties which really set the scene for what we were about to enjoy.  Princess was keen to take her place in the queue and get into the performance, but it gave us chance to look at all the insects in the creative display.
We took our seats around the set, and all the children were really up close to the action.  The two performers began by rolling out turf, or more accurately, grass, to complete the scene and we were all intrigued by what was going to come next.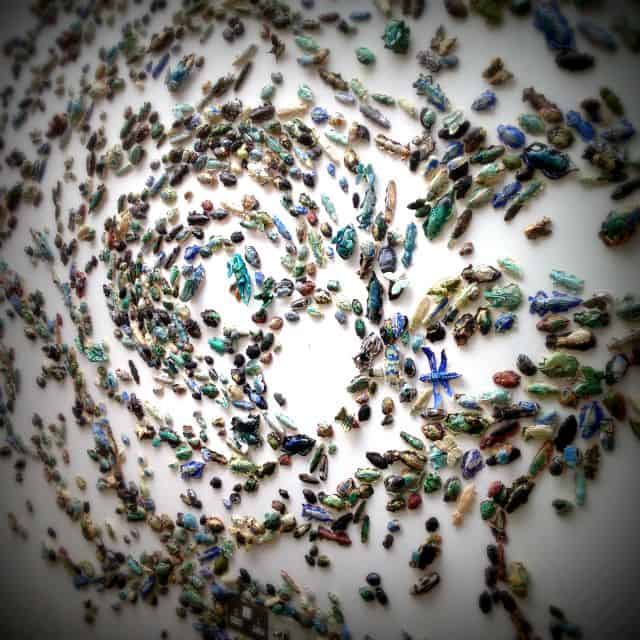 Grass Is A Sensory Performance
Grass was not only a delightful performance of imaginative dance but also a truly sensory experience.  The theatre was filled with the smell of the great outdoors, and twinned with great music, lights and well placed animations they created an experience that really captured the young audiences imagination.  It opened up a whole new world to them, right underneath their feet.
It filled my daughter with lots of questions about what insects and beasties the dancers were portraying and who else lived in the grass.  The performance was filled with lots of interesting educational facts about how many hearts a worm has, how many flowers a bee visits in a day and how ants let each other know they are friends.  You want to know the answers now don't you?  Well, you'll have to pop along and see Grass for yourself!
Grass Uses Audience Engagement
Second Hand Dance invited the interested audience to guess the different insects and beasties they were, in amongst the Grass.  All the children were really keen to join in and even guessed the most obscure of creatures.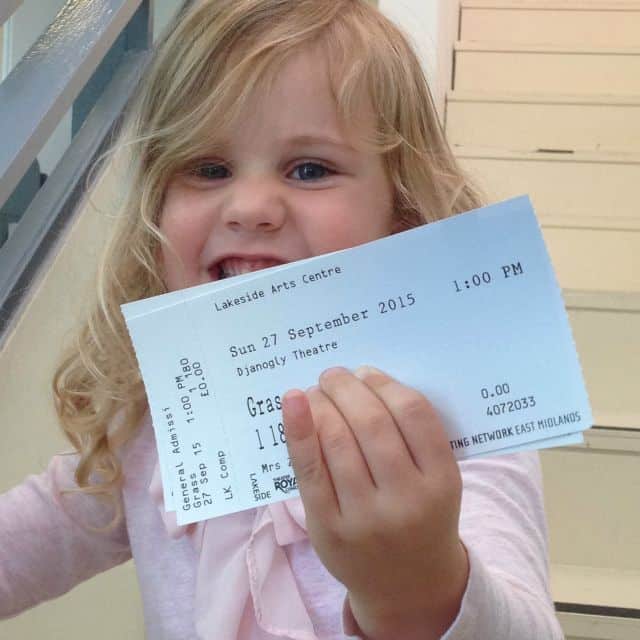 It was a funny, inspiring and thought provoking performance introducing us to the world that lays just beneath out feet.  Second Hand Dance used a well crafted contrast between gentle performance and upbeat rhythms to keep the performance interesting and engaging for the entire audience.
Grass Was A Hit With Us
Nottingham Lakeside Arts were successful in bringing another fantastic children and families performance to a young audience and Second Hand Dance delivered an engaging and interesting performance to it's keen audience.  We would absolutely recommend a visit to Grass if this is passing through a theatre near you.
You can check out their calendar here.
We were provided with complimentary tickets to see Grass at Nottingham's Lakeside Arts Theatre, but all thoughts and opinions are our own.