May half term saw another week of fun and frivolity at Nottingham Lakeside with the return of Wheee! The International Children's Theatre & Dance Festival. We were lucky enough to be invited to enjoy the latest Luminarium from Architects of Air and to see Statik, the hilarious performance from Action Transport Theatre.
This delightful story is based around Mikey's first day at work in the factory.  Everything is running like clock work in the factory, but Mikey has trouble with the new routine and fitting in with everyone.  Voices start to reach out to him from the radio, these kids are a lot more on his wavelength.  It sounds like they know how to have fun.
You can see Mikey try and fit in, but you can tell he's different.  The show is full of slapstick style mishaps and mayhem right from the start.  His new colleague starts to break the mould too and they are both soon in trouble with the boss, but is it worth it?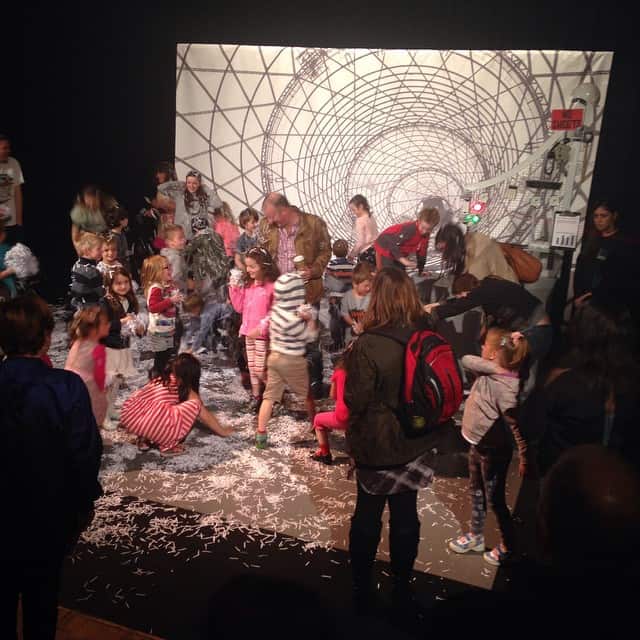 We really enjoyed this physical performance.  It was quirky, thought provoking and a lot of laughs.  Having fun is such an important part of childhood, and becoming an adult and it can be something we forget about.  The voices of the children throughout bring this home to you as a parent watching the show.
At the end, the audience were invited to have their own fun on the stage.  The children got stuck right in.  My daughter came away covered in shreds of paper she'd thrown.  Most of the adults stood on the sidelines…..What was I saying about having fun?
We were provided with complimentary tickets to see Statik but all views are my own.