Gifted for review.
When I heard that Tall Stories were going to be performing The Snow Dragon at Lakeside Arts I knew that going to see the performance was going to feature on our Christmas activity list.  We enjoy the theatre at anytime of year, but we go a little more often over autumn and winter.
We have been a fan of going to the theatre at Lakeside Arts for many years because it's just perfect for families.  The theatre is small and the ticket prices are incredibly reasonable.  The shows are a perfect length for little ones AND there's no interval so they don't have the opportunity to lose the thread.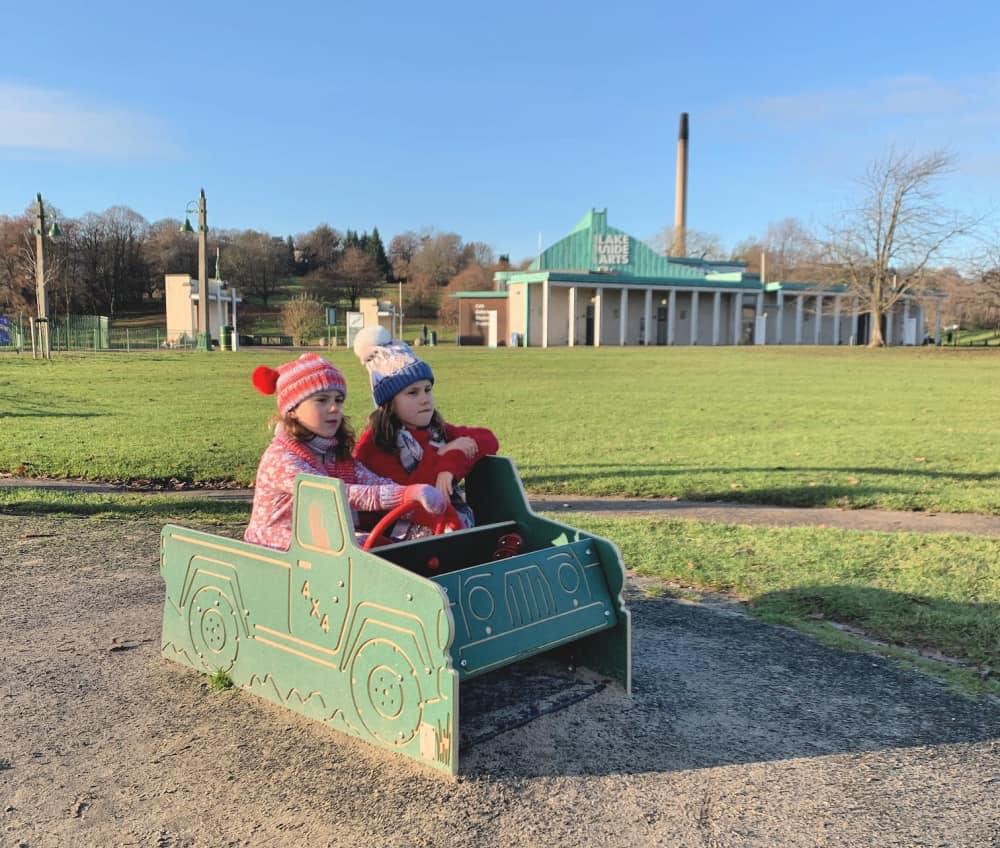 We made an afternoon of our visit to Lakeside Arts and headed to Highfields Park first.  Despite the chill in the air, Brook and Indie were keen to go on the playground.  They were ready to burn off a bit of energy to be honest so we were happy to oblige.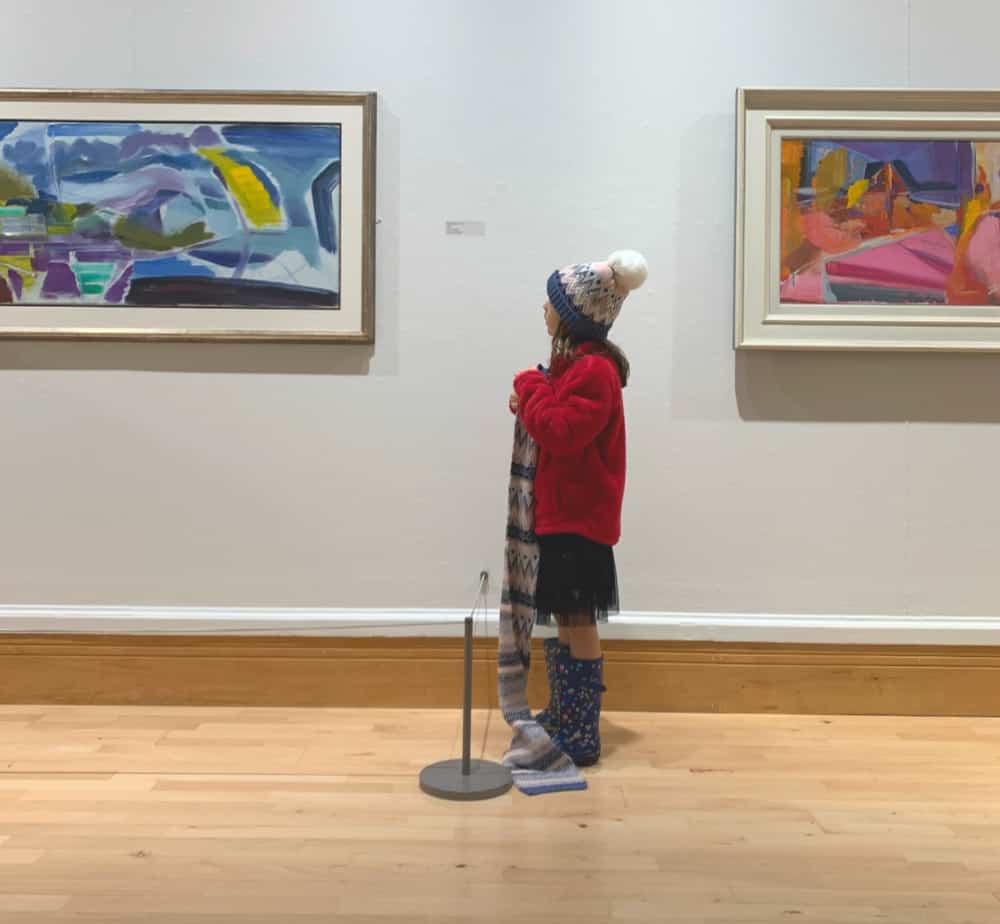 We also had time to visit the art gallery and see the latest exhibition.  I wouldn't say we know a lot about art, but we like to expose the girls to it and chat about what they see.  I think they related more to the The Snow Dragon Christmas installation in the Wallner Gallery on this occasion.
It's definitely worth arriving at the theatre early and getting some photos of the Snow Dragon to share on social media!  We really enjoyed seeing the Snow Dragon model and the other art work being displayed created by local school children.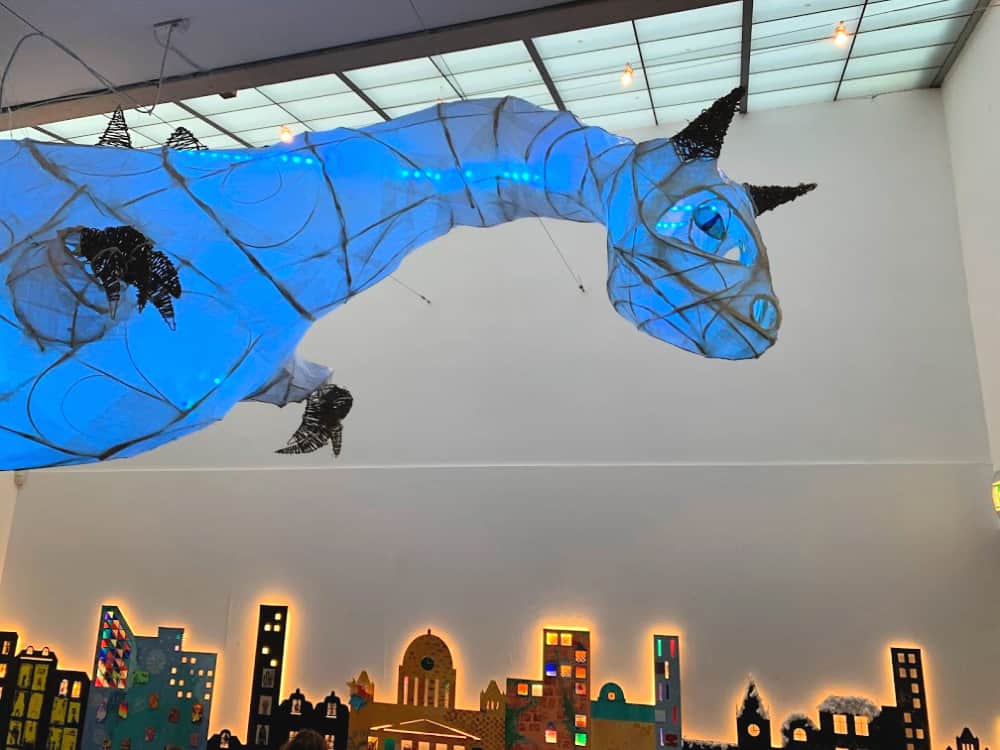 We grabbed a coffee and cake at the cafe – but it's safe to safe the girls were really excited about seeing The Snow Dragon by this point and were getting a bit fidgety.  They watched the door like a hawk waiting for people to be let in to the theatre to take their seats.  Once we were in and settled we didn't hear a peep out of Brook or Indie for the entire show.  Tall Stories did a wonderful job of telling the story of Billy, the young goat, and his family.  It's safe to say he was a little mischievous and has a rather high opinion of himself.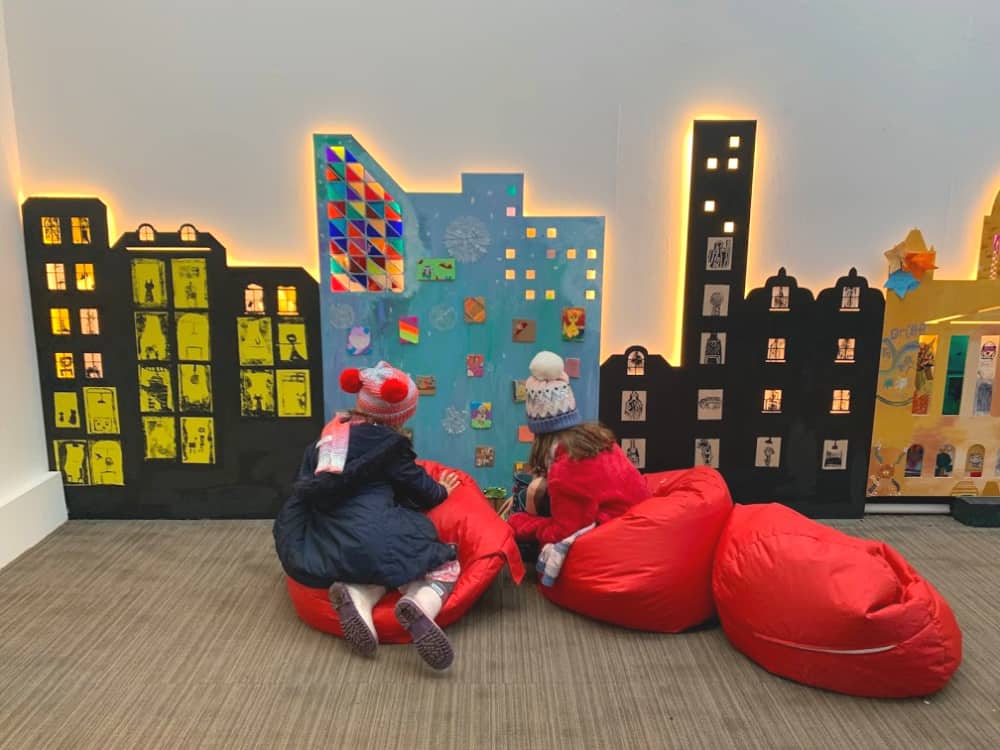 The Snow Dragon addresses some moral issues that children may experience in their day to day lives with exceptional story telling, catchy songs and brilliant acting.  The story touches beautifully on the idea that people (and in this case animals) have their differences whether it's beliefs or characteristics but that being a good friend and showing kindness to all will always bring rewards.  This may not be a traditional pantomime, but Tall Stories still bring the audience participation and the kids all enjoyed getting involved with the show.
The Snow Dragon is a perfect story for the younger audience this festive season.  Brook and Indie are 5 and 7 for example and they really enjoyed it.   The story is also based around New Year – so regardless of your own personal or spiritual beliefs it's a story that everyone can relate to.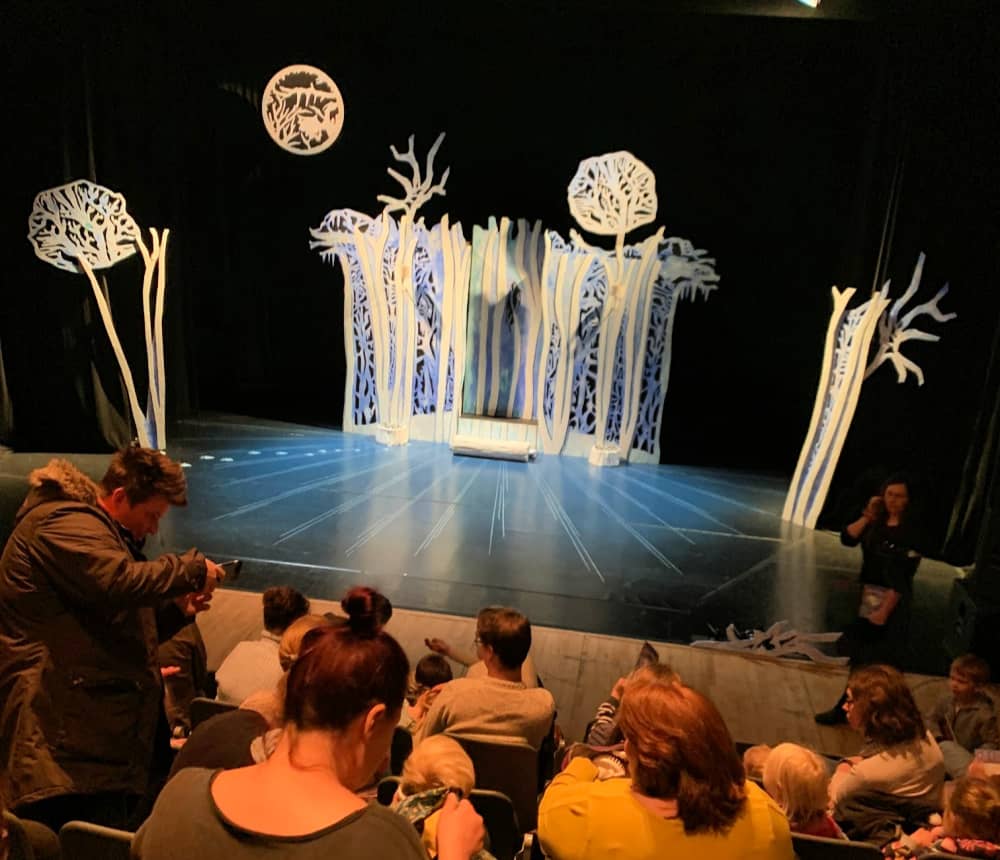 The Snow Dragon is a beautiful story – brilliantly told to capture young imaginations.  We left with two copies of the book and have been reading it ever since our visit to Lakeside Arts to see the show. It really did make an impression on them – which in itself is a testament to how good this show is as a piece of children's theatre.
The Snow Dragon is showing at Djanogly Theatre between Thu 28 Nov – Sun 08 Dec (no performances on 25 & 26 December)Tickets are priced from from £8.50.  Suitable for ages 3+
For more information visit the website
We were gifted a family ticket to see The Snow Dragon but all thoughts and opinions are our own.