After my husband and I had such a lovely time at Jamie's Italian in Nottingham I thought Jamie's Italian Piccadilly would be the perfect place to catch up with my friend on my recent visit to London.  We met on the Southbank of the Thames on a pretty wet Tuesday night to take a ride on the London Eye, and food was definitely going to be required.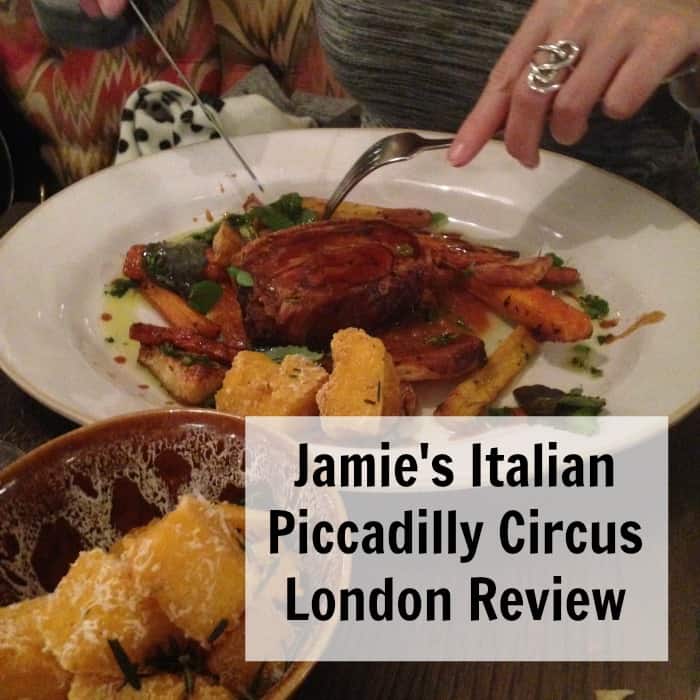 Fortunately after our half an hour rotation on this rather epic big wheel, the rain had subsided and we were able to walk across town for our dinner date.   It was only about 20 minutes, and it was much nicer than taking the tube.
Jamie's Italian Piccadilly Circus
When we walked into Jamie's Italian in Piccadilly we were hit by the smell of Christmas.  Downstairs has a lively bar area, and homemade mulled wine was the order of the day.  Perfect for warming you up on a cold winter's night.
We were shown upstairs to the restaurant and were seated immediately.  We ordered a bottle of JAMIE'S ITALIAN RABOSO ROSATO SPUMONE while we were deliberating over the menu.  It was Christmas after all, and we hadn't seen each other for a while so there was something to celebrate.  It was a lovely, light sparkling rose.  I can definitely recommend it.
My dining partner was getting a little frustrated with the menu as Jamie's Italian does have a penchant for fennel.  On closer inspection it does seem to feature in quite a few dishes and my friend isn't really a fan.  It didn't stop play though.
The Starters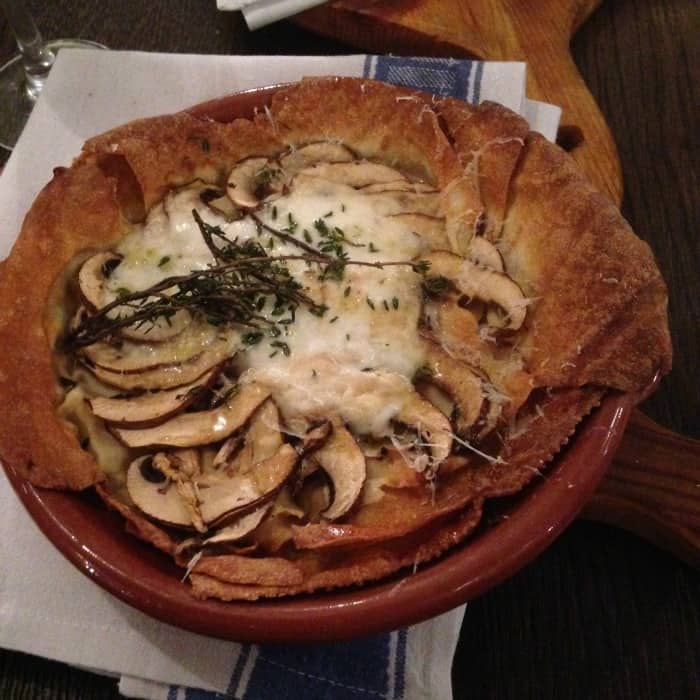 For starters we shared the baked chestnut mushrooms and crispy squid.  The baked chestnut mushrooms were better than we expected them to be.  They were cooked in crispy music (flat) bread with mozzarella and thyme.  They were really lovely with just the right amount of garlic too.  We were both impressed with this dish.
The crispy squid however, let us down slightly.  The mayonnaise was lovely and the chills and garlic were great, but the squid was perhaps a little too crispy.  They were possibly a little over done in a little too much batter.  If they would have held back slightly on the coating and cooking time there is a perfect dish here in the making.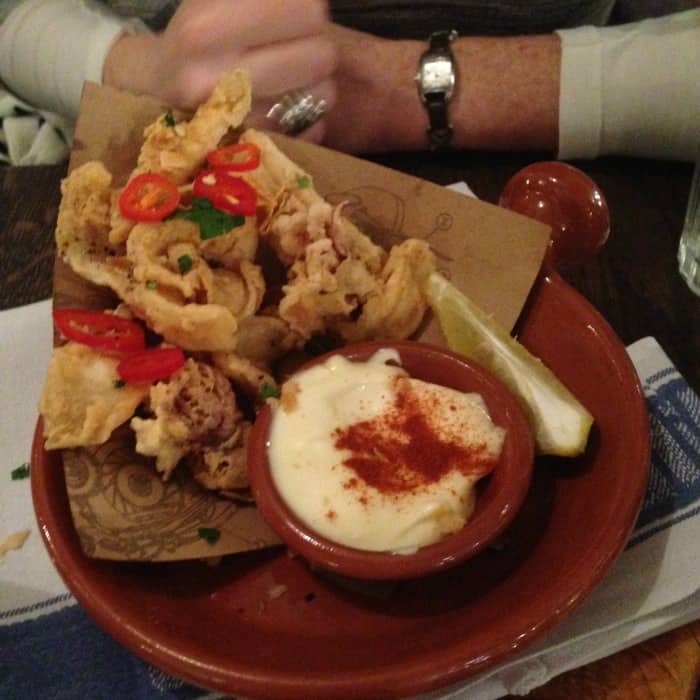 The Mains
There was much deliberation over choosing our mains, partly due to the amount of fennel on the menu, but also because of the mouthwatering descriptions of the dishes that did tempt us.
My friend finally chose Gennaro's famous porchetta with a side of polenta chips.   This is slow-cooked pork belly filled with garlic, chilli & herbs, served with roasted root veg, spiced apple sauce & salsa verde.  I went vegetarian for my main dish and choose the wild mushrooms and winter green risotto, a creamy carnaroli rice with winter greens, roasted mushrooms, mozzarella & extra virgin olive oil.
I have to admit I had slight food envy over the pork belly, as it looked amazing.  My friend noticed me drooling over her meat and was kind enough to let me try some.  It was amazing as well.  I'll know what to pick next time I go.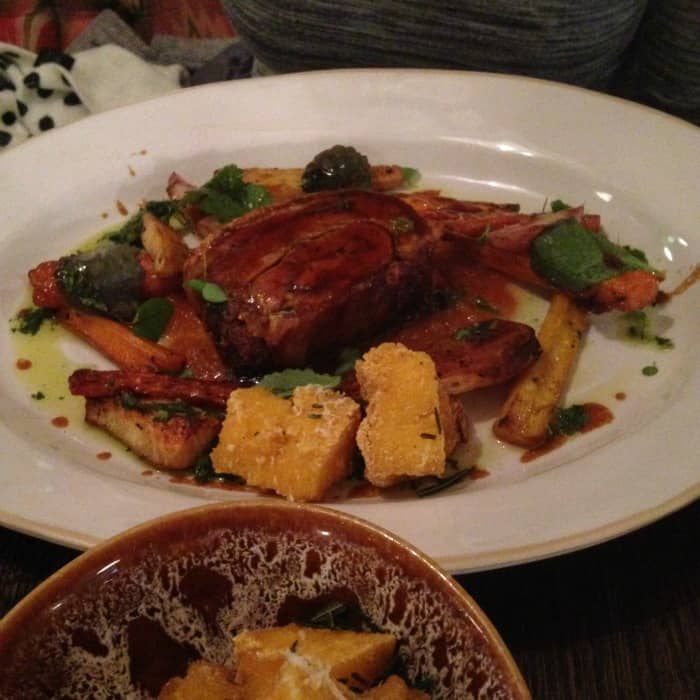 The wild mushroom risotto was lovely too, but the starter was so nice that this dish paled into insignificance in comparison.  I wish I'd have chosen something different in hindsight, but there is always a next time.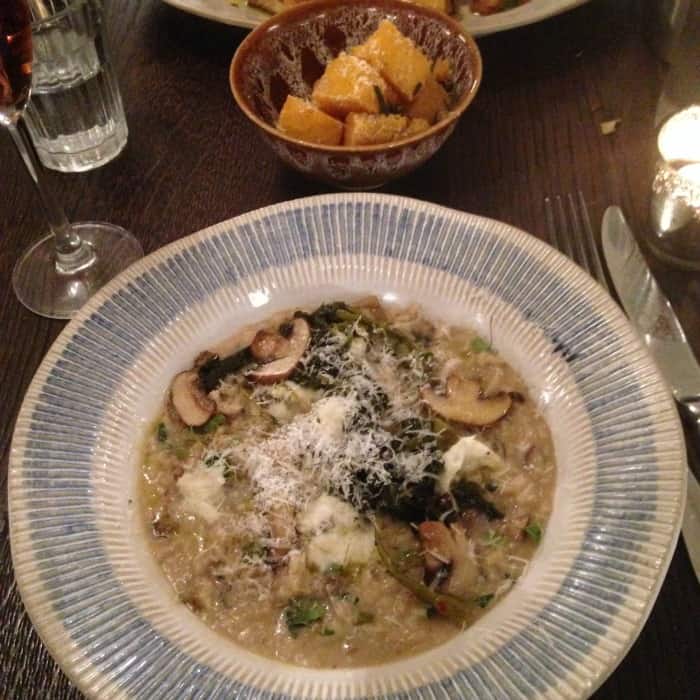 Overall we had a lovely time at Jamie's Italian in Piccadilly Circus.  It was the perfect venue for a girls night out and I thoroughly enjoyed catching up with my old friend.  The food was lovely despite the very crispy squid, and over doing the mushrooms in my choices.  The atmosphere was lovely, and the service was excellent.  We were very well looked after by a very charming waiter.
I would have no problem recommending Jamie's Italian Piccadilly for a meal if you are in London, but be careful if you don't like fennel as Jamie does!
We were invited to review Jamie's Italian Piccadilly in exchange for this post but all thoughts, opinions and photographs are our own.