I'm so excited to start travel planning again that I have made a free template for you to download and use for your next trip too! Using a travel planner is a great way to get the most from your holiday whether its getting good value for money or making sure you see and do everything you want to do while you are on your trip.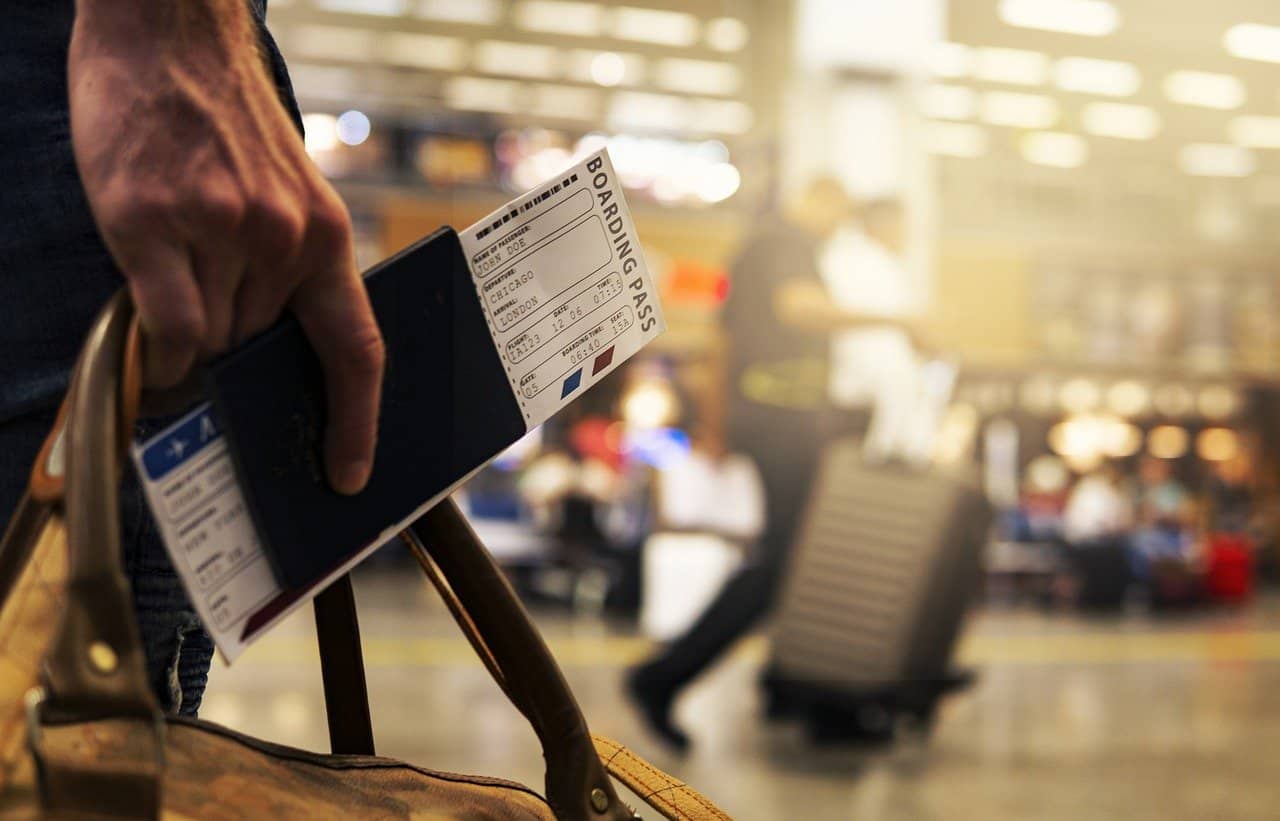 How Travel Planning Helps You
This travel planner template will help you plan the trips you would like to take for the next year. We start off with a yearly travel planner. This 'month at a glance' travel template helps you plan the vacations or holidays you would like to take for the next twelve months.
This is a great place for your travel planning to start as it helps you focus on how to make the best use of your time. If you are juggling annual leave and public holidays this is a great time to get those key travel dates in your calendar.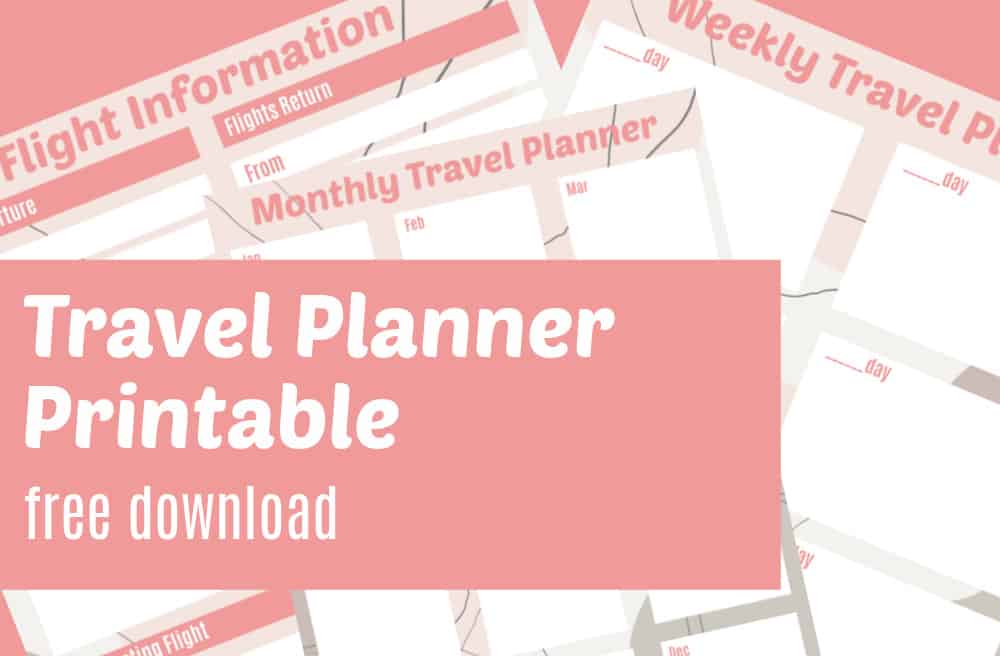 Whether you are planning on taking extended trips, weekend breaks or group trips, get them all written down now. This can help you plan your travel budget too. You might also spot some opportunities in the year to go away that you had not thought of. It's also a great way of spotting any potential clashing of dates and where compromise might be needed.
>> FREE TRAVEL PLANNER PRINTABLE <<
What is Included in the Free Travel Planner
This is the contents list for the free travel planner template. You can print out the pages you need or the entire printable ebook. It's completely up to you!
Travel Ideas & Options
Brainstorming is a huge part of the travel planning process so I've dedicated a couple of pages to this in my free template. If you haven't decided where to go yet, get your ideas down here so you can research them. You can also think about where to stay, even which travel providers to look at.
I love this part of the process as it really helps me think about the places I want to visit and the type of travel experience I want to have. Being someone who has booked trips on impulse in the past, this is an important step in making my travel plans.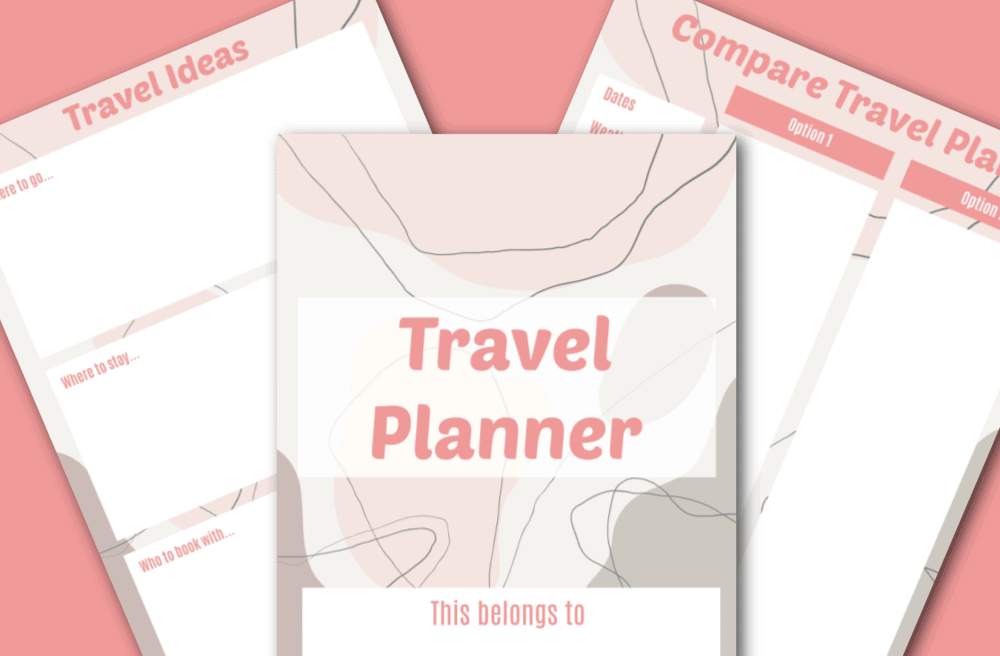 I don't know if you have made travel plans on impulse before, but as soon as I have done this, I start searching the internet for other options. That's a little bit backwards, right? More often than not, I find cheaper flights or accommodation else where. I then start the process of kicking myself for not doing my travel planning properly!
I'm going to let you into another secret when it comes to getting the best travel deals. If you aren't already using a VPN, check out https://www.vpncheck.org/ to find the best service for you. Did you know that travel companies often have different deals and prices available in different countries? By using a VPN you will be able to take advantage of the best deals available for your trip and keep a note of all that useful information on your travel planner.
There is also a page in this travel printable to brainstorm the activities you want to do and see on your trip. If you are planning a family or group trip this is a good time to consider the types of activities everyone enjoys to get the balance right.
Once you are ready to start researching your trip in more detail, I've included a page that helps you compare your travel options side by side. If you're struggling to decide who to book your trip with, comparing costs, travel details and what's included can help you make a final decision.
>> Travel Planning Printable Download <<
Passenger Information
This printable PDF is super helpful for keeping the key information about your travel companions together. If you are responsible for booking the trip, having the contact details and passport information in one place is so handy. It's also a good time to think about any specific needs each person might have.
For a flight, it could be booking the window or isle seat for someone is a must. For booking accommodation, ground floor or en suite could be essential to someone in your group for a number of reasons. Having these notes to hand in your travel binder will help you make the right booking. Not taking account of any special requirements can sometimes make or break a holiday – so it's definitely best avoided.
Flights, Accommodation & Transport Information
This trip planner template would not be complete without some printable pages to keep key information in one place.  Put all the details for your flights, where you are staying and things like car hire and transfers here.  I don't know about you, but in my house I do all the travel planning.  When it comes to the day of the trip, my husband has a string of questions about our travel plans.  Nothing gives me more satisfaction than handing him the travel binder and telling him everything he needs is in there!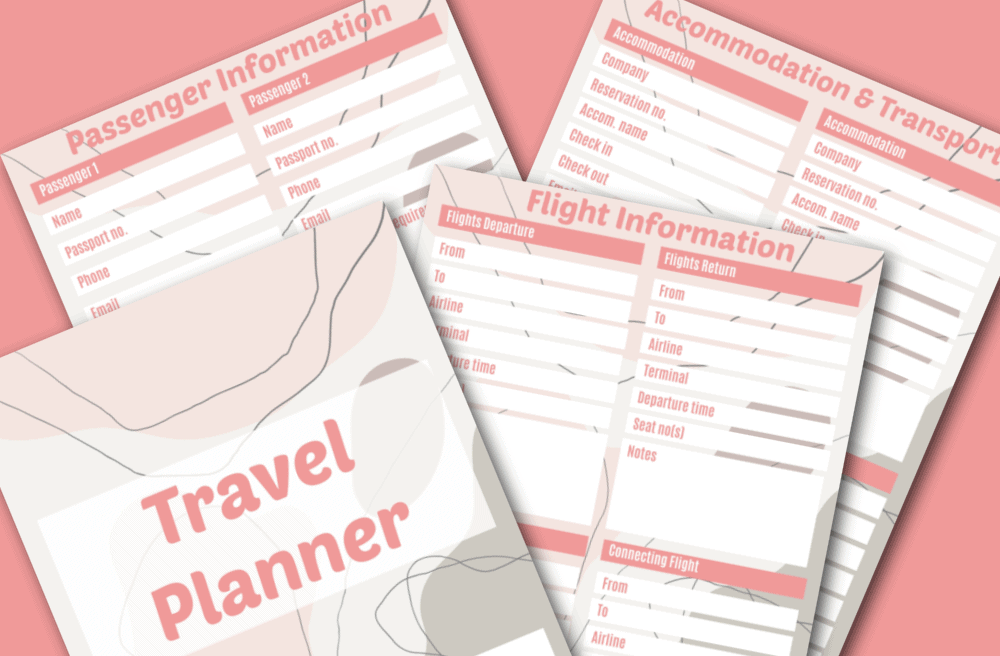 Daily & Weekly Travel Planners
When it comes to planning what I want to do on our trip, I like to have a plan of what we are doing for the week. That being said, because we travel with kids, it's also important to be flexible and accept that plans can change.
I have tried taking trips without an itinerary in favour of a more wing it type of attitude and it doesn't work for us. We don't get the most out of our trips this way and come home with regrets about what we missed. Both of these daily and weekly travel printables help us plan what we want to see and do so nothing gets missed.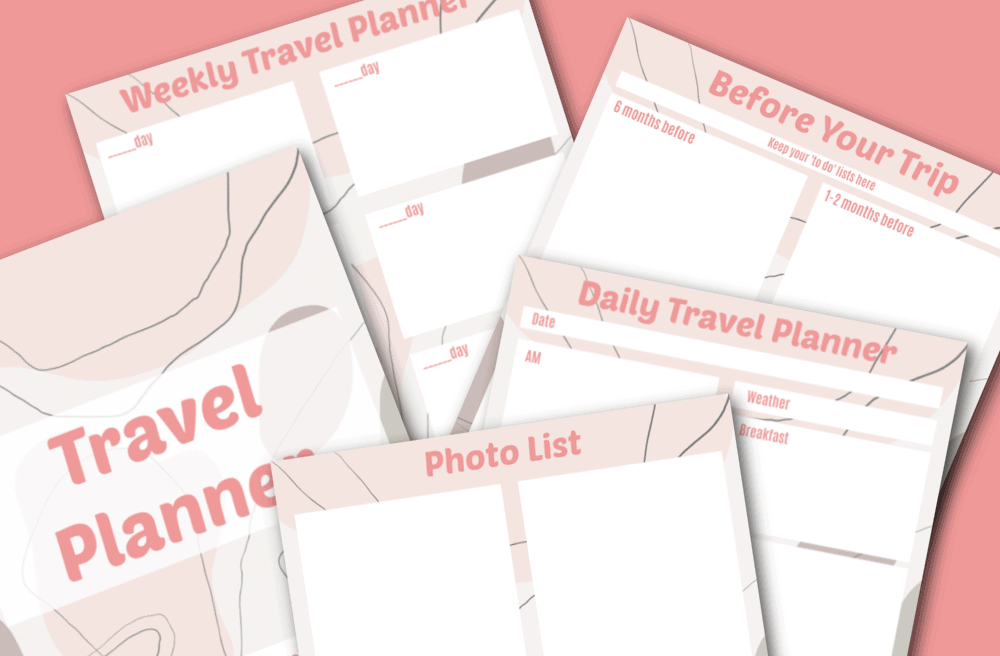 Travel Lists & Notes
I've also included a few lists in my travel planner template that will help you get organised for your trip. You can keep a note of all the things you need to do before your trip here. This could include booking tickets, arranging house/pet sitting and emptying the fridge on travel day.
If you need a packing list that's also included! Maybe you're staying in self catering accommodation and a shopping list is going to be handy. If you don't want to miss the most instagrammable spots then I've also added a photo list to your travel planning template!
Last, but by no means least there is also a page to make notes on that will help you keep all of your travel ideas in one place. I really hope you find this free travel template useful. If you don't need it right now, don't forget to save it to your travel board on pinterest. If you found this post helpful, please share this post on your favourite social media platform!! I'd love this free travel template to reach as many people as possible!
>> DOWNLOAD TRAVEL PLANNING PDF HERE <<
If I missed anything out you think would be useful to include in this travel planner, leave me a comment below!
Pin for this free travel planner for later or share it on your favourite social media platforms.