Easter is one of my favourite times of the year – so to celebrate I've packed this post with a bumper set of free Easter printables for all my readers.  I love everything from Easter eggs, cute bunny rabbits and the beautiful spring flowers.  The kids really enjoy Easter too, maybe it's something to do with eating lots of chocolate, doing crafts, baking and enjoying family time.  It's a really fun time of year.
My children enjoy a variety of activity pages and worksheets, which is why I have 8 awesome Easter printables for you today.  I have Easter egg colouring, maths and word games which I hope your kids will enjoy as much as mine!  All you have to do is download the page you want, print it out and let your child be entertained with these fun, creative and educational activities.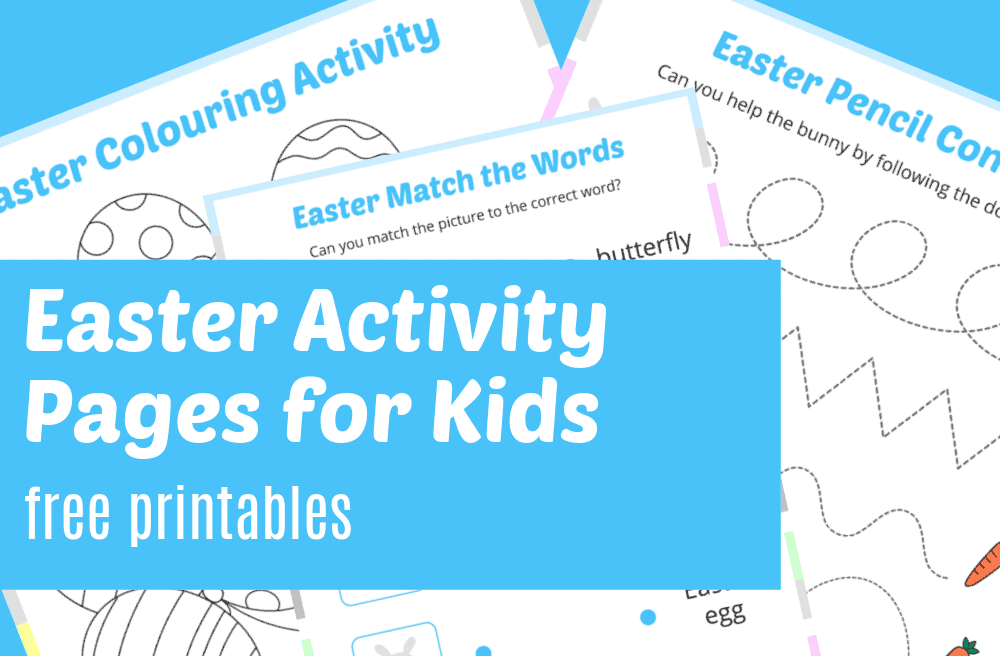 Easter Egg Colouring Page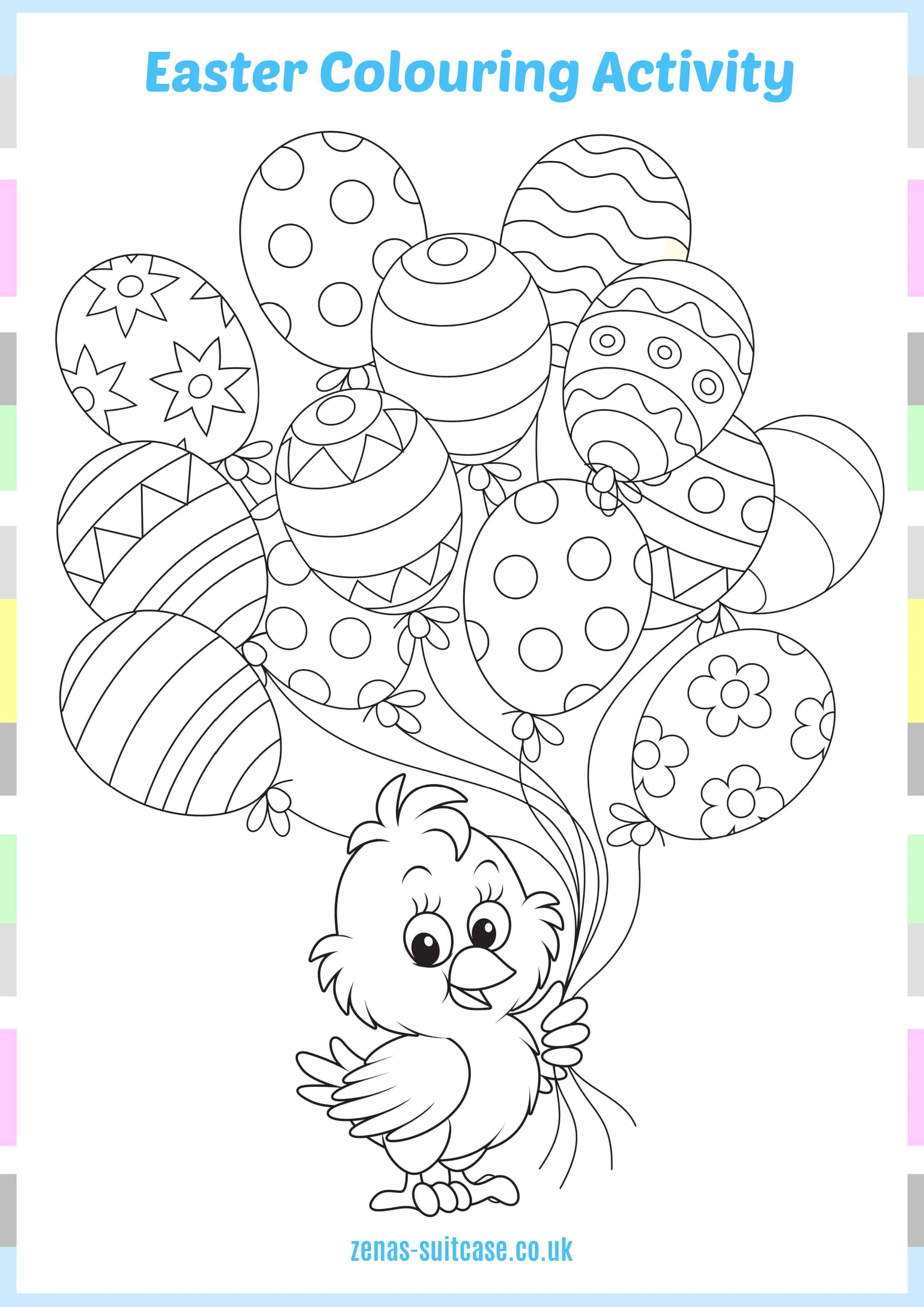 What is not to love about the cute Easter egg colouring page?  Check out the adorable chick and his collection of Easter egg balloons.  I hope your kids will enjoy making some colourful creations with this free colouring page.
>>  CLICK FOR FREE OCEAN COLOURING PAGES <<
Easter Matching Activity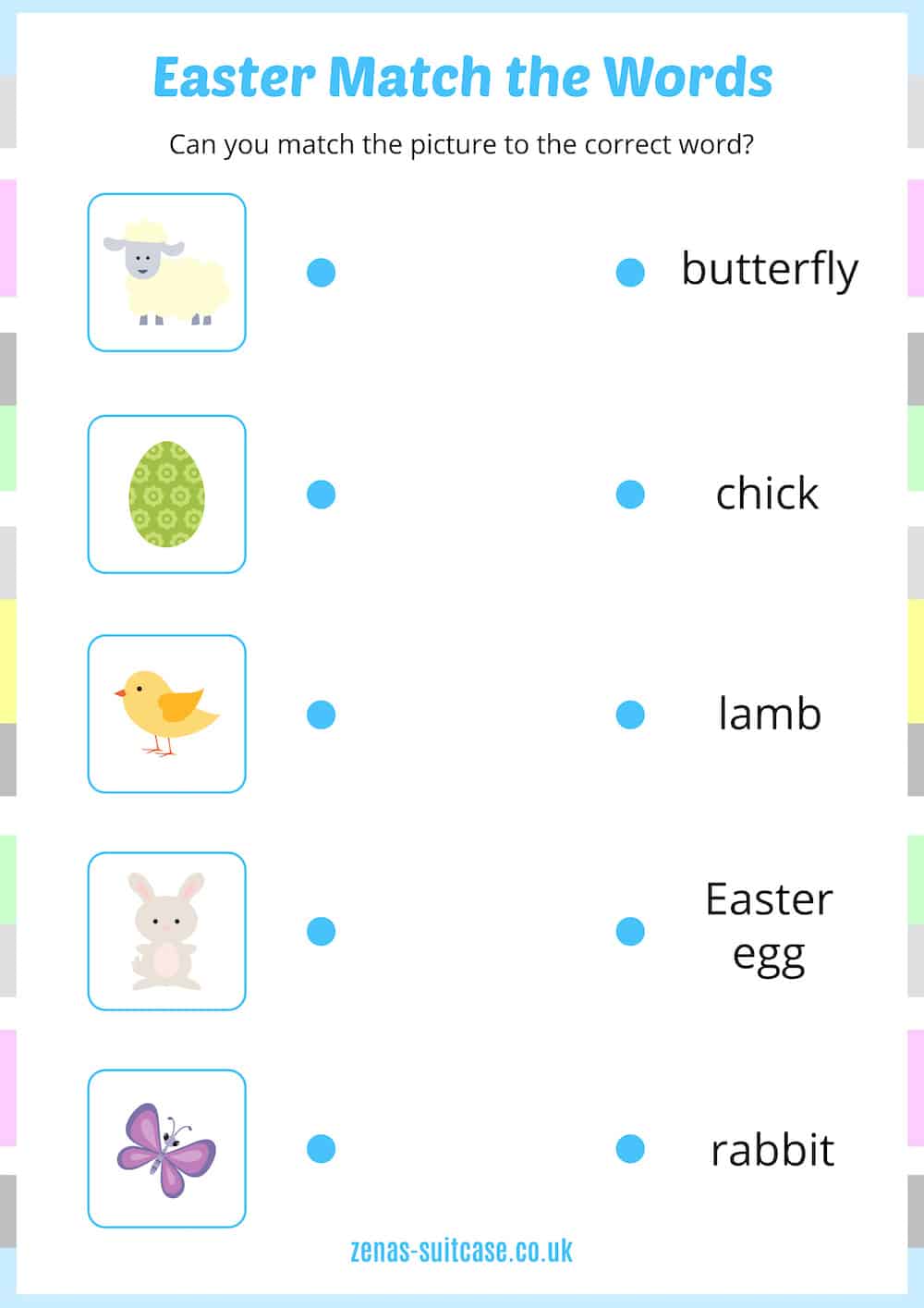 Can your child match the picture to the correct word? This easter matching worksheet is perfect for word recognition, reading and spelling.  When they have matched the word to the correct picture, draw a line to join the two.  Simple, fun learning at it's best.
Easter Matching Activity Printable
>> CHECK OUT THE FREE ST PATRICK'S DAY PRINTABLES HERE <<
Easter Maths Worksheet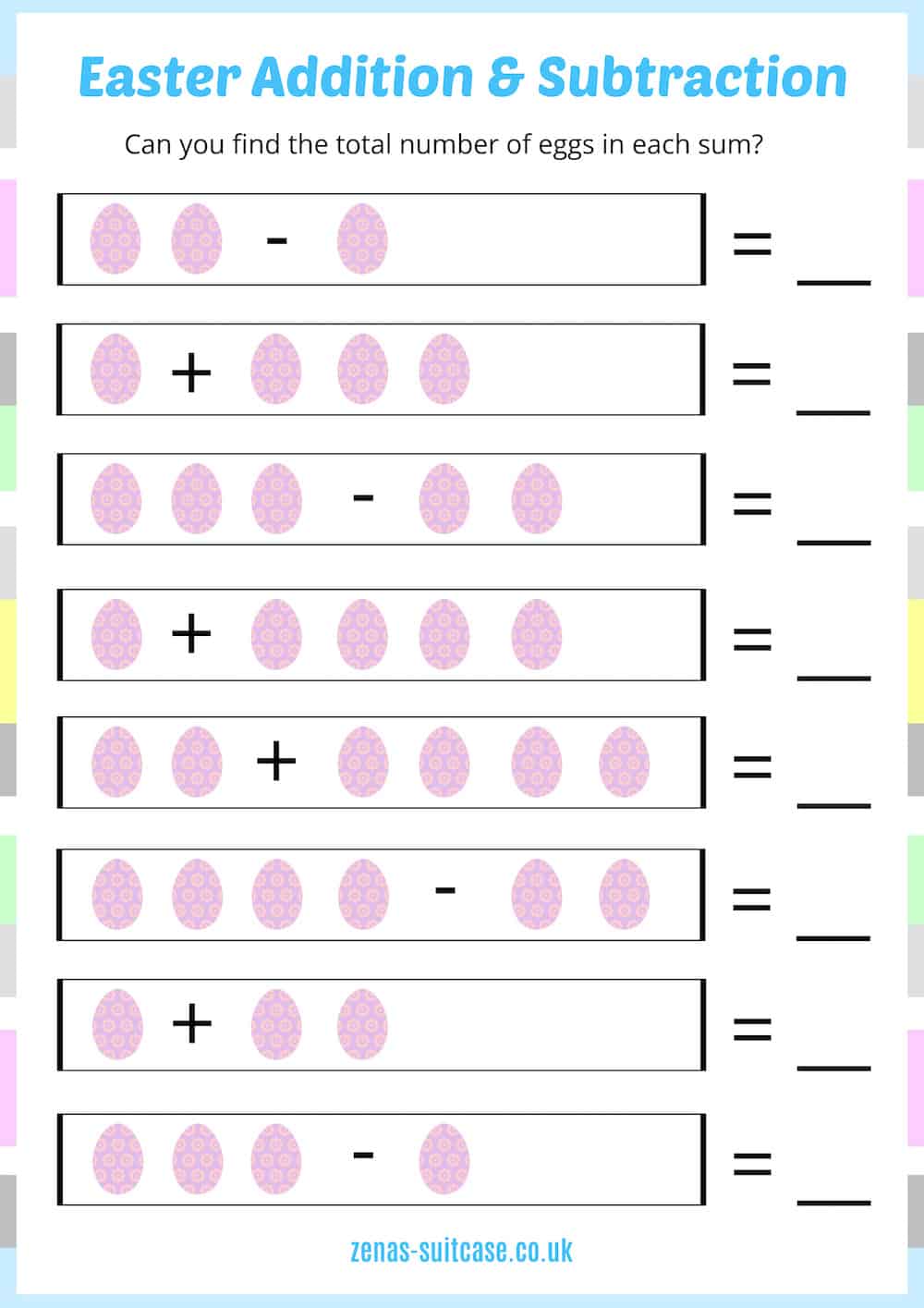 Kids love nothing better than counting Easter eggs, so I think they will love these Easter sums!  This worksheet includes addition and subtraction to help them practice their maths skills.  Can they find the total number of eggs for each sum and write the answer in numbers?
Easter Pencil Control Activity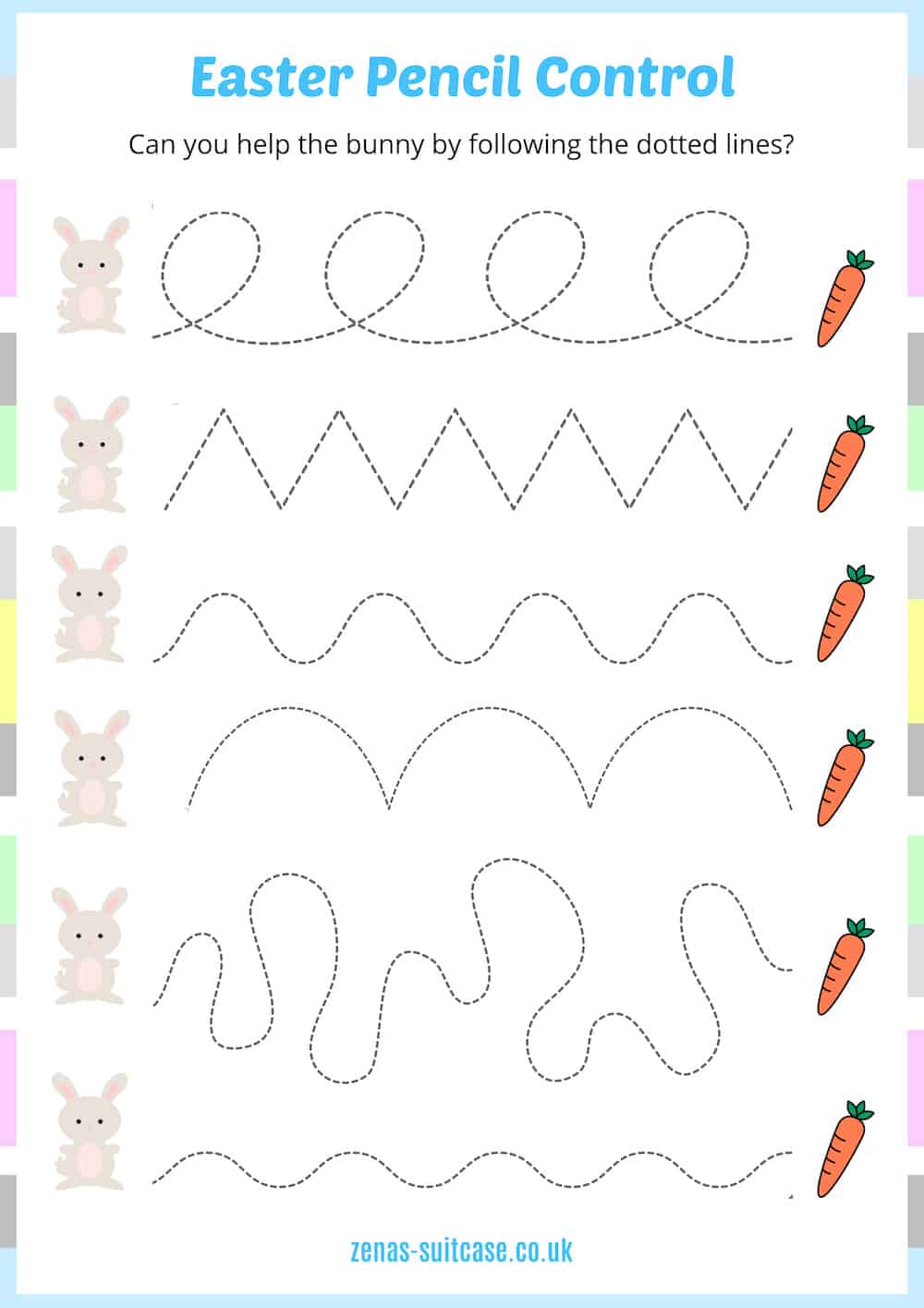 Can your little one help the cute Easter bunny get to his carrot by tracing the lines?  This pencil control activity really helps kids to make the different strokes needed for letter formation later on.  Download the free printable worksheet now!
Easter Pencil Control Worksheet 
>> DON'T MISS OUT ON THE FREE VALENTINE'S ACTIVITIES <<
Easter Maze Printable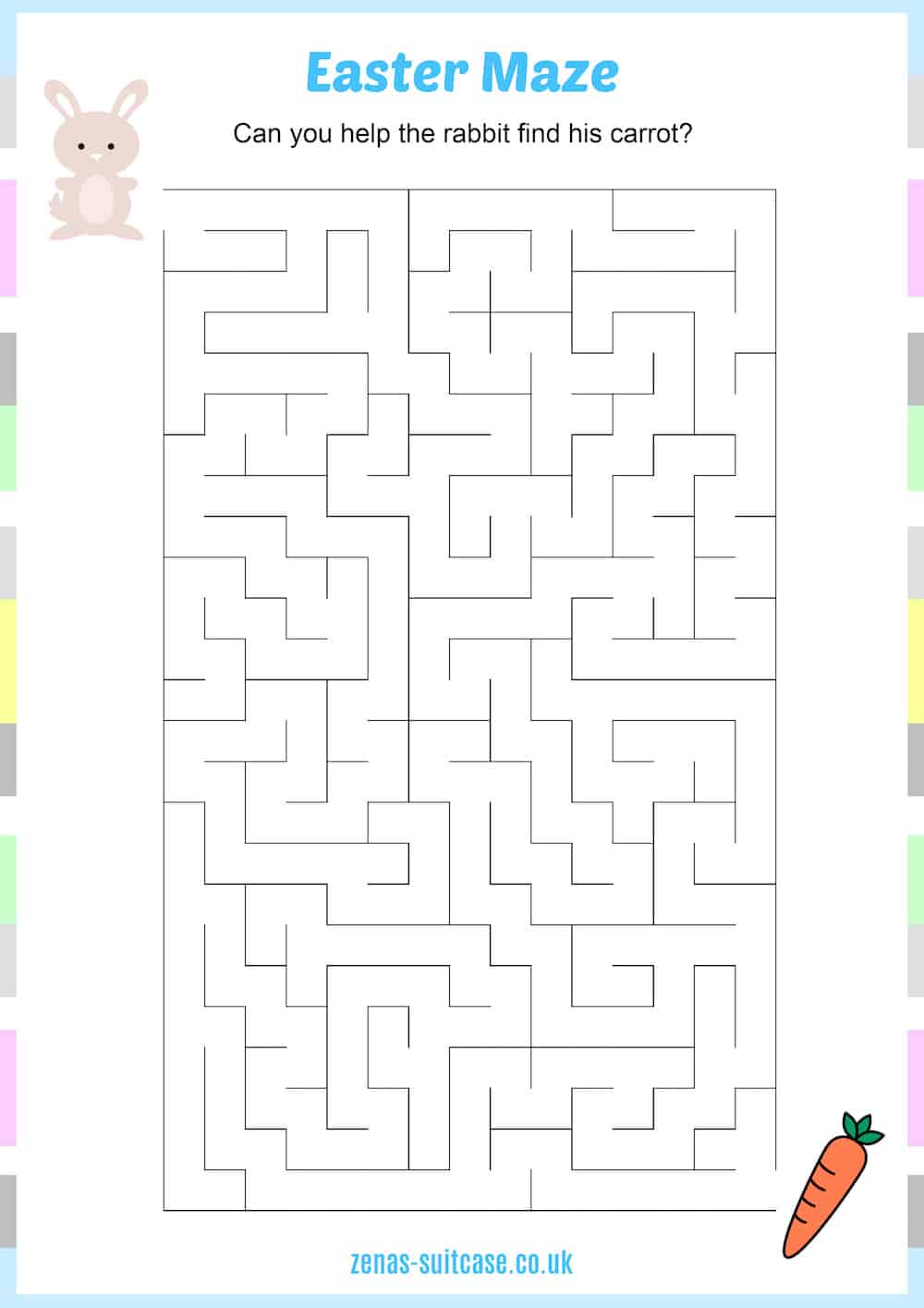 Next up in my free easter activities for kids is this fun maze printable.  My Easter bunny needs help again. Can you reunite him with his carrot so that he doesn't go hungry?  Find your way through the maze so that the bunny can eat his carrot for dinner.
Easter Word Search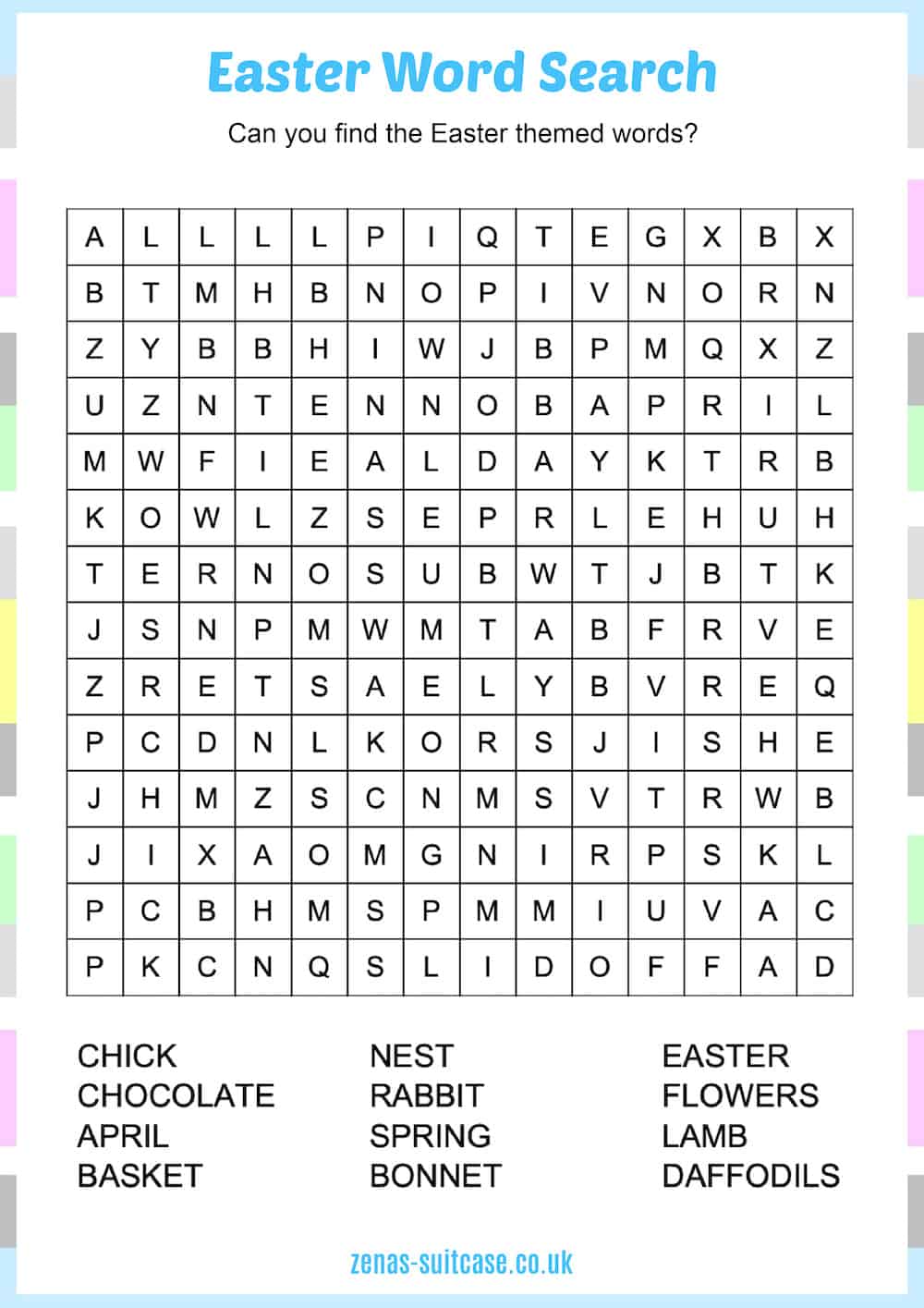 I love word searches so I had to include one in my list of printable Easter printable activities.  Can you find all the Easter themed words hidden in the grid?  Check every direction as words could be hidden up and down, left to right or even diagonally.
>>  CLICK HERE FOR MORE FREE WORD SEARCHES <<
Easter Word Scramble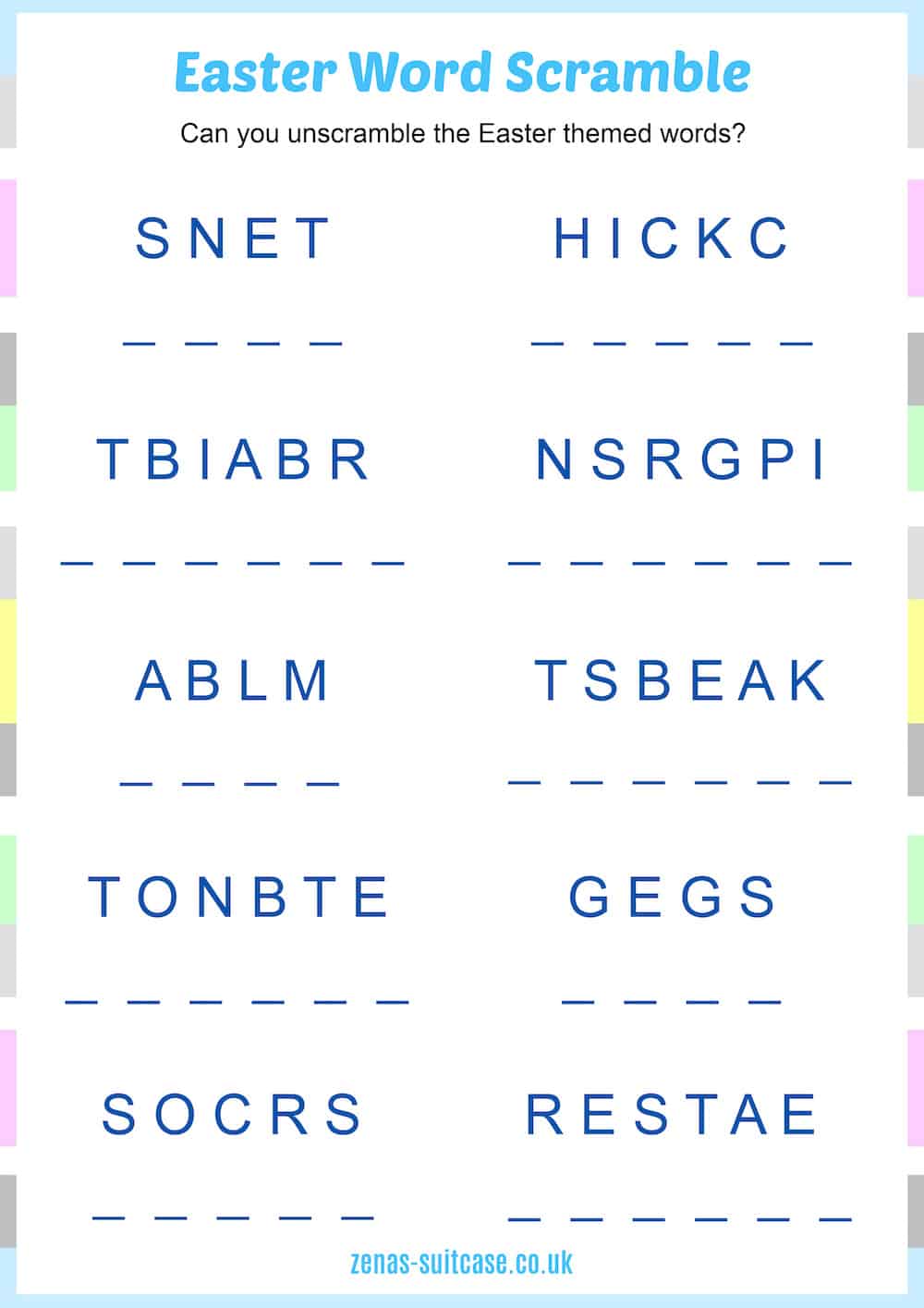 I could not create a fun list of Easter activity sheets for kids without including a word scramble puzzle.  Can you unscramble the letters in the list to find 10 Easter themed words?  There will be extra virtual Easter eggs for anyone that does!
Free Easter Word Scramble Puzzle
Easter Handwriting Practice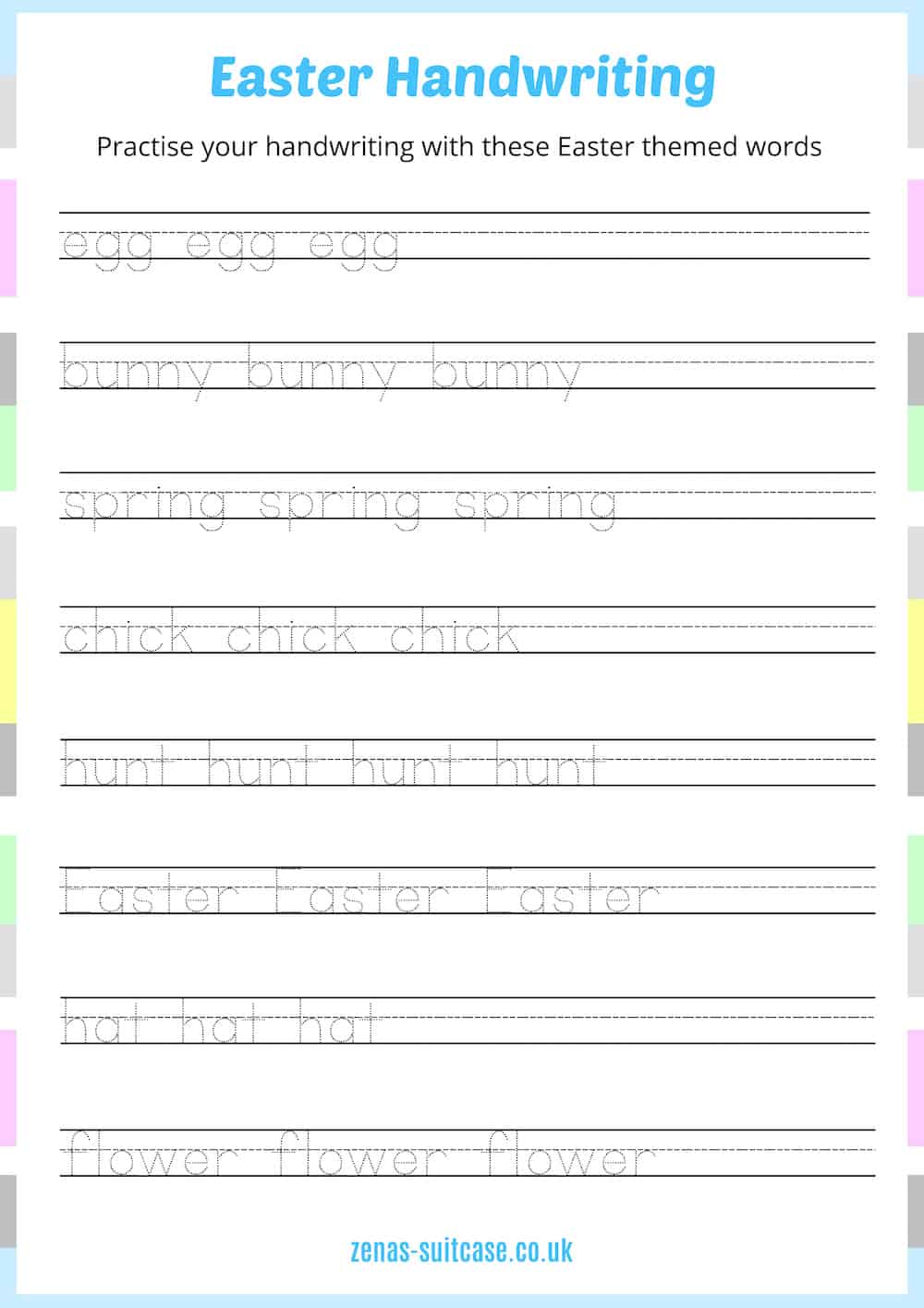 Last, but by no means least, in my list of Easter activities for children is this handwriting practice worksheet.  Get your kids practising their handwriting skills with these Easter themed words.  Simply follow the dots to form the letters and when your kids are feeling more confident they can even have a go without tracing the words.
Easter Handwriting Practice Worksheet 
I really hope that you and your kids enjoy these free Easter printables.  If you are not ready to use them just yet don't forget to pin them to your favourite board for when you want to use them.
If you things your friends and followers will enjoy these free Easter activities please share them on your favourite social media platform.  I'd love to see as many kids as possible enjoy these free printouts at this special time of year.
Other free resources for to enjoy:
Pin these free Easter printables for later: