This week Princess graduated from being a toddler to a preschooler, so you know that stinky wet fish I was talking about in this post, it's only gone and slapped me round the other side of the face.  I know us bloggers talk a lot about our kids growing up fast, but they really do, don't they?
Princess will be 3 in March, so when she went back to nursery after the Christmas break that we are so fond of in this house (yes, huge dose of sarcasm inserted here!) I asked what the plan would be for moving her into the Scholars room.
To be honest, she wasn't moaning about being a Little Learner and wasn't showing us any signs of frustration.  Although we were in no rush, we knew it would be coming up so we wanted to be talking to her about it so the change didn't come as a big shock.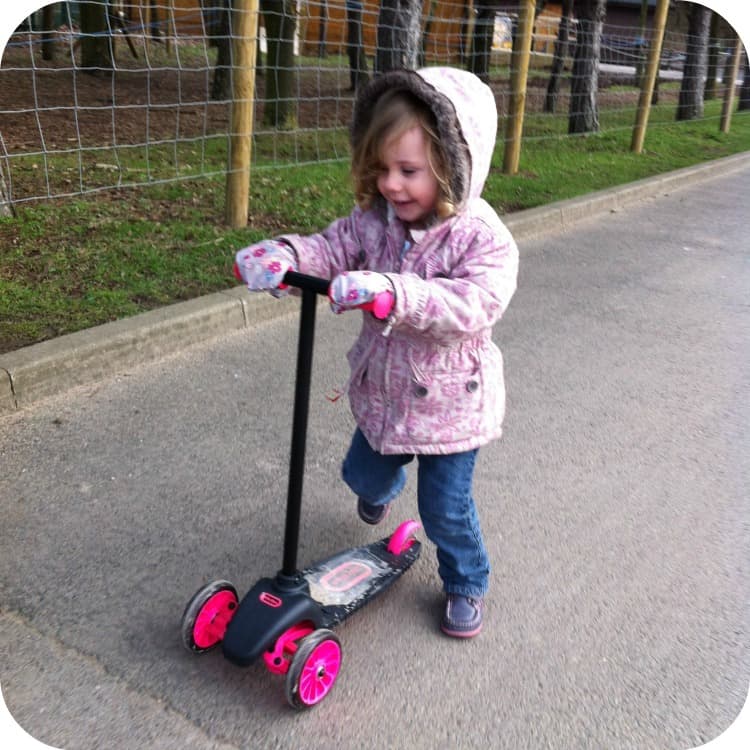 So the transition began.  She went up for short visits with her keyworker to start with. She quickly moved onto spending an afternoon in the Scholars room and joining them for meals.  The feedback was she was settling in well and she was ready for the move really quickly.  I had no time to get used to the idea at all!  What I thought was going to be about 6 weeks, happened in about one.
To mark her first day, we picked out a backpack from her ever growing stash of bags and filled it with spare clothes.  We'd been slumming it with a used carrier bag up until this point and relying on nursery's stash of spare clothes when we hadn't got our act together. Sorry nursery!
Having her own backpack made a real impression on her and she wore it proudly for her first day in her new room.  Everything was going so well, she went in to get her breakfast and was quite happy to say good bye in that 'I don't need you anymore' way she has about her.  I left happy in the knowledge she was keen to be getting a bit more independence.  My little girl was growing up.
I go to pick her up, looking forward to finding out what kind of day she's had and find her strutting her stuff to some music with the rest of the nursery stragglers.  She see's me and proceeds to head off in the other direction to make the most of the ball pit before she has to come home.  She's clearly had a good day and it gives me chance to catch up with her new key worker.
She gets that it's time to leave and finds her coat, puts it on and makes sure her backpack is securely strapped to her back.  What is it with these things.  You think, what a good parent you've been marking this occasion, making a fuss and getting it so right with the new grown up backpack, then it quickly descends into the bain of your life in a nano second.  Why do we bother, hey?
So I negotiate my new preschooler and the baby in her car seat out of the nursery building and the crunch comes.  Princess needs to remove the new backpack from her back to be strapped safely in her car seat.  Baby is waiting patiently in her carseat, in the damp and cold and parents are trying to get past to retrieve their own children.  It's moments like these I dread.
After several requests to remove the backpack, I feel stressed parent starting to make an appearance.  Fortunately, I manage to catch her before she shouts uncontrollably at Princess to remove the backpack, and quickly find firm parent to take over.  We manage to remove the backpack amidst floods of tears and threats of it going in the bin and restrain the new preschooler in the car seat so we can all go home.  Why did I give her a back pack again?
With everyone finally strapped into the car, we make it home to an empty house as Dad is working away and Teen is at his job.  Princess ceases the first chance she gets to reapply her backpack and wears it with some pride until the next battle, called bedtime.
Have you had something like this happen to you?  Please share this post if you liked it and let parents all over know what's coming…