Contains affiliate links
There are so many places to wear the best kids' hiking and walking sandals. Whether they're playing in the back garden, having a day at the beach – or of course actually going on a walking or hiking trip. This guide takes you through all the top kids' hiking sandals available right now, including the ones my own kids are currently wearing – and which we love!
>> Click here to see the overall best walking sandals for kids <<
The top hiking sandals for kids products include girls' walking sandals and boy hiking sandals. All have the features you'd expect for summer – including a sturdy built, good ventilation and soles with good grip. To ensure you have a happy child, they are also comfortable to wear and look attractive too. So read on to discover all the best kids' active sandals for your family holiday adventures!
| | | | |
| --- | --- | --- | --- |
| Name | Colours | Key features | Price |
| Keen Newport H2 | 6 options | Toe enclosure, cushioned footbed, bungee lacing | Click here |
| Mountain Warehouse Coastal | 2 options | Great value, slip on beach footwear | Click here |
| Merrell Panther 2.0 | 4 options | Cushioned footbed, hook & loop straps, fast dry | Click here |
| Regatta Westshore | 5 options | Very breathable, spandex lining, cord & toggle | Click here |
| UOVO hiking sandals | 6 options | Good value, great ventilation | Click here |
How to Choose the Best Walking Sandals for Kids
There are several features to consider when choosing kids' walking sandals for play, hiking and days out. These include factors such as comfort, the type of fastening and how much protection they offer – as well as why you're actually buying the footwear.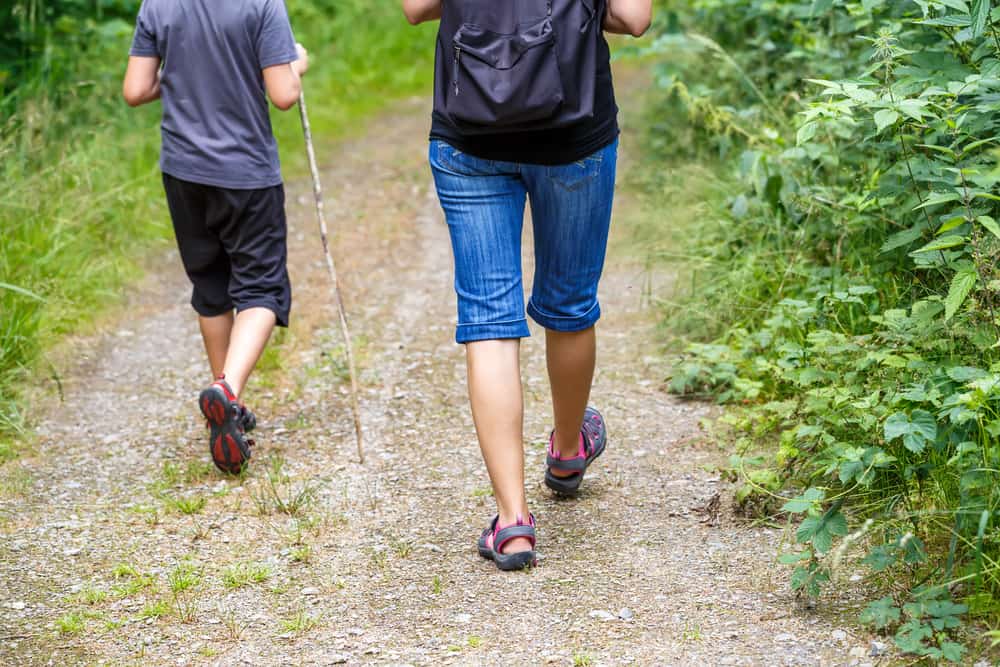 Purpose
What is your reason for buying kids' hiking shoes? Are you actually going trekking in the hills, or is it more for each days or exploring your local area? Perhaps it's just for a fortnight in the sun, including days by the sea and discovering a new place. How active will your kids be when wearing their sandals? Can they pass them on to a sibling once outgrown? If so, it may be worth paying more for better quality.
Comfort
Some of the kids' walking sandals listed in this guide have an EVA cushioned footbed for extra comfort. You'll probably pay more for a premium brand, but it is worth it when they'll get a lot of wear – or are worn under more demanding conditions, such as when hiking the trails.
Protection
If they're likely to be scrambling over rocks or contending with stony terrain, the you might want to think about how much protection your chosen sandals offer for young feet. Some have strong toe enclosures to minimise the risk of hurting, or even injuring, small toes.
Fastening
Can the kids put on the shoes themselves? Is this as important as a secure fit? It all depends on your priorities, and whether or not they're likely to walk on much uneven ground.
The 5 Best Kids' Hiking & Walking Sandals
These unisex Keen kids' sandals come in a range of colours they'll love, so whether they prefer pink, blue, purple or a more subtle shade you're sure to find a pair they like the look of. This is the summer footwear of choice in our household right now, and our kids love them just as much as we do.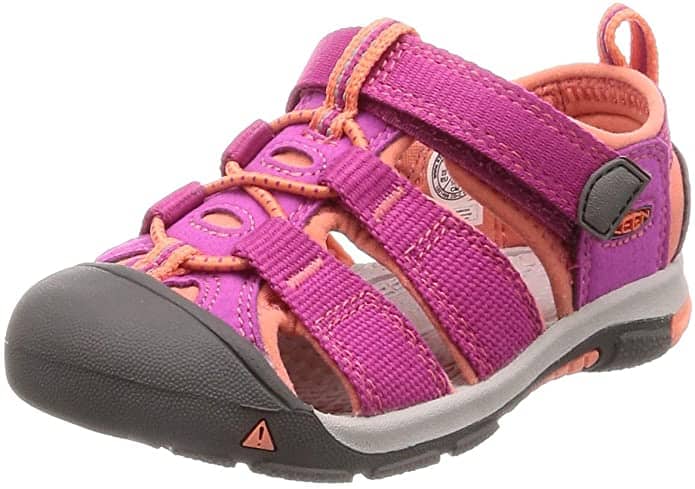 A cushioned EVA footbed makes for all-day comfort even when hiking, while little toes are protected by a robust enclosure. These Keen sandals are as comfortable as trainers, yet far more airy for summer. Even on the slipperiest surfaces, they offer great traction and the bungee style lacing is easy to fasten – yet super secure. 
Pros:
Cushioned footbed for comfort
Protective toe enclosure
Easy yet secure bungee lacing
Cons:
>> Click here to see the Keen Newport H2 kids' trekking sandals <<
If you want great value walking sandals for kids to wear at the beach, look no further than this pair by Mountain Warehouse. Dubbed 'shandals' by the high street outdoor brand, they are easy to slip on and off, comfortable to wear and come in choice of two colours.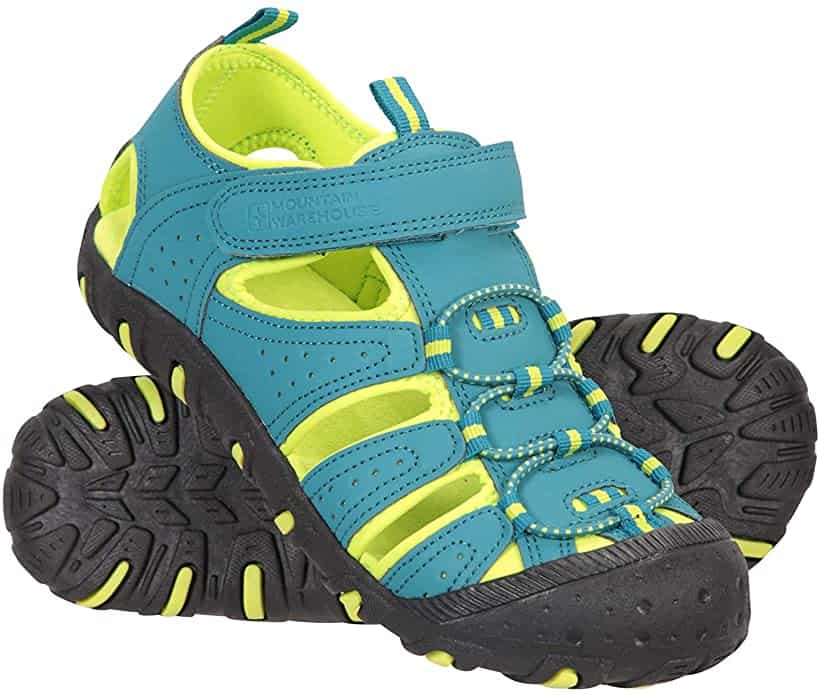 These walking sandals for kids feature a neoprene upper and a tough rubber sole with plenty of grip. Most kids can pull them on and off quickly by themselves, and they can be secured in place with the velcro ankle strap. If you want to spend time outdoors but don't want to flash too much cash, these are a great option.
Pros:
Great value for money
Slip on kids' sandals
Ideal for active holidays
Cons:
Not the most robust choice
>> Click here to see the Mountain Warehouse Coastal kids' sandals <<
Kids' Merrell sandals are another popular product with walking and hiking families. The highly rated Panther 2.0 is packed with features to recommend it. Including quick-drying, moisture-wicking material and a super simple hook and loop closure that gives kids added independence.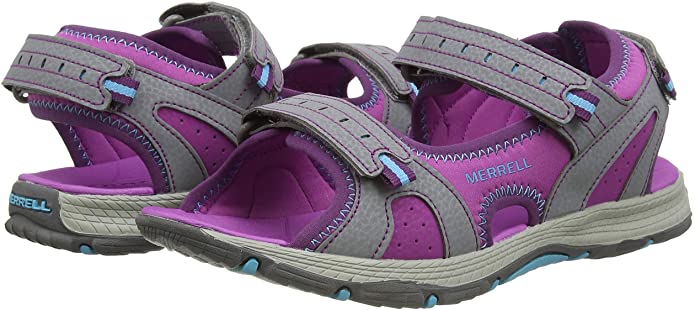 The outsole has been specifically designed to offer superior tread on all sorts of surfaces, and purchasers can choose between four colour options. If you want junior walking sandals that can be worn anywhere and are as comfortable as trainers, then these Merrell ones are a great pick.
Pros:
Moisture-wicking and fast-drying
Easy hook and loop strap system
Cushioned EVA footbed
Cons:
Not as secure as laced sandals
>> Click here to see the Merrell Panther 2.0 sandals for kids <<
For some reason Amazon listed these as girls' hiking sandals at the time of writing, but these are definitely good for boys too. They come in 5 colours – just one less than the Keen walking sandals detailed above. If you want something for hot weather when going overseas for a holiday, these could be the best bed as they offer good ventilation and breathability.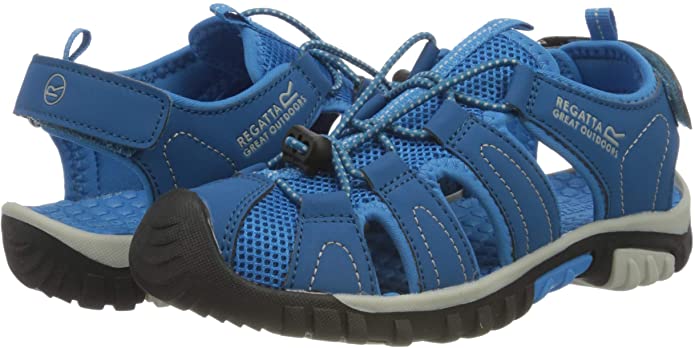 A simple cord fastening system with a toggle makes these sandals adjustable for a perfect fit. They have a spandex lining for flexibility and comfort as well as mesh to the upper to aid airflow. This is a solid mid-price option from a leading British outdoor brand.
Pros:
Highly breathable sandals for summer
Simple cord and toggle fastening
Soft spandex lining for extra comfort
Cons:
>> Click here to see the Regatta Westshore sandals for kids <<
This time, the UOVO footwear is listed as boys' sandals, but is suitable for either gender. These budget buy kids' sandals are attractively priced and come in a choice of six colours. A sizing chart is provided on the listing to ensure you get the right fit for your child.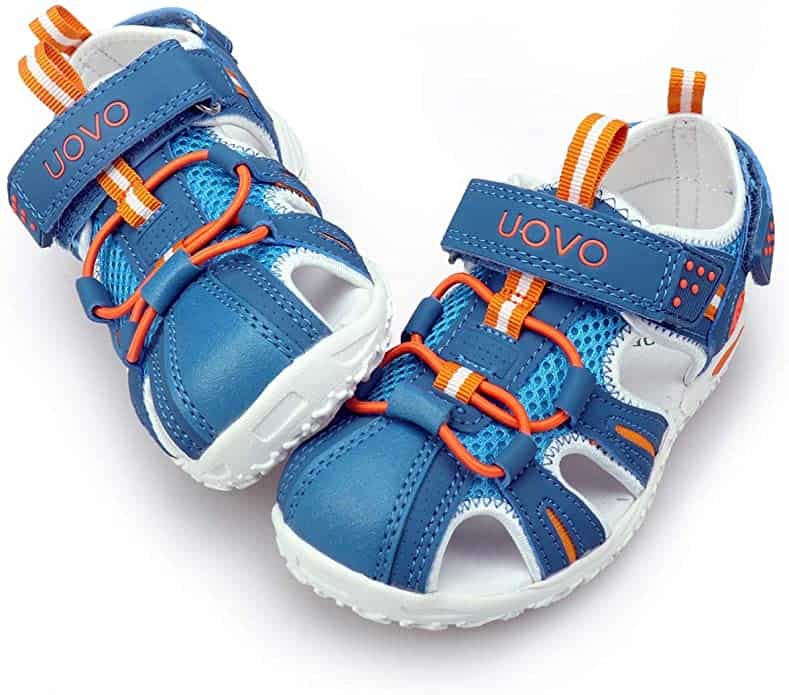 A rubber sole makes these a hardworking pair of sandals. There's mesh on the upper, as well as large ventilation gaps, making sure your child's feet stay fresh – even during a heatwave. This makes ideal holiday footwear, whether they're exploring the local woods, having a beach day or spending time discovering a new destination.
Pros:
Good value price
Great ventilation during hot weather
Choice of 6 colours
Cons:
>> Click here to see the UOVO walking sandals for kids <<
Which are Best Kids' Hiking Sandals for your Children?
We hope this guide has been helpful when choosing which girls' walking sandals or boy hiking sandals to buy for your child – or children. Whether you opt for kids' Keen sandals like us, like the look of Merrell kids' sandals or would prefer to try a different brand, you're certain soon to wonder what on earth you did without those children's walking sandals!
Pin now, buy later!