Dog friendly things to do in the County of Durham for a family getaway is a sponsored post written in collaboration with This is Durham. All thoughts and opinions are my own.
If you have ever taken a drive along the A66 from Scotch Corner you do not need me to tell you how incredible the scenery is. Why is it then, that given how beautiful it is, I haven't stopped and explored the Durham Dales until now?
Well, I can honestly say, both myself, my family and now our dog Phoenix have really been missing out. The County of Durham, and the Durham Dales in particular, offer families and their furry friends some incredible and unique things to do for a summer or autumn break this year.
Not often does a road trip surpass our expectations in such a big way, but our long weekend exploring the Durham Dales really did. If you are in the market for discovering a hidden gem in the UK this year, I can promise you that the Durham Dales will not disappoint. I suspect that the rest of the Durham has plenty to offer too, and our visit to this part of North East England definitely left us wanting more!
The Bowes Museum
Who would have thought you would find a spectacular fine art museum, in a French architectural style, in the historical market town of Barnard Castle in the North East of England?
Well, that's exactly what we did find making it's huge presence very much felt as we drove into the grounds of The Bowes Museum in Barnard Castle.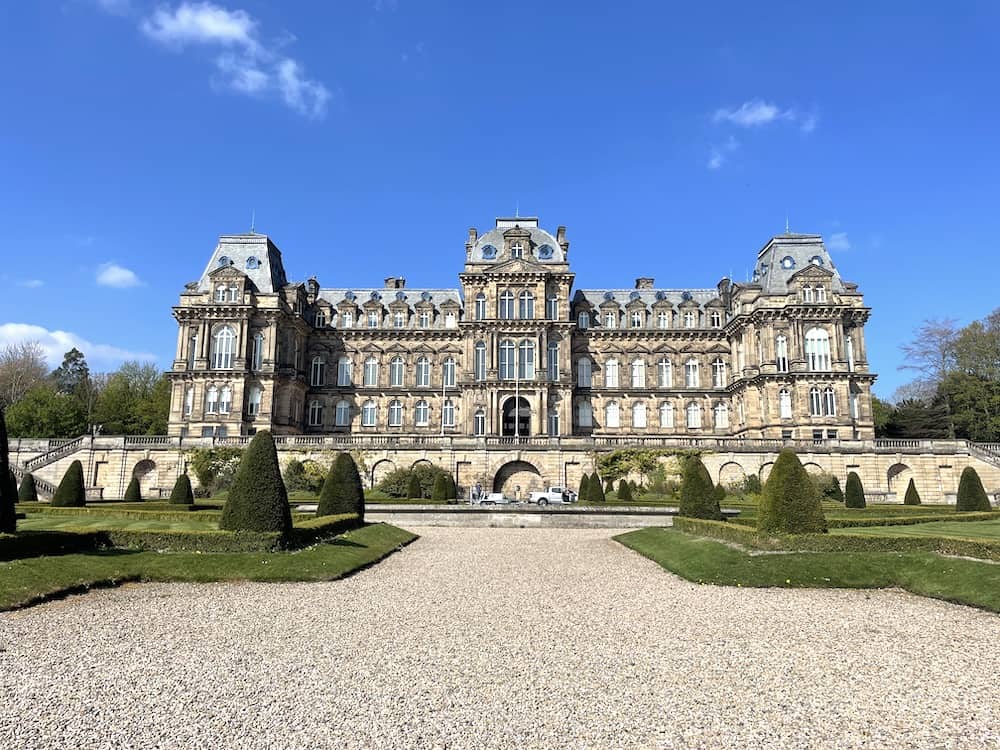 Whilst our dog wasn't able to go inside the museum and enjoy the wonderful collection of fine & decorative art, she very much enjoyed exploring the beautiful gardens & woodland walks around the grounds. It was the perfect start to our visit to Durham after the trip from Nottingham.
The other thing you need after a long car journey is a delicious lunch, and the Café Bowes did not disappoint on that front. I'd highly recommend the seafood chowder from the current menu, and the children loved their homemade mac n cheese and tomato soup too. We finished off lunch with the yummiest of freshly made cakes for dessert which we enjoyed in the museum gardens.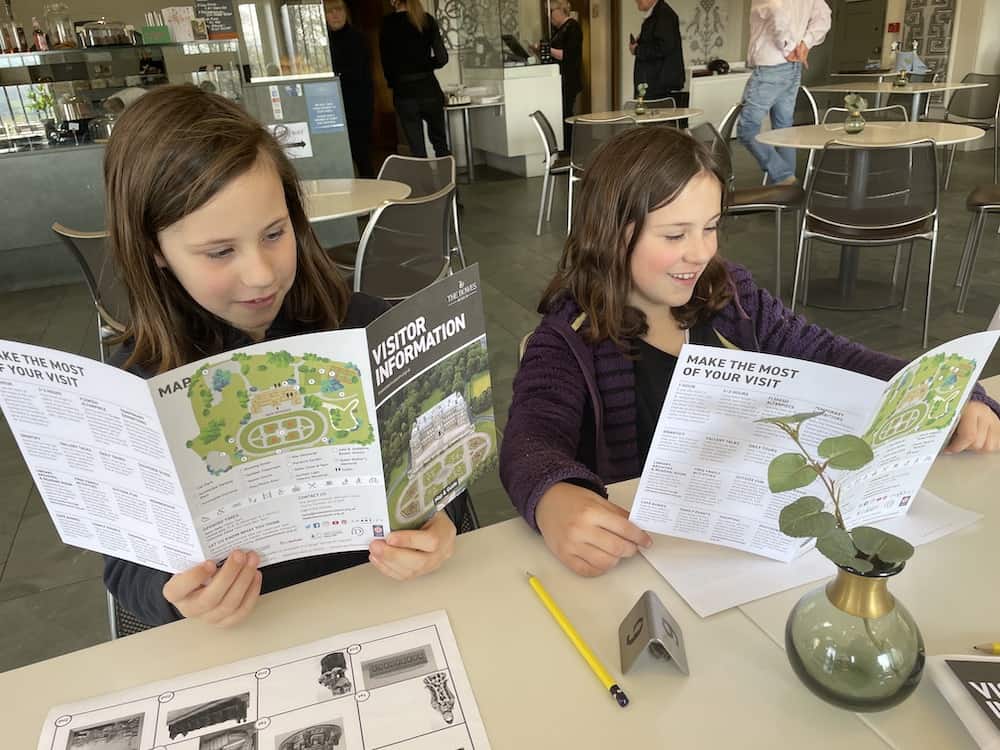 With legs stretched and everyone refuelled we headed off to explore the museum. I expected us to enjoy our visit, but honestly, we did much more than that. It was brilliant and so engaging for the children. The scavenger hunt in particular was a lovely touch and it was great to see Brook and Indie enjoying all of the displays.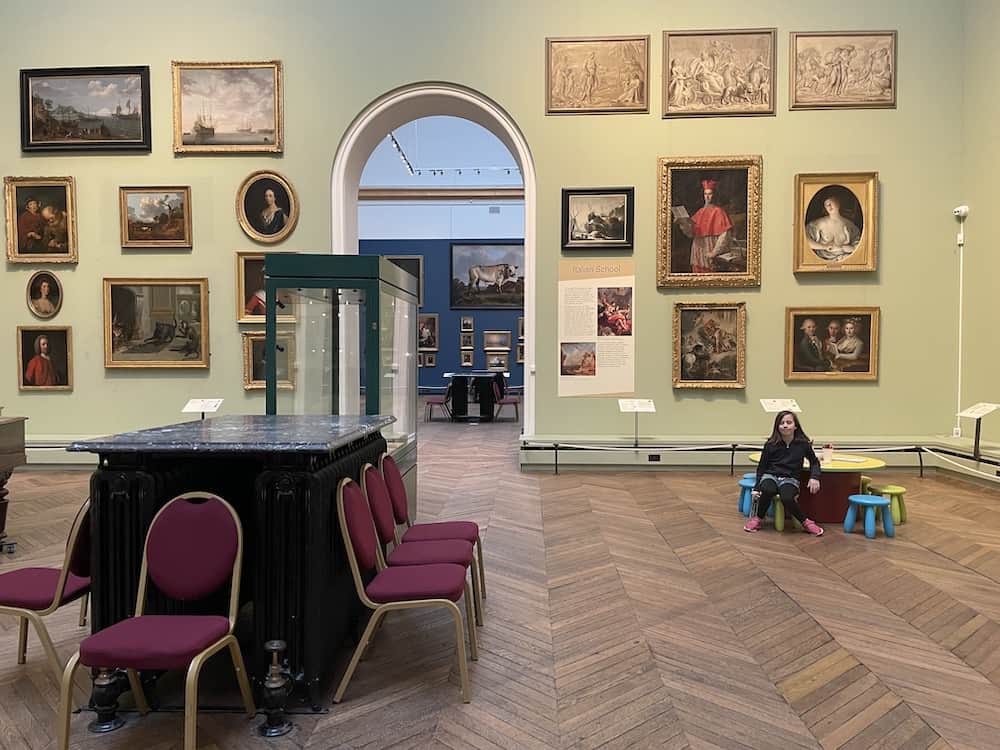 The children's areas were brilliant, simply packed with fun activities for the young visitors to do. The models in Lego around the museum were excellent and we all enjoyed the story of the silver Swan. Outside there was also a play area for the girls to enjoy. All in all, a must visit destination for families visiting the Durham Dales. We spent the whole afternoon here, right up until closing, and could easily have stayed longer if we had of been allowed to.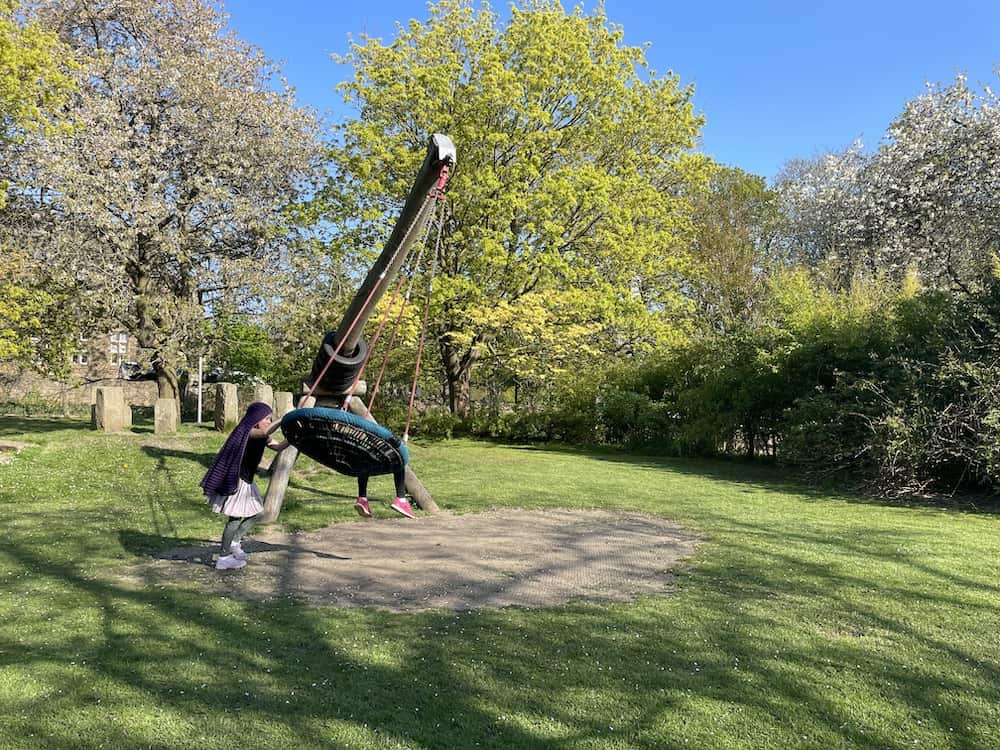 Website: The Bowes Museum
Address: Barnard Castle, County Durham, DL12 8NP
Tickets: Family Ticket (2 adults + up to 4 children) £31.50, Family Ticket (1 adult + up to 4 children) £17.50
Where to stay in Durham?
We really enjoyed our time staying in Barnard Castle. The town is brimming with independent shops and eateries which celebrate the local area perfectly.
We discovered a wonderful dog friendly holiday cottage, just at the foot of the castle itself and next to the River Tees. We had a feeling we were going to enjoy staying here, and when we walked through the door, we knew we'd picked the perfect place to stay.
The cottage, Cummin's and Goings, was very well equipped. The kitchen had everything we needed including a very well stocked welcome basket. The cream tea, yummy breakfasts and sparkling refreshments were very well received.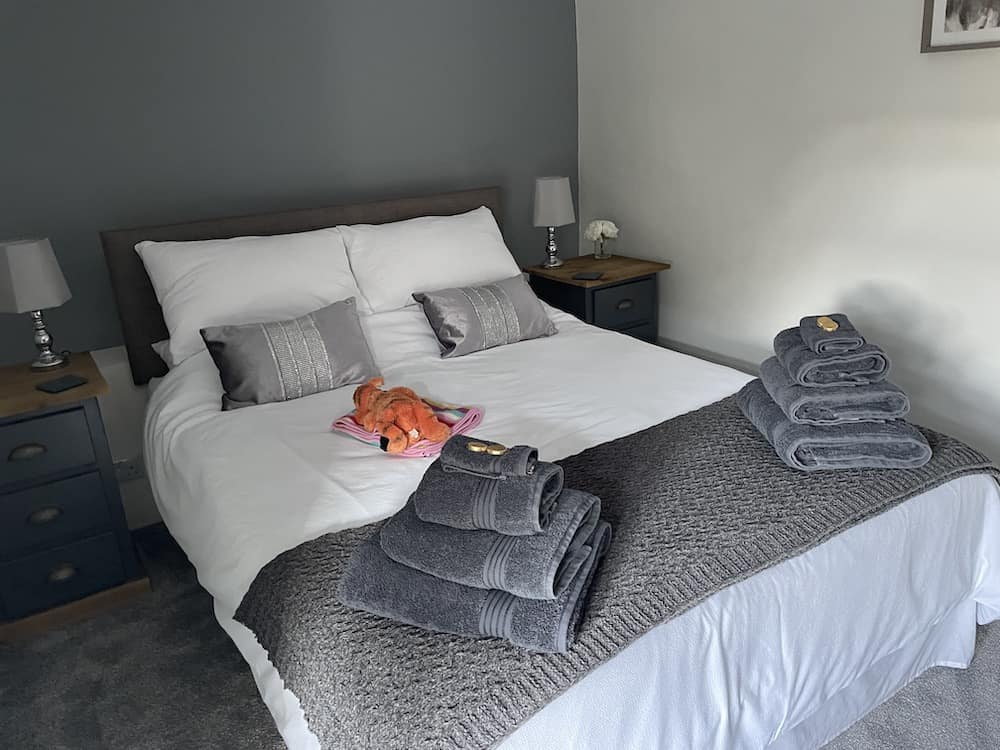 We loved the decor especially. The bedrooms were incredibly comfortable with plenty of space and a huge pile of fluffy towels for everyone.
Across the road from the cottage was a small park which was perfect for taking Phoenix out for her morning and evening walks. We also discovered that you could get down to the bank of the River Tees. Brook and Indie loved this, and we took them down to play on the bank most evenings.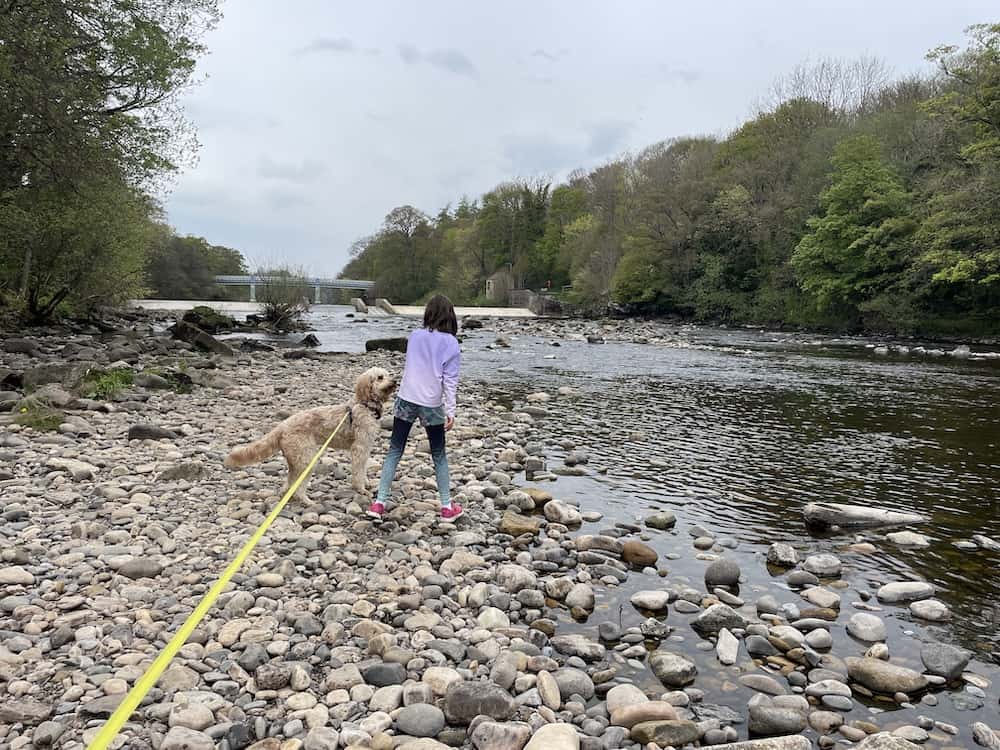 It was also only a short walk up the hill, around the castle walls, into the town. The play area near the castle was a great incentive for getting the kids to go exploring with us, whether it was to get supplies or find a bite to eat.
All in all, our cottage was a perfect location for exploring Barnard Castle and the Durham Dales in particular. I'd highly recommend booking this accommodation on Host and Stay, especially if you are looking for a dog friendly family break. A self catering cottage like this so flexible, and we loved having the extra space and being able to set our own agenda, often dictated by the kids energy levels.
Raby Castle
If you're looking for a belter of a day out in the County of Durham then we highly recommend going to Raby Castle. The girls had the best time running wild at The Plotter's Forest. It's perfect for kids who love outdoor adventure! I think it's best described as a secret kingdom hidden within the trees. It has its own cafe and toilets so you can easily spend a morning or afternoon here losing the kids, if you know what I mean.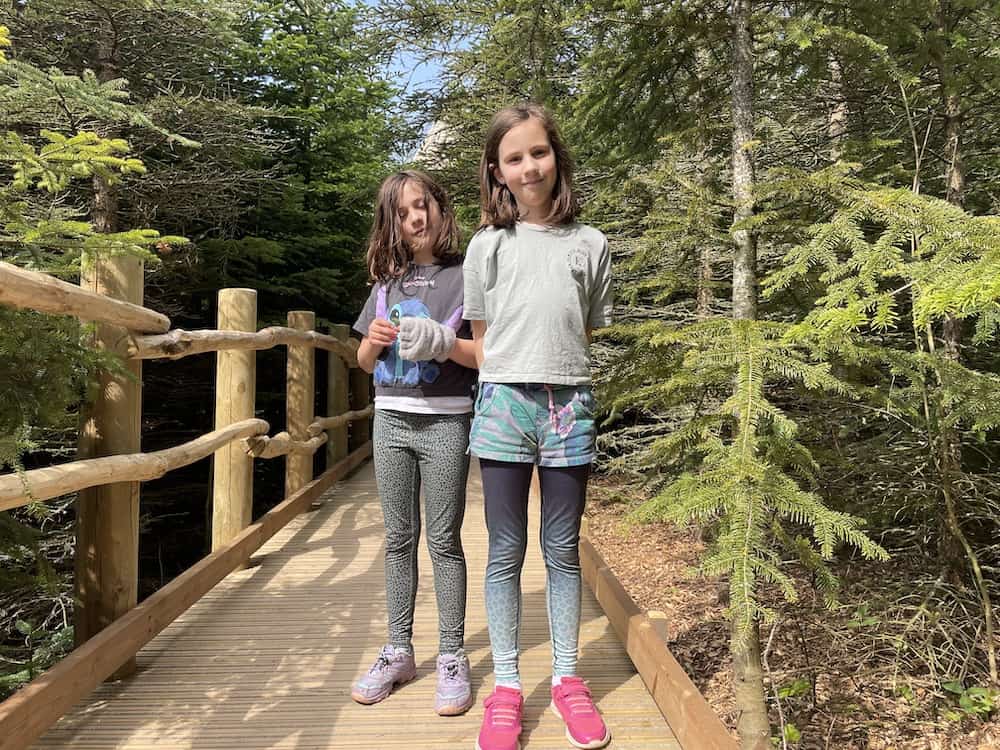 Next up, we explored the immense deer park while doing the nature scavenger hunt. We spotted plenty of deer here too. I think this was both the dogs' and the girls' favourite part of the day.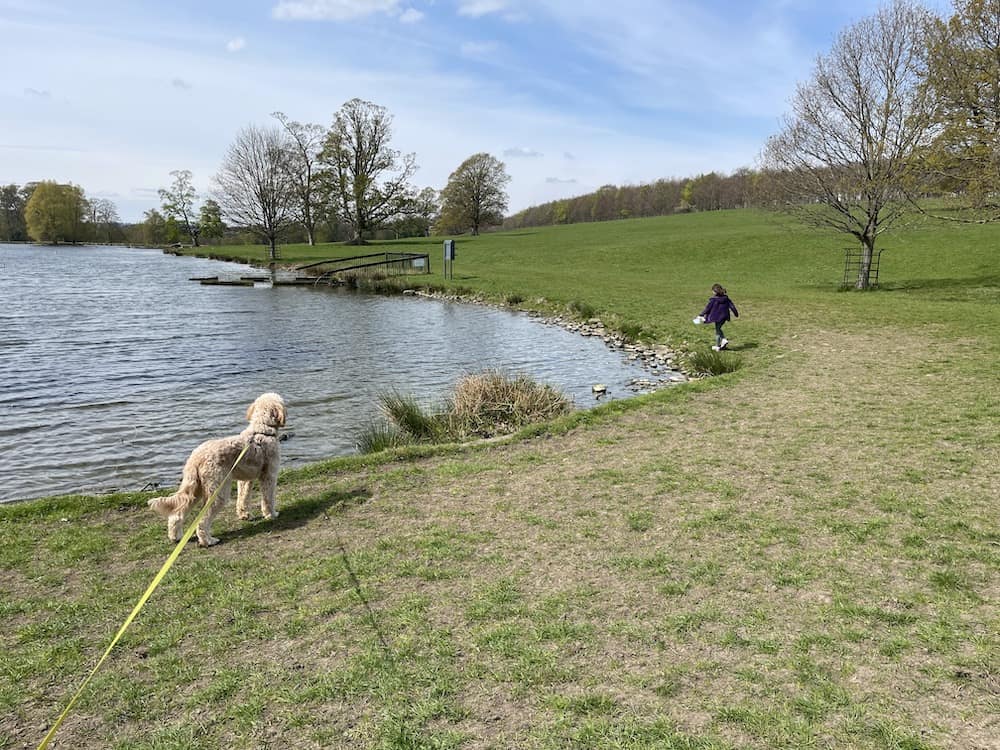 We also enjoyed going inside Raby Castle itself & learning all about its history. Some of its rooms are incredibly elaborate and it was no surprise to me at all to learn that there are connections to the equally extravagant Brighton Pavilion down south.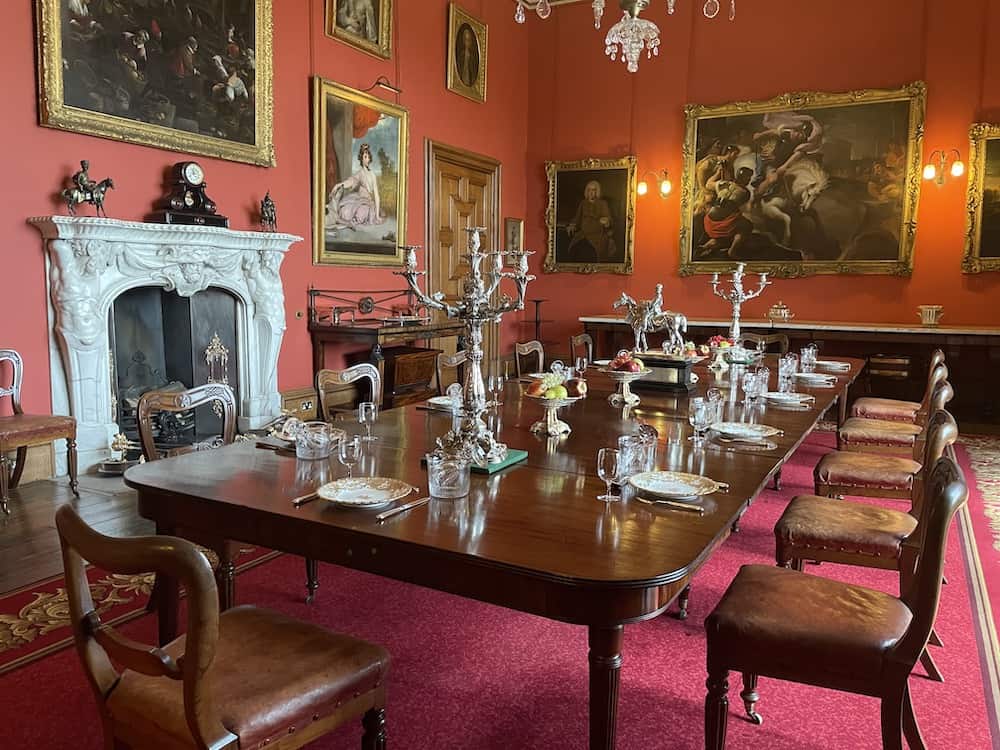 We also stopped at the Yurt Cafe after working up quite a big appetite. The locally sourced food here was delicious and made for a lovely treat. A great family day out all round! We were really impressed with Raby Castle and all it's facilities.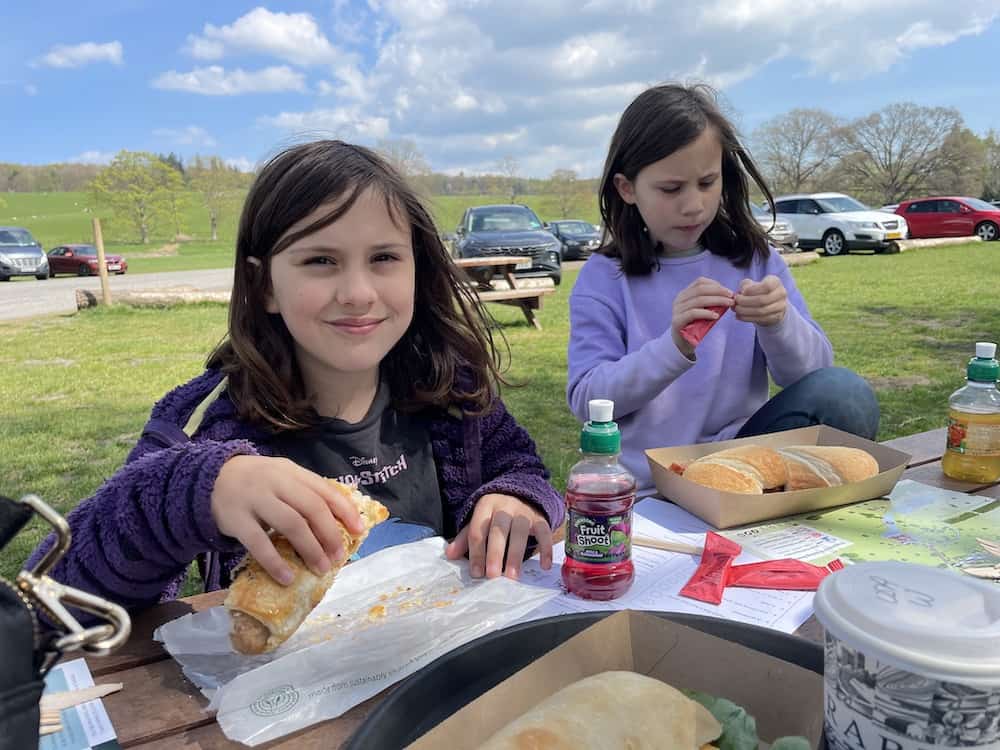 Website: Raby Castle
Address: Raby Castle, Staindrop, Co. Durham, DL2 3AH
Tickets: Various
High & Low Force Waterfalls
When it comes to beautiful places to visit the Durham Dales really packs a punch! We had another incredible day exploring the High Force Waterfall, one of the most impressive waterfalls in England, followed by lunch at the High Force Hotel restaurant.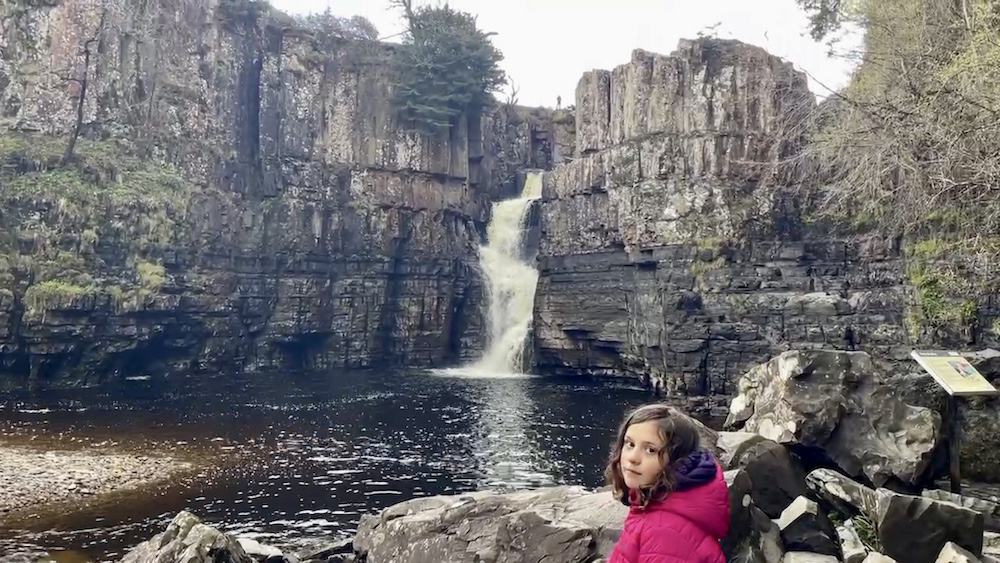 The woodland walk to High Force Waterfall is perfect for families and dogs, but be aware there are some steps on the circular route. You can see the waterfall, without taking the steps, for a gentler option or if you have a pram with you for example.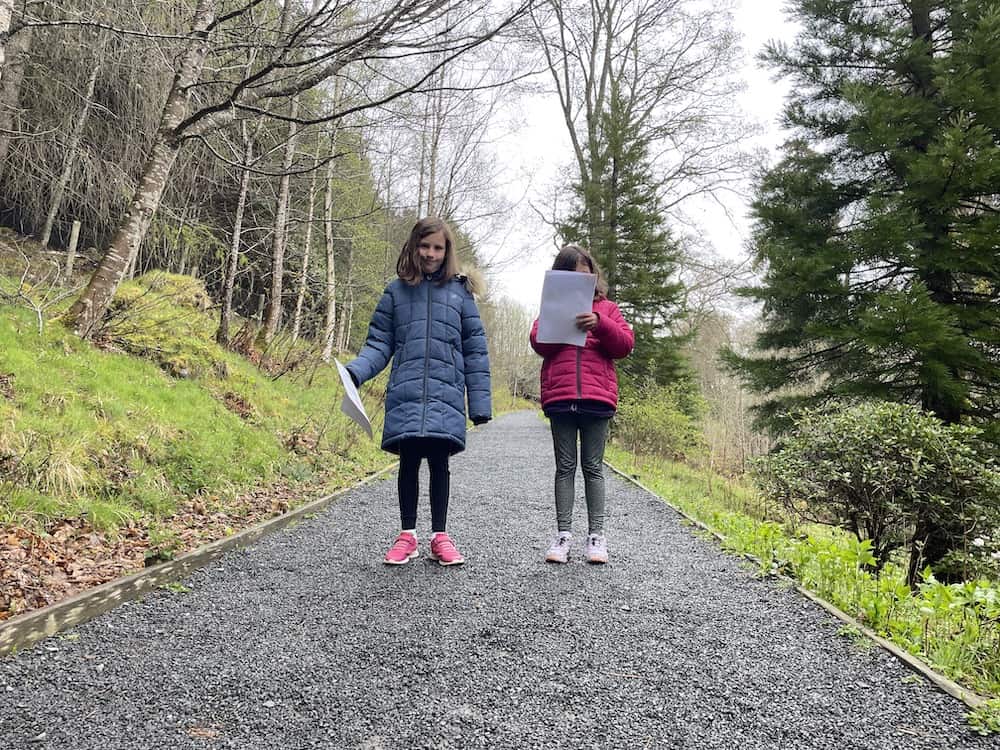 The High Force Hotel is a great place for lunch, and dogs are welcome both inside and out. We'd highly recommend a visit, but book in advance as it's very popular, especially on Sunday's. We nearly found this out the hard way. We are so grateful to the friendly staff who managed to find us a table at very short notice. We're so glad they did as the Sunday roast and sticky toffee pudding were utterly delicious.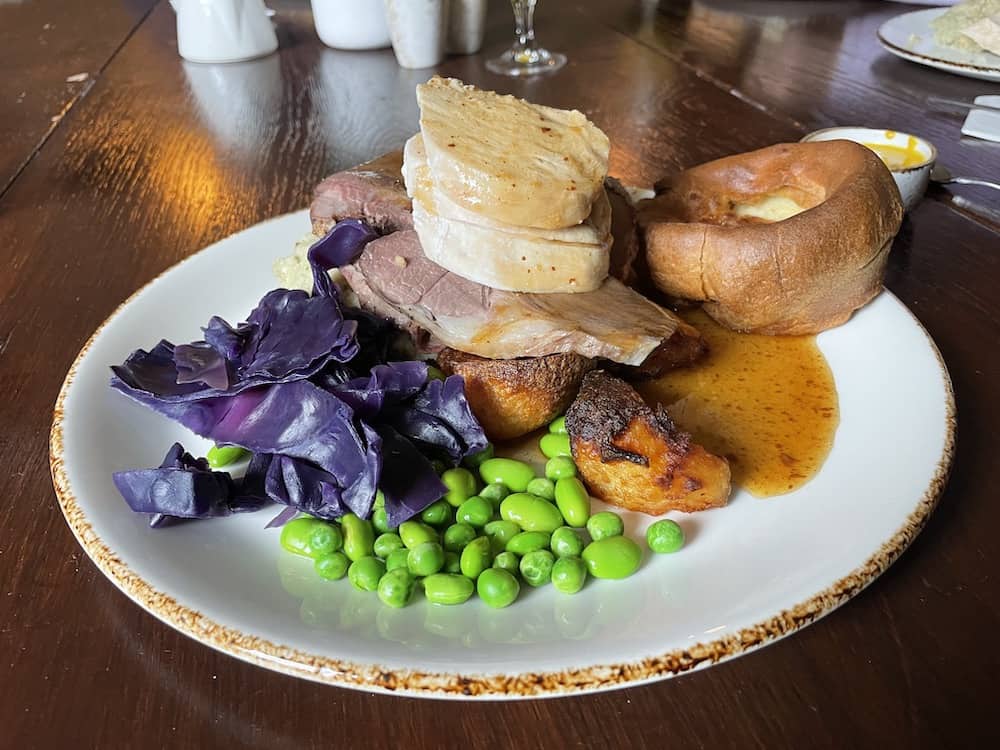 Website: High Force Waterfall
Address: The High Force Hotel, Alston Rd, Forest-in-Teesdale, Co. Durham, DL12 0XH
Tickets: Various
While in the area, the next place you simply must visit is the Bowlees Vistor Centre and Low Force Waterfall.
Firstly we took the short hike up to Gibson's Cave. Indie, Brook and Phoenix all enjoyed playing in the stream on this woodland walk. It's very shady and the cave also has a waterfall. It's a very gentle hike with only a few steps to climb at the start.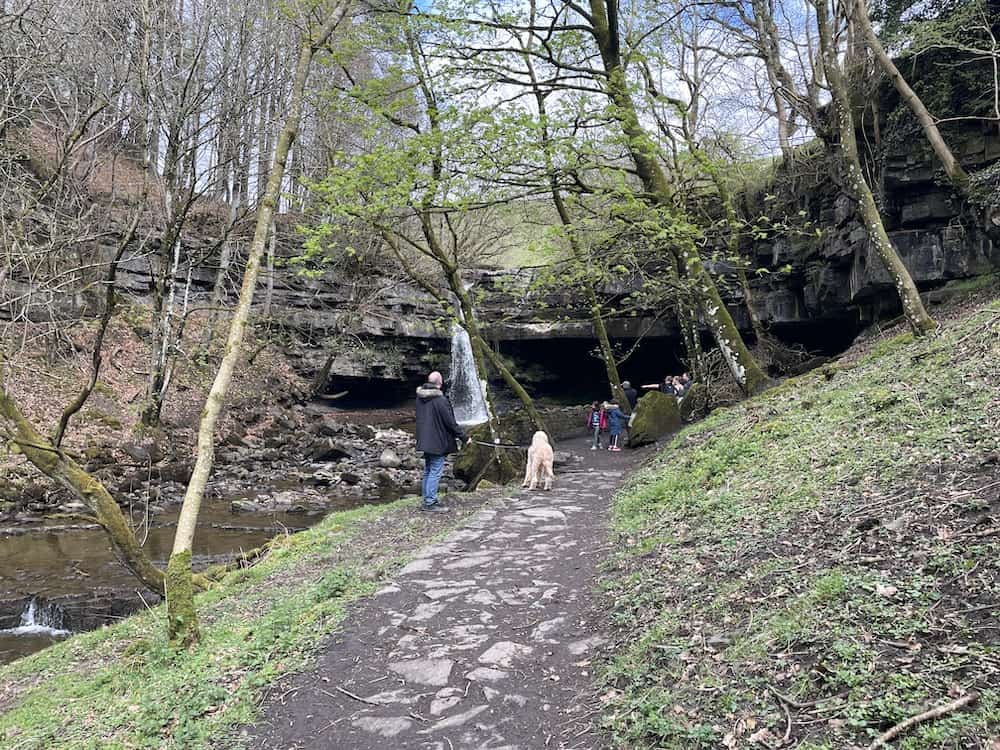 Now, I have to confess, we didn't visit Low Force Waterfall on our initial visit to the area as it was clear the girls were flagging a little. We took them home for a rest, and I looked up the Low Force Waterfall to see what we had missed. I discovered it was a filming location for The Witcher, which my husband loves. It also looked stunning.
I decided we had to head back before we left the Durham Dales, and I'm so glad we did, well we all were really. It was just incredible and a must see if you are in the Durham Dales. It's a gentle 10 minute walk from the car park and Bowlees Visitor Centre and the path also joins the Pennine Way.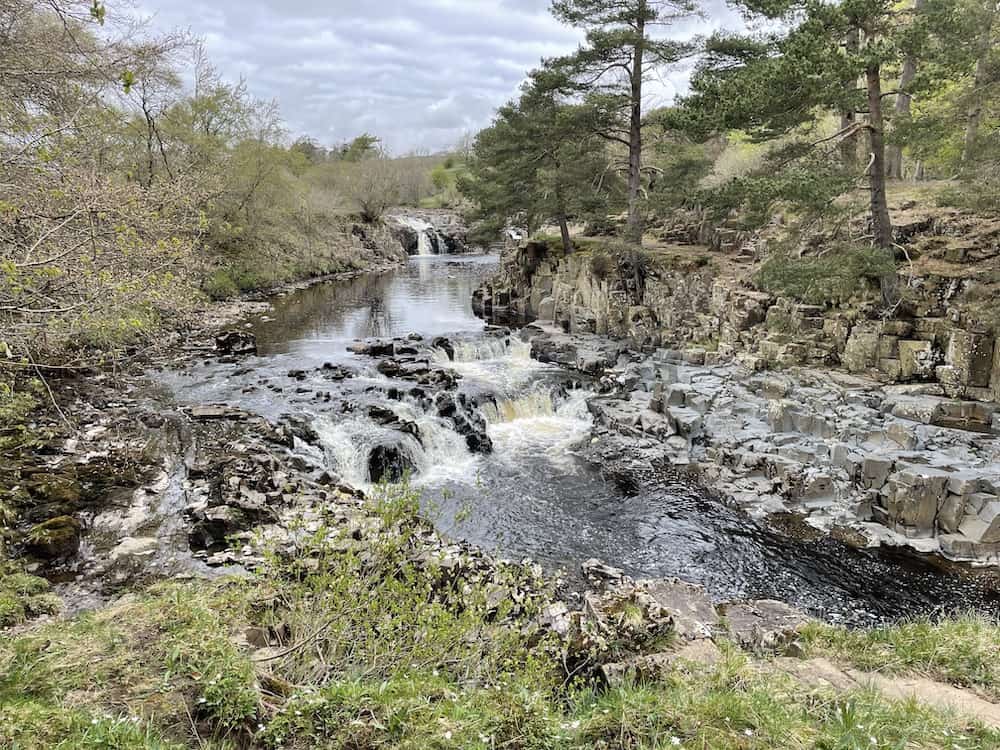 If you are pushed for time, I'd recommend visiting the Low Force Waterfall first, as while it's only a short walk, you will want plenty of time to enjoy seeing the waterfall. If you have time to spare, then head to Gibson's Cave and enjoy the walk along the stream before returning to the car park. There is also a cafe and gift shop at the Bowlees Visitor Centre you can visit.
Website: Bowlees Visitor Centre
Address: Bowlees, Newbiggin, Near Middleton-in Teesdale, Barnard Castle, County Durham, DL12 0XF
Tickets: Free but parking charges apply
Hamsterley Forest
Last, but by no means least, we ended our visit to Durham at Hamsterley Forest. It's a perfect day out for kids and it's great for dogs too!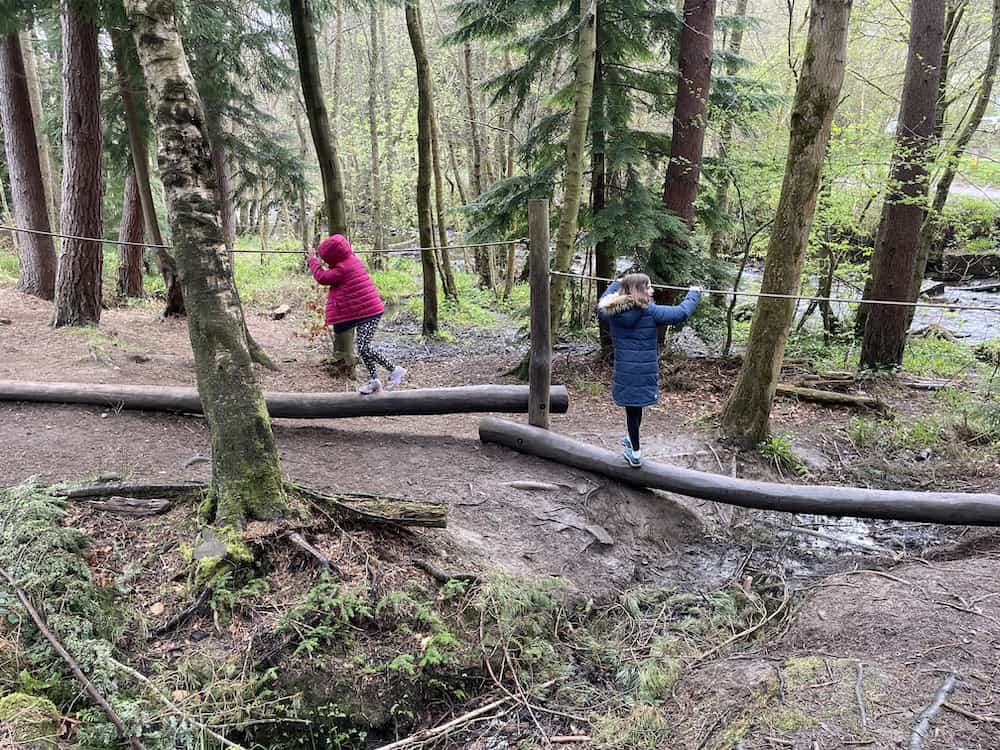 Indie and Brook burnt off a ton of energy in the play areas and had a blast completing the Superworm trail with their fun activity pack. What's not to love about jumping around like a toad or creating magical woodland chants. There was also an etching to do at every part of the trail and lots of fun facts about different insects.
It was also the perfect place to take Phoenix for a lovely walk and have lunch before we headed back to Nottingham.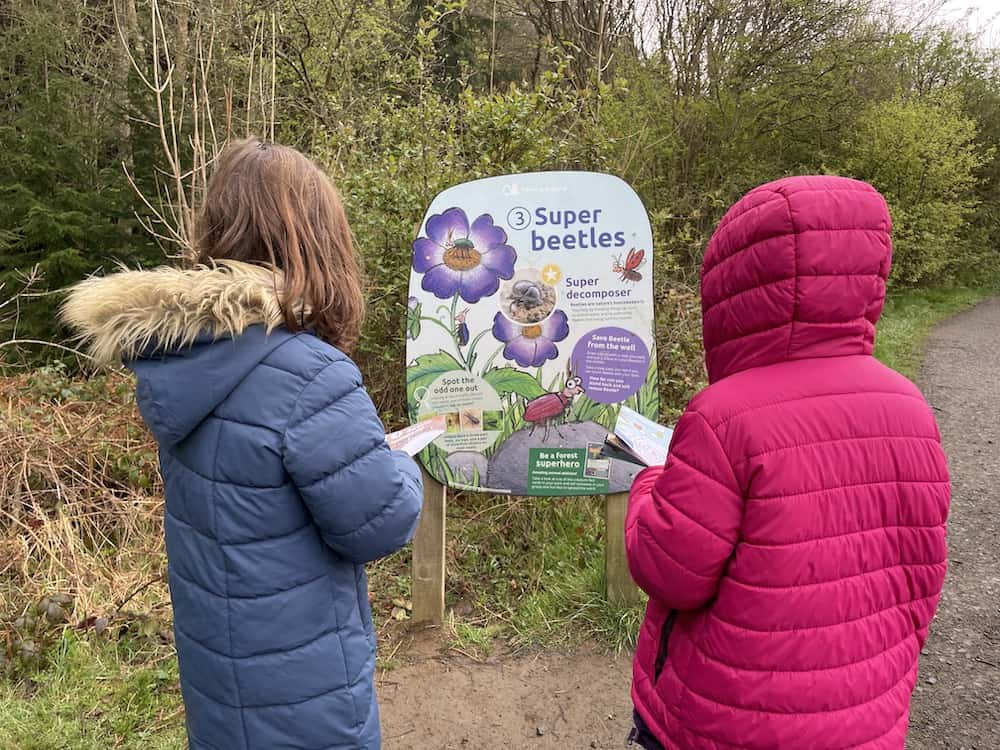 There's lots of walking, running and cycle trails here so there's something for everyone. The Superworm trail follows the 1.5km riverside walk, and we had no issues at all keeping Indie and Brook motivated as they were keen to get to the next Superworm location. It was a really fun way to spend time in the forest and enjoy the natural surroundings as a family.
It was also the perfect way to end our time exploring the Durham Dales!
Website: Hamsterley Forest
Address: Bedburn, Hamsterley, Sat Nav Postcode: DL13 3NL
Tickets: Car Parking Charges Apply
Final Thoughts on Things to do in the county of Durham
We really hope we've given you lots of inspiration for planning a road trip to the Durham Dales this year. This itinerary would work perfectly for families with dogs in particular, but I genuinely believe most outdoor and nature lovers would appreciate these unique places to visit around Durham. If you have longer to spend in and around Durham, check out the This is Durham website for more information and you will find more family friendly ideas here too.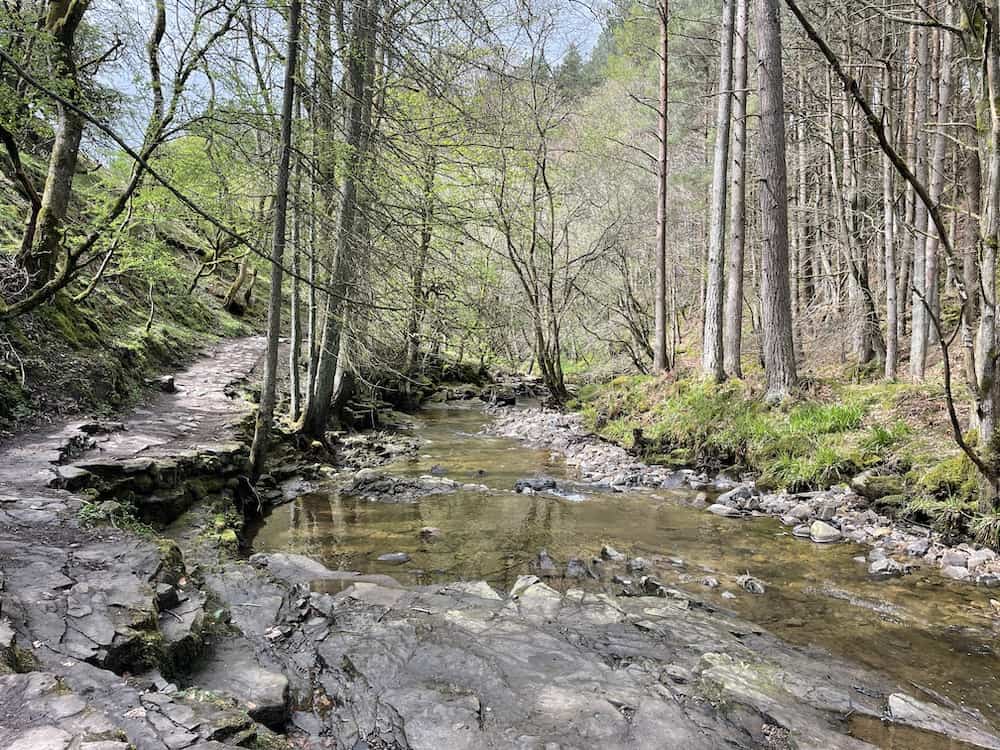 We will definitely be back to explore more of Durham. Perhaps it will be the city of Durham or the Durham Heritage coast next time. If you do visit, I suspect you will be surprised at how much there is to see and do in Durham. I was very impressed with the places we visited, in this unique and beautiful part of the UK.
Not ready to travel to Durham yet? Save this pin for later!