We recently took our dog on her first road trip to Wales and it's fair to say that we all loved being with our pooch for her first holiday. At only 8 months old, we couldn't bare the thought of leaving her behind. Being new to car travel with a dog, it was definitely a learning experience for us all.
If you have recently had a dog join your family, and are hoping to take them on a long car journey soon, we thought these tips might come in handy.
Before Your Trip
Before you take a car journey with your dog, it's a great idea to take them for a nice walk before hand. They will feel much more settled when travelling if they have had some exercise first.
If your dog is prone to car sickness, it's also an idea to give your dog time to digest their food before you starting your road trip. You may want to feed them 2 hours before you leave, or start your trip early and save the food until you get there to save any accidents.
Safety
It is super important that your dog is suitably restrained in the car on any journey, not just long ones. It is safer for them, it avoids you becoming distracted and it is a legal requirement. There are several different ways you can do this. A dog seat belt my be suitable or you can use crates or carriers. However you choose to secure your dog, it is important for their safety, yours and other road users.
If you choose to travel with your dog secured in the front seat of the car, turn off the passenger air bag and slide the seat back as far as you can.
We also recommend you avoid letting your dog stick their head out of the window. As much as your dog may love to do this, sadly it can be extremely dangerous.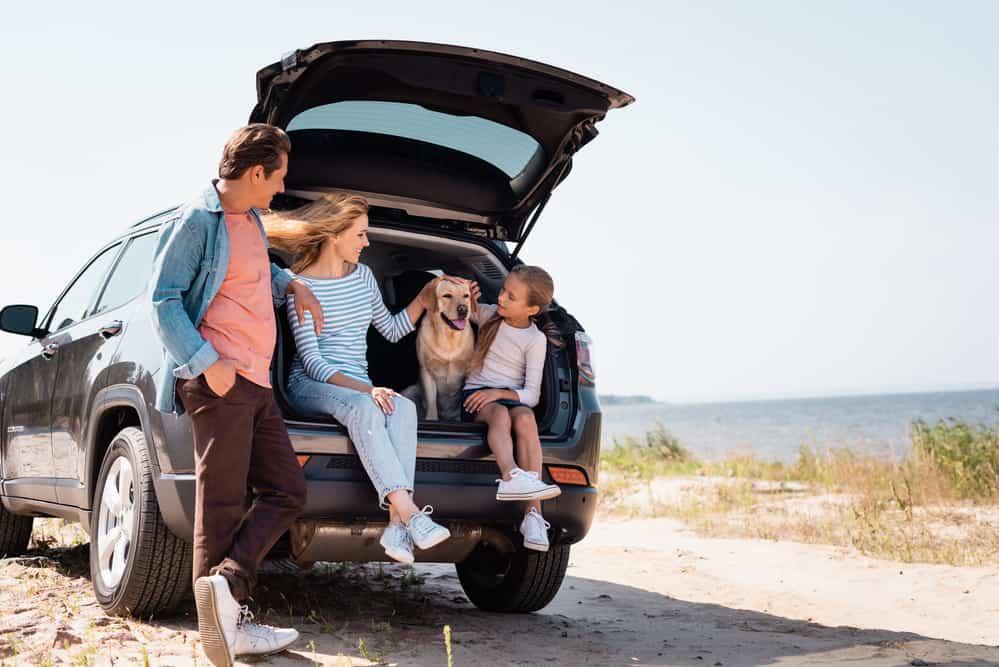 Train Your Dog
This might seem obvious, but from the moment your dog arrives home begin regular and fun training sessions with them straight away. If you know you are going to be taking your dog on holiday with you, think about how you would like them to behave and the things they are going to have to deal with.
It's much easier to take a well trained dog who is used to a variety of situations with you on holiday, than one that isn't it.
They will definitely need to be used to travelling in a car. Begin with short car journeys at first to build up their confidence. They might even be car sick a few times, so pack some things to help clear up any accidents. Don't let this pout you off. After a few car trips your dog should adjust to travelling on four wheels.
As well as general training it can be useful and safe to train your dog not to jump in and out of the car on command. This is helpful for packing the car and to keep your dog safe if they are getting in or out of the car near a road.
Plan Your Stops
It is highly likely you are going to need to stop on your road trip. A dog needs to be able to stretch its legs, have food, unless they get car sick, and water and relive itself. When you are planning your car journey look for nice places to stop along the way that allow for a nice dog walk and rest stop.
Not all motorway services have a lot of green space, and navigating moving cars in a car park can be overwhelming for a dog. We discovered this the hard way.
Think About Car Space
Having been on a number of family road trips, I know how easy it is to fill the boot of a car without a dog in it. Giving your dog enough space to sit down, stand up and turn around during a car journey will help them to be more comfortable during the trip.
If your car isn't going to be big enough to give your dog enough room and allow for your luggage, you might want to buy a roof box and roof rack. This will create the extra space you need for both your dog and your personal items.
We really left it until the last minute to work out how we were going to create the extra space we needed in the car, and discovered that a number of places offer roof box and roof rack hire.
Plan for the Weather
When we took our dog on holiday in the car, the weather was fairly wet and cold. We were able to put a dog bed and blankets in the back of the car for her to sleep on and know she'd be comfortable. We also took her rain coat to keep her dry while we were out exploring.
In the warmer weather, it's a different ball game. A dog can easily overheat in a car, so to make sure they are comfortable pack a dog cooling mat and windscreen shades for the car. This will help your dog to keep cool on a long car journey. When you park, if at all possible leave the car in the shade so it doesn't get too hot while you are away from it. Using a car shade will also help keep the temperature down. Never leave your dog alone in a hot car if the weather is warm. You may also want to consider the time of day you travel, travelling with your dog either in the early morning or evening to avoid the hottest parts of the day.
What to Pack for Your Dog
There are a few things that you should definitely pack for your dog. They might find going on a road trip unsettling so having a few of their favourite things with them will help them adjust. This dog packing list will help you and your pooch be prepared. If you need any items, we've linked to some ideas on Amazon so you can be prepared for your trip:
Chew Toy/Toys
Food
Bowls
Dog Treats
Water bottle and plenty of water
Final Thoughts About Dogs Travelling in Cars
We really hope you have found these tips about dog car travel helpful. One of the great things about having a dog is that they can join you on your adventures if you plan ahead. We have really enjoyed taking our dog on holiday with us, and hope we have lots more trips with her in the future. Car travel with dogs can be stress free for all if you train your puppy from a young age and make them comfortable while they are in the car.
Do you have any tips about travelling with a dog in the car? If so, we would love to hear them. Please let us know in the comments below.
If you liked our tips for how to travel with a dog in the car, please share this post with your friends and followers or pin to your car travel board for later