We were gifted all the experiences below in exchange for this post, but all thoughts and opinions are our own.
The drive to Snowdonia really set the scene for what was to come, twisting and turning through the beautiful valleys and villages filled us with a sense of escape. Every day felt like an adventure surrounded by such incredible scenery and breathtaking landscapes.
If you haven't explored the Snowdonia 360 route yet, I would highly recommend a visit to this part of Wales very soon! This was our first visit to Snowdonia, and we were so impressed with all the attractions available in North Wales as well as the stunning location.
Not only was this the first family holiday of the year, but it was our first time taking our dog on holiday too. We couldn't bear the thought of leaving the newest member of the family behind at just 7 months old, so not only is this list of things to do in North Wales family friendly, but it's dog friendly too.
What is Snowdonia 360?
Snowdonia 360 is a circular route around North Wales encompassing Snowdonia National Park, Anglesey and the Llyn Peninsula. The route gives you the opportunity to get under the skin of North Wales and discover its rich history, culture and incredible scenery.
There are lots of attractions along the way, from historic castles, adventure activities, museums and tourist attractions. Snowdonia 360 allows visitors the opportunity to explore the area and create a truly unique holiday experience. You can find out more about our unique holiday in North Wales below.
Whether you want to take a zip wire through a slate quarry, soak up the incredible scenery or take the beach walks at Nant Gwrtheyrn, I can assure you there is plenty of places to visit in North Wales for everyone.
Where to Stay in Snowdonia National Park
Plas Weunydd Hotel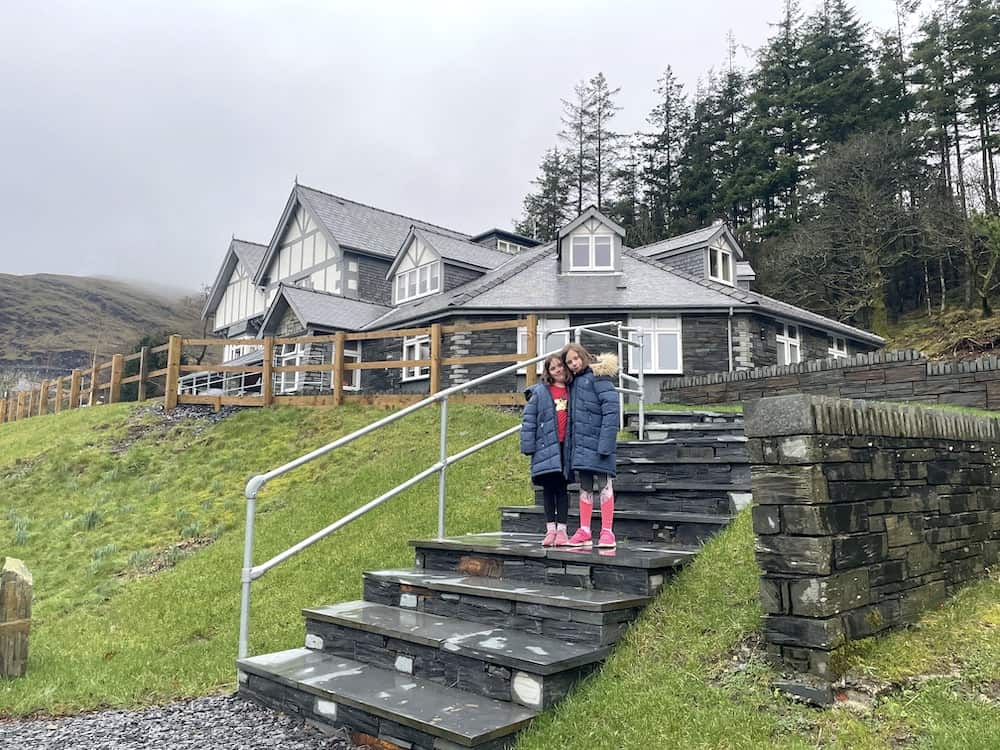 We stayed at the recently refurbished Plas Weunydd Hotel in Blaenau Ffestiniog. Sitting above the town, the hotel boasts wonderful views over the old slate quarry – which is now home to a long list of activities included at Zip World Llechwedd and right on the doorstep of the hotel.
Plas Weunydd is also in a great location for visiting Mount Snowdon and exploring Betws Y Coed with it's wonderful selection of local shops and eateries. It's also a great base for exploring the Snowdonia 360 route.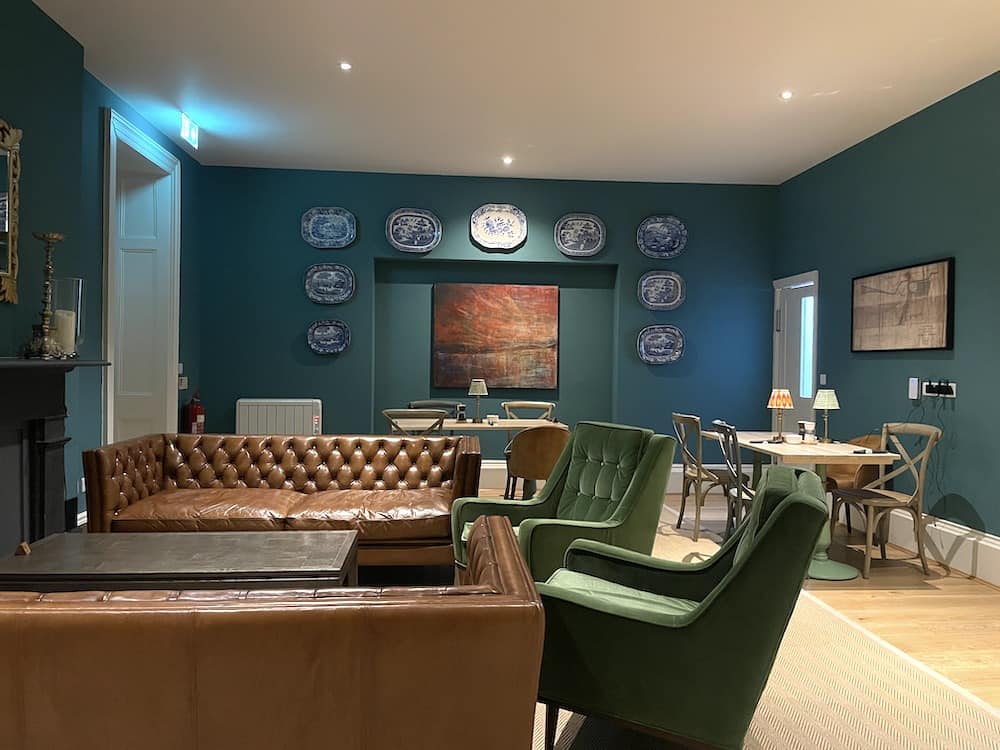 During our stay, we found the staff to be very helpful and welcoming. The breakfasts were utterly delicious and set us up perfectly for a day of exploring North Wales. We also loved that the hotel was dog friendly.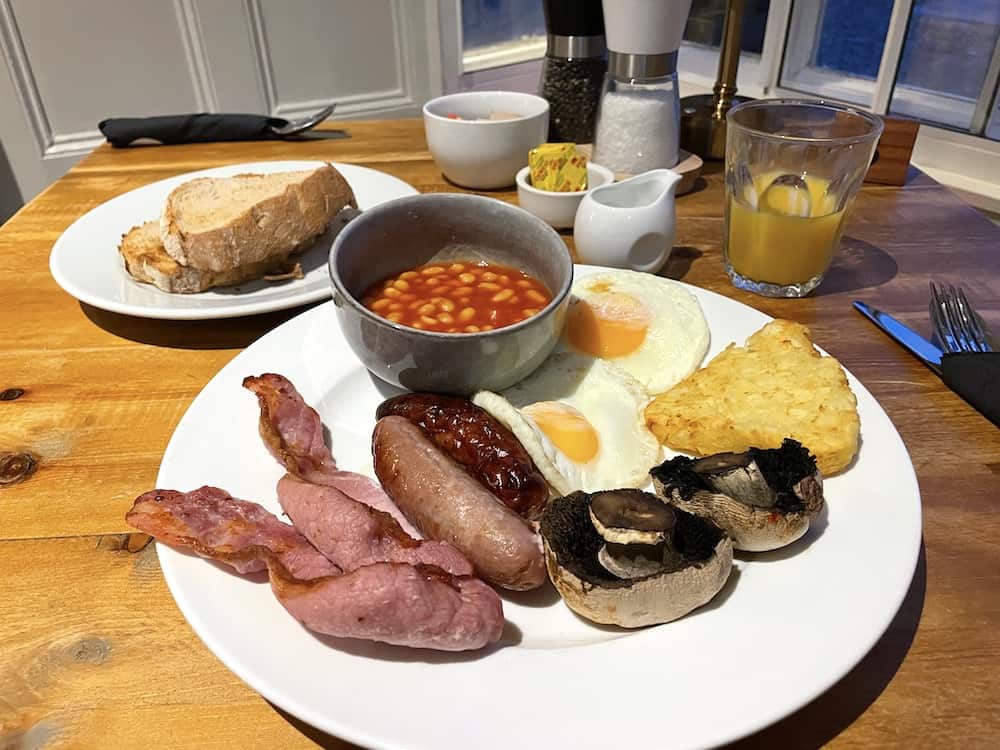 Plas Weunydd Hotel, Llechwedd, Blaenau Ffestiniog, Gwynedd LL41 3NB
Click here for more information: https://plasweunydd.co.uk/
Things to do in Snowdonia
Zip World Fforest
If you are in search of adventure and high adrenaline then Zip World needs to be high on your list of activities in North Wales. We visited Zip World Fforest, and during our morning there we took on the Fforest Rollercoaster and the Treetop Nets.
Indie and Brook had the best time on the Fforest Rollercoaster. It's a super fun activity for all ages, but young children need to ride with an adult.
The Fforest Rollercoaster is a mile long track winding through the forest reaching speeds of up to 25mph. What if it rains? You can still ride the Fforest Rollercoaster as they add a shield to each carriage to keep you dry.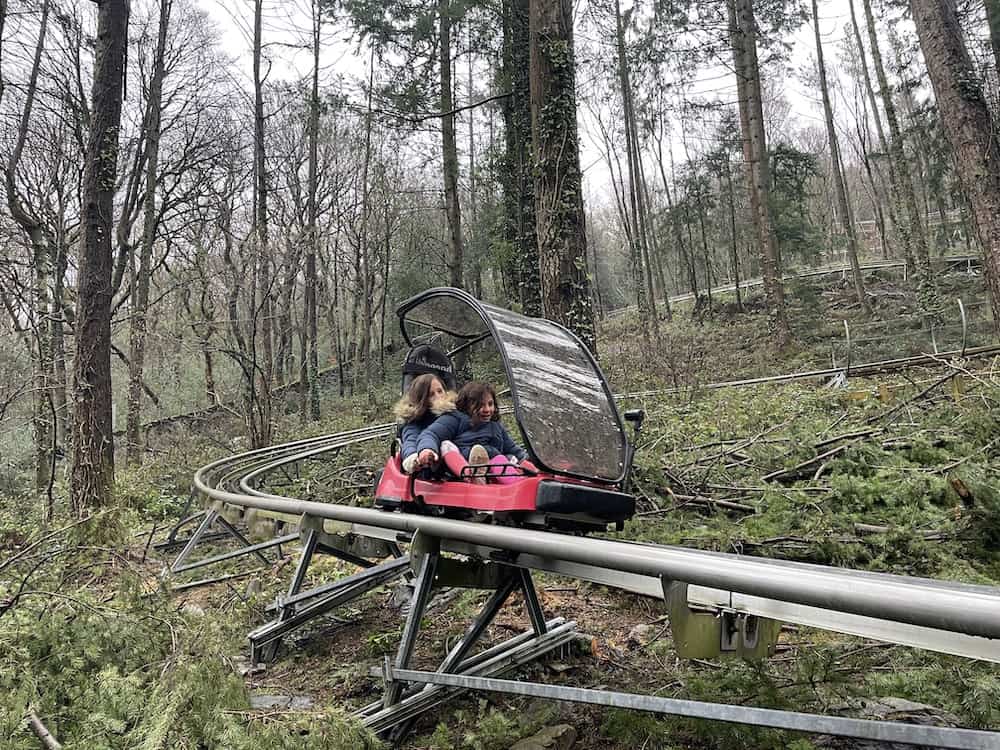 Really want to wear the kids out? Then book them onto the Treetop Nets. We enjoyed an hour bouncing through 250 metres of walkways set 18 metres off the ground, exploring the treehouses, slides and trampolines. Boy, they slept well that night!
Zip World Fforest A470, Betws-y-Coed, LL24 0HX, UK
Click here for all the activities and to book: https://www.zipworld.co.uk/
Bala Lake Railway
Bala Lake Railway offers a delightful 9 mile return journey alongside Bala Lake, through the beautiful Snowdonia National Park. The narrow gauge steam trains give excellent views of the lake and its surrounding scenery including the nearby mountains of Arenig Fawr, Aran Benllyn and Aran Fawddwy.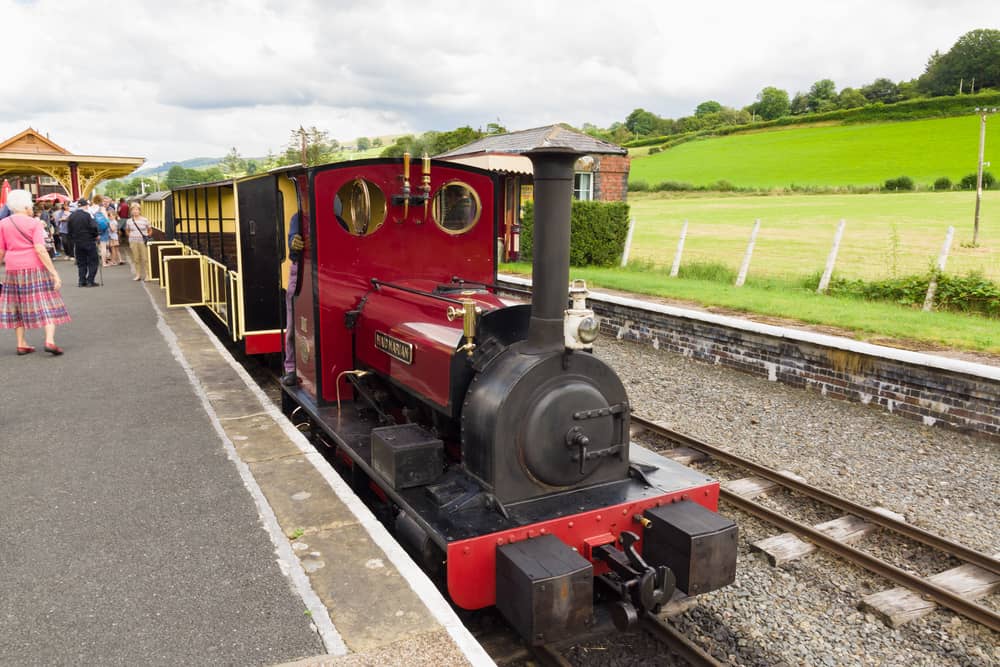 Click here for stations and ticket prices: https://bala-lake-railway.co.uk/
Trawsfynydd Lake
Trawsfynydd Lake is set in beautiful natural surroundings in the heart of Snowdonia National Park near the holiday towns of Porthmadog and Dolgellau.
The lake offers families and individuals many activities such as fishing, walking, cycling and much more. The lake has a surface area of approximately 1,200 acres and extends for a total length of an estimated 5 miles. For nature lovers there is an abundance of varied water fowl living on the shores and islands of the lake, with occasional visits by ospreys also.
Click here for more information: http://www.trawslake.com/
Visit Betws Y Coed
One of the best places to visit in North Wales is the charming town of Betws Y Coed. We spent an afternoon here surrounded by alpine like scenery, discovering the local shops and independent cafes.
As well as a little bit of holiday shopping, we discovered sculptures in the railway station made from plastic waste from the sea. Such a lovely way to raise awareness of this important issue.
The sights and sounds of the River Llugwy rushing through the town are also spectacular. And you'll find some amazing walks starting from the town. For instance, walk to Swallow Falls or to Llyn Elsi behind St.Mary's Church for breathtaking views, or wander around the golf course hidden among the dramatic Gwydyr Forest.
For more information about Betws Y Coed click here: https://www.visitbetwsycoed.co.uk/
Inigo Jones Slate Works
The slate industry has had a dramatic effect on the local community in this part of Wales, so it made perfect sense to us to visit the Inigo Jones Slate Works, and it did not disappoint.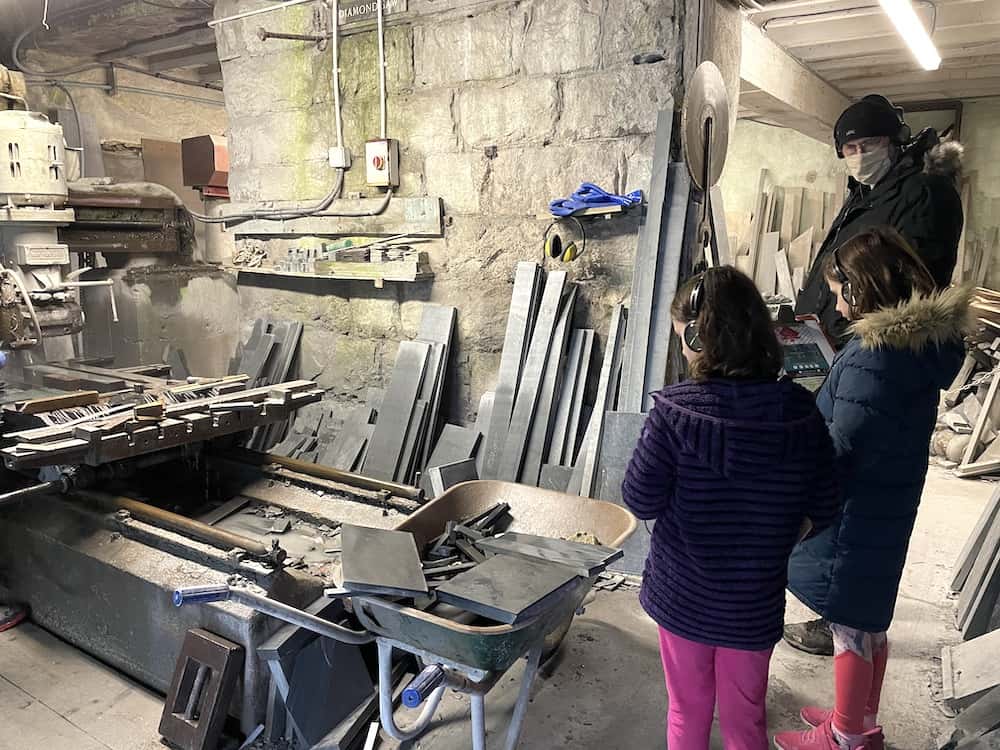 If your kids are the type of kids who like to bring a ton of rocks back from the beach, or anywhere they find rocks, then I suspect they will enjoy this activity.
When we arrived to a very friendly welcome, we were given our headsets for the self guided tour and a piece of slate, which would come in handy later. We learnt about how slate was formed along side how the slate industry developed in the area. Going round the slate works really bought the whole experience to life.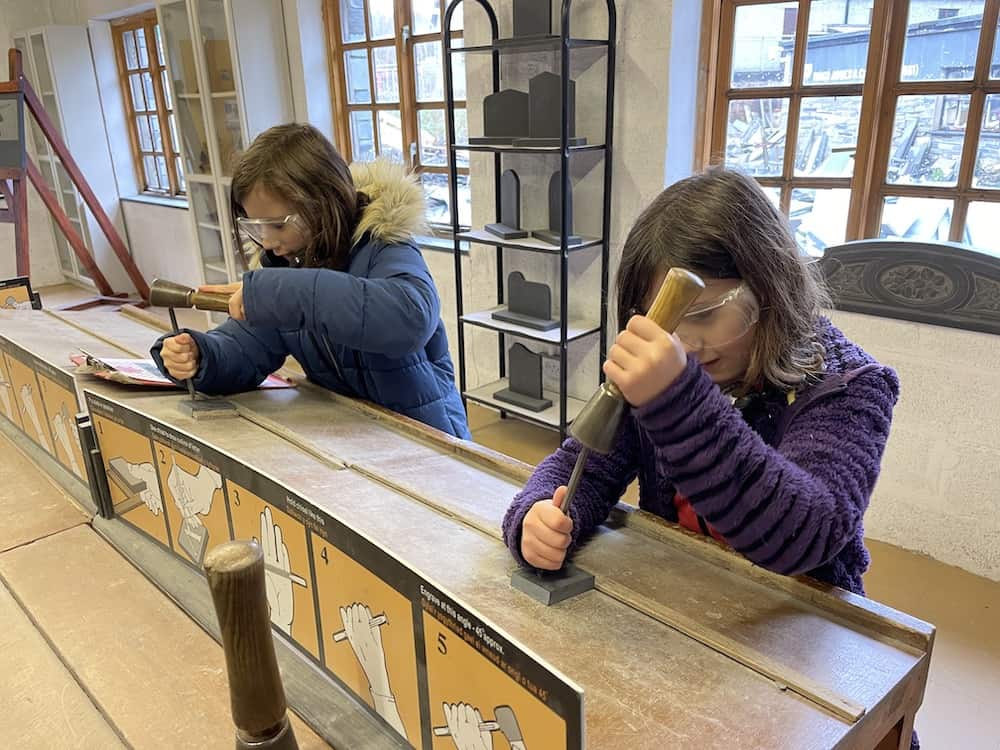 We tried our hand at calligraphy in the Victorian class room, and even engraved our own piece of slate, which is a lot harder than it looks. The kids completed a quiz while doing the tour, and won a beautiful piece of decorated slate to bring home to remind them of the experience. It was definitely worth the visit.
Inigo Jones & Co Ltd, Tudor Slate Works, Y Groeslon, Caernarfon, Gwynedd, LL54 7UE
For more information click here: https://www.inigojones.co.uk/
Nant Gwrtheyrn
Not far from Inigo Jones Slate Works, Nant Gwrtheyrn is the perfect stop for lunch with beautiful beach views, local wildlife, a cafe and visitors centre.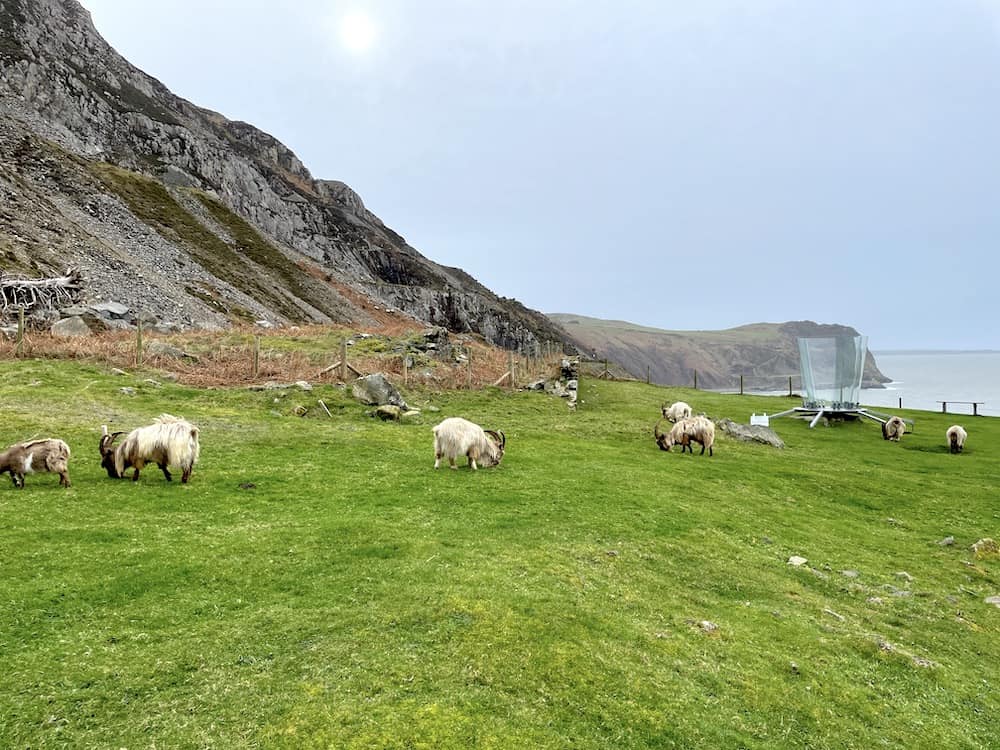 We followed the road and reached a carpark with a distinctive stone monument and the peak of Yr Eifl in the distance. We parked here initially, and soon realised it was going to be a very steep walk down to the beach. We sent Daddy back to get the car and were so relieved we did! I don't think any of us would have managed the walk back up again!
At the end of the road, we discovered a delightful village setting, which is now the Welsh Learning Centre. The cafe was the perfect spot for lunch, with incredible sea views and of course delicious locally sourced food. We met the local goats, which the dog was most curious about and learnt about the tragic love story of Meinir and Rhys.
It was an excellent pit stop, and I'm pleased we got to enjoy it without the crowds.
Nant Gwrtheyrn Llithfaen, Pwllheli LL53 6NL
For more information click here: https://nantgwrtheyrn.org/
Glasfryn Parc
Our last stop for this day out in North Wales was Glasfryn Parc to have a go at Go Karting. There's several activities available here, including archery, an aqua park, wakeboarding and much more.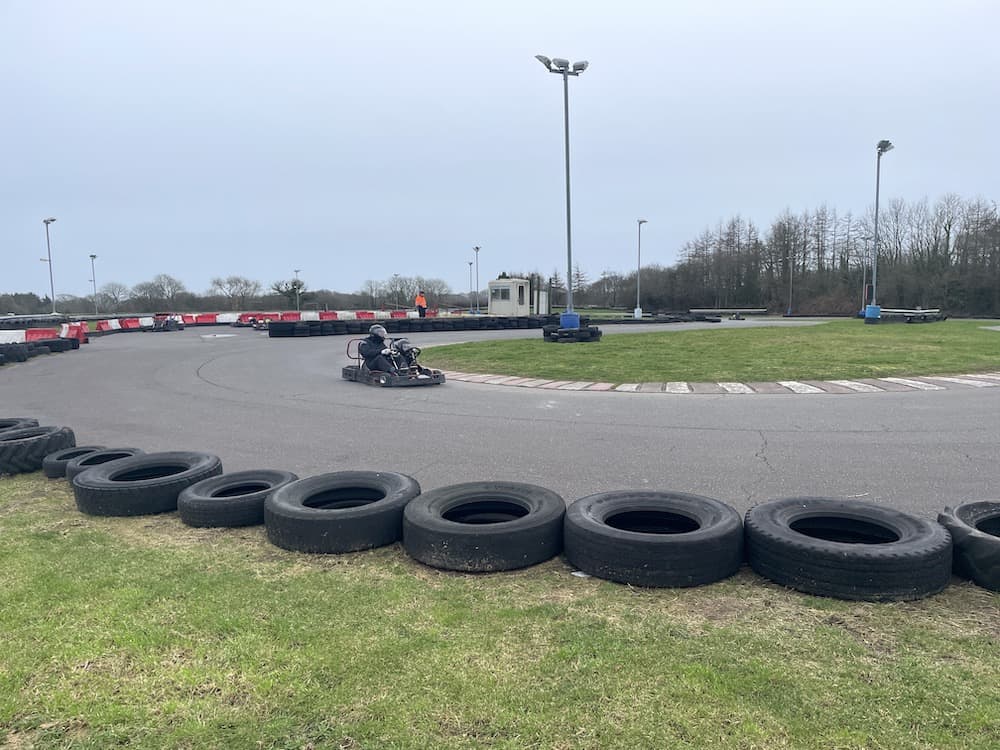 The girls were super excited to try go karting, and had a lot of fun out on the track. The staff did an excellent job of looking after us and provided all the safety gear for the activity. Go Karting wasn't an activity we'd thought of doing on holiday before, but after visiting Glasfryn Parc, we'll definitely be doing it again.
Glasfryn Parc, Y Ffor, Pwllheli LL53 6PG
Click here for more information about the activities: https://www.glasfryn.co.uk/
Black Rock Sands Beach
No holiday is complete without a visit to the beach, and Black Rock Sands Beach is a must. Unlike the name suggests, the sand here is fine, white and stretches for miles. The name comes from the unique headland rock formations on the west side of the beach that provide a rich habitat for local marine life.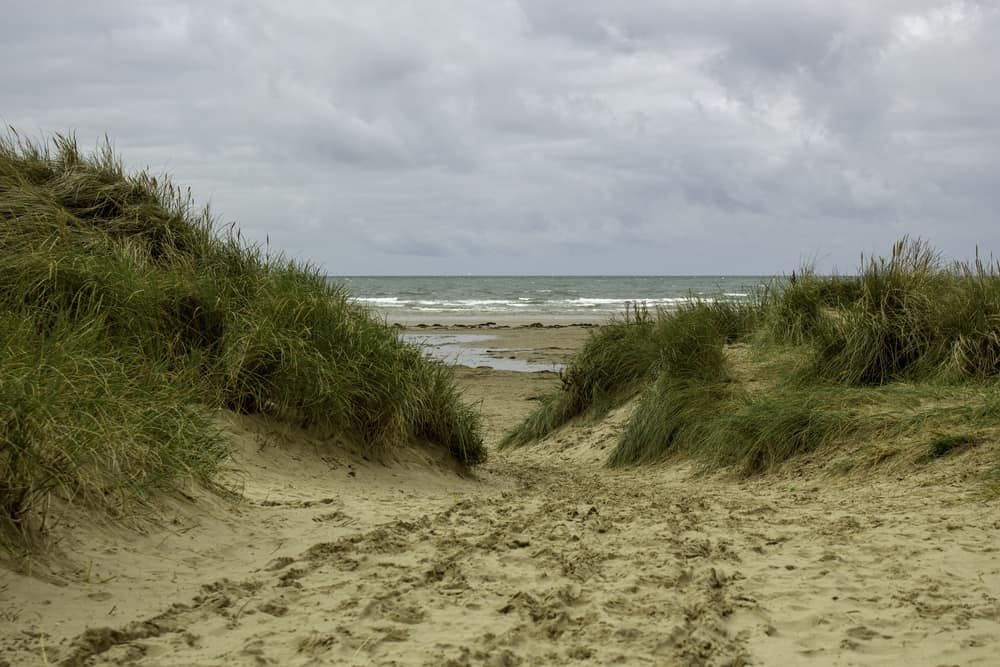 The other unique aspect of Black Rock Sands Beach is that you can park your car on the beach, so it's perfect for water bikes, motor boats and other water activities.
Morfa Bychan, Porthmadog, Gwynedd, LL49 9YH
For more information, click here.
Things to do in Anglesey
Anglesey Sea Zoo
If you are looking for attractions in North Wales, then I'd highly recommend a visit to Anglesey Sea Zoo. The team here are very proud of the work they do around marine conservation and raising awareness about pollution.
Every inhabitant at Anglesey Sea Zoo has a purpose within their wider conservation projects, from the spiney lobsters rarely seen in the wild to the Thick Lipped Grey Mullets that we had the opportunity to feed during our visit. They also pride themselves on using water pumped straight from the sea in their tanks, which means no chemicals for the marine life living there!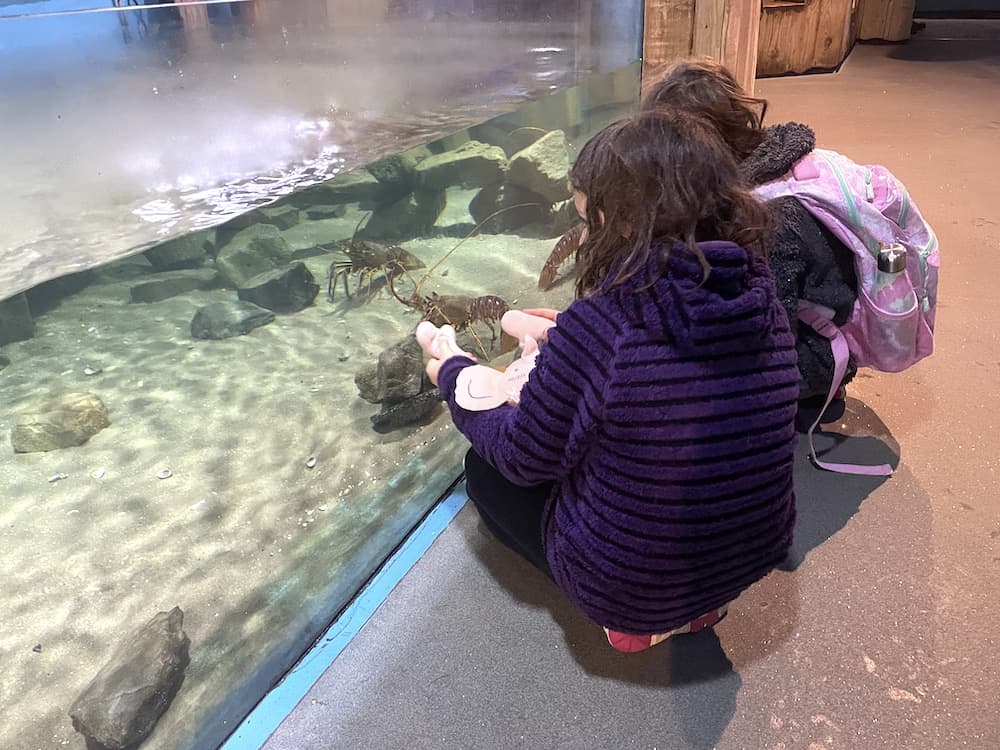 It was fabulous to see Anglesey Sea Zoo's breading program first hand, and learn all about the different species during a guided tour from their resident Marine Biologist, Gem. Other activities available are rock pool sessions, beach cleans and tailored talks. If you just want to visit at your own pace, that is certainly a possibility too, as there's lots to see here and lots of information for you to learn about the different species too.
I'd also highly recommend a visit to the cafe, as the food is utterly delicious! We enjoyed the mussels in white white wine sauce very much, and the children were huge fans of the freshly baked jacket potatoes.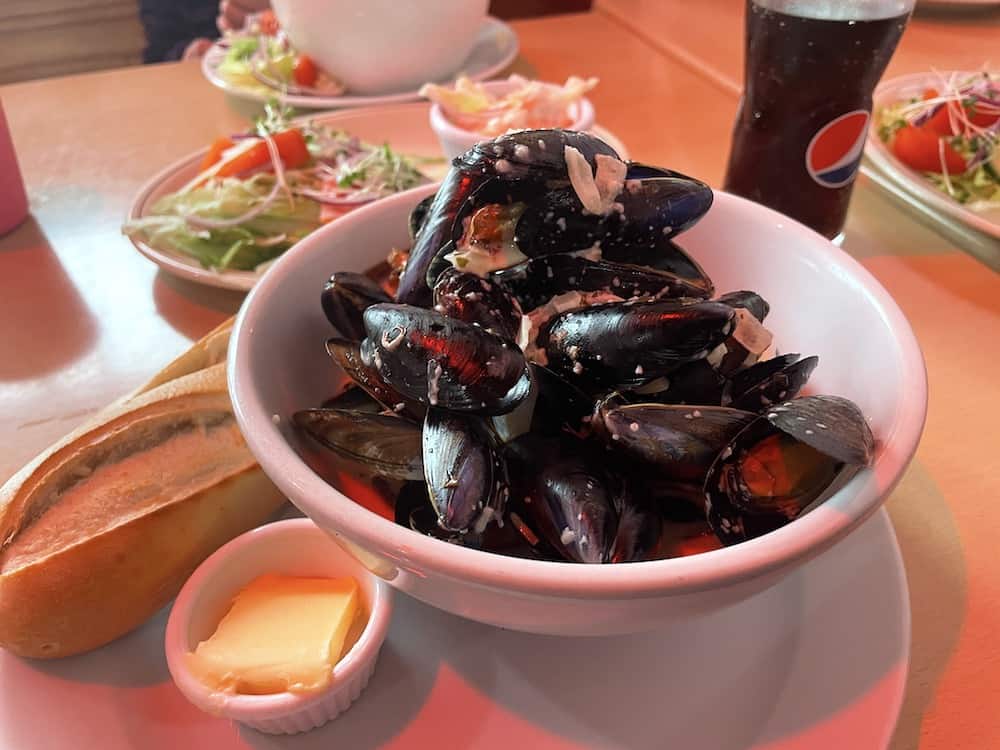 Anglesey Sea Zoo, Brynsiencyn, Isle of Anglesey, LL61 6TQ
For more information, visit here: https://www.angleseyseazoo.co.uk/
Llanddwyn & Newborough Warren National Nature Reserve
Whilst you are visiting Anglesey, I highly recommend a visit to Llanddwyn, which isn't quite an island as its attached to the mainland at all but the highest tides, and Newborough Warren National Nature Reserve. This was definitely a highlight for our dog who loved running through the dunes and discovering shells in the sand for the first time.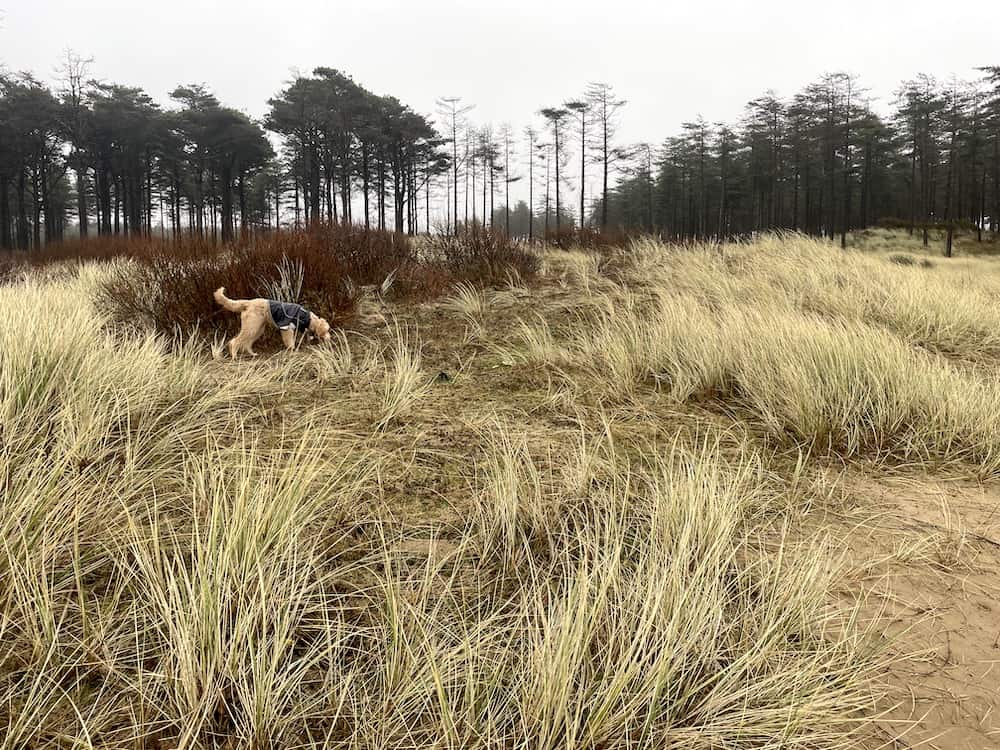 I would love to say the kids enjoyed exploring the beach and nature reserve too, but sadly this was the day they forgot to pick up their coats and no one noticed. The weather was a little brisk so I left them in the car and went exploring with the dog. It's a really beautiful area, even when the weather is lively and perfect for dog walking.
Llanddwyn was also once home to St Dwynwen and her convent. The Welsh celebrate St Dwynwen's Day on 25th January, who is not only the patron saint of lovers, but also the patron saint of sick and injured animals.
For more information about the area click here.
Looking for Things to do in Snowdonia?
I really hope our list of family and dog friendly places to go in North Wales has inspired you to plan a visit to the area as much as it has inspired us to return.
If you need any more days out in North Wales then Snowdonia 360 is packed with more things to do in North Wales, no matter what type of adventure you are looking for. We loved our time in Snowdonia from exploring the local area, learning more about the history and enjoying the many adventures we had.
Not ready to plan a trip just yet? Save our list of things to do in Snowdonia to your favourite travel board now.