We were gifted a mid week break at Bluestone Wales in exchange for this review.  
I was absolutely delighted when Bluestone Wales invited us to enjoy at mid week break at their gorgeous holiday park in Pembrokeshire.  We have visited Bluestone a couple of times now – you might have seen our Bluestone Wales reviews before – but it's definitely a holiday park worth returning too, and we were definitely overdue a visit.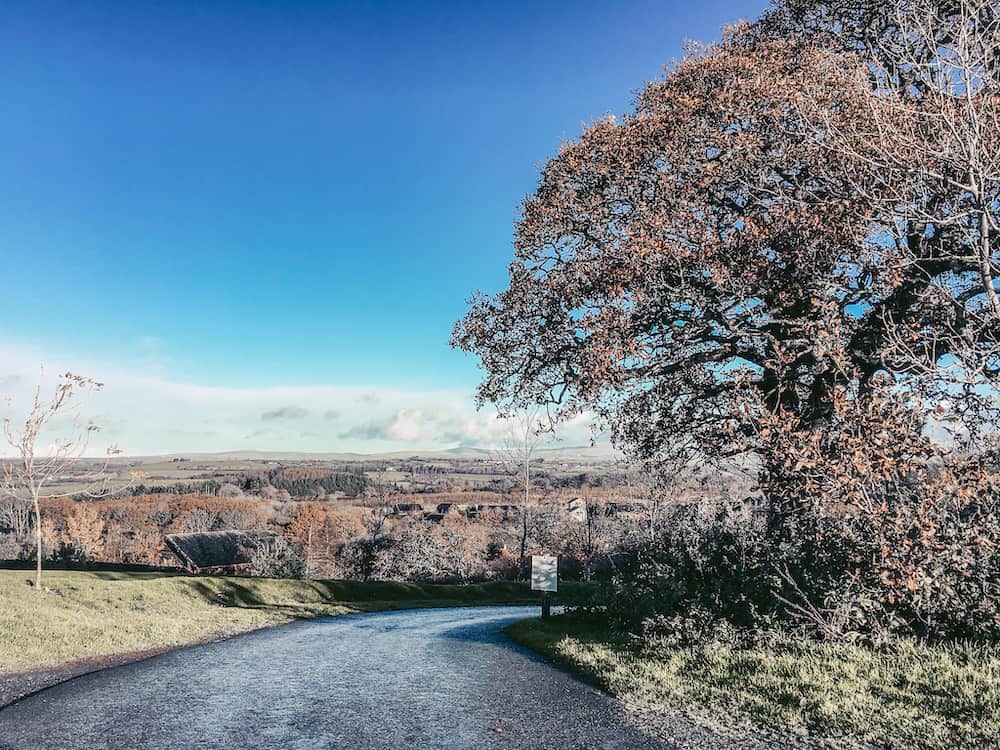 It was also a wonderful opportunity for Brook and I to spend some much needed quality time together.  It seemed like she was feeling a bit overwhelmed with things and we had noticed she was becoming quite clingy.  The Bluestone Wales Winter Lights event seemed like a great excuse to make a return visit to the resort as well as spend some time reconnecting with Brook.
Where is Bluestone Wales?
We packed up the car on Monday morning and Brook and I began the drive from Nottingham to Pembrokeshire.  Bluestone is in South West Wales near the village of Narbeth and it is about 26 miles from Tenby. From Nottingham there are a couple of routes to Bluestone Resort.  Sat nav used a different route to get us there, to on the way back, which for the purposes of this review we shall call research.
If you are looking at how to get to Bluestone Wales from the Midlands I'd recommend taking the M5 and M4 route to Bluestone as it's the most straight forward. If you come off the M5 earlier, the roads are a bit slower and you might hit some road works depending on when you are traveling.
The drive took us about 5 hours 30 mins with a break for something to eat.  If you don't need to stop and you don't have any issues with the traffic, the trip can be done in about 4 hours 30 mins.
As holidays in Wales go we feel it's pretty accessible especially when you compare the drive to places like Cornwall or Devon.
Arriving at Bluestone Wales
We found the check in process at Bluestone very straight forward.  We drove up to the window (no having to get out of the car with the kids) and the lovely guest services team processed our reservation very quickly.  We were given a label for the car and our key cards, including all the other information we needed for our stay.
We arrived at 2pm, but we couldn't access our Tenby lodge until 4.30pm.  It wasn't an issue though as we could use the holiday park facilities in the meantime.  Bluestone holiday park let you use the facilities from 11am which is awesome.  Brook and I went to collect the buggy we had hired for our holiday (more on that later) and headed straight to the indoor Adventure Centre for a play and the Wildwood Cafe for something to eat.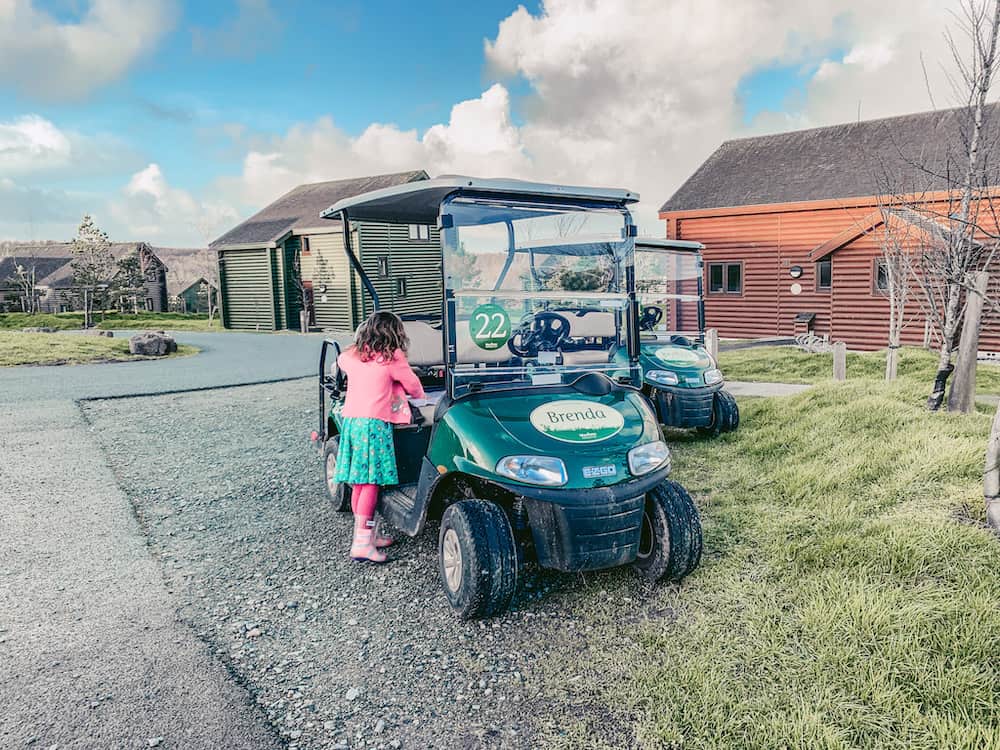 Bluestone is mainly a car-less resort, but we were able to take our car to the accommodation to unpack.  We headed back to the car park for our allotted time window and drove to our lodge to get settled in.  There was a bit of a queue to get out of the car park but nothing unreasonable by all accounts.  We had an hour to unload the car, which was plenty of time.  Once we were all unloaded, we took the car back to the car park, picked up our buggy from the buggy park and went back to our lodge to get organised.
Bluestone Tenby Lodge
Brook and I were super excited about checking out our luxury accommodation at Bluestone properly.  Our Tenby Lodge was located in Templars Court which is a relatively new part of Bluestone National Park.
One of the things we love about the holiday accommodation at Bluestone is there is a lot of open space between the lodges.  Our Tenby lodge was a semi detached accommodation but apart from being joined to another property there is plenty of green space around all the accommodation.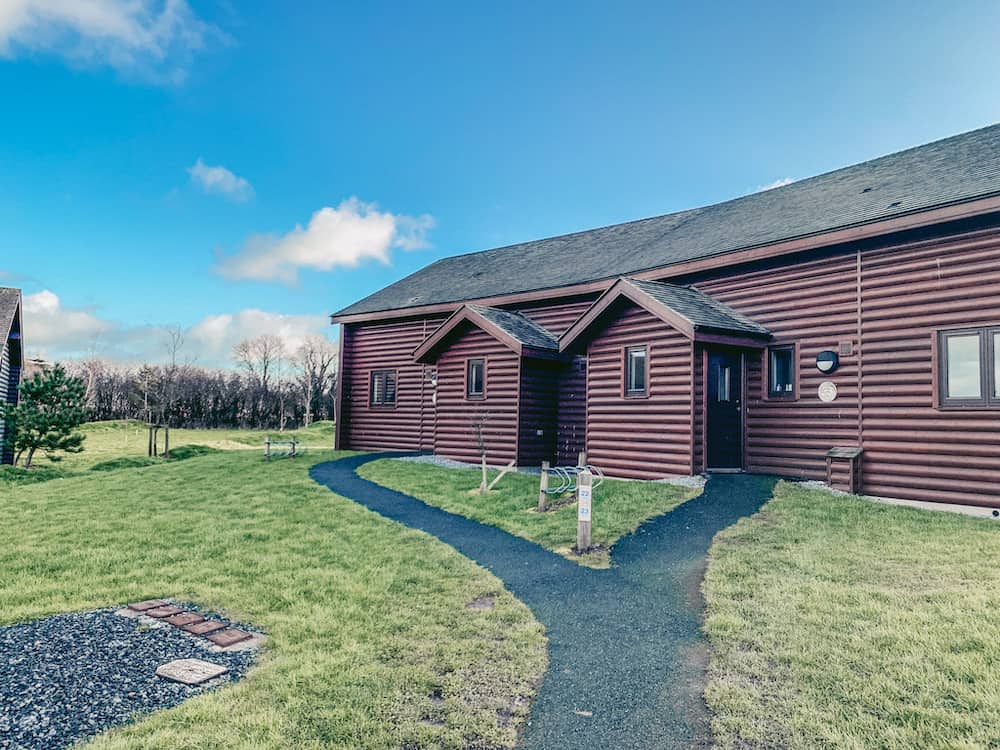 Inside, the kitchen and living area was very spacious with a seating area with TV, a dining area and a large and well equipped kitchen.  Downstairs we also found a highchair, clothes airer, iron, ironing board and dustpan and brush etc just incase we should need them.
We ate in our Tenby lodge at least twice a day.  We had breakfast here everyday apart from when we went to the character breakfast at the Wildwood Cafe, but even then Brook still had some cereal.  We would also have lunch in our lodge and some down time for Brook, as Bluestone holidays can get pretty tiring for little ones. We did go to the The Knights Tafarn for dinner which was lovely and we found this routine worked well for us.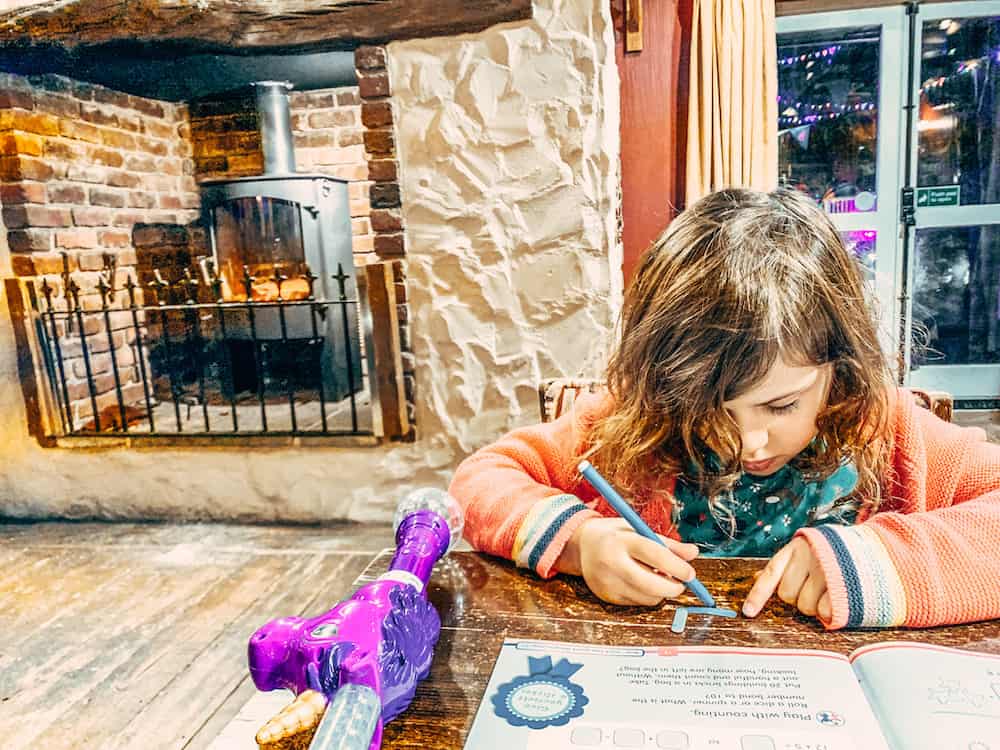 On the ground floor of the accommodation we also had 2 twin bedrooms and a full sized bathroom.  The Tenby lodge sleeps up to 6 people, but it's worth mentioning that the main bedroom is on the first floor.  If you have strong feelings about sleeping on the same floor as your children you might want to look at a different accommodation at Bluestone.  It wasn't an issue for us during our stay as Brook insisted we slept in the same room.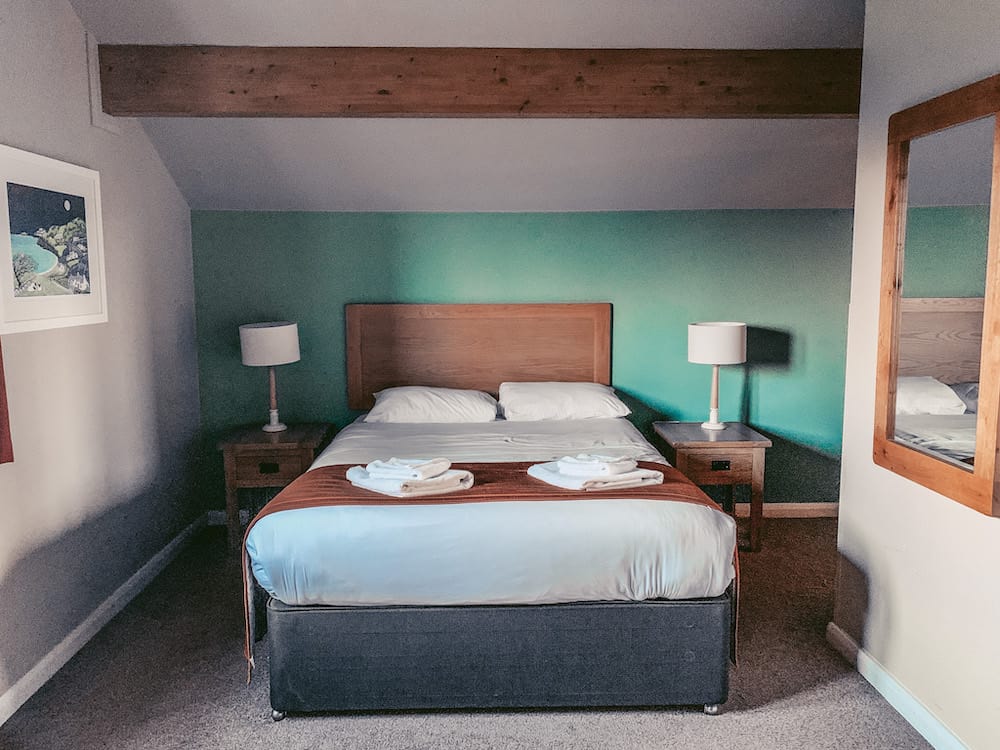 On the first floor there is a large master bedroom with ensuite shower room.  We also spotted an extra duvet, travel cot and safe up here.   We didn't sleep up here during our stay even though Brook wanted to try a different room every night.  I managed to convince her it was better to contain ourselves in one room.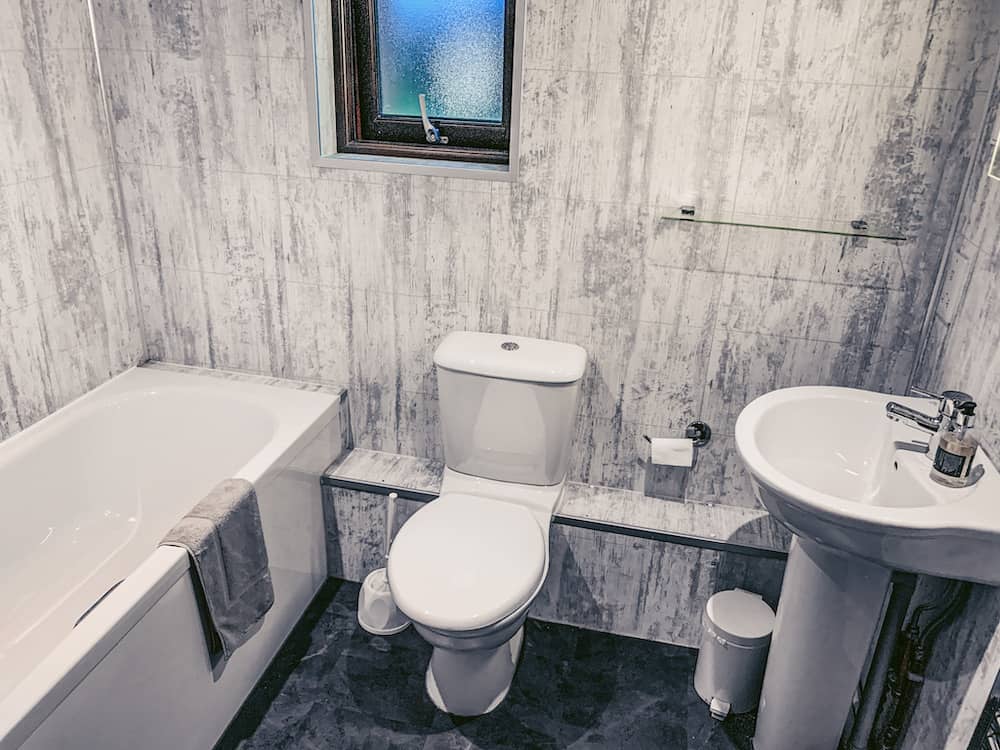 We found our Tenby lodge to be really clean and of an exceptionally high standard.  We loved the space and overall quality of the accommodation.  I wouldn't have any problem at all recommending a stay in a Tenby lodge to other families from that point of view.
What to Bring to Bluestone
Even with the most well equipped accommodation there are always a few bits worth bringing from home. Apart from the usual list of clothes etc this is the list of extras we packed for our Bluestone holiday
swimming kit
swimming towels (bath towels and linen are provided)
dishwasher tablets
kitchen foil
toilet rolls
washing up liquid
toiletries
water bottles/reusable cup
wellies
good footwear
kitchen roll
bin liners
hand wash
waterproof coats
rucksack
food
pan scourer
There are a few basic supplies in the accommodation like toilet roll, a few dishwasher tablets and washing up liquid, but we did find it handy to bring a few extra items from home too.
Bluestone Wales: What's Included?
We found there were plenty of things included in our stay at Bluestone Pembrokeshire to keep us busing during our mid week break. We spent lots of time at the indoor Activity Centre, with the bouncy castle being particularly popular with Brook.
There is also a mini golf course here which is free to use. Brook obviously won all the games because she's a mini golf queen!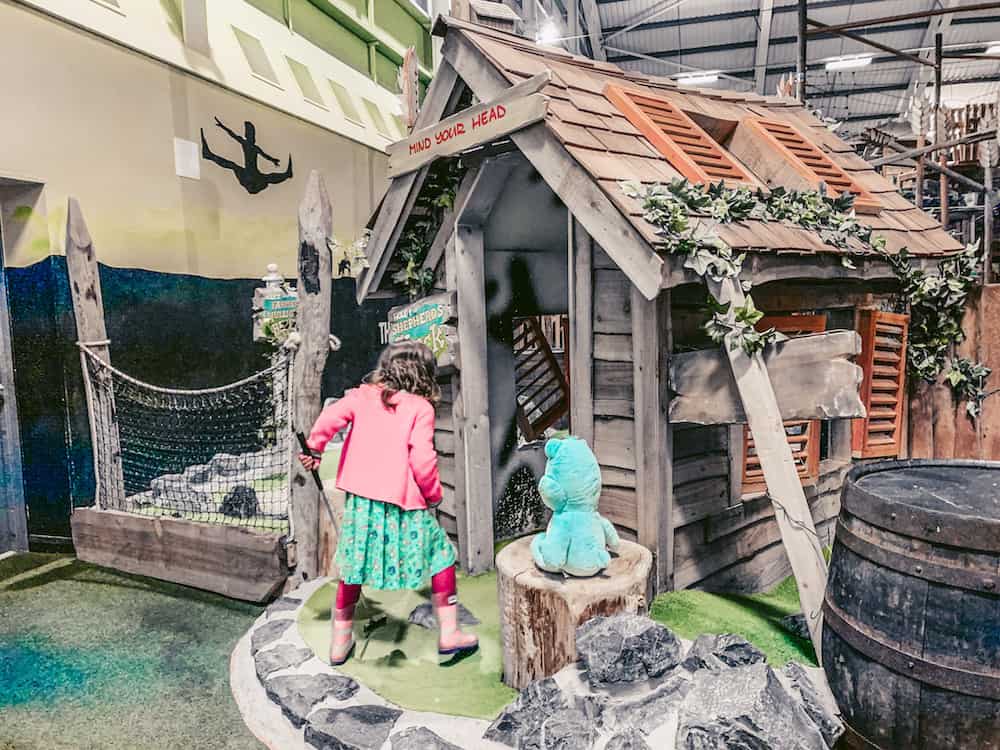 There is also a soft play area in this building called Circus Zone which is perfect for babies and toddlers staying at Bluestone.
We were very excited to visit the new Serendome during our stay, which is a new addition to Bluestone holiday park.  Best described as a big umbrella (the sides are still open so always dress for the outdoors) it's packed with free play areas, cafes and a new stage.  There is also a high ropes course but this has to be booked separately.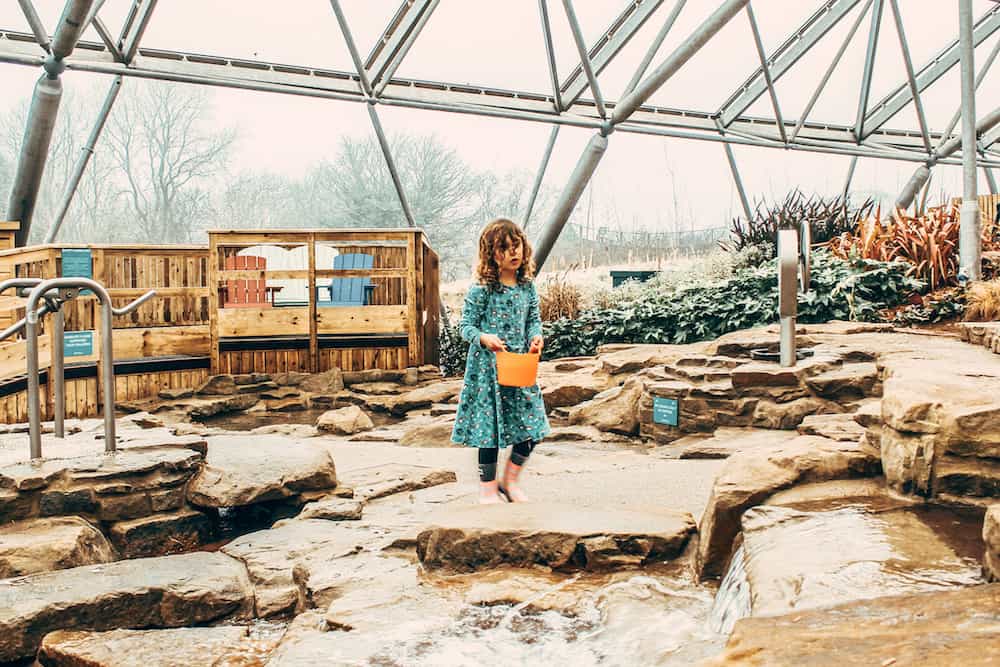 The water play area was the biggest hit with Brook with lots of features for active little imaginations.  The bricks and sand areas also got lots of air time with us as well.  All in all the Serendome is a great addition to Bluestone with lots of free imaginative play areas and best of all it's dry whilst still providing an outdoors experience.
Brook was also really excited to visit The Blue Lagoon which is Bluestones water park.  We were provided with tickets to visit the Blue Lagoon as many times as we wanted during our stay.  Brook has been going to swimming lessons for a while now and she can swim without an aid which is brilliant.  It's great news for me in particular as I can't swim.  My challenge was getting her to keep within a safe distance as she was clearly wanting to show off her new skills.
There are slides, a lazy river, a toddler play area and a wave machine at the Blue Lagoon so its lots of fun for all ages.  We found the majority of the pool to be warm apart from one section which we would have liked to have used, but we still managed to have lots of fun while we were here.
As well as the indoor play areas, there are some great outdoor play areas at Bluestone in the village which really come into their own in the warmer weather.  I also wanted to explore the lake and the nature trails but I had trouble convincing Brook, which might have had something to do with the buggy we had hired.
Bluestone Wales Winter Lights Festival 
Bluestone has 5 seasonal events during the year and we were lucky enough to experience the Winter Lights Festival during our visit.  Between the village and the lake there was a trail of magical lights every evening that was free for guests to enjoy.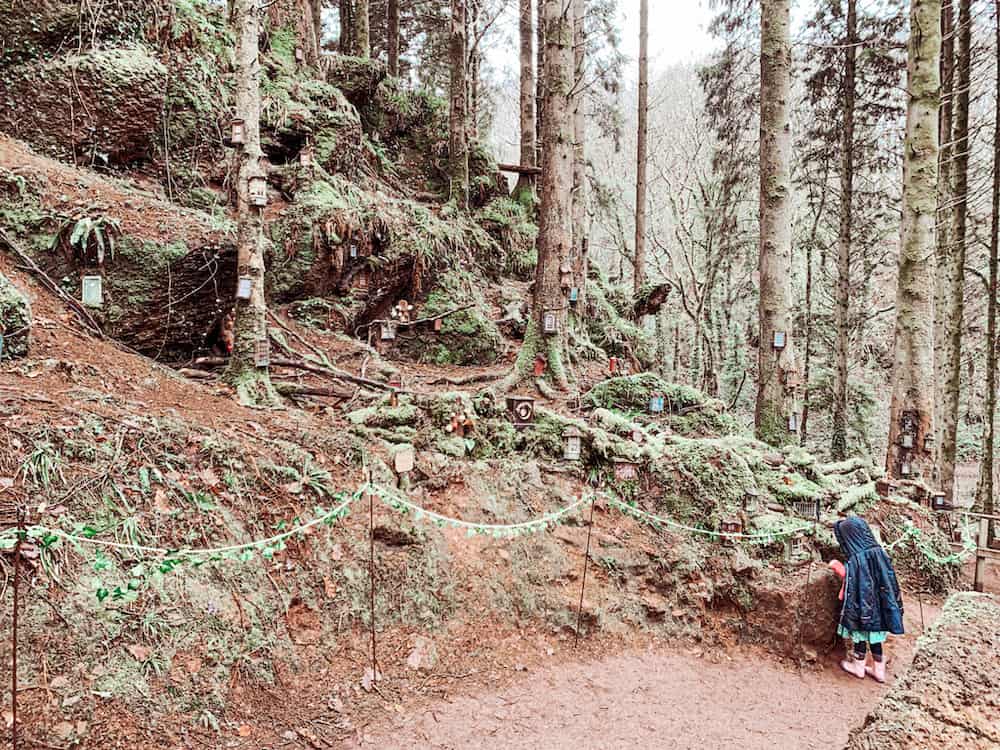 This really was a colourful and magical experience, both at night and during the day.  We really loved the fairy houses along the trail as they were so detailed, a really stunning display by all accounts.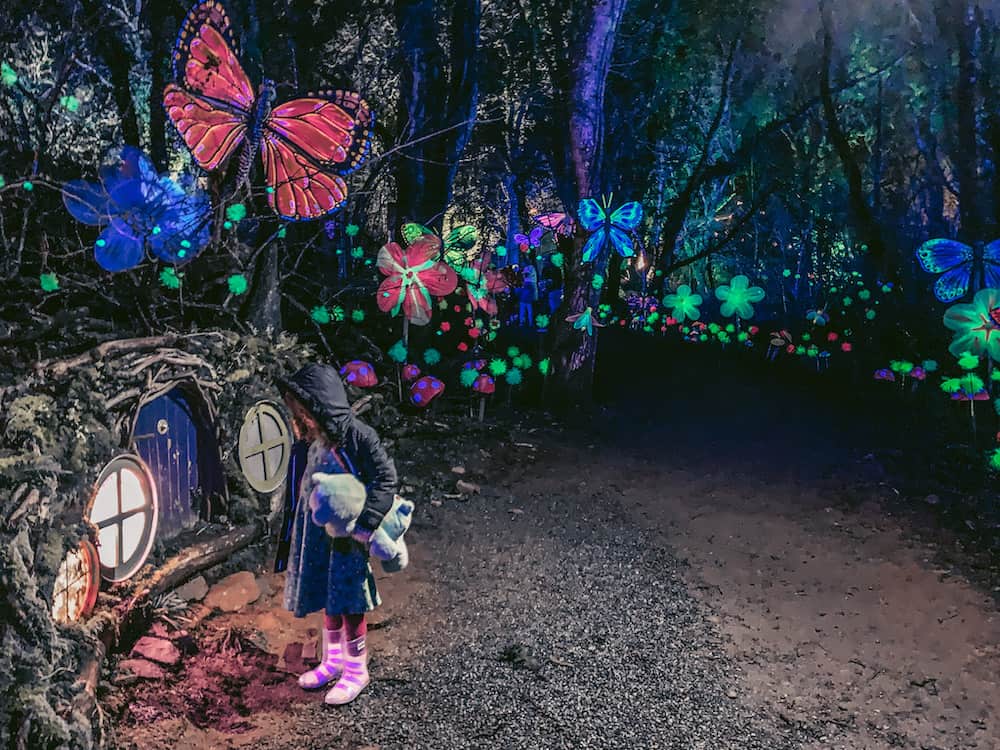 The whole trail is a wonderful sensory experience best enjoyed at a slow pace as each section is different with something new to see.  If you are looking for a holiday to lift your spirits in January then the Winter Lights Festival at Bluestone is guaranteed to do just that.
Buggy Hire
As Bluestone is a car-less resort they provide alternative modes of transportation for you to use during your stay.  You can hire bikes, which of course suits a lot of people.  For our family we have always found that the buggy hire works well.  Not only is it a fun way to get around the resort but it also saves little legs from getting too tired and grumpy .
If you are wondering how big Bluestone Resort is, the answer is that it is quite spread out and there are some hills involved.  The Adventure Centre, Serendome and Blue Lagoon were a good walk from our accommodation at Templars Court and they are uphill from a majority of the lodges.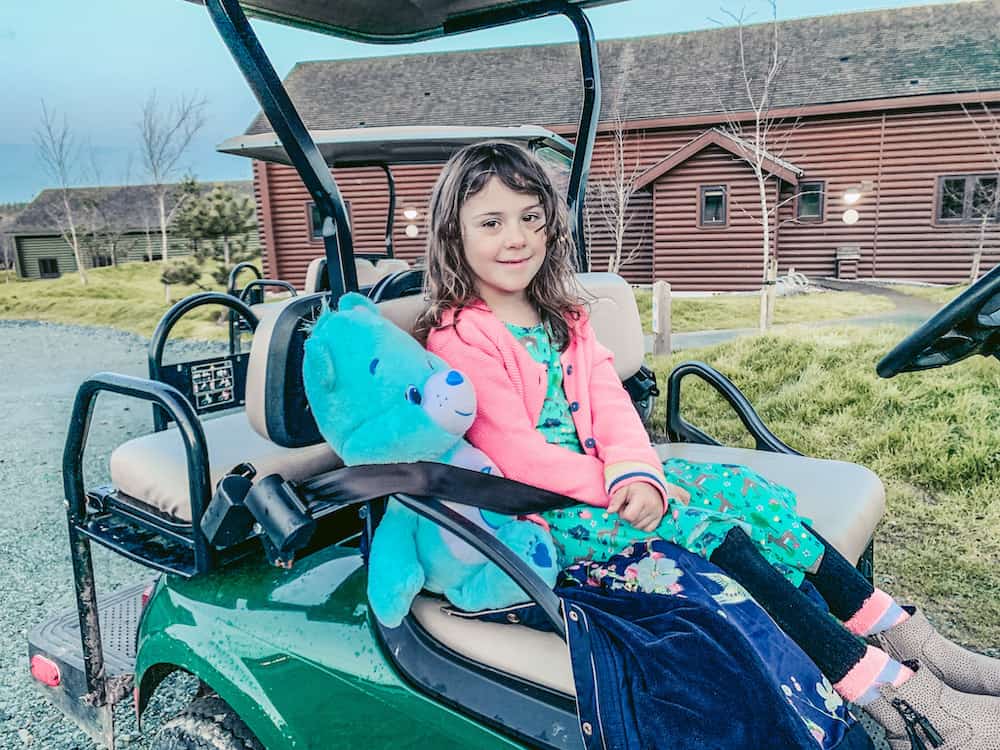 The Village however is in the centre of the holiday park and depending on where you are staying, it will effect how accessible it is. I would recommend spending sometime studying the Bluestone Resort map before your stay and give particular consideration to the fact that the main leisure facilities are at the top of the hill and the lake is at the bottom.
We paid for our buggy hire during our stay at Bluestone, and at the time of writing this it cost £97.50. We picked up our buggy up as soon as we arrived at Bluestone and handed it back at 10am on the day we left. We used it throughout the stay and it just made getting around easy and a lot of fun.
Lola's Breakfast Show
We also went to Lola's Breakfast Show which is an activity we paid for during our stay.  I thought Brook would enjoy this and to be honest I was right.  We had a cooked buffet breakfast including scrambled eggs, bacon, sausage, hash browns, mushrooms and beans.  Brook made the most of the cereal, toast and juice that was on offer and I had several big mugs of coffee.
The show was lovely and very interactive.  The children sang songs, danced and had fun with Astrid the Fairy and Lola the Ladybird.  It was perfect for younger children, and from what I could tell all the kids who went loved it. Brook is 5 years old and it worked really well for her.  I also think Indie would have enjoyed it, but children over 8 years old might have found it a bit young for them.
Starchitects
On the final evening Brook and I went to see the latest show to be featured at the Cloud Theatre in the Serendome.  We paid for these tickets ourselves, which came to £16 for the two of us.
Brook and I both throughly enjoyed this show by Bluestones new resident performers, The Spectaculars. It was imaginative, dynamic and very relatable especially for children with active imaginations. If you are planning on visiting Bluestone Wales in the next few months, I'd strongly recommend booking tickets to see this show as it really is a visual treat.
Bluestone Wales Check Out
When leaving Bluestone you have to vacate the holiday accommodation by 10am.  For us this wasn't a problem as Brook is excellent at getting up at 6am and making sure everyone else is up too!
We had breakfast, packed our things and went to collect the car from the car park to load up for the journey home.  We didn't have an issue being ready by 10am, but you might want to be a prepared just incase you don't have a Brook waking you up first thing in the morning.
It's worth noting that you can stay and enjoy the facilities until 3pm if you want to.  I thought we would visit the Adventure Centre one last time before hitting the road, but Brook was pretty keen to get home and see Indie and her Daddy, so we left Bluestone at 10am.  Check out is super easy and it's just a question of dropping your room card off in the box provided as you drive out then you are done.
What Did We Think To Bluestone
Brook and I really did have a lovely short break at Bluestone during their Winter Lights Festival.  I was expecting Bluestone to be pretty quiet for the 4th week of January but nothing could have been further from the truth!  It was really quite busy given the time of year, which I think just goes to show what a popular holiday park this is.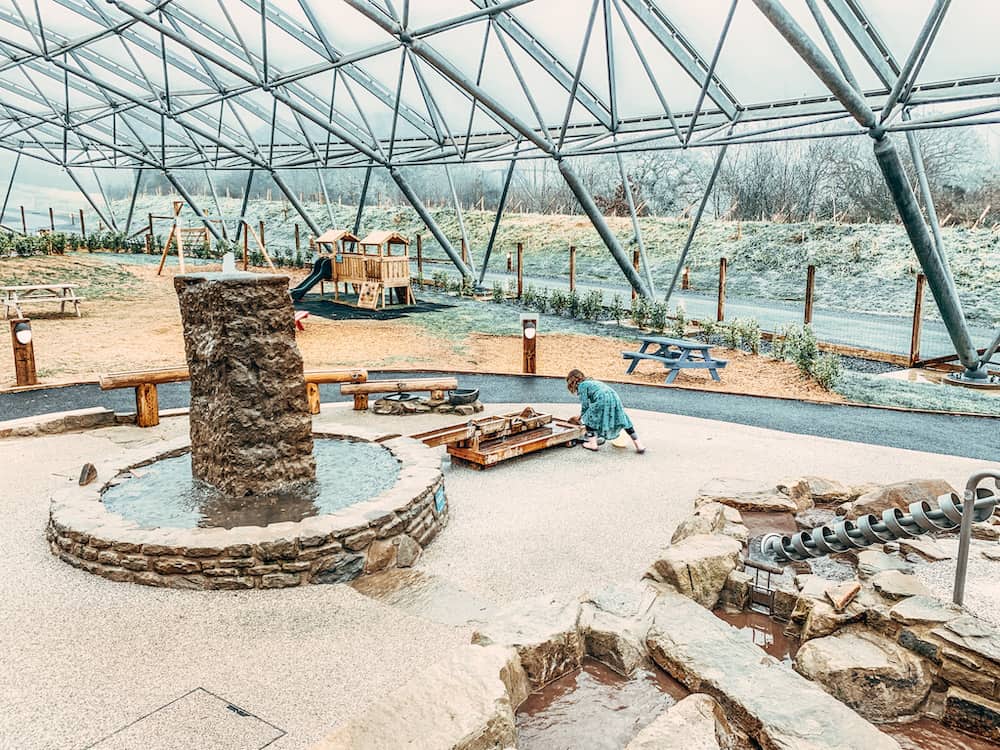 Our only regret about going on holiday to Bluestone Resort was not taking Indie and Daddy with us, as Brook missed them both more than I anticipated. You may have spotted the big blue bear featured a lot during our holiday at Bluestone (check out our Instagram highlights to see what I mean).
If you are looking for holiday parks in Wales or an alternative to Centre Parcs, and you've not visited Bluestone yet, put it on your list of places to visit. It's a great place for a relaxing family holiday.
For holidays, activities and the latest price information visit Bluestone Wales now.
We were gifted a mid week break at Bluestone Wales in exchange for this review.  All thoughts and opinions are our own.