As a family we were super excited about our trip to Wales with Visit Swansea Bay during half term.  I have to confess I really didn't know very much about the area before our visit, but I've returned feeling completely inspired by all the things to do in and around Swansea with kids, including the beautiful award winning beaches and stunning countryside around the area.
If you haven't visited Swansea, The Mumbles or the Gower yet, I really think you should add it to your UK bucket list very soon.  I've got lots of ideas for things to do in Swansea, places to eat and where to stay to get you started with planning your family holiday to the area.  We are a family who love exploring and keeping the kids busy. This list of places to visit in Swansea is going to be perfect for families looking for child friendly things to do for making the most of their time in South West Wales.
Things To Do In and Around Swansea with Kids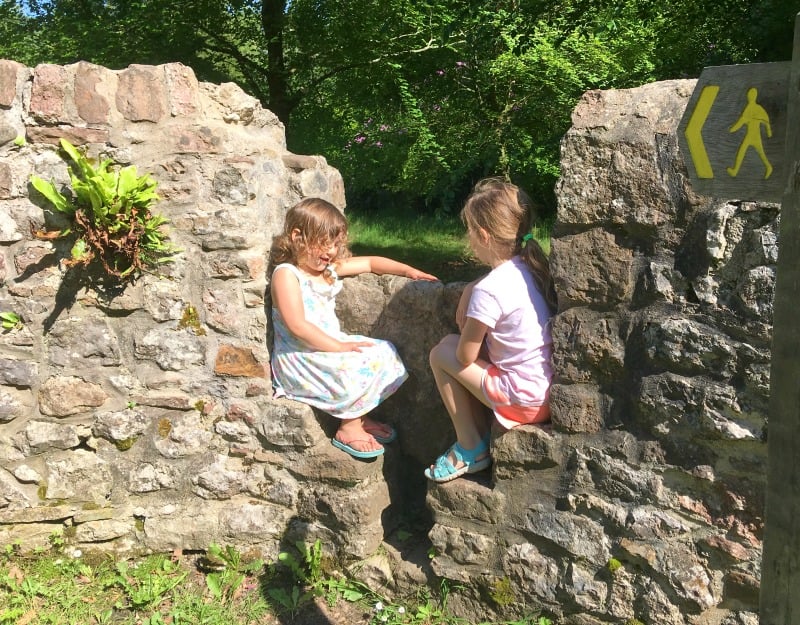 Things To Do In Swansea
Our first stop on our visit to South West Wales was the city of Swansea. I have to admit I had some preconceptions of what it was going to be like visiting Swansea, and I'm very pleased to say they were literally blown out of the water on the first day of this trip.
We headed to the Swansea's Waterfront area and parked at the pay and display carpark at the LC Leisure Complex (postcode SA1 3ST). This turned out to be a great spot for making the most of our time here as there is lots of things to do near by.
National Waterfront Museum
We headed straight to the National Waterfront Museum (free to enter) for our first taster of places to visit in Swansea.  We were greeted by a fun exhibition devoted to pirates which immediately caught Brook & Indie's attention.  It was hands on and interactive, which works so well with kids on holiday or on day trips.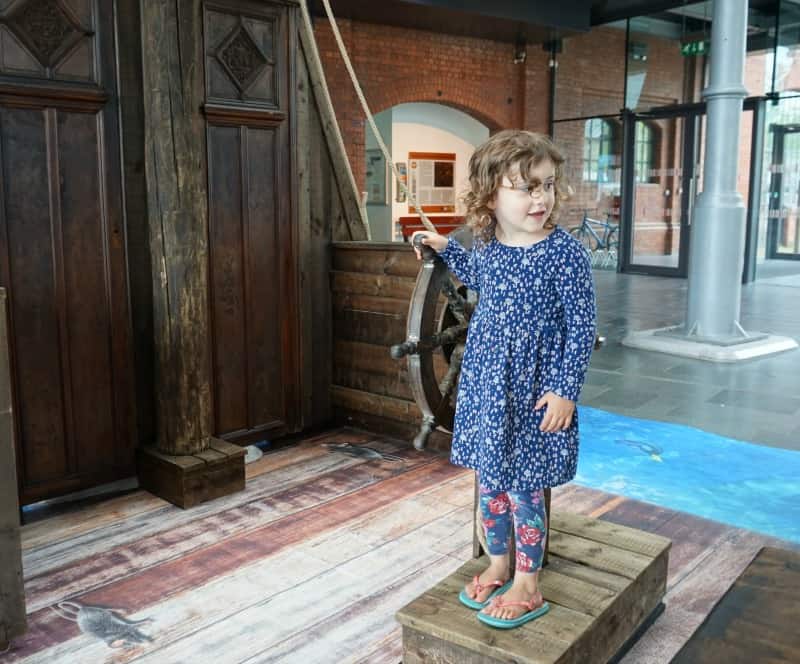 We did manage to tear them away from the pirates display and visited the other exhibitions around the museum.  We learnt a lot about Welsh industry and innovation over the last 300 years and enjoyed exploring exhibits like the various modes of transport that have appeared in Wales including the Sinclair C5 and a very impressive steam engine which the kids loved.  We all decided this was an excellent place to visit with kids in Swansea after seeing all the fun the girls had here.
Swansea Museum
Just a short walk away from the National Waterfront Museum is Swansea Museum (free to enter), and it's well worth popping in here for a visit too.  It's the oldest museum in Wales and has an interesting range of exhibits including a lovely display of Swansea Pottery, an Egyptian Mummy and an eye opening display about what life would have been like in the bunkers during World War 1.  The Egyptian exhibit was most definitely our favourite here.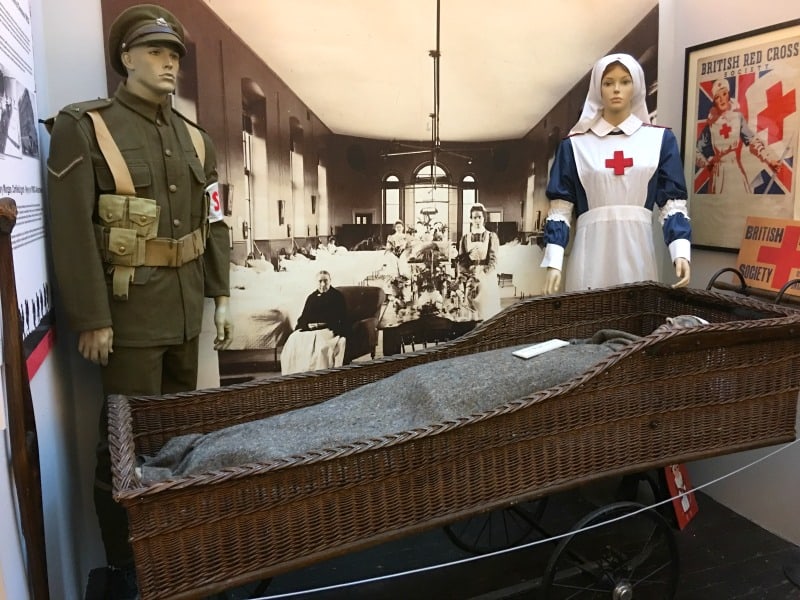 Where To Eat: Grape and Olive Restaurant
We made our way towards Swansea Marina, and couldn't help but notice a very tall building called Meridian Tower. This happens to be the tallest building in Wales and sitting at the very top is the Grape and Olive restaurant.  We called in for lunch on the 27th floor and were immediately impressed with the views over Swansea and the marina.  From the other side of the restaurant we could also see across Swansea beach towards The Mumbles.
The incredible view was the perfect accompaniment to our family meal and we were very impressed with  how child friendly this restaurant was.  The children enjoyed their favourite meals of fish and sausage and chips, while I Daddy and I enjoyed the burger and the salmon.  You can take a peek at what we ate here:
If you are looking for a special place to eat with the family while you are in Swansea, it's well worth making a booking at the Grape and Olive restaurant.
LC Swansea
After our lunch at Grape and Olive we headed back towards the LC Swansea (5 minute walk), picked up our swimming gear from the car and headed to the pool.  Well I say pool but that really doesn't do it justice.  It's really a waterpark as good, if not better, as any that you would find at a holiday resort in the UK or abroad.  Visiting the LC Swansea is a must for families looking for things to do in Swansea.
This is literally a fantastic facility to have on your doorstep if you are on holiday in Swansea Bay and I would strongly recommend that you visit at least once during your stay.  The waterpark is completely enclosed so it doesn't matter what the weather is doing outside, you will still have a great time.  We loved the splash area with slide for younger children (no queues), but for those a bit more daring you could also take on the Masterblaster, the ultimate white-knuckle rollercoaster waterslide or the aqua slide and aqua tube for some adrenaline-filled water adventure.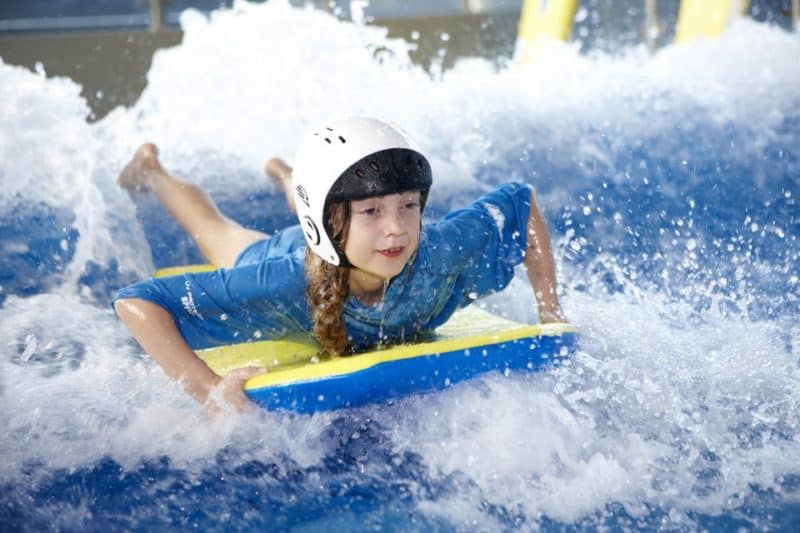 And that's not all!  They also have a wave machine which we loved and if you want to take your water fun to the next level you can take on the Boardrider, which I can only describe as really intense body boarding for thrill seekers.
The LC Waterpark was such a big hit with Brook and Indie the only way we could get them out was to promise them a quick go on the soft play before we left.  I'm not sure where they got the energy from, as Daddy and I were certainly flagging and were quite happy to sit and have a rest while watching them scale the 4 tiers of interactive fun from the LC coffee shop.
Where to Stay: Dragon Hotel, Swansea
We were definitely looking forward to a good night's sleep, and we were going to be staying at the Dragon Hotel Swansea (10 minute drive from LC Swansea).  It was easy to find and they also have a free carpark for guest to use.  The family suite was just what was needed for a comfortable stay for us all, and the friendly welcome also helped us to settle in quickly.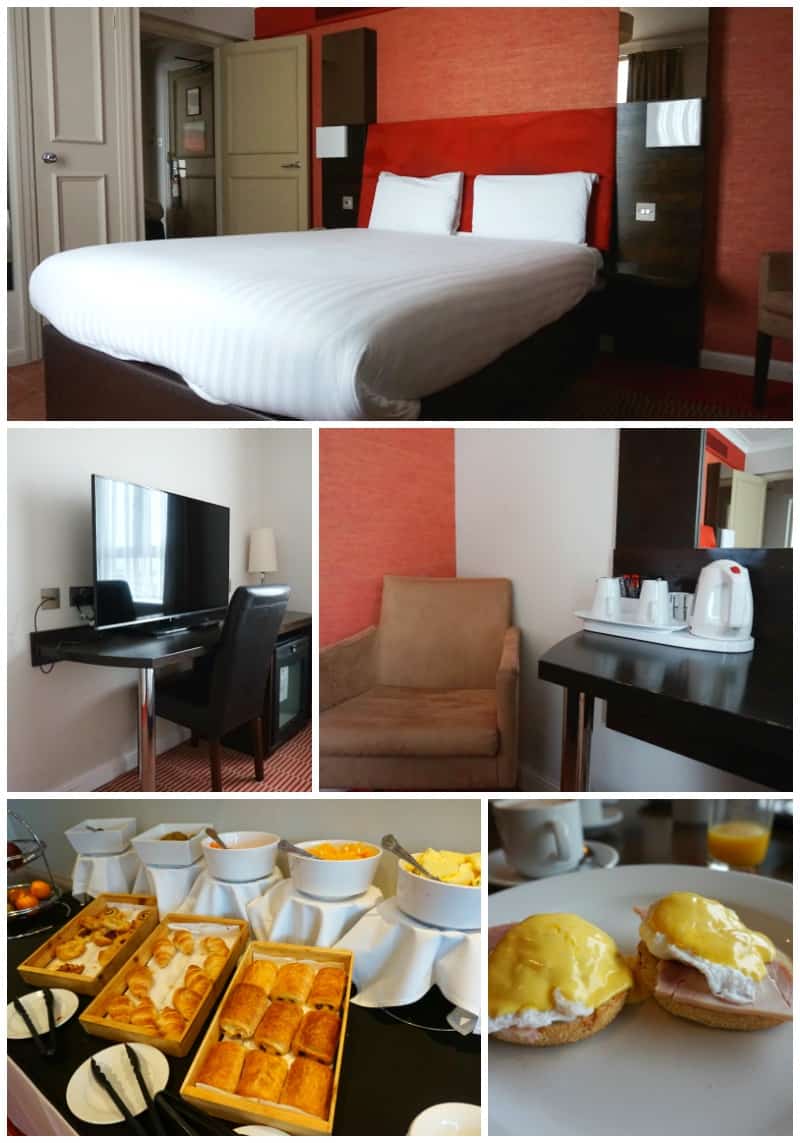 We ate dinner at the bar, and both the service and the food was exceptional.  Brook was being particularly fussy, and the waiter was happy to ask the kitchen to prepare what she wanted, which they did.  I had a perfectly cooked seafood carbonara with samphire and Daddy tucked into his second burger of the day.  It was the perfect end to a fun packed day in Swansea with the kids.
Things to do in The Mumbles
After a much needed rest and a freshly cooked English breakfast at the Dragon Hotel in Swansea we headed to The Mumbles to find more things to do with the kids.  We parked in one of the first car parks we saw (£5 for the day), grabbed our backpack and headed out looking forward to finding out what Mumbles Wales had to offer.
Great for Shopping and Souvenirs
We do like a bit of shopping, and The Mumbles is the perfect place to pick up lovely local souvenirs like the Welsh lovespoons from the Lovespoon Gallery. I took Indie and Brook into the gallery to show them the lovely carvings and talk to them about this famous Welsh tradition.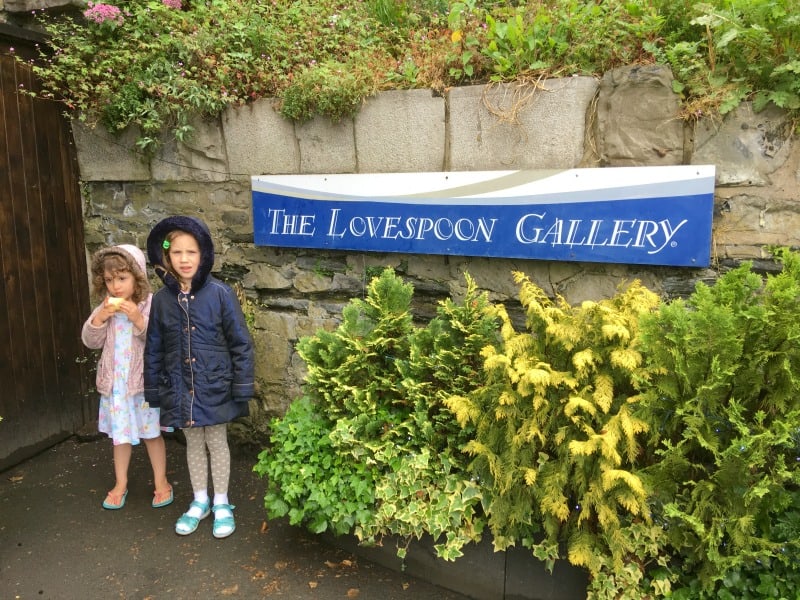 We also headed up the hill, window shopping along the way, and spotted the Gower Gallery as well. This was filled with gorgeous local arts and crafts from paintings and sculptures to jewellery and ceramics. It's well worth a visit, but perhaps leave the kids behind as I was a little nervous about them breaking something while we were inside!
Oystermouth Castle
Once we had dragged ourselves away from the boutique shops, we headed to Oystermouth Castle which stands proudly on the hill over looking The Mumbles and the Gower Peninsula.  This 14th century Welsh castle has undergone a rather impressive restoration so that visitors can fully explore the ruins. This also makes it a lovely place to visit in the Mumbles with kids as it's so accessible.
We started our visit here with a short film which helped us understand the history of the castle and also helped to get the girls interested in having a look round.  The castle is relatively small, but there is still lots to explore including the chapel and what would have been the kitchens for example.
As we explored the different parts of Oystermouth Castle, we walked straight into our car mechanic from Nottingham who was also on a family holiday with his teenage daughters in Swansea Bay for the first time.  It was such a funny coincidence as our car had broke down at the beginning of our road trip to Swansea, which you might have seen if you watch our IG Stories.  We had a quick chat about how impressed we were with Swansea as a place to visit before carrying on with our respective family adventures.
Where to Eat: Verdi's
With quite a busy morning under our belt we decided it was time for lunch so walked along the seafront to find Verdi's, which is a popular family run Italian cafe which over looks the seafront.  As well as gorgeous views over the bay, they also have an impressive Italian menu, and it took us a while to make a final decision over what to have for lunch.
The kids went with pizza and spaghetti bolognese, which were both excellent choices, I chose a prawn filled focaccia and Daddy ordered an authentic ham and mushroom pizza.  The food was pretty incredible and I could see why the cafe was so full.  It was apparent that they were consistently serving great food that their customers wanted to come back for.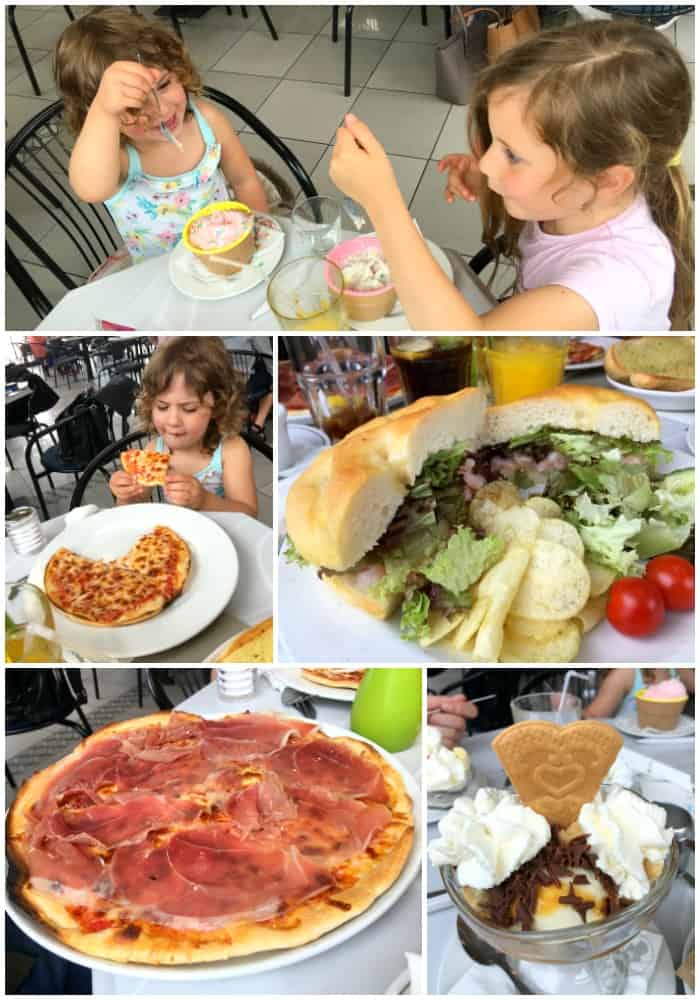 There was no doubt in our minds that we would be ordering dessert, as we'd already spotted the ice cream sundaes and cakes that were appearing from the kitchen over lunch.  Nothing disappointed in the second course either, from the salted caramel sundae to the banana split.  I would not hesitate to recommend that you pop in to Verdi's for either drinks, ice cream or a meal while you are visiting The Mumbles.  It's a great family friendly restaurant to visit in the Mumbles.
Mumbles Pier
With lunch well and truly under our belts, we carried on along the seafront to find Mumbles Pier at the far end of the walkway.  We did spot a land train that went along the seafront as well, and we always think these are a lot of fun with kids.  Sadly we just missed it, but we enjoyed the walk as in the afternoon the sun decided to shine for us.
When we visited, Mumbles Pier was under renovation, but there are still things to see and do here with small children. We popped into the arcade to play the 2p machines and spent some time on the beach so Brook and Indie could play in the sand and explore the rock pools.  It was a lovely end to the afternoon and finished off our day exploring The Mumbles a treat.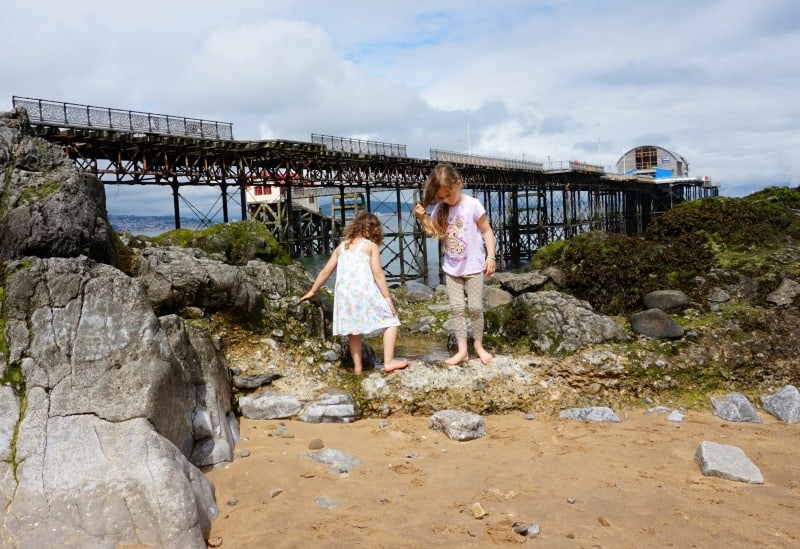 We walked back along the seafront  and realised that by now the car was parked quite far away.  To save Brook and Indie having a meltdown about walking back to the car, Daddy stopped with them at the play area on the seafront, while I collected the car.  This seemed like a pretty sensible compromise to me, and saved us a few tears at the end of what had been a very fun packed day.
Things to do in the Gower
Once we had packed everyone up in the car again, it was time for us to make our way towards the Gower where we were going to be staying for the next 2 nights of our holiday in Swansea Bay.  Our first stop was on the Gower Coast at Port Eynon.
Where to Eat: The Ship Inn
We called in at The Ship Inn for dinner, which is a popular pub and restaurant with both locals and visitors staying at the near by holiday parks.  As the name suggests, inside we found a very nautical theme along side a warm and friendly welcome.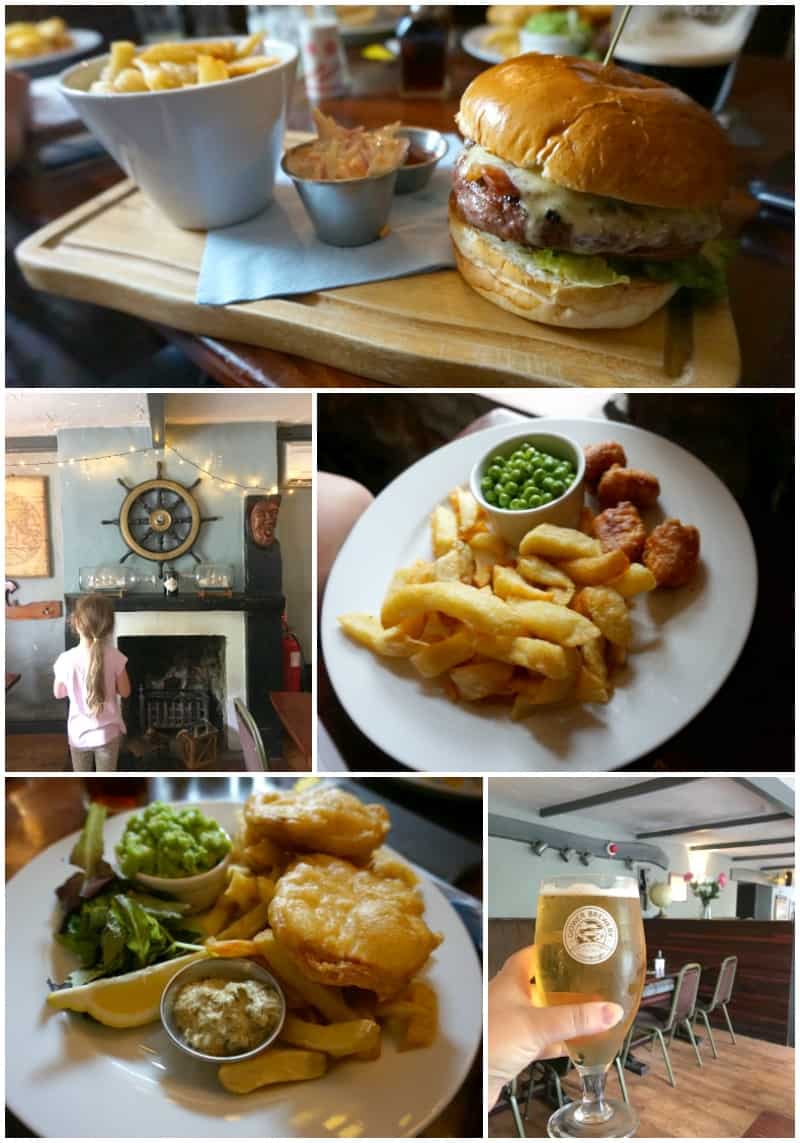 We enjoyed a delicious family meal here and were also introduced to the local Gower beer.  Local beers are something they are very proud of in Swansea Bay and we can certainly see why!
Where to Stay: Scamperholidays Kennexstone Site
We arrived at Scamperholidays Kennexstone site shortly after our dinner (20 minute drive from Port Enyon) and were super excited about finding out about where we were going to be staying for the next few days.  This is a great place to say if you want to immerse yourself in the local countryside.  The unspoilt views from our glamping lodge were just incredible.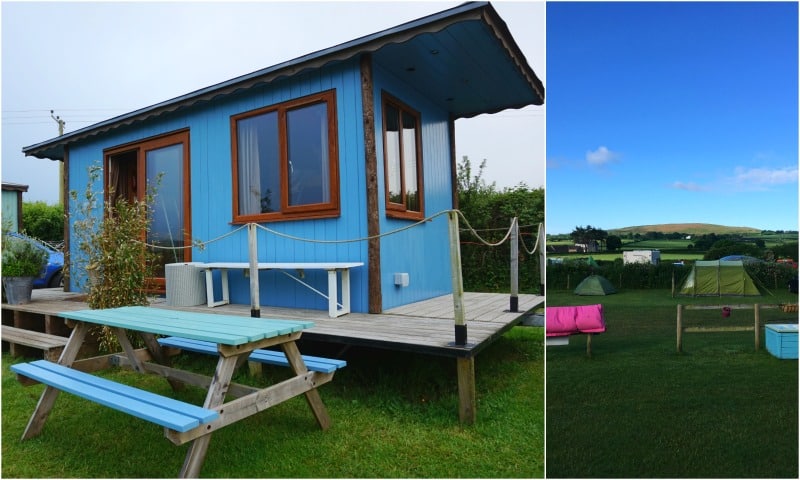 I would describe Scamperholidays accommodation as quirky and innovative, and a great choice if you are looking for something a little bit different.  They have camper vans and lodges, or a combination of the two which looked really fun to stay in.  The use of space was pretty genius with every inch being used for either storing handy equipment, bunk beds and a functioning kitchen with running hot water. We also had a TV and electric sockets for charging all our gadgets so it ticked lots of boxes for us.
Rhosilli Bay Beach
Wales is becoming pretty famous for it's award winning beaches and I've picked out three you might like to visit while in Swansea Bay.  The first is the breathtaking Rhosilli Bay, making it one of the top 3 beaches in the UK to visit. This 3 miles of sand snakes round Worm's Head and is perfect for water sports, walking or just building sandcastles with the kids if you prefer.
Oxwich Bay beach
Oxwich Bay is our favourite pick of the beaches in the Gower as it's incredibly family friendly.  Parking is available right in front of the beach and you can walk straight on to the sand with the kids, unlike Three Cliffs Bay or Rhosilli Bay.  There are cafes near by and also a kiosk selling drinks, ice creams and buckets and spades incase you have forgotten yours.  If you are looking for family friendly, we would recommend adding a visit to this beach to your list of things to do in Swansea.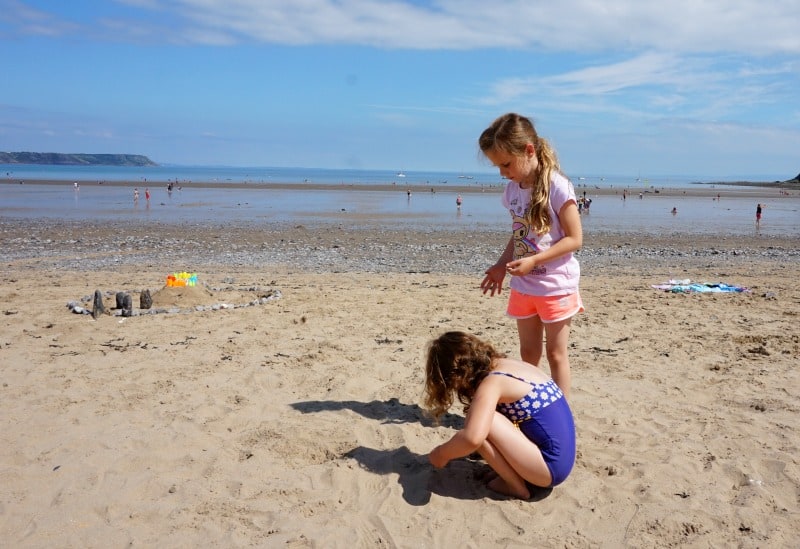 Three Cliffs Bay  Beach
If you take the sign for Three Cliffs Bay Holiday Park, you can park you car in their car park for a small fee (£3), and take the 15 minute walk (with small children) down to this incredibly natural piece of coastline in the Gower.  There are rocks to explore and sand dunes as well as the signature limestone cliffs that it takes it's name from.  Three Cliffs Bay beach is also dog friendly all year round.
Gower Heritage Centre
This is an excellent place to visit for families exploring the Gower and there's a variety of things to see and do here.  Rural life in the Gower was influenced largely by the watermill here that still operates today.  We learnt how flour was made as well as some of the traditional dishes it would have been added to many years ago.
Brook and Indie loved taking part in the interactive story and watching the Punch and Judy show.  These activities were particularly perfect for younger children. We also enjoyed the agricultural displays and the play area, as well as seeing the animals and chickens that live at the Gower Heritage Centre.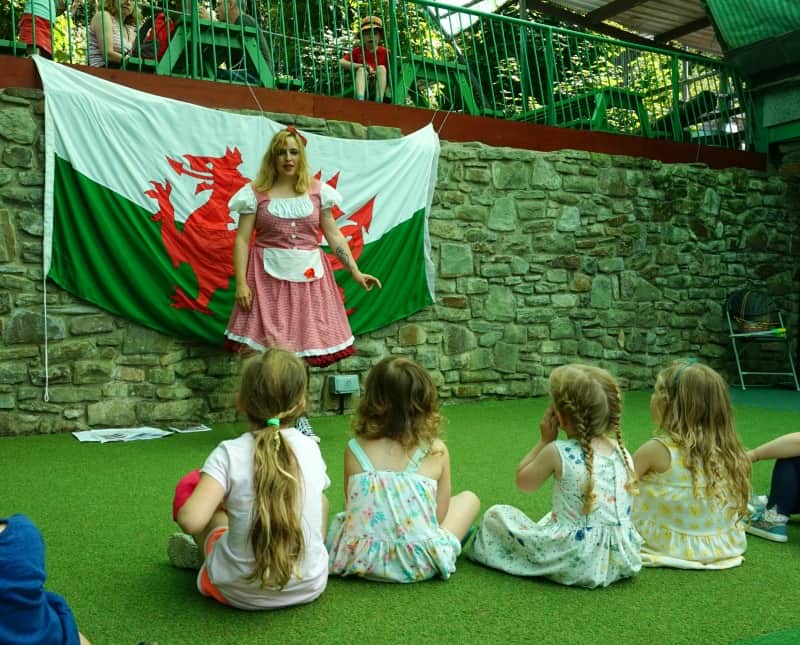 We stopped for lunch at the cafe, and I couldn't resist the local Welsh Rarebit, which was delicious by the way.  They also have lots of workshops and regular events through out the year so it's worth having a look at the website at what's on before you visit.
Walking in the Gower
I cannot write a post about things to do in and around Swansea without mentioning visiting one of the many local walks.  There is something for everyone when it comes to walking in the Gower, whether you are a  hiker or want to explore somewhere with younger children.
We would recommend visiting Mill Wood which is just outside Penrice on the Penrice Estate.  There is a small car park on the A4118 as you come from Oxwich Bay where you can begin your walk.  The path is easy to navigate with small children, and it's a very shady route given you are under trees most of the time.  When we visited we noticed this was a popular walk with families and dog walkers.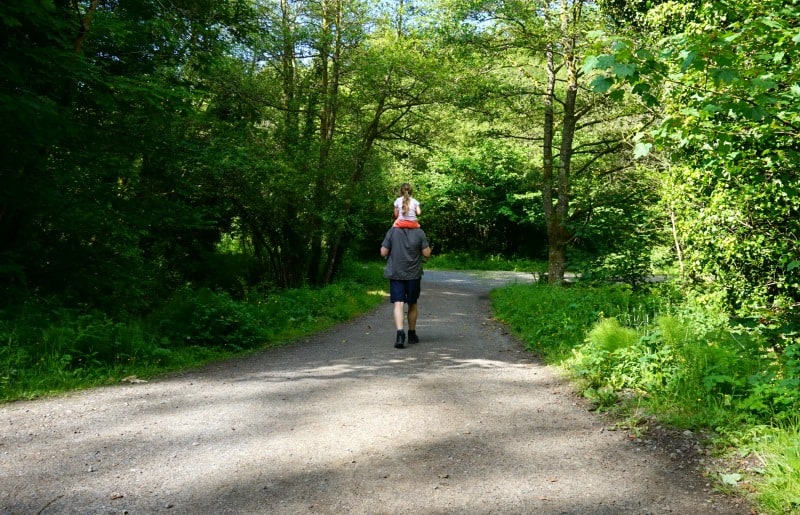 Going to the beach and walking in the woods definitely makes you hungry, and the last recommendation from us for where to eat in the Gower is the King Arthur Hotel in Reynoldston.  This is a popular restaurant with locals as well as holiday makers, so I would recommend ringing them up and making a booking if you are keen to visit.
The Young Lords & Ladies (children's) menu was excellent with lots of choice and great value for money.  The adults menu was equally as inspiring with a wonderful selection of meals all boasting fresh local produce in the ingredients.
My corn fed chicken was moist and perfectly cooked, served with a delicate wild mushroom and mascarpone sauce.  The vegetables were a delight, and I have to give a special mention to the new potatoes as they were particularly fresh and full of flavour.  I haven't tasted potatoes like that since my Grandad grew them in his own garden, so I was very impressed indeed.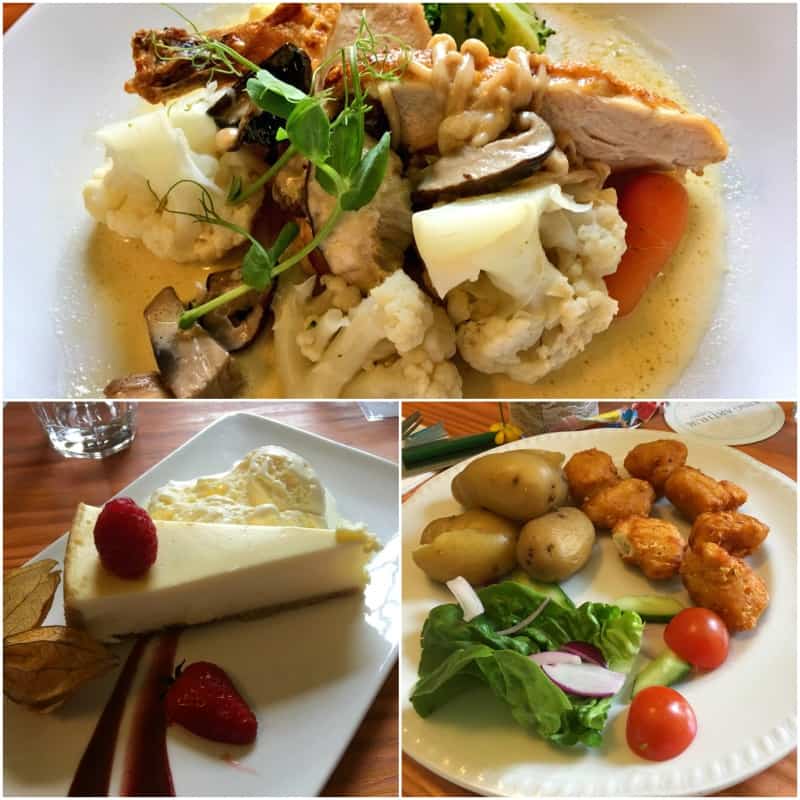 King Arthur Hotel also stocks a huge range of craft beers and this time we tried the Gower Pale Ale.  I wouldn't say I'm an ale fan, but this was really light and delicious and certainly one I would recommend trying while you are in the area.
On that very high note, that brings me to the end of a rather long list of things to do in Swansea Bay, The  Mumbles and Gower. I really hope you have got a sense of how much there is to see and do in this beautiful part of South West Wales and find the suggestions of places to stay and where to eat equally helpful.
If you are keen to read more about visiting South Wales we can recommend visiting We Blog Travel's post on more things to do in Swansea.
If you haven't taken a family holiday to this part of the UK before, we would wholeheartedly recommend a visit here with the kids.  We were very impressed with our holiday here, and we have every confidence that you will be too!
Know someone who would enjoy this post?  Please do share it with your friends and followers, as it would literally make my day.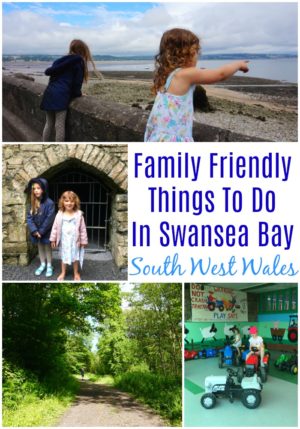 We were guests of Visit Swansea Bay and all the partners who hosted us during this press trip in exchange for sharing our experience and writing about things to do in and around Swansea.  However, all thoughts and opinions are our own and we wouldn't have any hesitation recommending a visit to Swansea Bay to friends, family and readers of Zena's Suitcase.