When we took our holiday in Pembrokeshire, one thing I really wanted to do was visit Folly Farm Park.  While we were staying at Bluestone National Park Resort, we were lucky enough to be able to spend lots of time with our friends,  Kaz and Pickle from Ickle Pickles Life and Travels.  They have become great friends of ours over the course of our blogging journey and it was lovely to be able to catch up with them during our holiday.
As a surprise, Kaz very kindly arranged for us all to have a day out at Folly Farm Park.  I had already heard a lot about it from following her blog, so when she told me that we were going to be visiting I was super excited.  I knew the kids would love going to Folly Farm Park and they would have a great day out together too.  It really was a lovely surprise for all of us.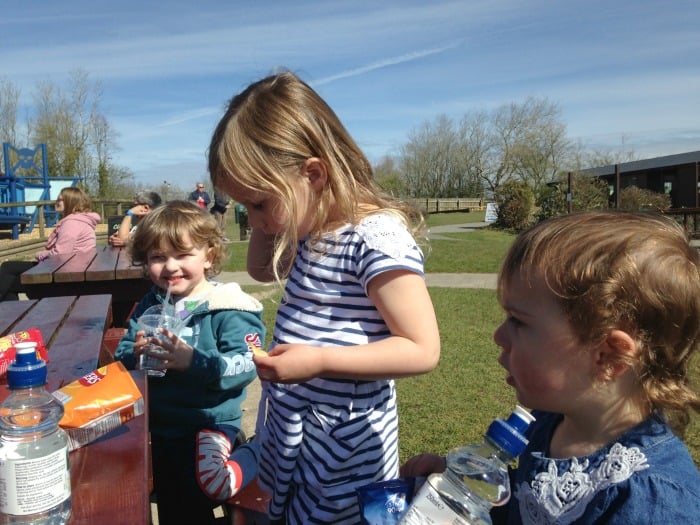 Folly Farm Park Review
We were blessed with amazing weather for our day out at Folly Farm Park, that is literally down the road from Bluestone, and it was the perfect place for the kids to spend more time getting to know each other.  Our first port of call was the kiosk as its very important for Kaz and I to try the coffee out.  Bloggers survive on coffee you see!  It gave the kids the opportunity to explore the adventure playground together that was nearby.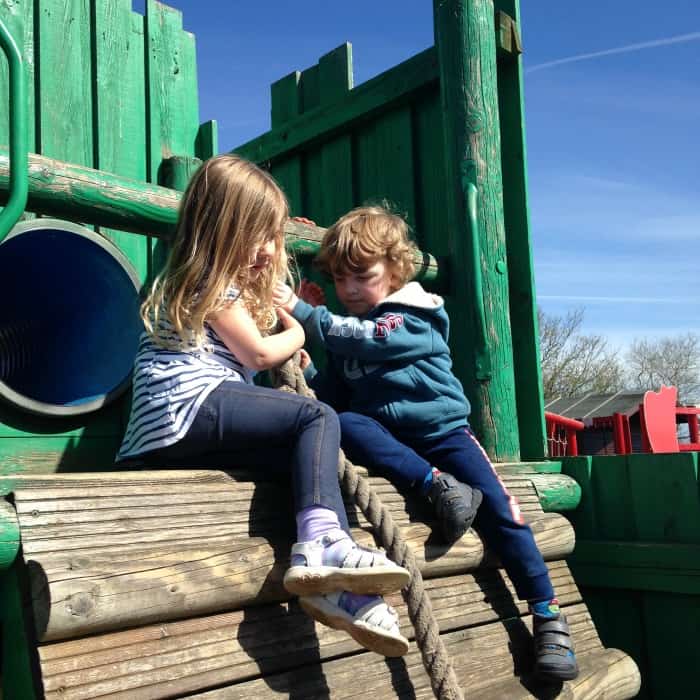 Once we were happy that Folly Farm Park made an excellent cup of coffee it was time to join the kids to see what they were getting up too.  I quickly took the opportunity to grab some cash, as I hadn't needed any whilst at Bluestone because of their own card payment system.  I was really surprised when the cash machine at Folly Farm didn't ask me to pay a fee.  I have to say well done Folly Farm Park for this, there is nothing more annoying than being charged to get at your own money so it really was a pleasant surprise.
The kids wanted to climb and explore, and they were getting on really well.  Kaz and I could have a proper catch up knowing that the kids were happy and safe playing together.  We let them set the agenda for where they wanted to go, as we wanted it to be their day out.  The ride on tractors of course had to be tested out by this little threesome.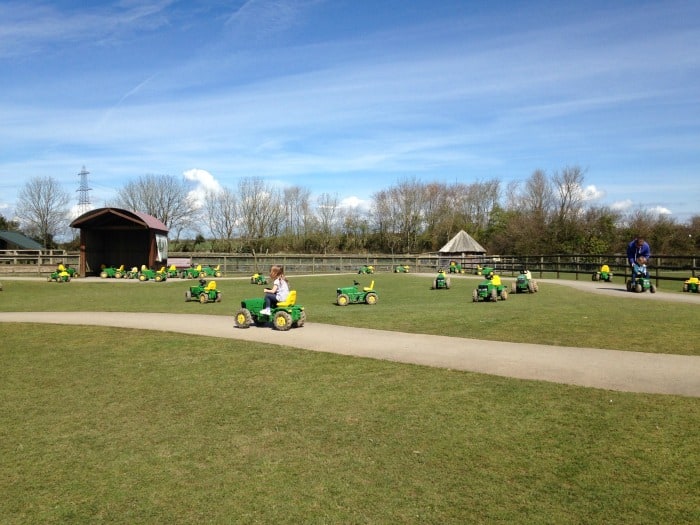 There came a point where tempers started to fray a little, and they started to not be quite so cooperative with each other.  After a quick check of the time, we realised that they needed lunch and we were hopeful that peace and tranquility would resume shortly after their bellies were filled.  We ate at the Folly Farm cafe, and the food went down a treat.  They do a good burger and chips, and the kids loved their meals too.
Folly Farm Park Zoo
Once everyone had refuelled we headed outside to see some of the animals.  The lions clearly knew there were some bloggers hanging around as they posed perfectly for some camera shots.  Don't they look spectacular?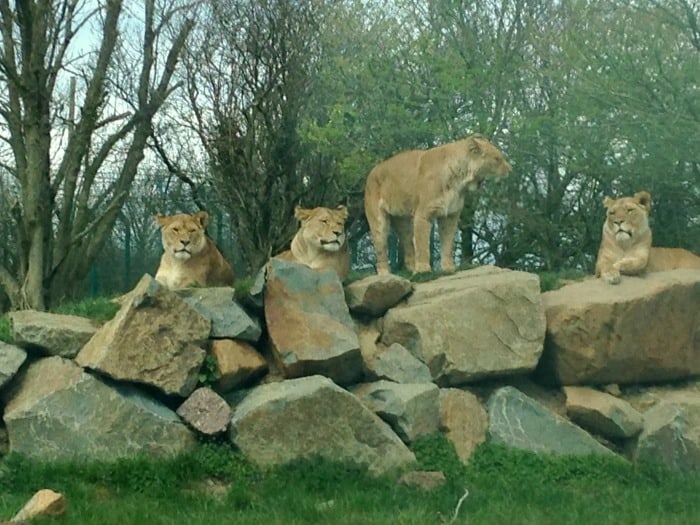 We also caught the feeding of the penguins session while we were exploring the zoo.  I was really impressed with the penguin enclosure.  They had a lot of room and looked really happy and well cared for.  The kids really enjoyed watching them being fed and seeing what they were getting up to in their home.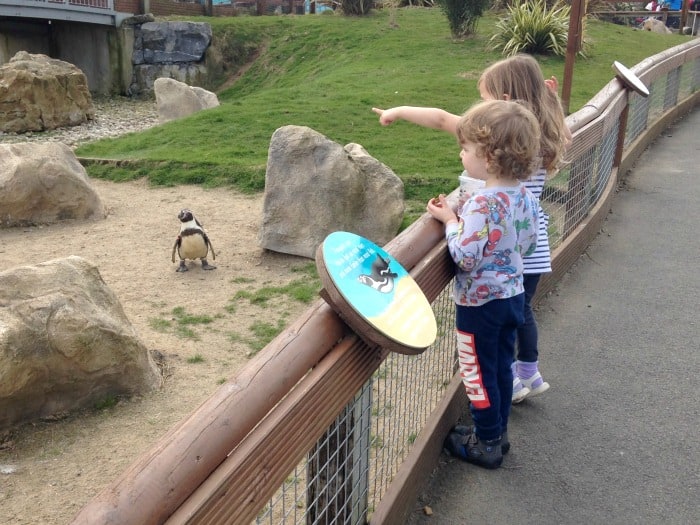 Next stop was the giraffes.  I really like giraffes, but be warned they are quite stinky animals.  At Folly Farm Park they share their enclosure with another favourite animal of mine, the zebras.
There's a great viewing platform where you can get at eye level with the giraffes.  It's great for getting a good look at the cheeky animals and a great photo opportunity too.  It doesn't get you away from the smell unfortunately, but their good looks more than make up for it.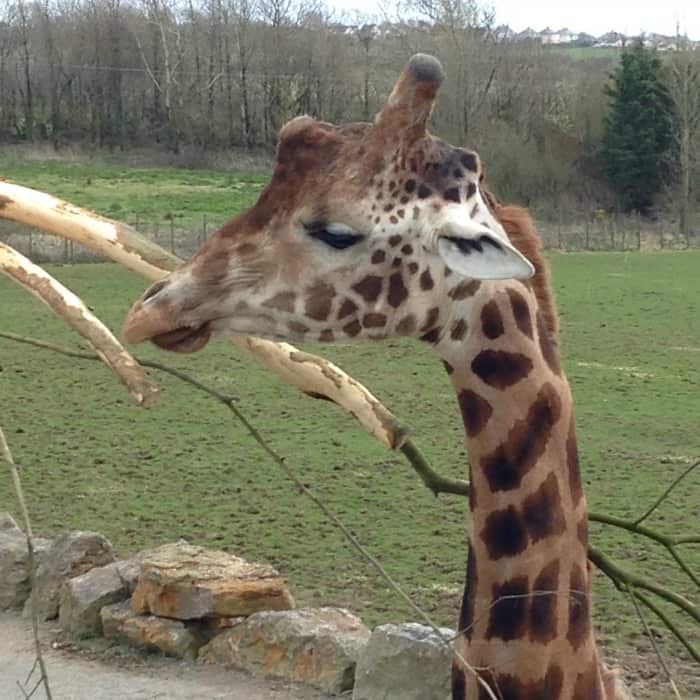 Next stop was the indoor soft play area.  Kaz and I had to check out the coffee one more time, just to make sure it was up to standard.  The kids left us to it and headed off to explore the soft play.  I was really impressed with how the areas were separate for the different age groups of children.  I find that this way the older children don't take over the areas designed for the younger ones.  It means everyone can play happily without being bumped or pushed by older kids trying to get past who are a bit quicker and bigger than everyone else.
We also took a quick look at the vintage fair ground ride collection.  Folly Farm Park takes old rides and restores them to their former glory.  If you love a good old fashioned waltzer or the carousel, this is the place to be.  It's a real step back in time and well worth a visit.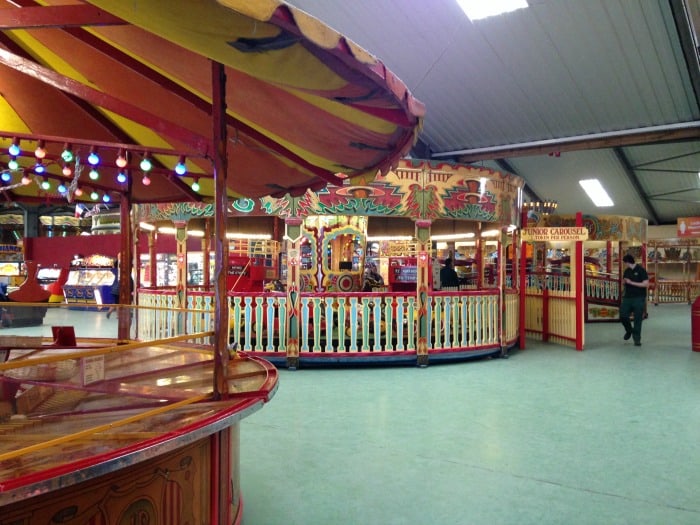 Sadly, we didn't get to see the whole of Folly Farm Park during our visit, but I do find that it is difficult getting to see everything when children are quite small.  We always have a much more successful day out if we aren't dragging them from one thing to the next for the sake of a good blog post.
One thing's for sure though, we had a really great time during our visit and would happily recommend it as a day out if you are staying at Bluestone or visiting Pembrokeshire. It's a lot of fun for kids of all ages and really good value too.  We are really looking forward to going back one day and exploring more of what Folly Farm Park has to offer.
We were provided with complimentary entry to Folly Farm Park in exchange for this post but all thoughts and opinions are our own. 
Pin For Later