On our way back from Bluestone National Park Resort, we decided to make a stop off in the city of Cardiff.  I was really excited about visiting Cardiff after having read so much about it online.  We found a NCP carpark on Greyfriars Road, that seemed pretty central according to the maps.  We unloaded the kids, and thought we would be spending the first hour trying to find somewhere to eat.  Fortunately, there was a family friendly pub right next door to the car park, so we could get everyone fed pretty quickly.  If you don't get that box ticked, things can go horribly wrong can't they?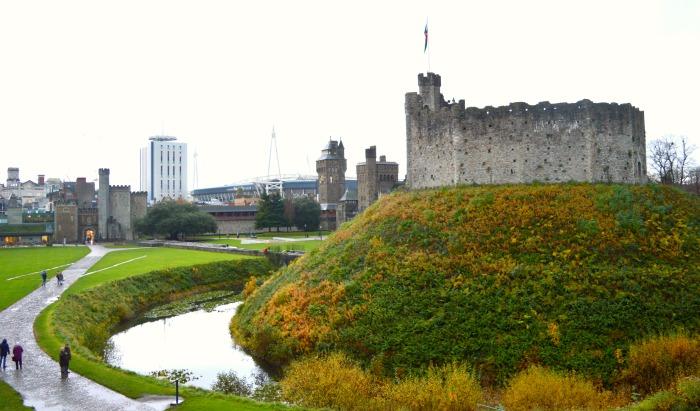 I was immediately impressed with how friendly people in Cardiff were, the staff in the pub were so helpful when I asked them for directions to Cardiff Castle and the markets.  As soon as we stepped outside, it became obvious there were lots of car parks and hotels in the area, so it's definitely somewhere worth considering for a weekend break.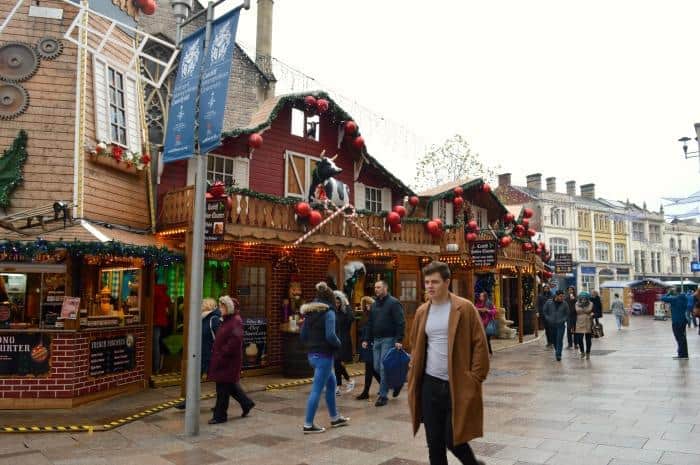 When we arrived the Christmas market was in full swing, but sadly the British weather was putting a bit of a dampener on things.  As much as I wanted to take a look around, when you have 2 small children running in different directions, and a grumpy Daddy on your hands you have to quit while your ahead.   No mulled wine for me that day!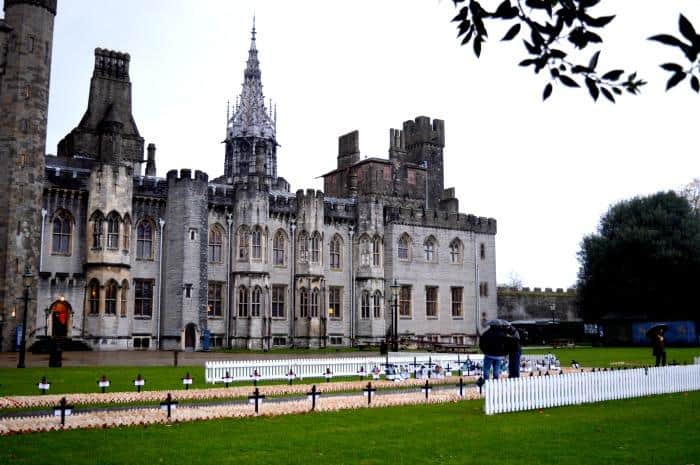 We all agreed that we would take a look inside Cardiff Castle.  It's been years since I've been to a castle. I used to visit Ludlow Castle a lot when I was a kid, but it's not something I've done recently. Nottingham Castle isn't really that inspiring when it comes to historic buildings, so even though I have been, it's not somewhere we rush to take the family for a day out.
What is Cardiff Castle Like?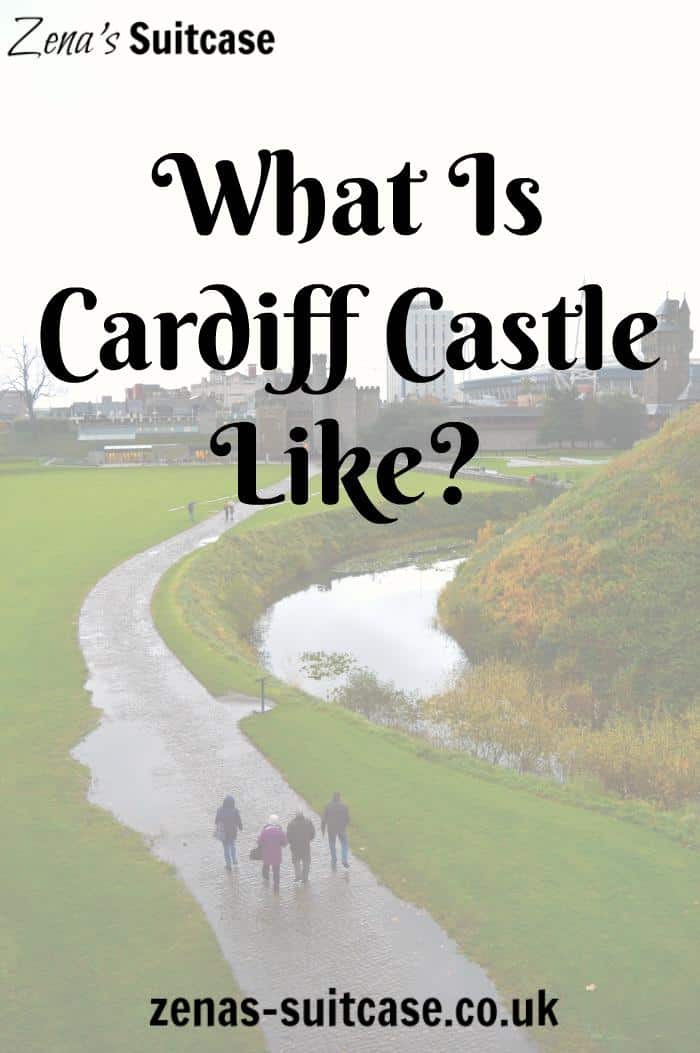 Cardiff Castle is a proper castle, with prominent exterior walls and a very grand entrance.  We got inside just in time, as the heavens well and truly opened and fortunately quite a lot of the castle attraction is undercover.  We started in a small children's play area with dressing up and puppets.  Daddy and I took the opportunity to sit for a minute while the children explored.  It was nice to have a moment to not worry which direction they might run in.  You have to catch your breath while you can with our two daughters.
The Wartime Shelters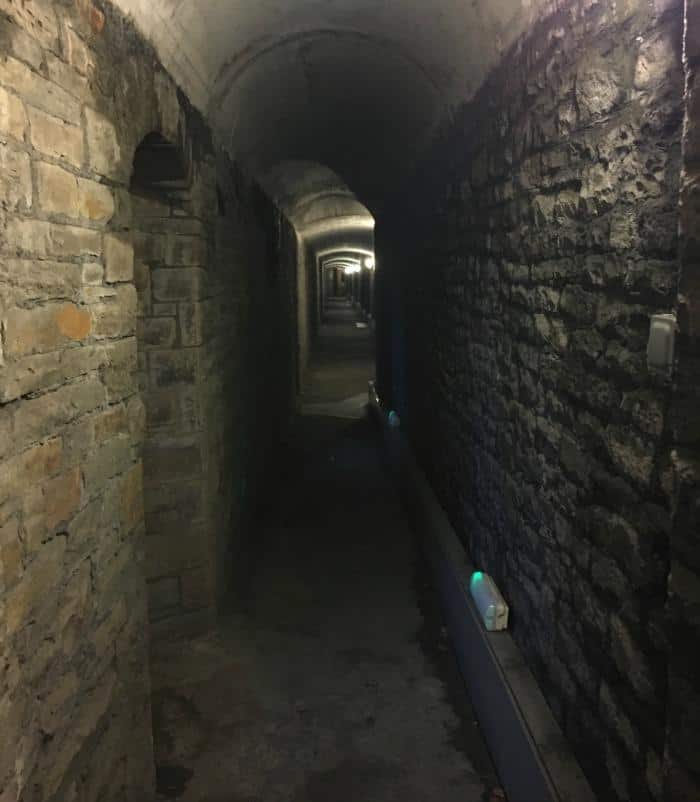 When we decided to make our way towards the Wartime Shelters, the staff offered us a recored guide. We declined as we don't really get chance to enjoy them yet, but I'm sure that will change as the girls get older.  He warned us that the music can become quite loud as you move along the shelters, which was helpful as the children do get a little sensitive to noise, unless it's their own that is.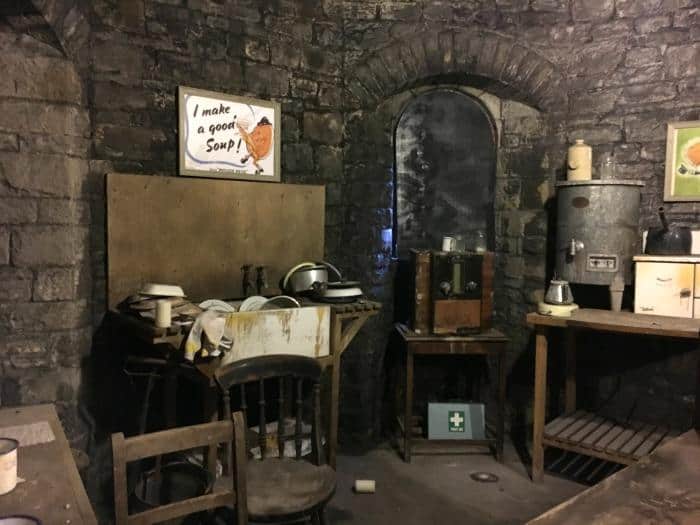 It was really interesting to see how Cardiff Castle had played a part in keeping the people who worked and lived in Cardiff safe during the war.  It was quite a contrast to the other side of Cardiff Castle's history and to be honest it was quite unexpected.
The Norman Keep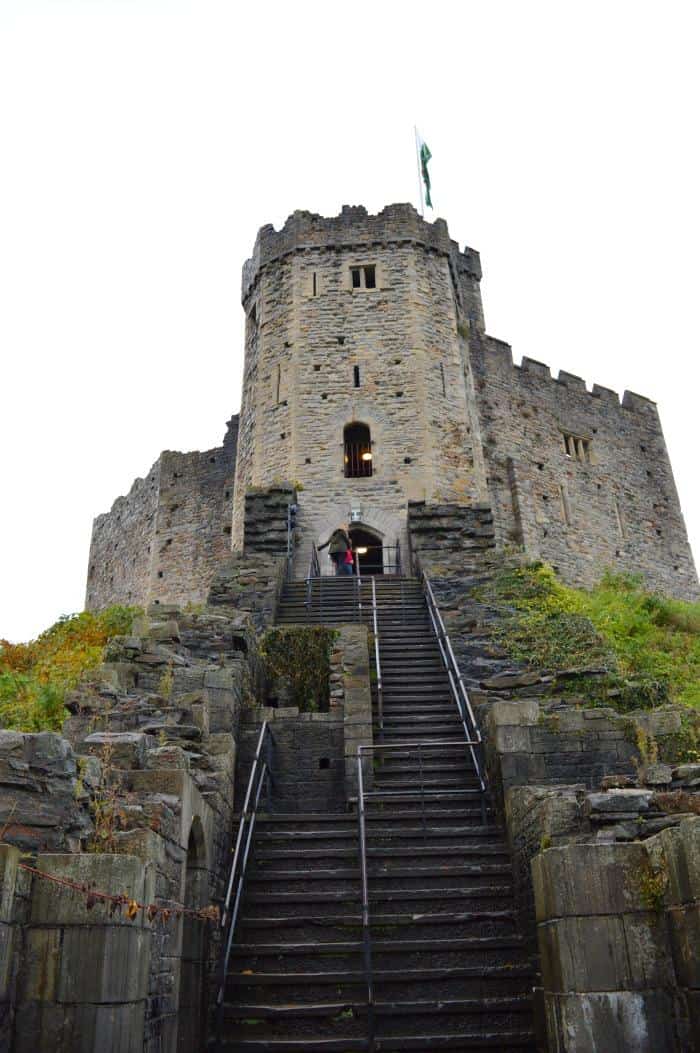 The rain really was against us, but Princess and I were keen to explore The Norman Keep.  In the rain, scaling the steps is pretty treacherous but if you are careful it can be done.  We made it inside The Keep, but getting any higher seemed like a step to far.  It's such a shame as I'm told there are stunning views over Cardiff city centre from the top of The Keep, however these are probably best enjoyed on a blue sky day.
The Castle Apartments
We decided to go in search of Daddy and the toddler, who were busy exploring the top of the castle walls during a break in the rain.  It didn't last long though, and whilst we were looking at the poppy display for Remembrance Sunday, the heavens opened again.  It seemed like a good opportunity to explore the Castle Apartments, and we all headed over in that direction.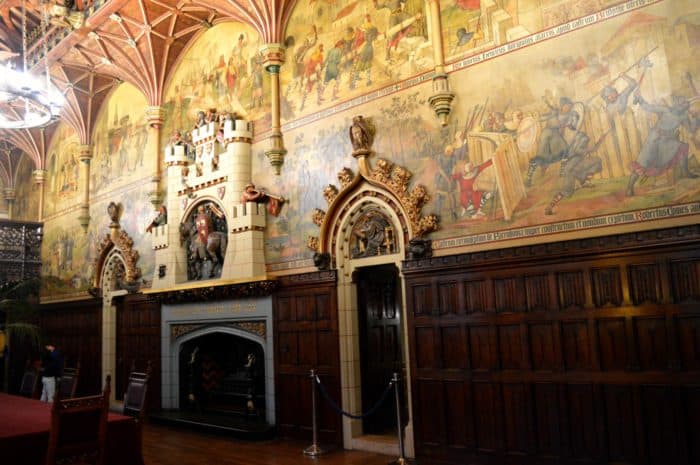 The Castle Apartments were the home of Lord Bute, thought to be one of the world's richest men at the time.  William Burges, an art architect, created Lord Bute the ultimate in Victorian gothic fantasy.  There is opulence in abundance in the elaborate carvings, stunning stained glass windows and beautiful murals within these walls, a stark contrast from the Wartime Shelters.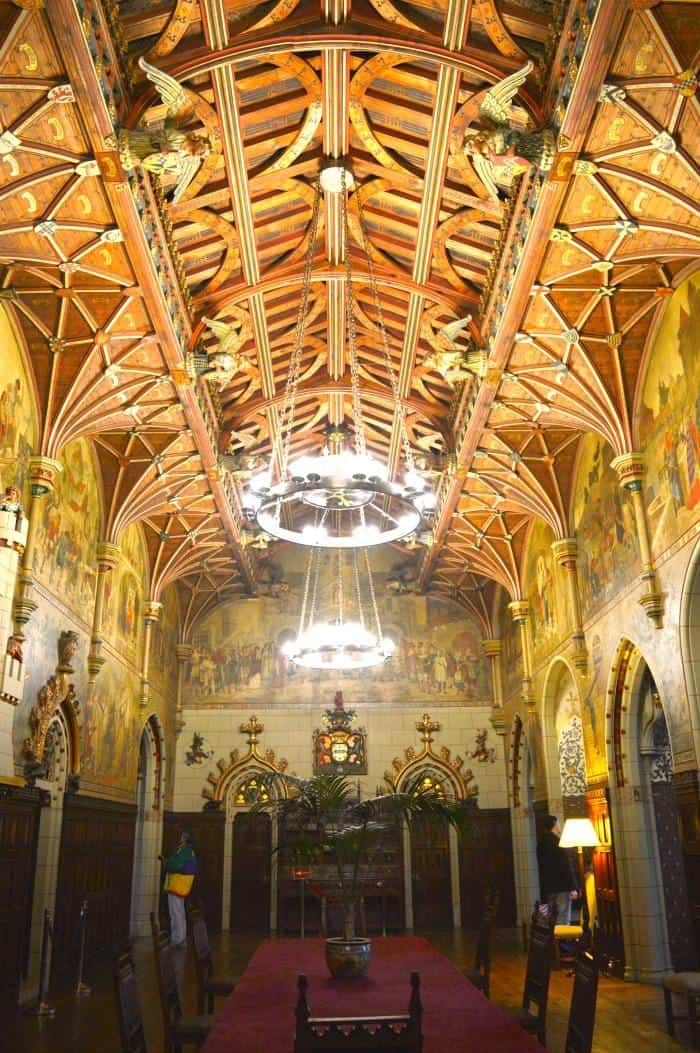 We spent a long time taking in The Banqueting Hall.  Every single space from floor to ceiling is adorned with detail, be it a carving, some gilding or an impressive central castle feature.  I have never seen anything quite like it, and it's a room worth seeing from every possible angle.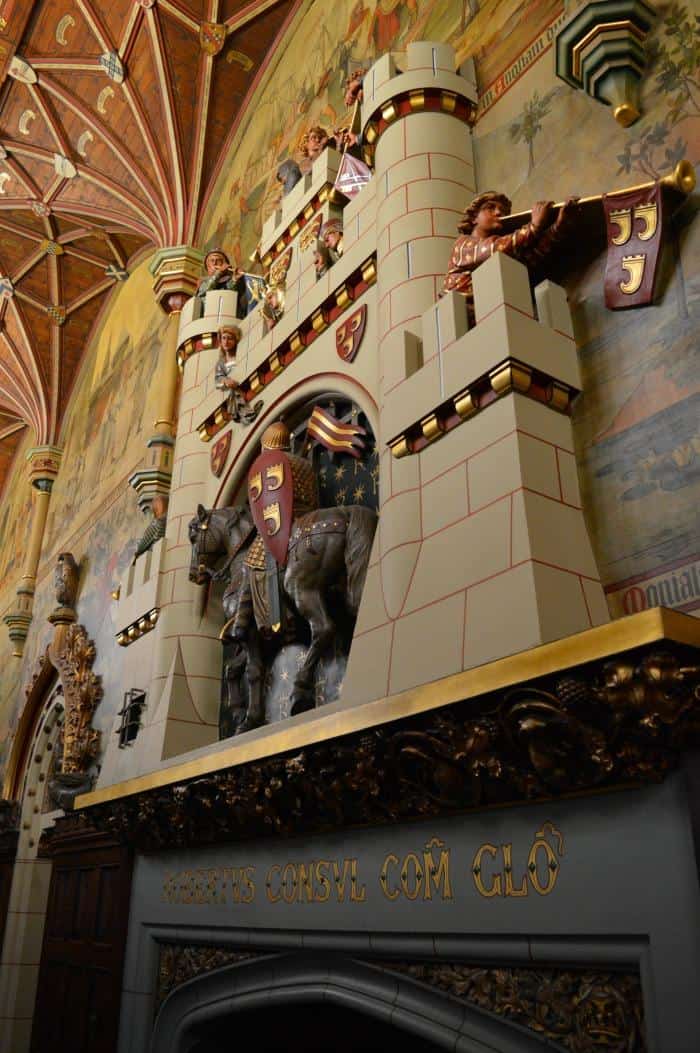 The Arabic ceiling is equally as breathtaking, rich with reds and golds and every detail perfectly in tact.  If I had a ceiling like that I would just want to look at it all day.  I've only seen that kind of detail in places like the Alhambra Palace, so it was a real treat to see it in Wales.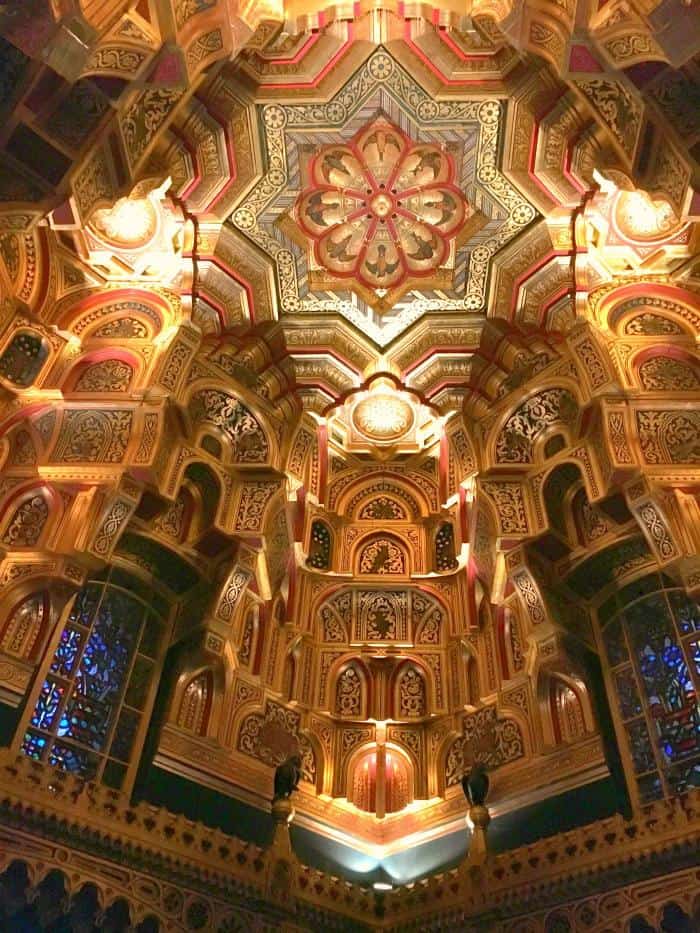 The Library was equally impressive, boasting even more ornate wooden carvings and a very impressive collection of original books.  They are the kind of books you really want to look at, but sadly the visitors rules do not allow it.  We loved the Castle Apartments, and would have loved to have spent more time in them.  Sadly our little angels aren't always ones for sticking to the rules, and if they see a rope, they are inclined to run under it.  Daddy gets into such a flap when this happens.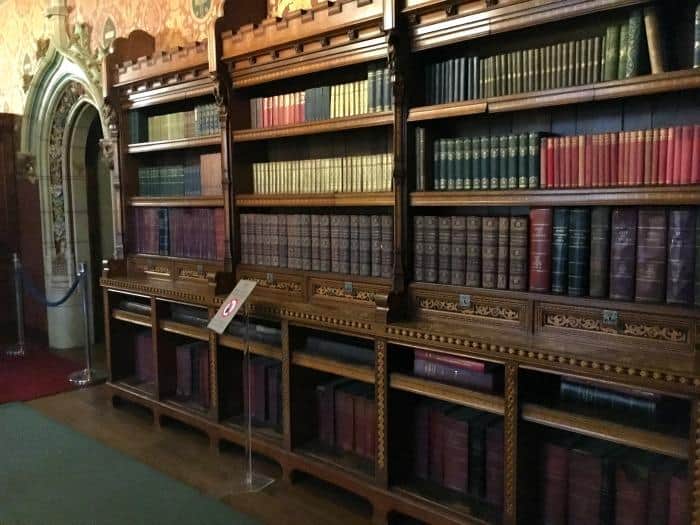 Before leaving the castle, we popped over to the cafe for a coffee and a snack and to plan our next move.  We were hoping the rain would take the opportunity to clear up, but sadly it didn't get the hint.  We headed back to the car, and decided it was time to find our hotel.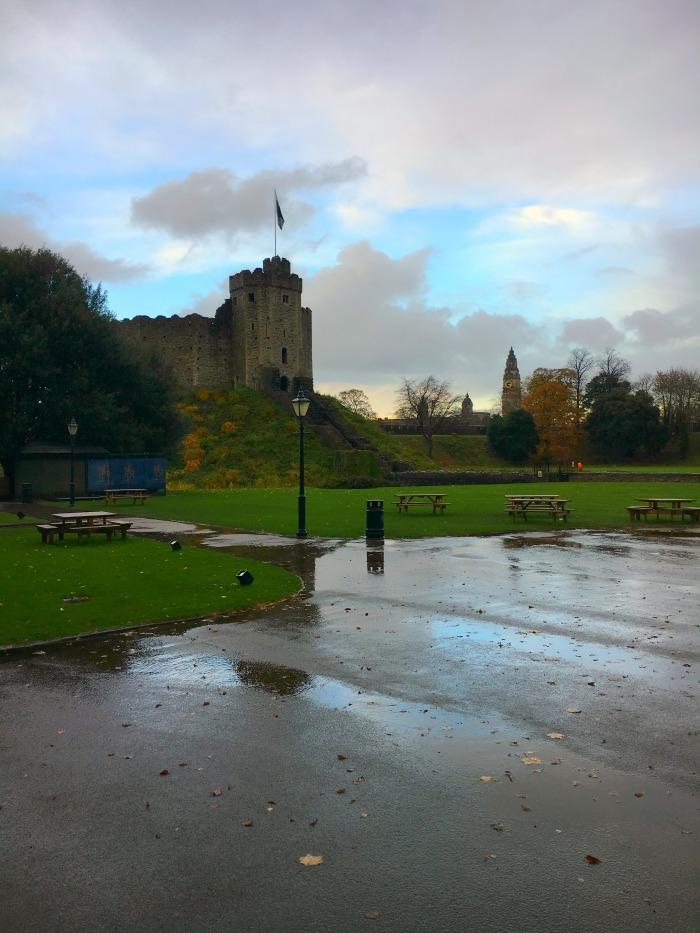 Despite only having a short amount of time in Cardiff, we all throughly enjoyed exploring the city and Cardiff Castle, and learning more about it's history.  This is going to be the year when we visit more of the country's castles, as it's important for our children to understand the part they and the people who lived in them have played in our history.  If you have any suggestions for us, let us know in the comments below as we always love to hear about the places you enjoy visiting.