I have wanted to visit Bluestone National Park Resort for so long and last week my wish finally came true.  The girls and I headed off on a road trip to beautiful Pembrokeshire to see what the best holiday resort in Wales had to offer.  I was also super excited as a visit to Bluestone meant I was able to catch up with my gorgeous friends from Kaz and Pickle from Ickle Pickles Life and Travels.  I couldn't wait to spend some proper time with these guys and I knew the girls would enjoy a meet up too.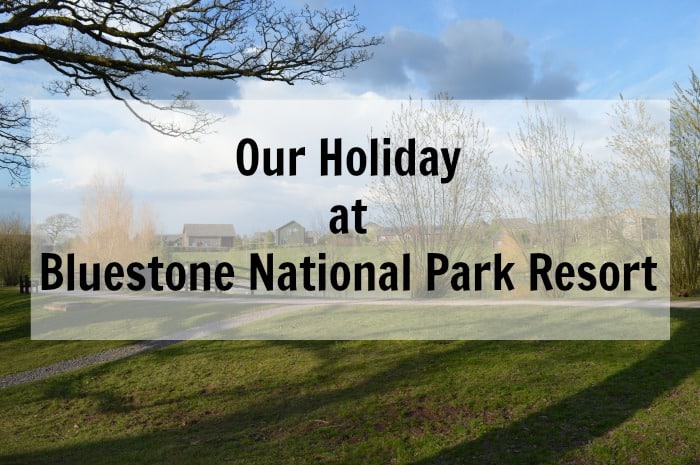 I also discovered we would get chance to see Jenni and little Boo from Odd Socks and Lollipops and we bumped into Franca from A Moment With Franca.  It turned out to be a real bloggers holiday.  Experiencing Bluestone with friends really added to our holiday.
It was a bit of a drive for us from Nottingham, and I'm not going to lie, I was a little bit nervous about taking the girls all that way by myself.  I had a feeling that it was going to be worth it and I'm not the sort to be put off by these things.
Arriving At Bluestone Wales 
When we arrived we received a very warm and friendly welcome from the staff at Bluestone and were invited to enjoy the on site facilities until we could access our accommodation.  With two little girls who needed some exercise and a Mummy that needed to recharge her batteries after a very long drive we headed straight for the Circus Room.  It was perfect.  The girls had the playroom all to themselves and they were able to burn off a bit of energy.  I could relax on the sofas and happily watch them play.  I knew we would be back here again at some point over the holiday.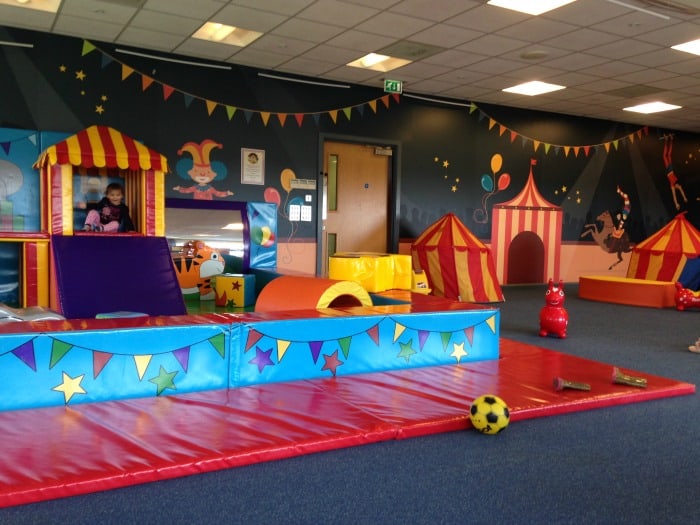 Settling into our Accommodation 
When the time came, I ushered the girls back to the car and drove us down to our Caldey Lodge.  We were at the bottom of the hill near the lake.  We found our spot and Mummy unpacked the car while the girls had a nosy around.  There was so much space for them both inside and outside of our 2 bedroomed bungalow.  We were going to have a very comfortable break indeed.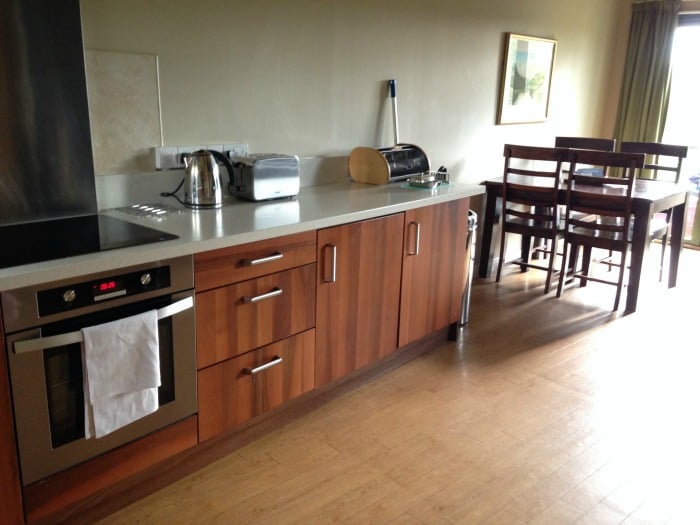 The Village 
Bluestone is a car fee site as much as possible, so we returned our car to the car park and wondered down the hill to the village on foot.  It soon became apparent that at some point I was going to have to get two little girls back up this hill, and that might be an issue seeing as I was solo parenting for the week.  I spotted the golf buggies around the park that were for hire, and felt a slight tinge of jealousy already.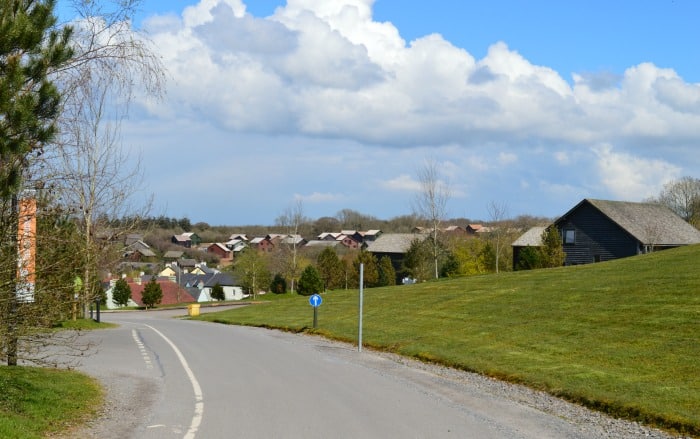 The village is excellent.  It has a great outdoor adventure playground that the girls were soon off exploring.  There's also a bug house near by for inquisitive little minds.  The weather was gorgeous so I let the girls make the most of the fresh air before bedtime.  We picked up a few supplies for breakfast from the very reasonably priced shop and headed back to our cabin.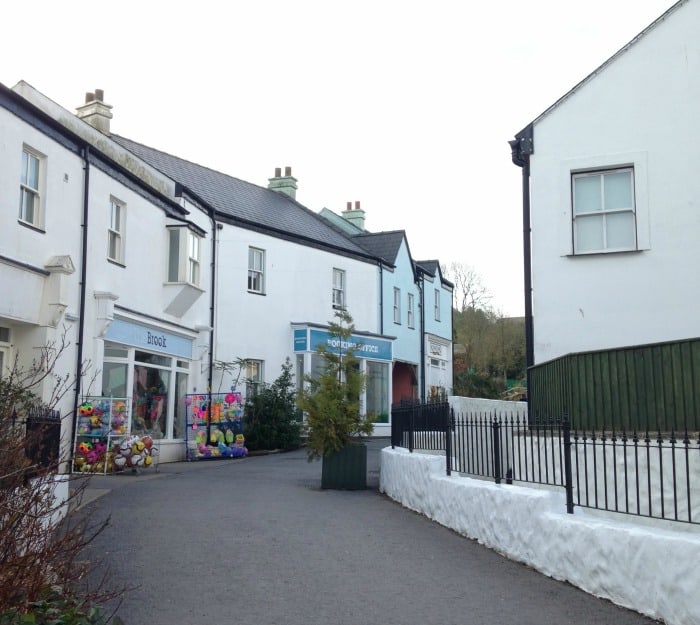 Sibling Bonding at Bluestone
I really wanted our holiday at Bluestone to be a bonding experience for the girls.  There has been a lot of jealousy and rivalry between the two of them, so I was hoping having this extended time together would really help them get along better.  I thought that getting them to sleep in the same room together would really help.  It was a good intention I guess, but no one woke up in the same place that they went to sleep!  Including me!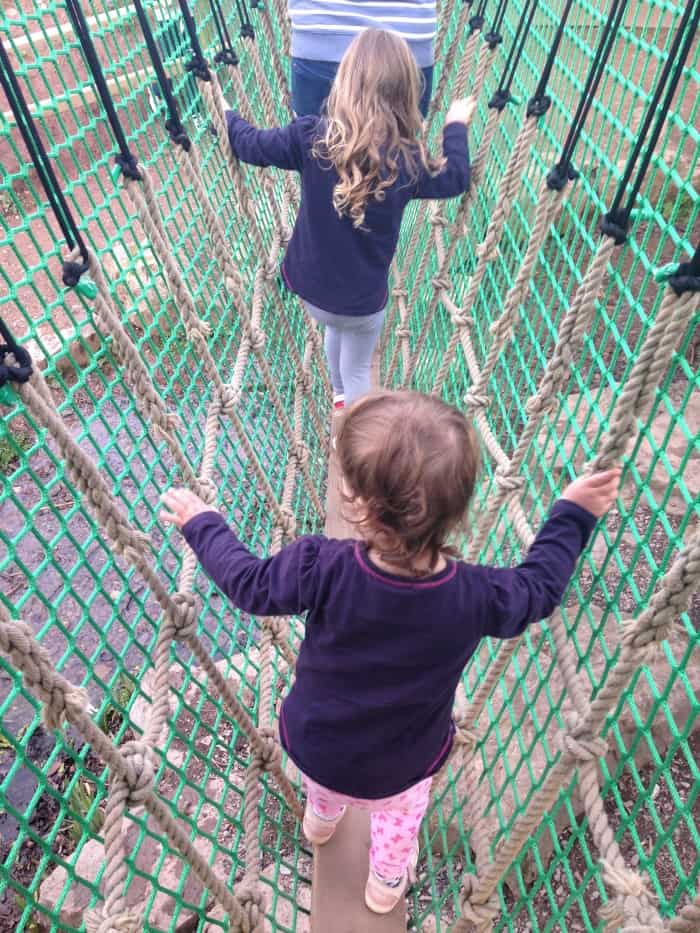 There was lots to explore around Bluestone and the girls loved all the freedom they had.  Princess started to understand her little sister a bit more, and help her out if she needed a hand on the park.  We spotted rabbits together and Mummy even saw a badger.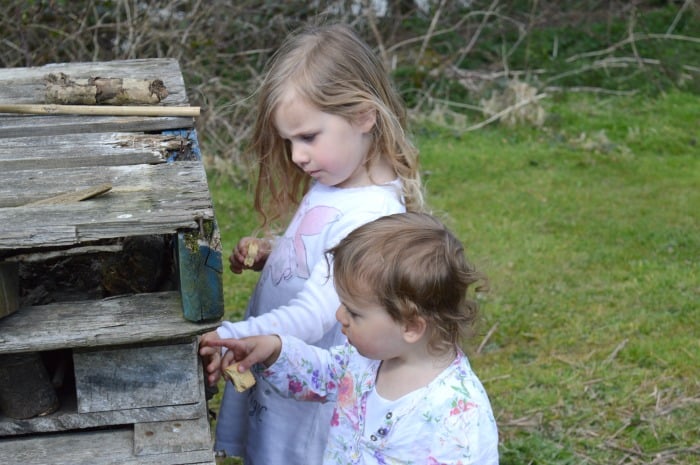 Visiting Sandersfoot Beach and Folly Farm
We found the closest beach to Bluestone in the gorgeous village of Sandersfoot.  We drove down into the harbour and were engulfed by an eerie sea mist.  It was like something out of Pirates of the Caribbean.  We parked up and the girls were keen to get down to the sand.  The tide was right out, so there was loads of sand to choose from.  We found a pitch and the girls ran and ran, playing with balls and frisbees.  Kaz and Pickle joined us too, and very quickly all the kids were all having fun on the beach.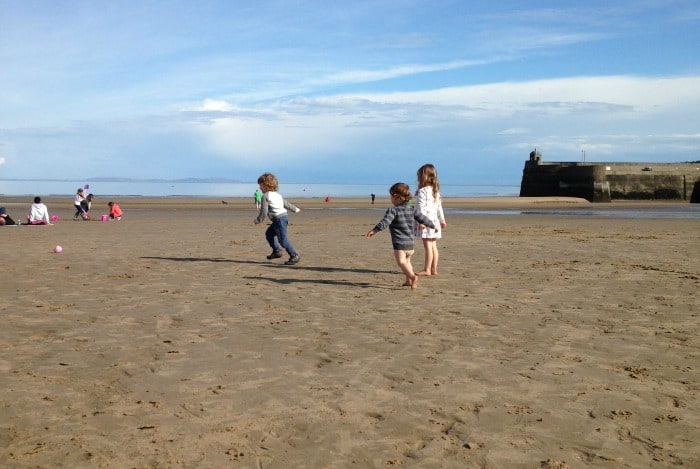 The weather was so kind to us for the whole of our stay, which I am reliably informed is unusual for South West Wales.  We enjoyed warm sunshine and blue skies which was perfect for a day out to Folly Farm with the kids.  I'll fill you in on our visit in another post, but the kids loved it.  It really is a great attraction to visit if you are in the area.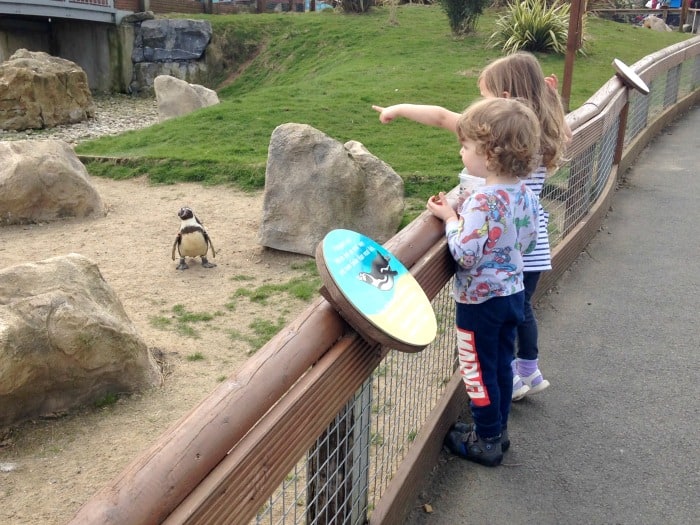 Hiring the Buggy 
By our third day at Bluestone, it was obvious that the girls were getting very tired with all the fun they were having.  There was something about the fresh air in Pembrokeshire that kept them going though.  After Little Pudding tripped over her own feet for the 5th time I decided it was time to go and see about hiring a buggy.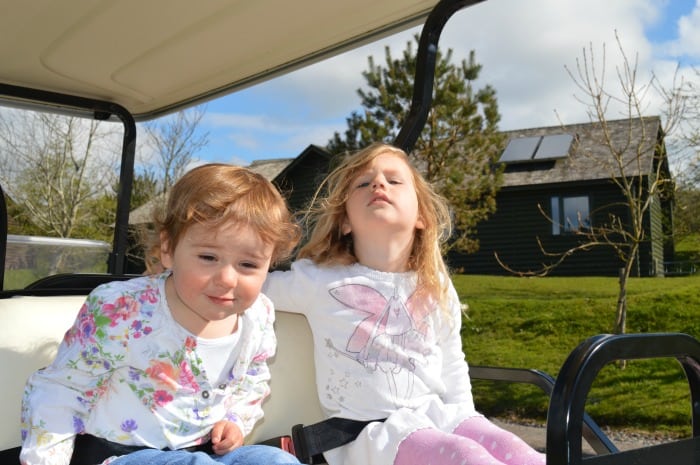 After a quick lesson in operating a golf buggy we were loaded up and good to go.  I have to admit, hiring the golf buggy was a game changer for us.  The girls were delighted with their new ride and there were lots of laughs and giggles coming from the back seat as Mummy navigated her way around the park.  It gave us access to the whole park and saved some very tired legs.  We took a few laps of Bluestone in our new wheels and enjoyed some gorgeous views over the Welsh countryside.  You can also hire bikes at Bluestone and you can catch up with The Pidgeon Pair and Me's experience of getting around on 2 wheels here.
Seeing Friends at Bluestone
Kaz came to visit us with Pickle on Thursday and we were all heading to see the Woody Wild Show in the new village hall.  We were able to pick them up from the car park in our buggy and drive them down to the village hall for the show with Huwei the Hedgehog.  We were all agreed it was a great way to get around Bluestone.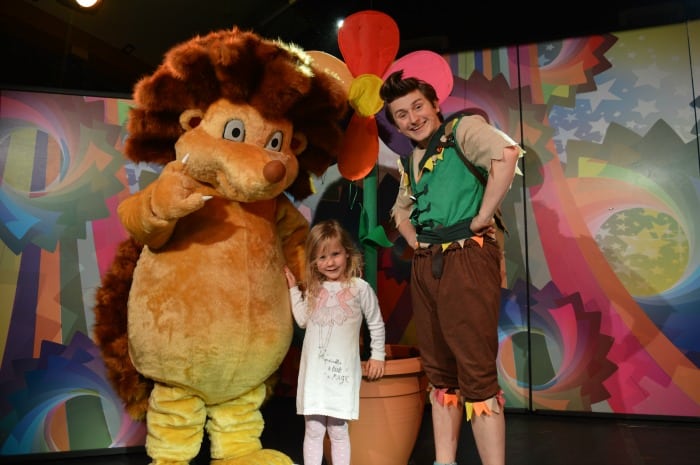 The show was really sweet and perfect for small children.  Huwei is a cute fluffy hedgehog and enjoys sharing woodland facts with his new friends.  The children all loved it, and were able to get involved with the fun and magic.
We headed off for more fun in the Circus playroom and a bloggers lunch at the Wildwood Cafe.  The kids loved the sausages and the parents or bloggers, which ever you prefer, made short work of the chilli beef nachos. After refuelling it was time to get back outside and make the most of the fresh air with another trip to the outdoor adventure play area.  It was something my two would never got bored off.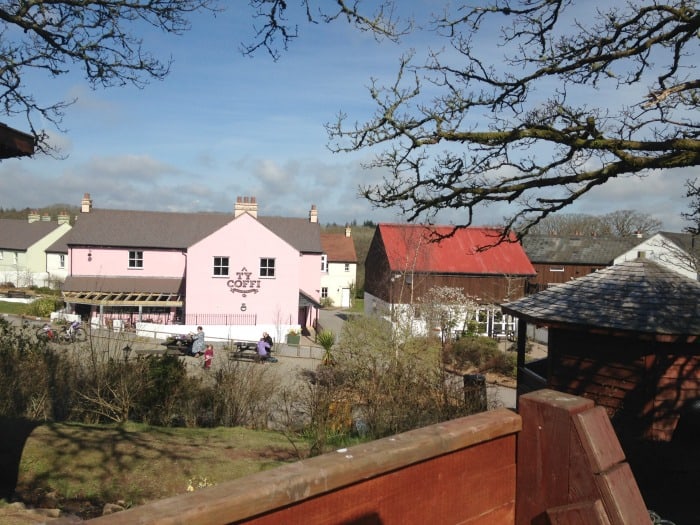 As we had use of the buggy now, it meant we could fit in an activity after tea too.  That hour or so after food but before bed wasn't to be wasted on the CBeebies Bedtime hour when we had Bluestone at our finger tips.  We were able to visit the free shadow puppet show at the village hall and explore the beautiful lake before bedtime.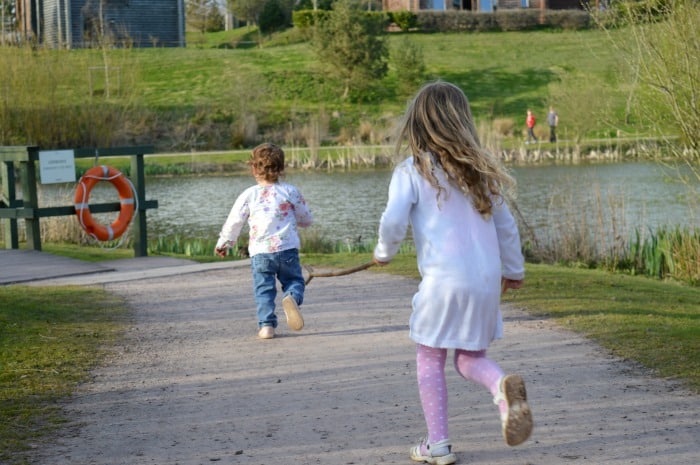 On Friday it was time to pack up and leave.  We were all feeling a little sad, and some of us were a little tired too.  Little Pudding had had an uncomfortable night with trapped wind and had kept Mummy up too.  It meant things were a little behind schedule when it came to leaving but we did get on the road by 10.30 just as the rain was making an appearance in Pembrokeshire.
It was a great holiday experience for all of us.  I have struggled to find a UK holiday where I've really felt like I have got away from everything, but Bluestone really ticked this box for me.  I would love to go back one day, and perhaps Daddy will get to visit with us next time.  I think he would enjoy it too.  He would love the wifi and I think I would be fighting with him to drive the buggy too.
Like the sound of this holiday? Read about our Christmas family break too.
We received a complimentary stay at Bluestone Wales in return for our honest opinion of their family holiday experience. All thoughts and opinions are our own. Contains affiliate links