On the day well left Camp Katur and our little Hobbit House on the Camp Hill Estate we decided we would go and explore Hackfall Woods near Masham.  We thought it would be a nice idea to take a little walk before the 3 hour drive back to Nottingham.
Now, it's safe to say that I didn't do my research very well and I didn't really know what I was letting myself and my 5 year old daughter in for when we pulled into the tiny carpark near Masham.  I thought we were in for a quick stroll, followed by looking at a beautiful 40 foot waterfall and then another quick stroll back to the car.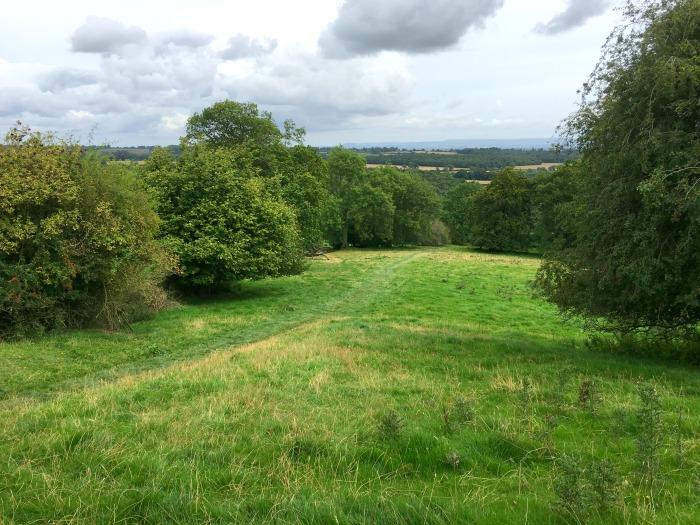 I think you probably already know that it didn't quite pan out that way!  Fortunately, before we left the car I did decided it was a good idea to put on our outdoor boots and I threw a few snacks and drinks into a rucksack just incase we needed to refuel along the way.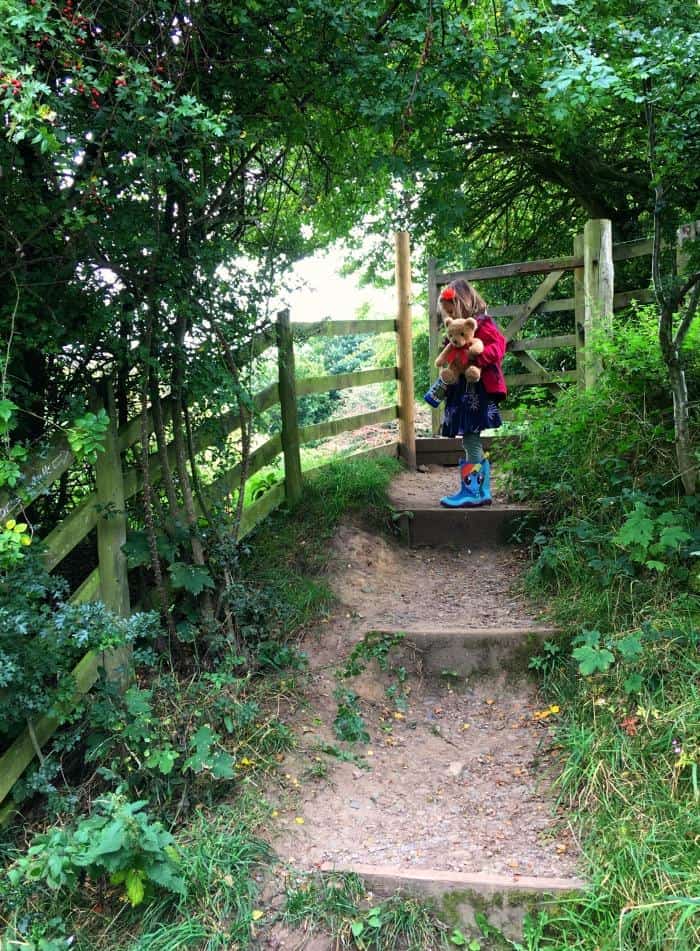 We started our walk and everything seemed to be going well.  The sun was shining and we were both in high spirits excited for what lay ahead.  We spotted a sign that directed us along the short walk to the waterfall.  Feeling in control, we followed the path which ran through the trees and took us to The Banqueting House.  There were some spectacular views along the way and my daughter and I enjoyed playing the 'Going on a Bear Hunt' game when the paths looked a bit muddy or overgrown.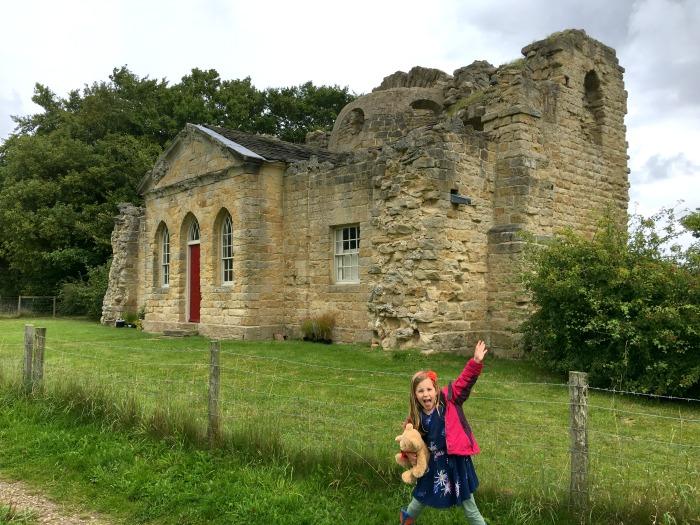 For some reason when we got to The Banqueting House we turned around and went back the way we came.  It felt like we had reached our destination and there weren't anymore signs directing us where to go.  Perhaps if I'd have picked up a map before taking on this walk, the route would have been a little more obvious to us.  There was a map in the Masham car park, which I had taken a photo of, but in our excitement I'd forgotten all about it.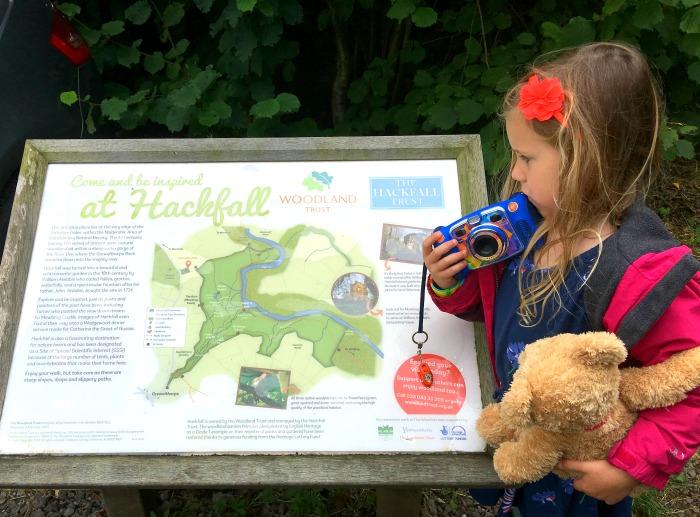 Anyway, we started exploring in the other direction.  We saw lots of walkers around Hackfall Woods so figured we would be OK, no matter which way we went.  I asked some passers by where the waterfall was, and they directed us to the corner of the field we were in.  At this point it became very clear we had no idea how long we would be walking and no real idea of where we were going.
We stubbled across a river on our Hackfall Wood walk, and there were lots of people having picnics on the bank and paddling in the water.  I asked a group of families if they could give us some directions, and they showed us their map.  Hackfall Woods was looking like more of a hike than a gentle stroll and we could have done with following a map from the outset. We took a picture of their map, and headed of in the realisation we had some ground to cover no matter which direction we walked in.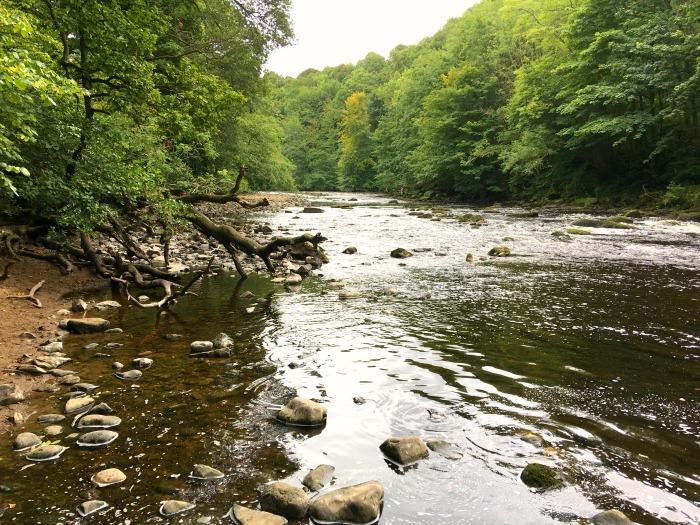 Now, cue another rookie mistake from me!  I missed that there was the 40 foot waterfall and another set of waterfalls at Hackfall Woods.  I picked the wrong waterfalls, and the ones we ended up seeing were pretty small in comparison to the main event.
It didn't matter though, as we had a really lovely hike through Hackfall Woods and we stopped at Kent's Seat near Alum Spring to eat our snacks.  Thanks goodness for that half a packet of biscuits and 2 packets of crisps I packed in my rucksack as without them we would have been seriously flagging at this point.  No one wants to hike with a hungry 5 year old do they, not even me!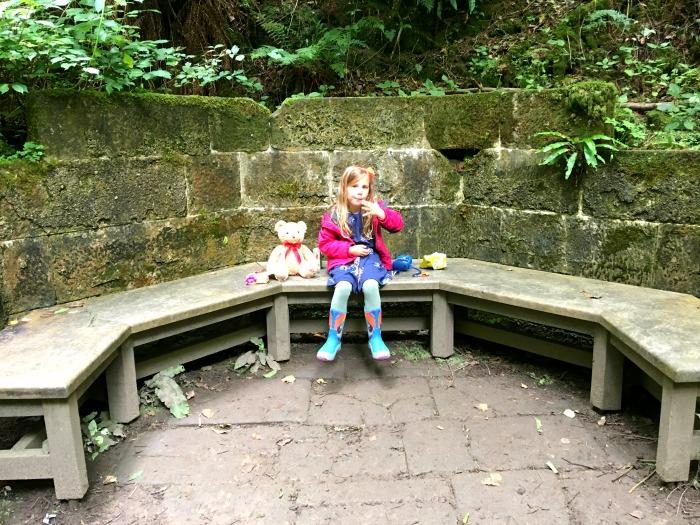 Once we had recharged our batteries a little, we decided to give up on chasing waterfalls (there's a song in there somewhere) and take the route back to the car.  To say my 5 year old took on a fairly difficult hike for the first time and walked for 3 hours without a proper lunch  she did mighty well by anyone's standards. There were minimal moans as we found ways to keep our spirits up during our outdoor adventure.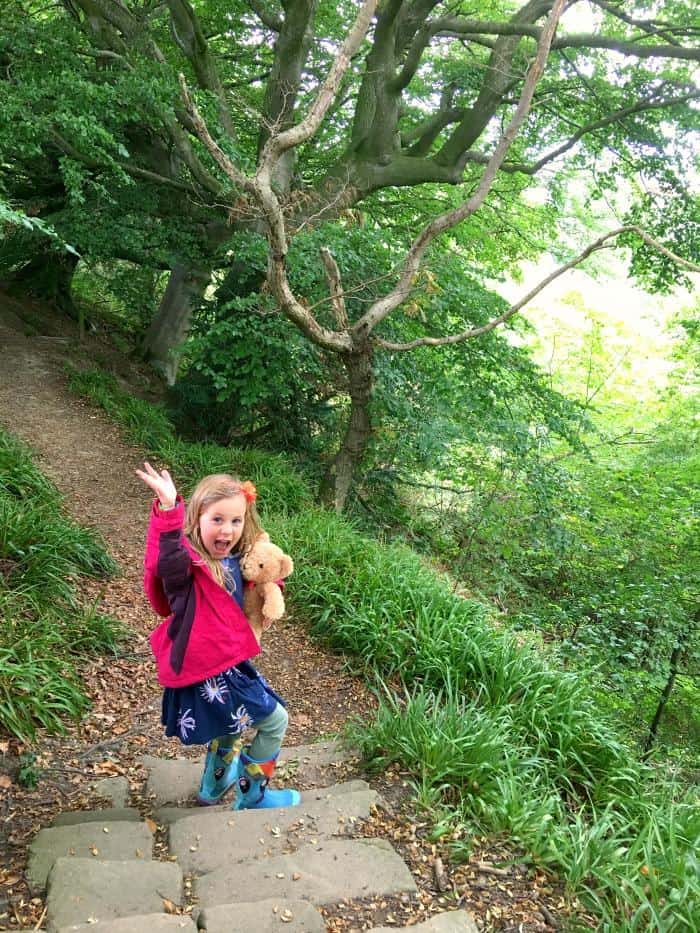 Hackfall Woods is a fascinating place to explore with kids.  We throughly enjoyed our walk there, but if we were to go again we would take a map, a picnic and be a little more prepared!   We would also make sure we went in the right direction for the 40 foot waterfall!
Where: Nearest Post Code HG4 3DE
Hackfall Woods is free to enter.
Find more information on planning your visit click here.
If you'd share this post with your friends and followers you'd literally make my day!
Add this post to your holiday plans on Pinterest: