Have you ever wanted to stay in a Hobbit Hide?  I think it's definitely a dream for most Lord of the Rings fans, and it's definitely possible at Camp Katur!
Glamping has made a really big impact on the outdoor holiday scene and we've been trying it out for size on Zena's Suitcase.  We were lucky enough to be invited to stay in a Hobbit style earth pod at Camp Katur in North Yorkshire recently, and we were very surprised at how comfortable our little Hobbit hide was.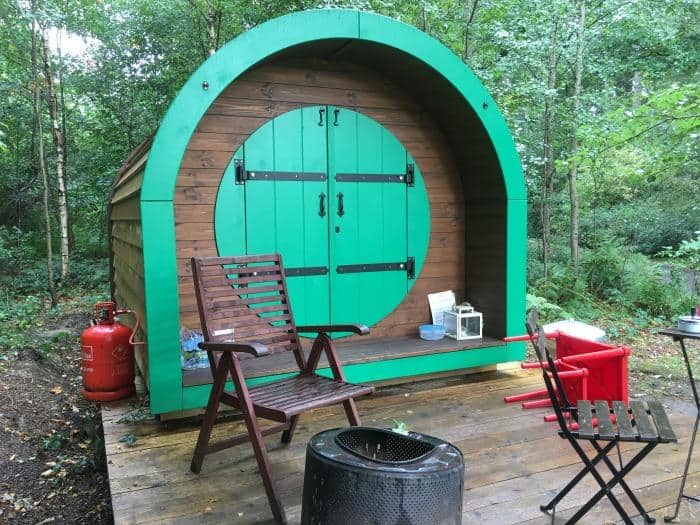 My daughter and I ventured to the campsite near Grewelthorpe in Yorkshire to put the Hobbit pod to the test, but I want to point our that this glamping accommodation would be a perfect place for couples to stay as well.  Unfortunately, child free holidays in the woods are a distant dream for my husband and I but I think we would have really enjoyed staying here, just as much as my daughter and I did.
Our stay in the Hobbit style earth pod convinced me that outdoor holidays can be achieved, even with the unpredictable weather the UK throws at us.  This was the perfect cosy retreat for our stay in North Yorkshire, and all the creature comforts we experienced made for a very pleasant weekend indeed.
A Private Glamping Experience in the Hobbit Hide
Our Hobbit style earth pod was tucked away in the woods away from the main site.  We had everything we needed both inside and outside of the Hobbit hide.  We never felt cold or damp, despite chimes of autumn very much ringing at our hobbit door.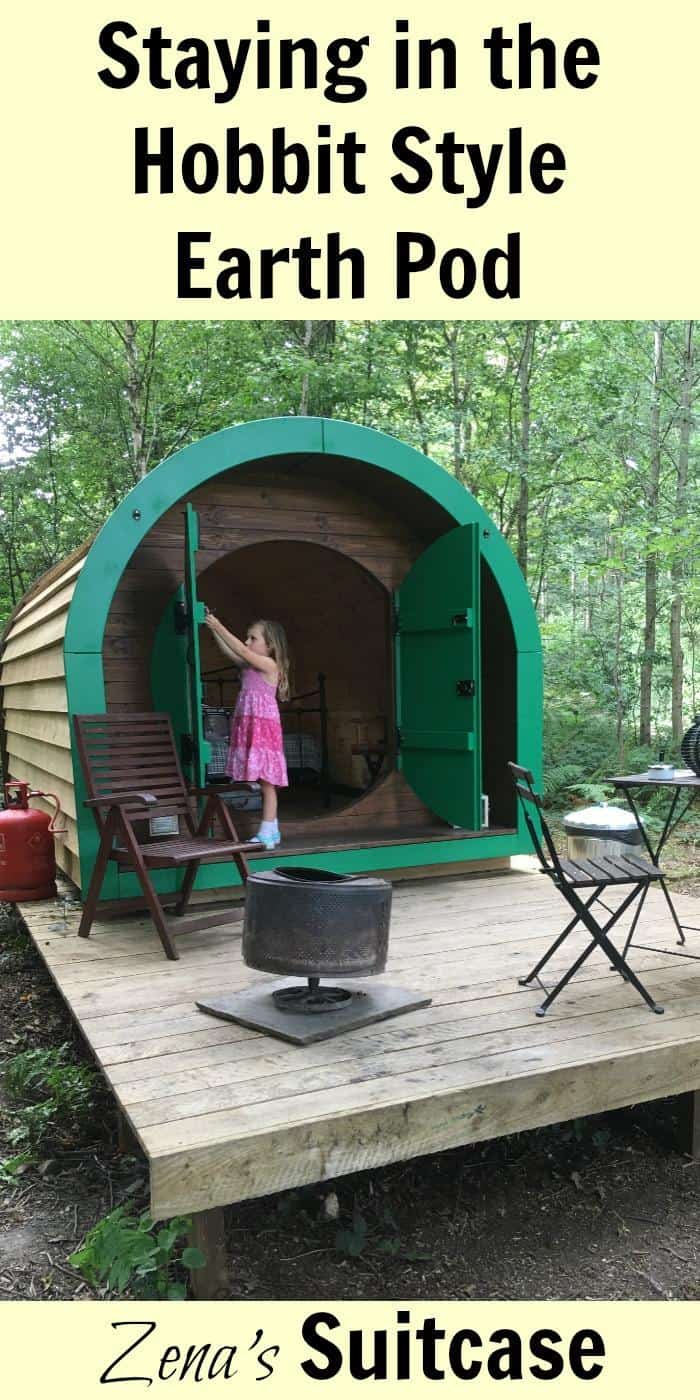 These features went along way to giving us the comfort we love on holiday, whilst still letting us feel in close contact with nature:
The Hobbit style earth pod is elevated above the ground on a wooden platform.
Patio area for outdoor seating and a fire pit.
Porch area to keep the elements away from the hobbit Hide door and store muddy wellies.
Beautifully crafted wooden Earth Pod with Hobbit style round doors.
Despite the small space, the Hobbit hide had some really lovely features.  There's clearly a lot of scope to add features that people love to have when camping.  We even had a BBQ so we could enjoy some outdoor cooking during our stay.
Lots of Creature Comforts in the Hobbit Style Earth Pod
The inside of the Hobbit Hide deserves a very special mention.  Being totally surrounded by wood is always a great way to make you feel in touch with the surroundings, and the craftsmanship The Hideout House Company put into making the Hobbit style earth pod is second to none.  They create the perfect canvas (pun intended!) for a wonderful glamping experience, and we loved all the features that made our stay feel like a home from home.
Large round window to look out at the trees or view.
Perfect size for a double bed.
Ventilation points to prevent damp
Option to fit a gas heater for extra warmth
Can be made even more cosy with fairy lights, lanterns, pictures and mirrors.
When we opened our Hobbit house doors, it looked so inviting.  My daughter was inside faster than a rocket testing out the fairy lights and adoring the sparkly cushions.  I loved how the bed fitted perfectly under the window so we could wake up and go to sleep looking out at the trees surrounding us.
Once we were all tucked up inside the Hobbit style earth pod we could still hear the birds sing and the wind blow between the trees, but we were able to enjoy it inside our weather tight Hobbit house.  That's such a win for someone like me who wants the best of both worlds.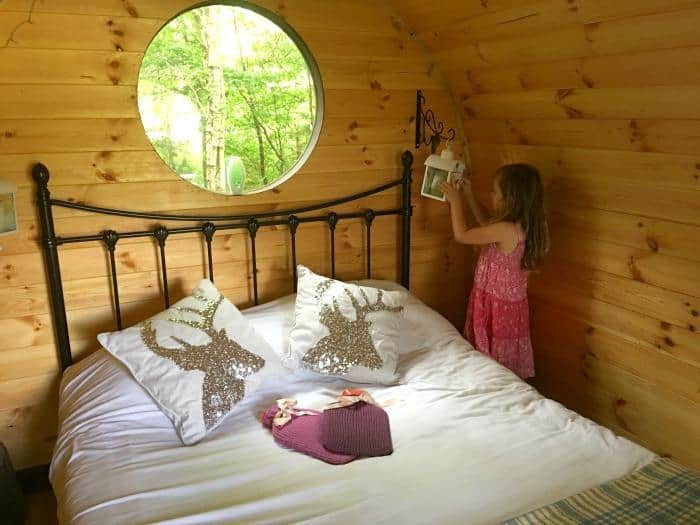 At one point I actually thought we weren't going to experience any rain during our glamping weekend, but then at 6am one morning the good old British weather didn't let us down.  I love to hear the rain when I sleep outside, but I'm not so keen on wet clothes or bedding when camping.  We got to hear the pitter patter of the raindrops without worrying about any of the potential issues that come with it when camping. It was pretty perfect in my book.
All in all we had a fantastic stay in the Hobbit style earth pod at Camp Katur.  We loved how it was made and all the finishing touches that had been added to it.  Sleeping in a proper bed was amazing too.
We very much enjoyed the experience of being close to nature, but without having to pack the car to rafters with camping equipment.  I personally did not miss pitching a tent or blowing up air beds either.  We were able to just get on and enjoy our time in North Yorkshire and at Camp Katur during our short getaway, which we thoroughly enjoyed.
We were provided with a complimentary stay at the Hobbit style earth pod (Hobbit Hide) at Camp Katur in exchange for a review of our stay but all thoughts and opinions are our own.