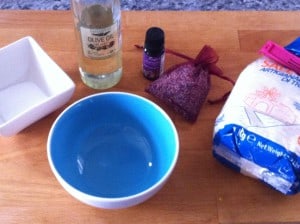 I'm now 32 weeks pregnant and things are getting really hard.  I feel like I'm wading through treacle constantly.  A short walk to the shops is a major battle with Braxton Hicks firing shots at me all the way.  I'm definitely getting in loads of deep breathing practise, it will be a matter of course when labour day arrives.
Trying to aid and abet some kind of relaxed state has become increasingly important as the strain of this pregnancy increases.  I decided to make myself a little bathtime treat this week that really did work wonders.  I thought I'd share it with you as it's so easy to make and would help anyone needing a little stress relief, pregnant or not.
I love lavender and as the very lovely Rhiannon from Devon Road Babies put some in my Essential Labour Bag it was definitely time to put it to good use.  The other thing I struggle with in pregnancy is moisturising.  I find that if I can somehow get it done in the bath it saves a whole heap of trying to reach the parts us pregnant ladies just cannot reach in the final trimester.  This little recipe made just the right amount for one bath, so no need to worry about what to store it in.  If you want to make more, just apply the ratios to create the desired amount.  It would make a lovely homemade gift.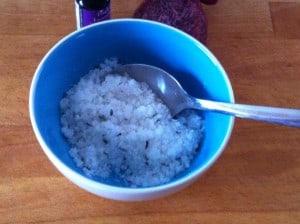 Here's how to make lavender and olive oil sea salt body scrub:
Ingredients:
2 tablespoons of sea salt
2 tablespoons of fine salt
1 teaspoon of olive oil
6/8 drops lavender oil
A pinch of fresh lavender
Mix it all together in a little bowl when your ready for your relaxing bath and voila, a lovely homemade moisturising scrub for anyone in need of a little r & r.
I'm going to be whipping this little mixture up a few times over the coming weeks.  If you give it a try, I'd love to hear from you.