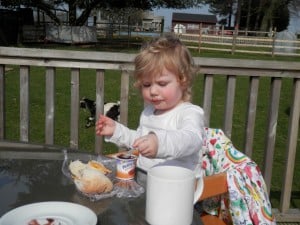 Isn't spring a lovely time of year?  Everything starts to come back to life as the winter hibernation draws to an end.  Despite some grey days this week spring has made a reappearance just in time for the weekend and it coincided perfectly with the reopening of Floralands Farm Park in Nottingham.
This was our first ever visit here.  I can't believe we haven't been before as it's a fab place to take little ones.  I know what your thinking, Princess goes to the farm AGAIN!  But she really does love animals and I've always preferred steering her in this direction rather than towards more gender specific likes or activities.
We started off in the coffee shop.  What a great idea if I do say so myself.  We sat outside on the patio and enjoyed coffee and cake over looking the goats.  One cheeky little billy ran off with a baby's shoe.  The kind staff soon helped retrieve the shoe with some gentle cajoling and a more desirable grain like food option.
The queues were a little long for making orders and maybe they need to get a few more seasonal staff in, but the cake was worth waiting for!  Princess had a little snack box which she was more than happy with when she discovered the chocolate dessert!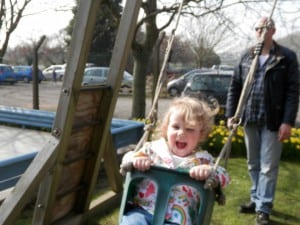 After our pit stop, it was time to hit the farm.  It was £3 each including Princess which I thought was reasonable.  There was a picnic area so next time we'll take our own snap.  Princess had a play first.  The swings, ride ons and climbing frame were perfect for her.  She was reluctant to leave until she realised what was next.
We were soon off for the usual feeding of the animals that Princess never gets bored of.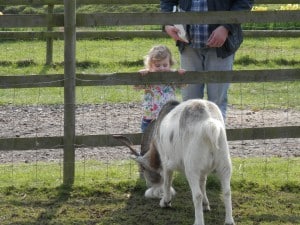 We stopped off at the goats and the sheep.  They have Llamas at Floralands which was a new one for Princess.  She loved feeding them and experimenting with this new animal word she had learnt, over and over again!
We came across an interesting feature on the landscape as we explored the FarmPark a little further.  I think this has to be recycling at it's best!  I wished I'd have had the chance to ask the staff a little bit more about it.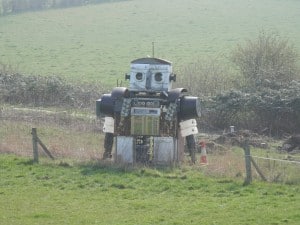 The pigs were a real treat for Princess.  We haven't seen any for a while.  The ones at Stonebridge City Farm went off to the big slaughterhouse in the sky sometime ago.
The advice from the Farm was to throw the food in and stand well back when it came to the pigs.  These pigs were way past eating though, as Princess will tell you…
What are the piggy's doing Princess?
Find out if you know what the piggy's were doing here.  There's a very cute moment in it for you 😉
So after all this animal fun, there was one last play on the park.  We made the mistake of letting Princess loose on the big climbing frame.  Of course she wanted to do everything the big kids were doing instead of listen to Mummy and Daddy so she had to be removed before a minor (or major accident) occurred.  Yes, there were a few protesting tears, but Daddy had it all under control.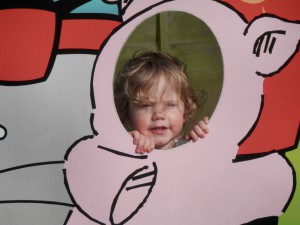 There was time for one last cute piggy picture before we left but Princess would have been very happy to stay for the rest of the day.  Unfortunately Mummy needs to get home and have a rest after keeping up with all these farm shenanigans!
Don't worry though Princess, we'll definitely be visiting again and maybe we'll take Granny and Grandad next time.