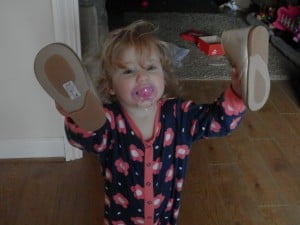 Princess and I have been lucky enough to be sent this lovely pair of Emel Shoes so that we can let you know what we think.  This couldn't have come at a better time for us.  I've become a little disappointed with our regular brand recently.  It seems they are producing more and more fashionable shoes and the quality isn't what I have come to expect from them, especially for growing feet.
I've always invested in good shoes for  Princess.  Princess's little feet are growing so much and they need space to develop properly.  I know there's a lot of Mummy's out there that worry about getting shoes right for their little ones.  It's really important and getting it wrong can cause all sorts of problems, not just with the feet, later on.
I also need to mention just how much Princess loves shoes.  She is very particular about her footwear and gets very excited over a new pair of 'bootsies'.  She often empties the shoe cupboard trying each pair on one by one.  We had a look at the Emel Shoe range online together and it was almost as exciting as reading her Peppa Pig book!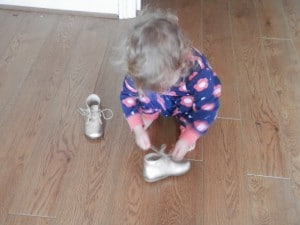 She got to the box quicker than I had planned and came  proudly showing off the new shoes that had arrived.  I had to make a quick grab for the camera to get these shots.  She wouldn't eat her breakfast until she was wearing her new shoes.  They weren't a great match for her onesie but they were clearly a hit.
Each pair of Emel Shoes comes with a lifetime guarantee and they are handmade from Italian Leather.  I've given them a good close inspection and the stitching is perfect.  They are a great shape allowing Princess to wiggle her little toes.  I was particularly impressed with the comfort support at the top of the shoe, but even more so with the arch support inside that you don't often see in children's shoes.
The laces are just the right length to get a nice double knot and the fit and shape of the shoe when fastened is excellent.  Princess is slightly obsessed with taking the laces out when she isn't wearing them.  She really wants to be able to thread them herself.  Perhaps this isn't such a bad thing as she gets to a point when we can teach her how to tie a bow.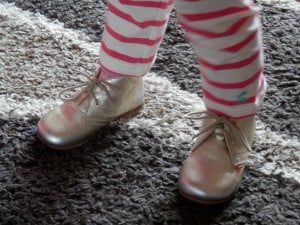 Princess has asked to wear these shoes everyday since they arrived.  She loves the colour  but I also believe she finds them really comfortable.  I've checked her feet and there are no signs of rubbing or redness so the shoes aren't pinching at all.  She's completely happy running and playing in them and the leather gives naturally with the movement of the foot.
They look great with leggings,  jeans and dresses.  This style is great for spring when it's still a bit cold for sandals.  We've had no scuffs yet, but then she has only had them a week so I can't say they have felt the full force of a toddler in action just yet.
We were very fortunate to be provided these shoes to write this review for
Emel Shoes
.
Princess and I are really happy with them and our only regret is that we didn't come across Emel sooner as they really seem to be taking healthy foot development seriously.  I will definitely be looking at the summer sandals for Princess and I'll also be looking to Emel for the next pair of 'first shoes' we need when the time comes along for our new arrival.  I can honestly say these shoes are fit for all little Princesses and the boy's range also looked great, so your little Prince won't be left out either!