Pet Parade Carry Kit
My 3 year old has been a little bit difficult recently when she has had play dates with her friends.  She's at that stage where she is learning all about negotiating her relationships, whilst at the same time trying to understand all the emotions she experiences.  This interesting stage has led to a few squabbles with her friend, some incidents of shoving and some unnecessary comments like 'I'm not your best friend'.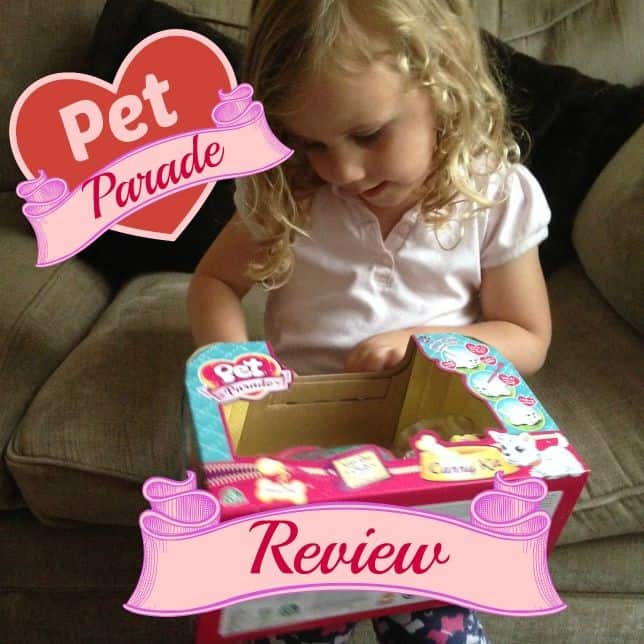 On the way to our most recent playdate, I told Princess that there needed to be an improvement in her behaviour.  She needed to be kind and friendly, and if she did, there would be a lovely surprise for her.
For the whole play date she got along with her friend, and there were no physical altercations and almost no crossed words.  It was a stark improvement on her previous play dates.
A Lovely Surprise
As promised, a lovely surprise was waiting for her when she got home.  She sat on the sofa and closed her eyes patiently while I retrieved the Pet Parade Carry Kit from it's hiding place.
Immediately she was impressed with the 'cute dog' and could not wait to get the Westie and all his accessories out of the box.
The Pet Parade Carry Kit comes with a pet dog, in this case a Westie.  He has a carry bag to be transported in, along with his grooming brush, bone, bowl and walking lead.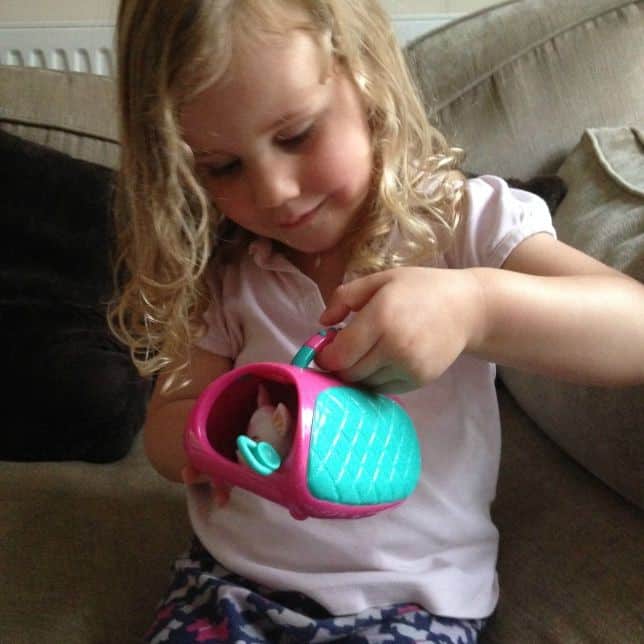 She was attached to him immediately.  He was a very life like Westie, with a wagging tail and moving eyes.  She loved the idea of having a little dog she could look after and take for walks.
The bone and the lead attach to the Pet Parade Westie with magnets, which give him a really realistic feel.  It also makes it really easy for a 3 year old to play with him.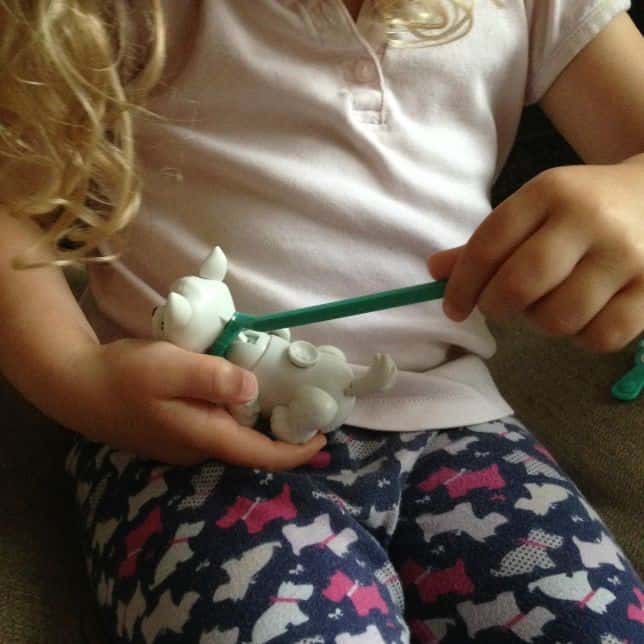 After he had been fed for the night, her new doggie friend was not leaving her sight.  Westie had to go to bed with her and she was making big plans for him.  Her new Pet Parade Carry Kit was going to go everywhere with her.  She definitely wanted to take him on holiday with her.  He would be going to the beach, and in the pool.  The Pet Parade Carry Kit looks like it's going to be getting about a bit.
A Big Hit
The Pet Parade Carry Kit was instantly a big hit, and appealed to Princess's nurturing side immediately.  She feeds him every day and we talk about what care a dog needs to stay healthy and happy.  It's a great learning experience for her, that is really fun and cute too.
There are 9 dogs in the Pet Parade collection altogether, including a dalmation, a black labrador and a yorkie.  It's a really collectable toy, for little doggie fans and would make a lovely gift or birthday present idea for a little girl aged 3 and upwards.
The RRP is £14.99 for the Pet Parade Carry Kit, which is reasonable for this collectable toy.  It's really well made and will with stand being carried around regularly by it's new young owner.
It's the kind of toy, that is someone was asking me for an idea of what to buy my 3 year old for a birthday or Christmas present, I'd happily point them towards the Pet Parade Carry Kit or dog collection as I know it will be very well received.
We received a Pet Parade Carry Kit in exchange for this review but all thoughts and opinions are my own.