There's nothing like saving the best till last is there, and York's Chocolate Story was definitely a highlight from our weekend in York.  I've shared posts with you all week about our trip to Diggerland, our stay at Travelodge York Central and even some free things to do in York but you cannot pass through this beautiful English city without popping into York's Chocolate Story.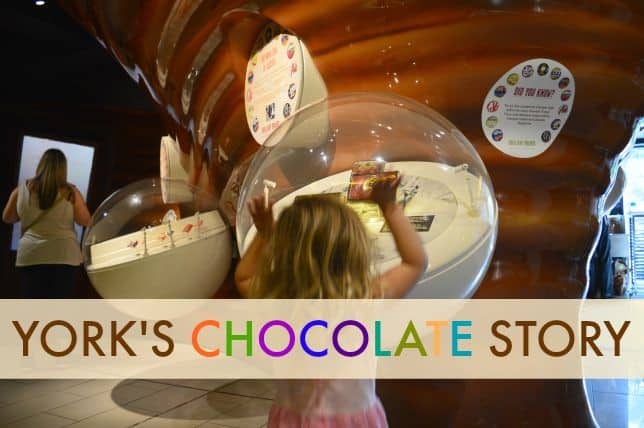 Chocolate has played an important role in English history and in shaping the city of York. There's no better place to learn all about the Rowntree's and Terry's than York's Chocolate Story, especially if you're a die hard chocolate fan.
We had booked on the first tour of the day, at 10am when the attraction opened.  This was purely strategic on my part, as I knew there was going to be a fair amount of chocolate tasting and our 3 year old would have the rest of the day to burn off all the chocolate energy she had consumed.  It would power her up for a day's sight seeing around the city and the National Railway Museum nicely.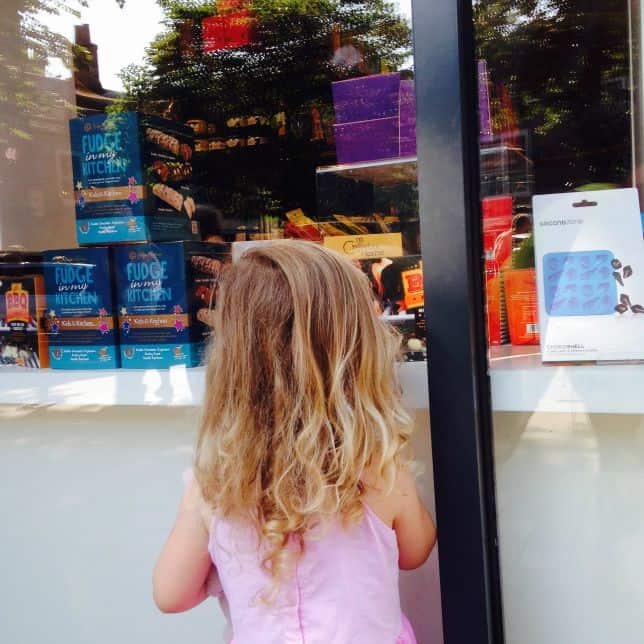 It's fair to say she couldn't believe her eyes when she saw the window full of chocolate goodies, so she was very excited about what was in store.
The first tour of the day wasn't too busy at all, and it was fine taking a 3 year old and a 1 year old in a pushchair around York's Chocolate Story.  Later tours seem like they are a little busier, so that be something you want to bear in mind when visiting.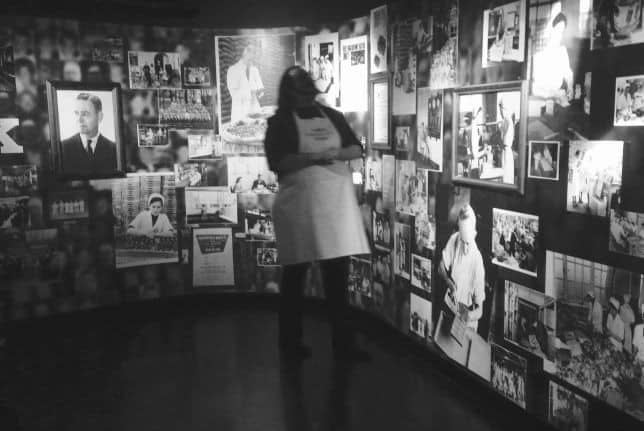 We were collected by our York's Chocolate Story guide, who took us through the floors of the attraction and shared with us his amazing knowledge of chocolate and the history of York.
The story of chocolate and how it improved lives for the poorest members of society is one that I have long been fascinated by.  The founders of chocolate production in England were mainly Quakers, and they developed a product that not only sold well but dramatically improved the lives and well being of it's work force.
Before it could do any of that though, we learnt about chocolates origins beginning in the rainforests of Central America and were treated to samples of how chocolate would have tasted back then.  If dark chocolate is your thing, you might like these early tastes of exotic chocolate.
The guide was clearly passionate about York's Chocolate Story and made the  tour more interesting by asking questions and getting everyone to join in.  As well as imparting his own knowledge, there was a film and interactive clips from famous chocolate makers throughout York's history.  This helped bring the story of chocolate to life.
A few of the clips and interactive parts of the tour, didn't quite work, which was a shame.  It didn't spoil the overall enjoyment of the tour, but they seemed like things that could easily be fixed.  I'd really love York's Chocolate Story to improve these minor technical hitches, to make a seamless experience for visitors.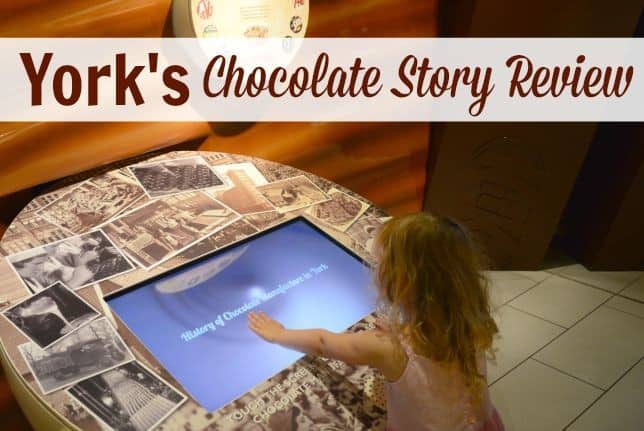 The final floor is definitely the most interesting, certainly if your visiting with small children.  Here we had a go at learning how to taste chocolate properly and found out things like KitKat was considered the most influential chocolate bar of all time.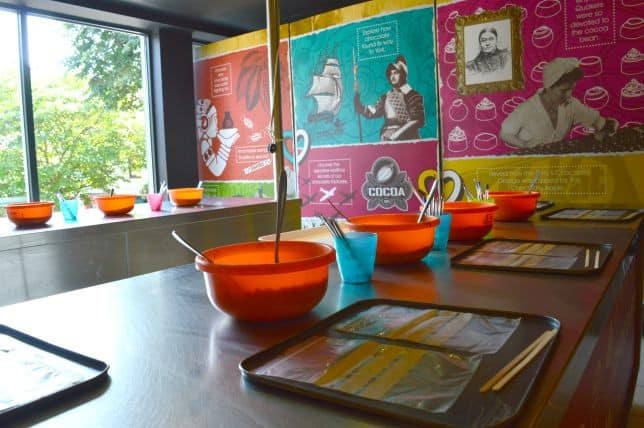 Then came the part of York's Chocolate Story that we had all been waiting for.  We got to make our very own chocolate lolly with freshly made chocolate.  I think we were all transported into chocolate heaven at this point.
This was definitely Princess's highlight and she got the biggest lolly of all!  We decorated them in lots of lovely chocolate yumminess before they headed of to the fridge and we finished the tour learning how chocolate was made by hand, and why you should never keep it in the fridge.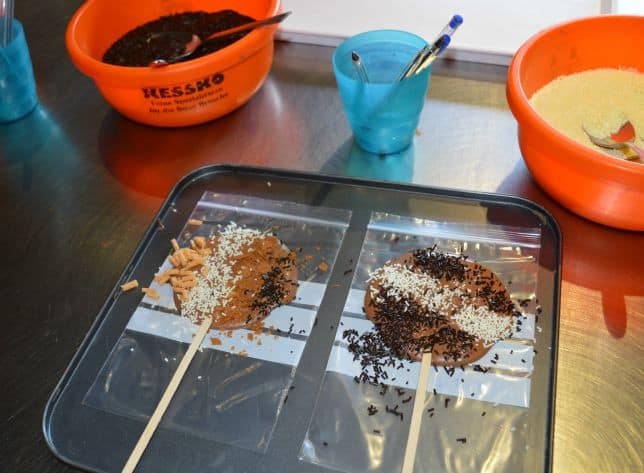 By the time we were finished our chocolate lollies were ready and we headed down to the shop and cafe downstairs.  If you like chocolate this is the perfect place to stock up.  They have every possible flavour imaginable.  It would be the perfect place to pick up some gifts for taking home after your holiday in York.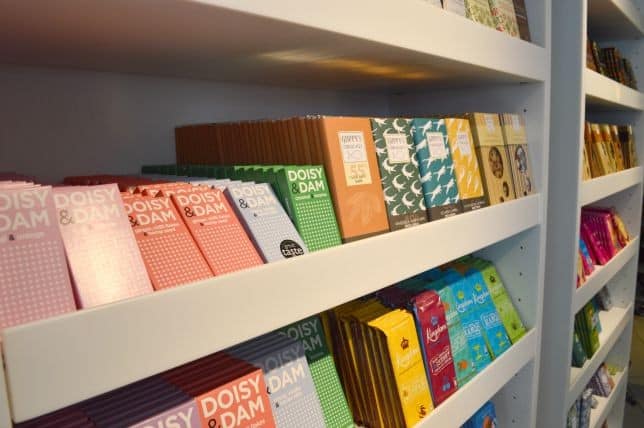 We enjoyed our visit to York's Chocolate Story which lasted about an hour in total.  If you like chocolate and you are interested in it's place in York's history I think it's a tour you would enjoy.  If your looking for ideas for hen parties or birthday parties in York, this would be a lovely thing to do as it has appeal for everyone.
Our favourite part was making the chocolate lollies.  We found a bench outside York's Chocolate Story in King's Square and tucked into ours as we watched the first street entertainer of the day start his act.  Boy it tasted good, and our 3 year old was very impressed.  She also managed to walk all the way to the National Railway Museum without riding on Daddy's shoulders!  That's chocolate power for you.
Adult tickets to York's Chocolate Story are £10.50 each booked online.  Under 4's are free, and children cost £8.50.
We were provided with complimentary tickets to York's Chocolate Story in exchange for this post, but all thoughts and opinions are my own.