During our recent weekend holiday break in York, we were lucky enough to be invited to Diggerland in Castleford.  I've seen a lot of blog posts about Diggerland over the last year, and was really intrigued as to what it was all about.
I know what you're thinking.  I have daughters, and are they really going to enjoy an action packed day driving JCBs at Diggerland.  Well the answer to that is yes, they loved it.  And here's why…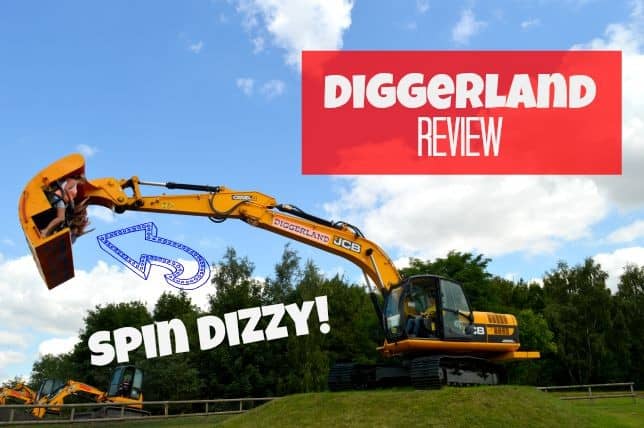 Diggerland Is Different
You just know that an adventure park involving heavy machinery is going to be a bit different, and I was really impressed with the rides, even if I wasn't brave enough to go on some of them.  One of the first things you see at Diggerland, is Spin Dizzy (pictured above), which looks a whole lot of fun.
This is a JCB, placed on a hill, with seats in what would be the excavator scoop under normal conditions.  You sit in the scoop (I'm really not sure what the technical name is, so please forgive me!) and your Diggerland driver spins you like crazy, this way and that, for what looked like a very thrilling ride.
Now, we didn't go on Spin Dizzy because the girls are far too small, but there were loads more rides and activities for them to enjoy.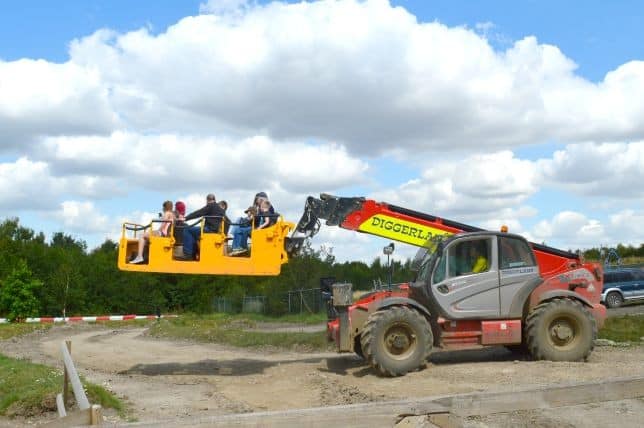 Instead, Daddy and Princess took off for a ride on Ground Shuttle.  This was Diggerland's off road JCB experience.  They had a fab time enjoying the beautiful views over the Yorkshire countryside, while Little Pudding and I waited for them to come back.  It looked a lot of fun from where we were standing.
Diggerland Is Great For Family Time
One thing we really enjoyed about Digglerland, was how interactive it was.  It was really hands on.  We could drive and operate real Diggers, and really share the experience with the children.
Because Princess is 3, most of the rides she went on she was either with me or Daddy.  This really leant it's self to a quality experince for her.  I don't think she is going to forget digging big holes with Daddy anytime soon, and Daddy really loved showing her how these things worked.  There was a lot more learning at Diggerland than you would normally get from a typical theme park.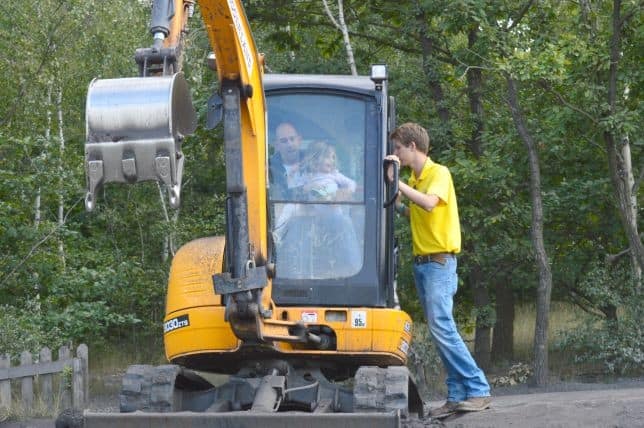 The staff were really friendly and helpful when it came to showing them how to control the different rides.  There was a minor incident of stalling, and Daddy swears it was something to do with his truck.  I know, that old chestnut!  There was soon help at hand to get them on the move again though.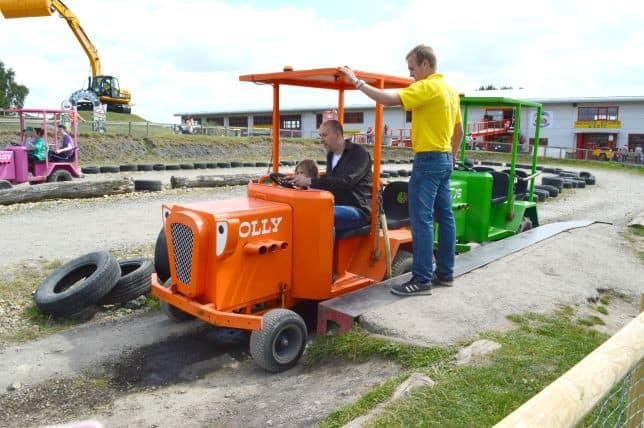 As well as driving the machinery, you could use them for a game of ten pin bowling, or even hook a duck.  Diggerland have really let their imagination run riot with this adventure park, which means we all had a great day out experience.

Diggerland Has A Train Too!
If you didn't know already, Princess loves trains. Imagine how happy she was when she realised Diggerland had their very own train.  She was the first in the queue, and she made sure she bagged the front seat too!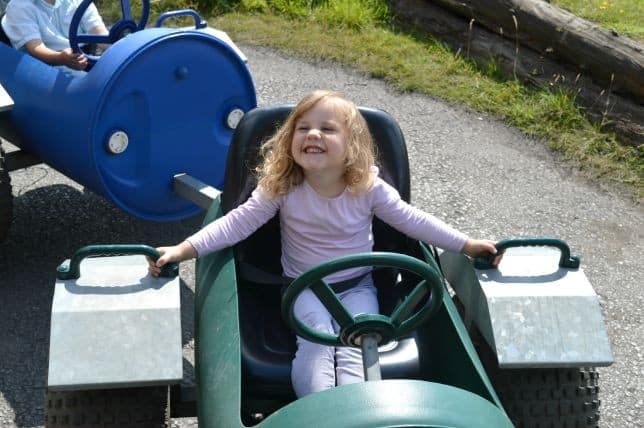 You can tell how happy that made her can't you!  I was sat on the back of the tractor that was pulling the train, so could see first hand how much fun she was having.
The Diggerland train, follows a track where you get to spot lots of dinosaurs.  Another favourite for Princess, and lots of other children I can imagine!  It was nice that she was able to enjoy this part of her Diggerland experience a bit more independently and loved driving her very own wagon.
Soft Play At Diggerland
When we arrived at Diggerland, it was the girl's lunchtime.  I'd made the obligatory pack lunch for our trip, and decided we should tuck in as soon as we arrived.  We headed straight for the picnic and soft play area, which both the girls loved.
There was plenty of seating for people to use to have their lunches, and the soft play area was really big.  It was a lovely sunny day, so it wasn't too busy.  It was great that the toddler area was in a separate part of the room.  We found that the older children were less tempted to go and play in it, which was great for Little Pudding to enjoy it with out fear of being pushed out of the way by bigger children.
I think this was genius on Diggerland's part, as when we have been to soft play to often where the toddler area is attached to the area for older children, and the big kids can't help but take over the space meant for the babies to play in.
Diggerland Tickets And Prices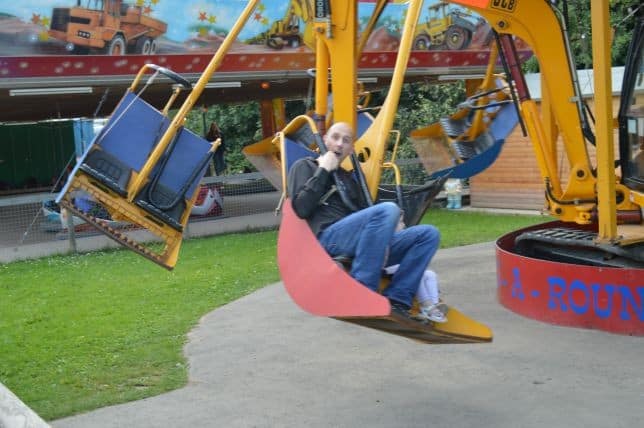 Diggerland has a really simple pricing system.  If you buy tickets on the door, adults and children over 90cm tall are £19.95.  Children under 90cm tall are free.
If I was to go again, I would buy tickets online.  You can prebook your tickets through Diggerland's own website.  Adults and children over 90cm tall are then £16.99.  This is definitely the best option for your day out.
If your child is a JCB fan, they will love Diggerland, and it will be well worth the money.  You will easily spend the whole day there, and I bet all Dad's will love it as much as our Daddy did.  It is a really different and unique experience, and I'd recommend you go at least once as you are guaranteed to have a lot of fun.
We were provided with complimentary entry to Diggerland in Yorkshire in return for this post, but all views and opinions are our own.