It's all happening with Dora and Friends on Nick Jr. this summer.  A little bird has told us that you can catch up with Dora and Friends Sing Along music booth at Smyths Toy Superstores and various Sky locations across the country.  It promises to be a whole heap of fun for Dora fans who can sing, dance and even share their cool videos with their friends.
While you're little ones are waiting for the Dora and Friends Sing Along music booth to arrive, they can still catch up with the fun on Nick Jr. where everyday there is a chance to sing along with with their favourite shows.  Between 10am – 1pm, Nick Jr are showing Dora and Friends, Peppa Pig, and even Alvin!!! and the Chipmunks with lyrics to get your kiddos in the summer mood, even when it's raining outside!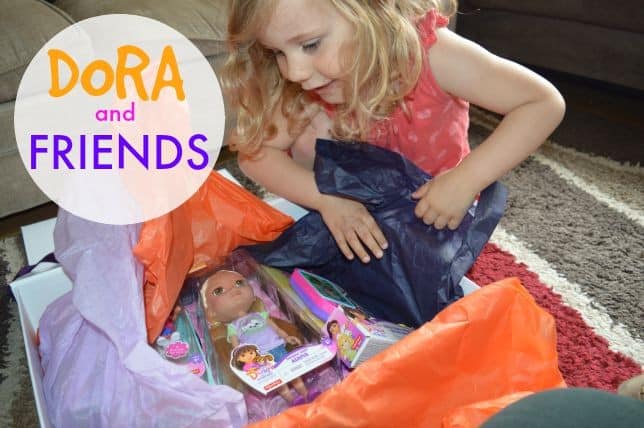 To help us celebrate a very special box arrived for Princess filled with Dora and Friends goodies for her to try out.  This was a little girls dream surprise all in one box.  Who needs Christmas when parcels like this arrive.
She had to be a very good girl indeed before this was allowed to be opened.  Not that Mummy had a sneaky peak at what was inside or anything, but I did know she was going to love everything that had been sent for her.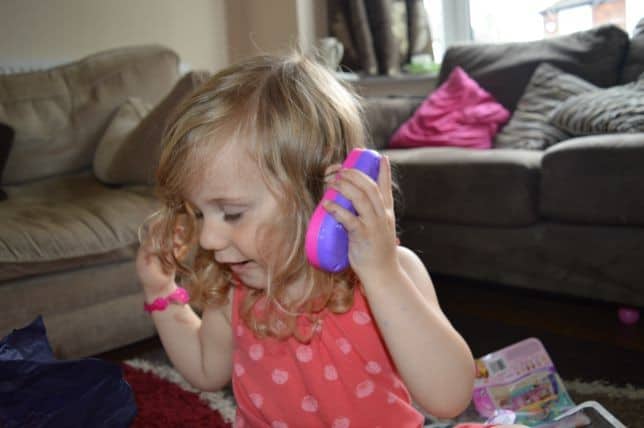 Dora and Friends Talk & Play Smartphone
The Dora and Friends Talk & Play Smartphone was the first out of the box.  With mobiles being such a feature in this house, she likes to pretend she's talking to Daddy and finding out what  he's doing at work.  She even talks to him on the phone when he's in the same room.  She does make me laugh.
The phone is bright and colourful, with pictures and flashing lights.  It says all of Dora's favourite phrases and plays tunes.
I couldn't help feeling they could have done more with it.  Perhaps a few more buttons to press or have a different screen, but it's simplicity is what appealed to my daughter.  She would say it was perfect for a young Dora and Friends fan.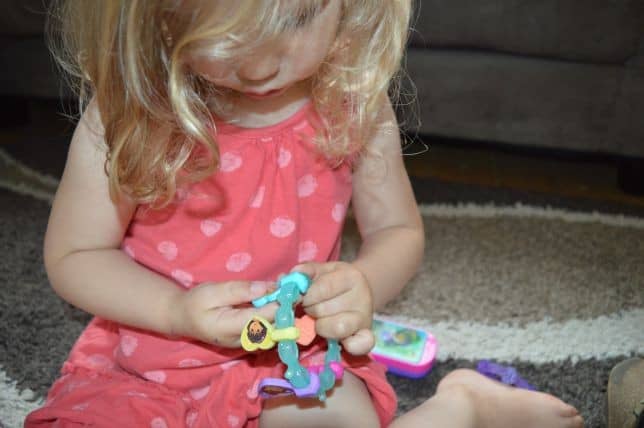 Dora and Friends Charm Bracelets
The biggest hit was the Dora and Friends Magic Charms Bracelet and Dora and Friends Figure and Charms pack.  They contained lots of charms, a camera, Dora's bag, a ballon, and lots more besides, to add to the fashion bracelets provided.
They also came with a special friendship bracelet with Dora and her friends on.  Princess loves wearing these, and trying out the different charms.  She won't get bored making different designs as the packs contain an excellent variety to chose from.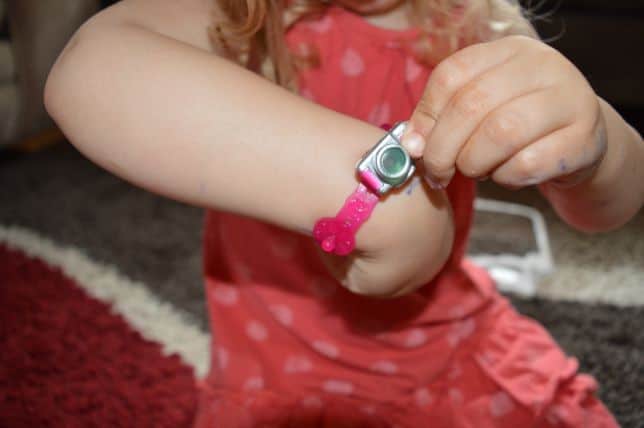 We have kept these for playing in the house at special times, when her little sister is asleep as the parts are very small and do come off quite easily.  It's helping her appreciate the toy more though, and helps us not lose the parts so easily.  An older child would probably manage a little better with them.
Dora and Friends 8″ Dolls
Princess  received not one, but two Dora and Friends dolls in her exciting parcel.  Doggie Day Alana and Dora both come with their own dog charms that can be added to the bracelet charm collection.  Dora is wearing her very own charm bracelet too.
These Dora and Friends dolls have definitely been a hit with Princess too.  She seems to be favouring dolls more over cuddly toys at the moment, as her imagination and role play starts to develop.  She's been having lots of fun with Dora and Alana, including them in her little adventures.
If you have a Dora and Friends fan in your house, these toys from Fisher Price will definitely fuel their imagination and appeal to their sense of real world adventure.  If you want to catch more of the Dora and Friends fun here's where the Sing Along music booth will be touring this summer.
If they have been very good this summer holidays, why not treat them to a Dora and Friends gift while your there.  I can guarantee you will make their day!  And you might get a little peace and quiet too.  I've even been able to grab a cuppa while Princess has been making her charm bracelets.  Now that's unheard of in this house!
Smyths Toys
Waterfields Retail Park, Watford (Dora Costume Character)  – 27th July
Westwood Cross Shopping Park, Thanet  – 28th July
St. David's Retail Park, Swansea – 29th July
Crown retail park, Leeds (Dora Costume Character) – 31st July
Clifton Moor Retail Park, York (Costume Character) – 3rd August
Ravenhead Retail park, St.Helens  – 5th August
Halls Mill Retail Park, Bury – 6th August
Middle Engine Lane, Wallsend – 10th August
Glasgow fort shopping park, Glasgow (Costume Character) – 12th August
Beach Boulevard, Aberdeen (Costume Character) – 14th August
Sky Stands
Brent Cross, London – 18th19th July
Centre MK, Milton Keynes – 25th– 26th July
White Rose, Leeds  – 1st– 2ndAugust
Intu Eldon Square, Newcastle  – 8th– 9th August
Bon Accord, Aberdeen – 15th– 16th August
We received a box of Dora and Friends Toys in exchange for this post but all thoughts and opinions are my own.