If you saw my letter to my daughter for her 6th birthday, you have probably twigged that Indie has been celebrating this week. The excitement has actually been brewing for weeks, as her 6th birthday party was actually the week before her actual birthday. We arranged it this way as we spent her birthday at the lovely Darwin Forest surrounded by snow, but I'll share more about that in another post. She's still super excited as she knows her Grandparents are coming to visit her this weekend, which of course means more presents.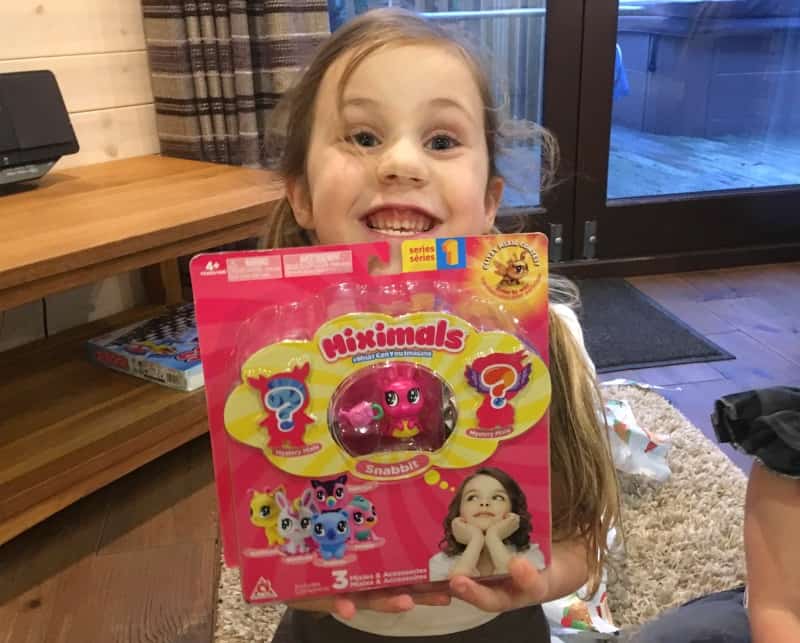 Having a very excited little girl in the house for two or three weeks is starting to wear thin now, but one thing I can categorically state is she has loved every minute of it. We do like to make a fuss about birthdays, and she has loved all the presents she has received so far. Seeing as they have been such a big hit with her, I thought I'd share her favourites in case you were looking for birthday present ideas for a 6-year-old girl. I think you will find lots of inspiration here. If you are thinking about going a little bit more personal for your little one, you could look into something like picture blankets or a doll with their name on it, perhaps their first piece of personal jewelry that can be with them for years to come. There is a lot that can be given, you just need to know where to look.
Great Birthday Cards for a 6 Year Old
My daughter loves Disney Princesses and Hallmark offer an excellent range of birthday cards with all their favourite characters on. We were particularly inspired by the Beauty and the Beast cards but we also love the little Itty Bitty Disney characters too. The Hallmark cards teamed up with a cute Elsa or Belle Itty Bitty make a really cute present idea for little girls.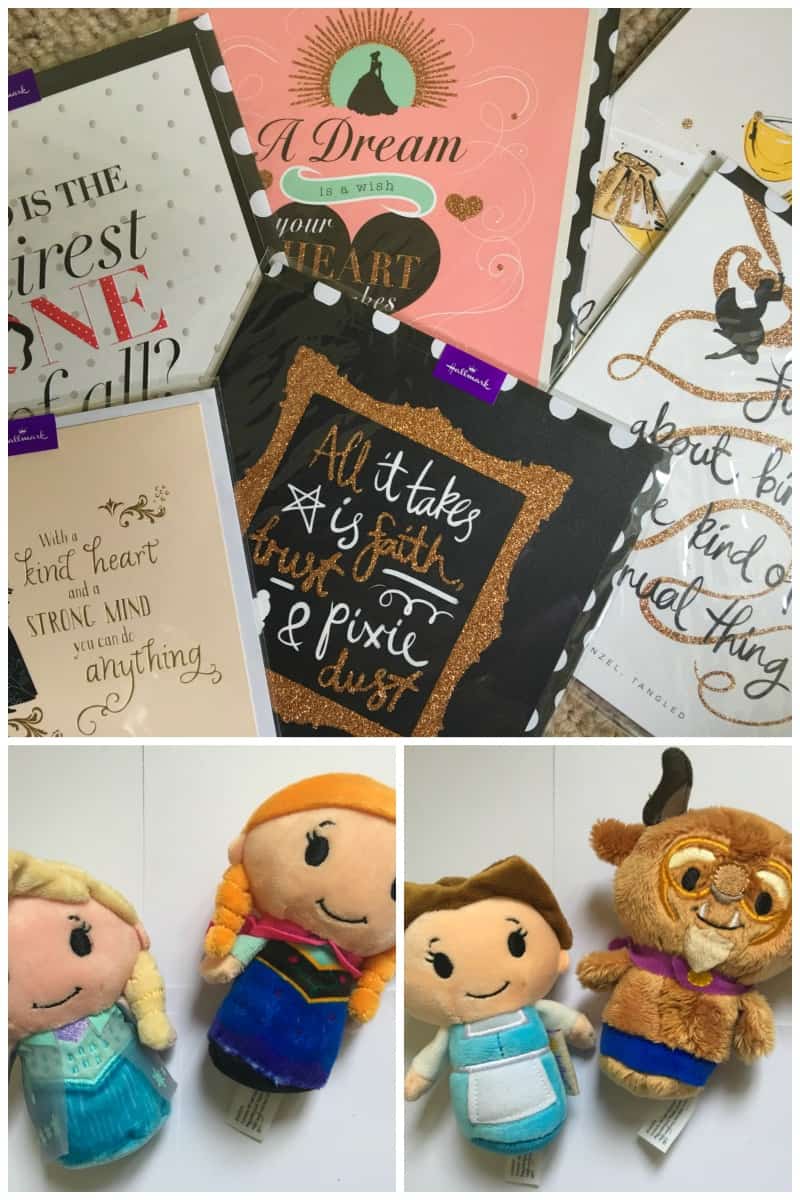 You can buy Hallmark cards and toys in your nearest store, which you can find here. If you want to buy your cards and toys on line, you can also shop on Amazon now.
Unicorn Charms Jewellery Set from Prezzybox
I always make sure that Indie and Brook have at least one creative gift for their birthdays, and this Unicorn Charms Jewellery Set from Prezzybox has been a huge it. The girls both love unicorns and the featured in Indie's party bags so it was nice to continue the theme through to her presents.
This Unicorn Charms Jewellery set is filled with a good selection of beads and jewels, as well as lots of charms to add to your bracelets and necklaces. When she gets a little older, I would think to look into some jewellery. Ones without unicorns on them. This is something around the lines of what I was thinking. Go here for more info. The creative booklet is filled with inspiration and really helped Indie to get started making the jewellery.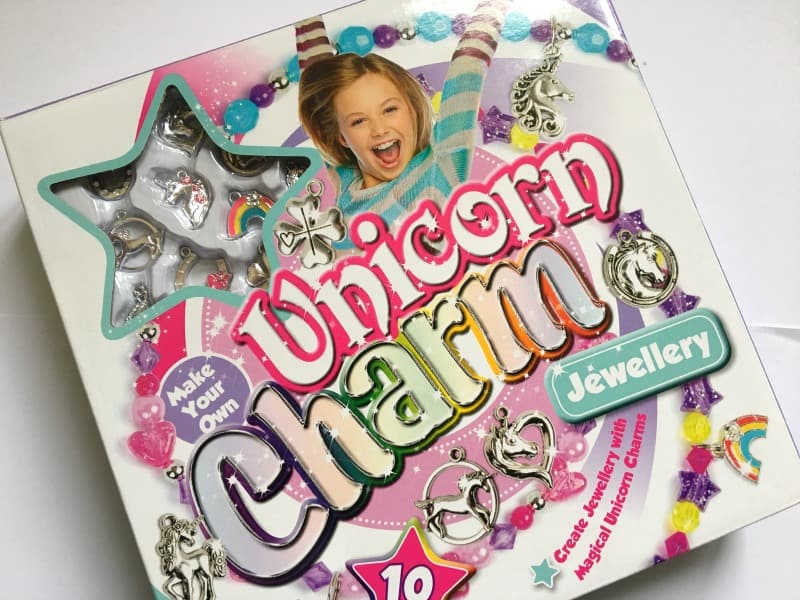 You can buy the Unicorn Charms Jewellery Set from Prezzybox for £9.99.
Personalised Disney Princess Tales of Friendship Book
Another present that I always like to give Indie is a new book to read. We read bedtime stories every night as a part of her routine, and she is also learning to read herself, which means practising everyday too. Indie has always been inspired by stories which feature her in the book, and this personalised Disney Princess Tales of Friendship book has really captured her imagination. The book features 3 stories with her favourite characters and has become a firm favourite at the end of the day.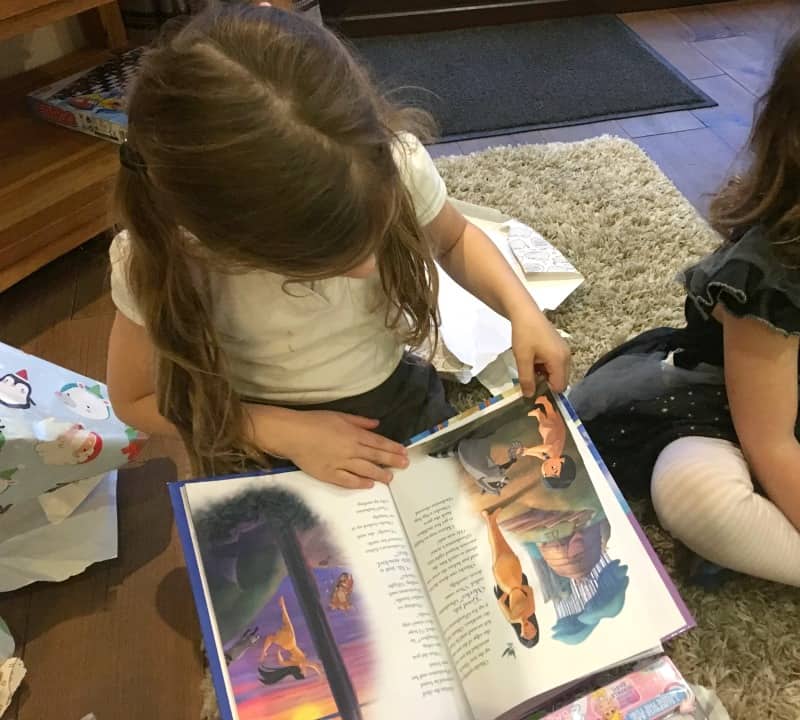 You can buy the Personalised Disney Tales of Friendship book from Prezzybox for £14.99.
L.O.L Surprise! Dolls Series 3 Confetti Pop
L.O.L Surprise! Dolls make the perfect perfect gift for 6 year old girls as they are so much fun to open and play with as you can see from our last unboxing review. It made perfect sense for Indie to have a L.O.L Surprise! Confetti Pop Doll for her birthday and she had just as much fun opening it as she did playing with it. There are 9 exciting layers to the Confetti Pop Doll, and when you've popped the ball you can dress your new toy in her fab accessories. Indie usually runs to the sink straight after to find out whether her L.O.L Surprise Doll cries, spits or tinkles.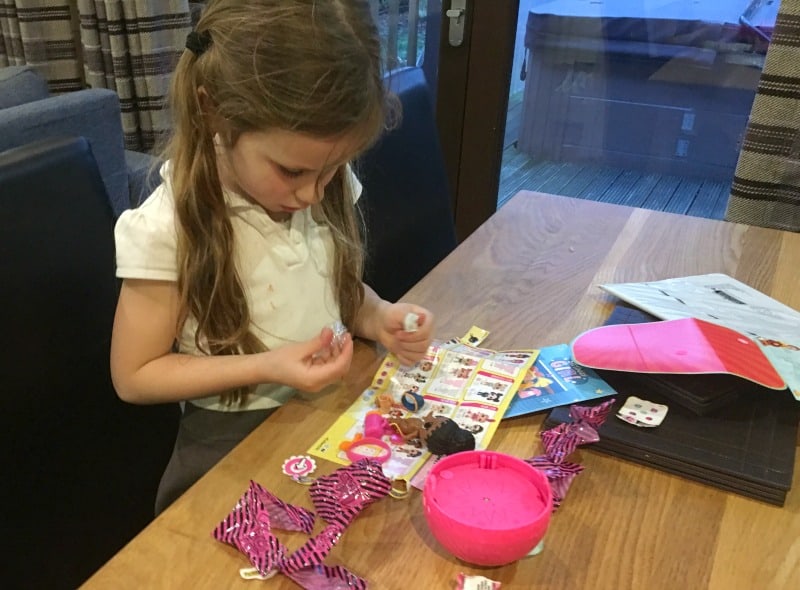 You can buy L.O.L Surprise! Dolls Series 3 Confetti Pop from The Entertainer for £11.00.
Miximals
I know that collectable toys are a huge hit with Indie, so I was keen to see if she would enjoy Miximals, which are a new range of fu collectable characters with a bit of a difference. Miximals are a lot of fun because they are animal toys all mixed up! Have you ever heard of a Flutterpop? Or a Seaver even? Well this is what you get when you mix up a pig and a butterfly or a seal and a beaver, and they really got Indie's imagination going. As well as collectable packs with surprise toys you can also buy Mobile Mixup Vehicles to help bring your Miximal world to life. The characters have been a big hit with both the girls, and are a lovely collectable toy.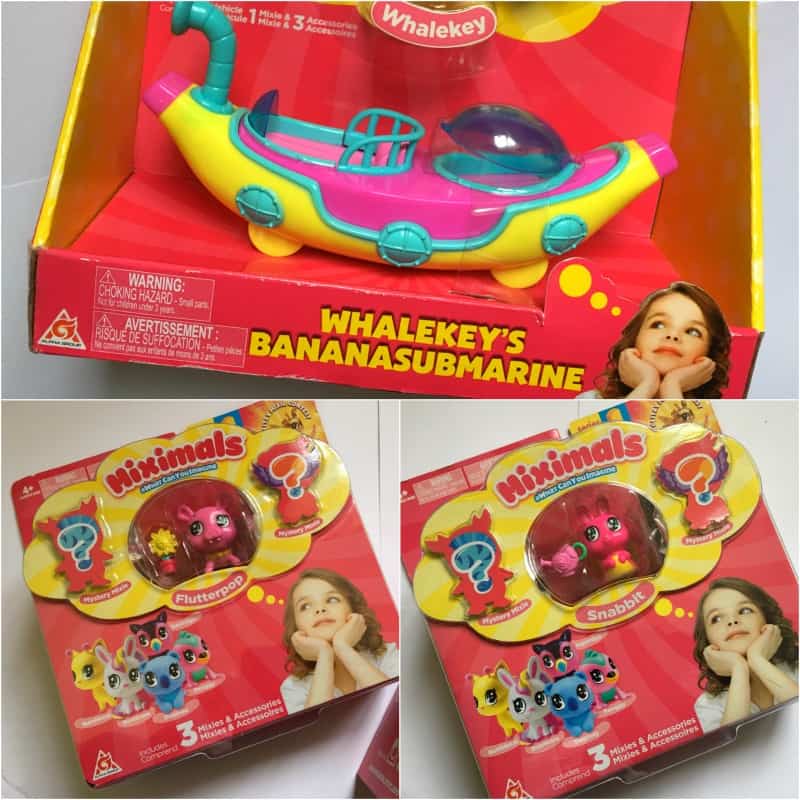 You can buy Miximal Collectable Packs and Mixup Vehicles from The Entertainer from £11.00
Baby Secrets Activity Packs
Do you remember the girls making a YouTube video a few months ago about the new Baby Secrets toys they received? Indie loves the Baby Secrets dolls and they feature a lot in her role play games with her sister. We decided to add to her Baby Secret collection for her birthday with the Baby Secrets pram accessory pack and the Baby Secrets horse accessory pack. These packs contain new dolls, with their birth certificates and some fab new accessories to help with creative play. Baby Secret toys are one of her favourite toys for taking out and about with her, and she'll often play with them when we are having to wait for something or if we are out for dinner, so the new accessories are just perfect.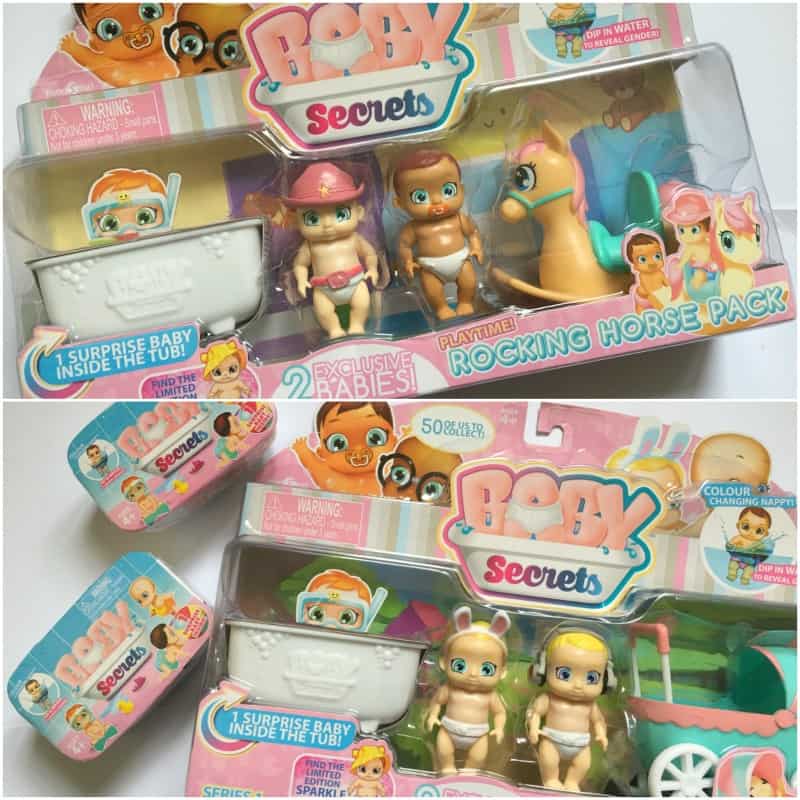 You can buy a range Baby Secrets accessory packs online from The Entertainer.
Num Noms Series 4
If you haven't seen your child's ideal birthday present here yet, then why not check out Num Noms Series 4 as they are a super fun collectable toy for kids. You might remember we reviewed Num Noms Series 3 in this post, but seeing as it was Indie's birthday we decided it was time to add some more of the delicious stackable toys. Num Noms Series 4 seems even more imaginative than the previous series with lots of fun new designs and smells to explore. The multi pack contains 12 new Num Noms with one being a mystery surprise, which always adds to the fun, right?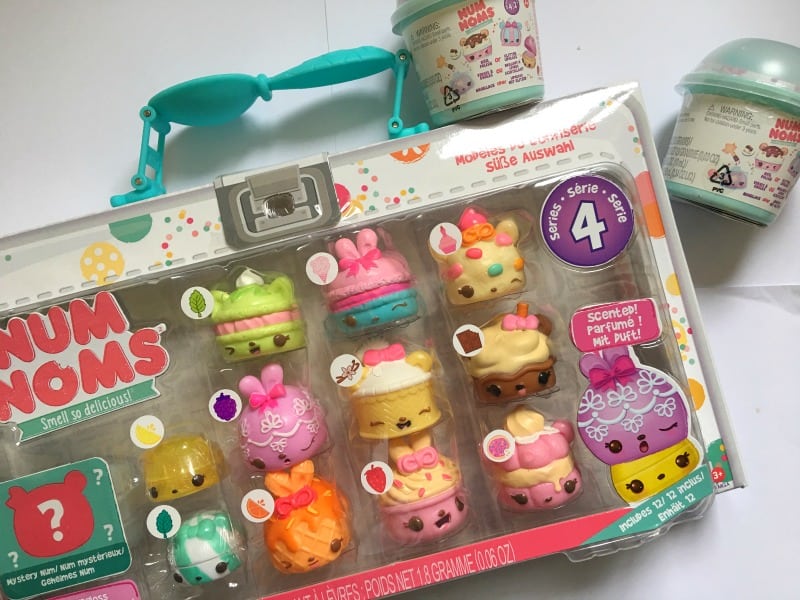 You can buy the latest Num Noms Series 4 online to be delivered in time for your special celebration.
Pin for later

Know someone who would enjoy this post? Please do share it with your friends and followers, as it would literally make my day.
For the latest blog posts, offers and giveaways don't forget to subscribe to Zena's Suitcase. You can also follow the latest updates on Twitter, Facebook, Instagram and Pinterest.
This post contains PR samples and affiliate links which means that if you decide one of these present ideas by following one of the links, I'll receive a few pennies for sending you there way at no extra cost to yourself.