When I was planning our weekend away, I actually struggled to find free things to do in York.  The city has a growing tourist economy and it really shows.  The city boasts 6 million tourist visitors every year, that spend in excess of over £600 million so lots of the best attractions charge an entrance fee.
It seems that this booming tourist industry has left very little for the local visitor to York to enjoy on a budget.  A short weekend break, can soon end up costing you a small fortune, but there are still free attractions to visit that can help your money go further.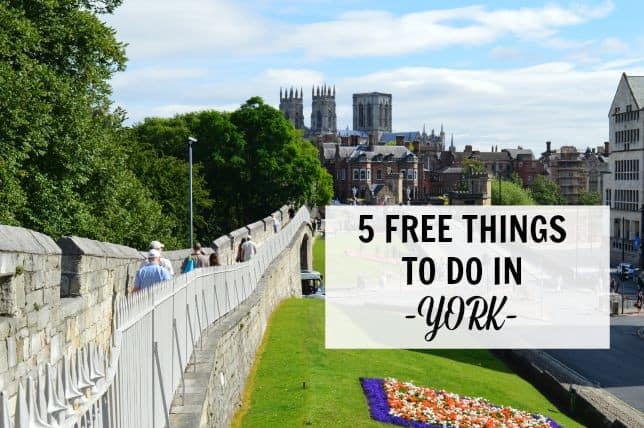 From our recent visit, we thought we'd share the best free things to do in York that will help you make the most of this historic city.  So pack up your picnics, save your pennies and enjoy what York has to offer on a budget.
5 Free Things To Do In York
This has to be the prettiest street in the North of England.  Narrow and lined with timber framed buildings, some of it's structures date right back to the 14th Century.  Today it's filled with tourist and gift shops, but it's a not to be missed photo opportunity.
There was a time though, when it was filled with butchers, which is where it is believed to take it's name.  Fleshammels, meaning flesh shelves, are what Anglo Saxon butchers would display their freshly carved meat on, which led to a period of calling the street The Great Flesh Shambles.
Today, there isn't a butcher in sight, but you can grab a cup of fine Yorkshire tea or stop off at it's only bakery before heading into the daily market.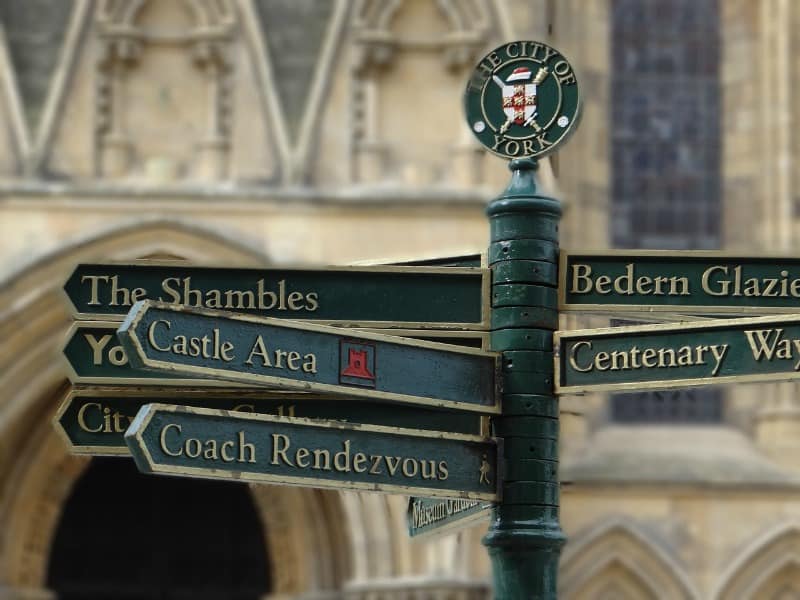 Shambles leads you to it's famous market, which is a must for all visitors to York.  It's open 7 days a week, from 9am and is home to over 85 stalls featuring a whole manor of goods from gifts, flowers, groceries, and cosmetics to name but a few.
It's quaint and typically English, lending itself to the perfect Sunday morning stroll.  I love going to the markets, where ever I visit, as they often throw up a more unusual gifts for someone back home or an unusual souvenir of my holiday.
King's Square
The Shambles also leads onto King's Square in York.  This area is home to more shops and attractions, like York's Chocolate Story.  It provides the perfect meeting place for tourists and locals, and gives it's self perfectly to a spot of people watching.
If you're passing through on a weekend break, you may also be treated to a variety of street entertainers, who will wow you with their tricks and performances.  Fire eaters and unicyclists were among the line up during our stay and provided great entertainment for free.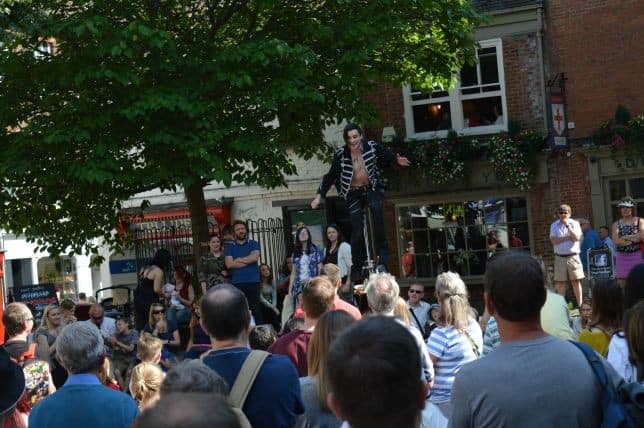 Free Guided Walks In York 
The Association of Voluntary Guides to the City of York provide free two hour walking tours of the city's historical sites.  This isn't something we did, unfortunately due to the age of our children, but if I'd of been travelling alone it's something I definitely would have done.
You start the free guided tour of York at Exhibition Square, and finish with your expert guide, at Shambles.  This tour has been enjoyed by visitors to York from all over the world, and it provides an excellent way to get to know this great city in more intimate detail.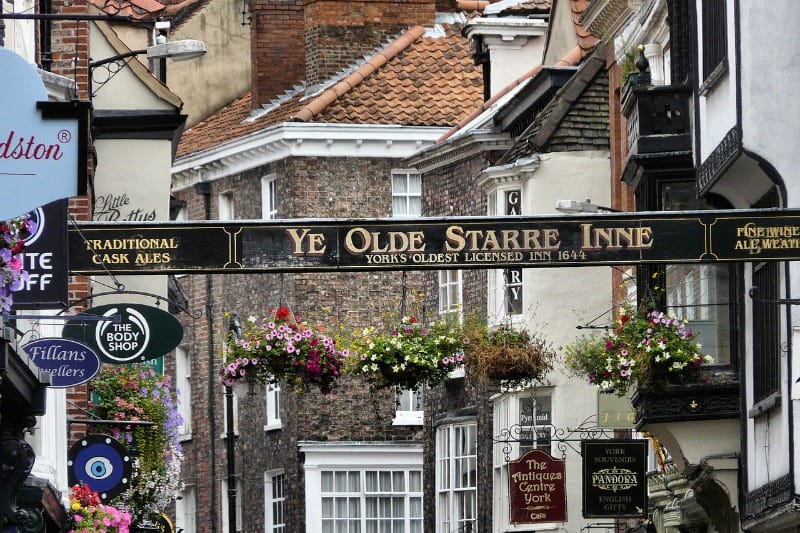 York Museum Gardens
York Museum Gardens are a beautiful haven of peace and quiet away from the busy tourist streets.  We stopped by to explore the ruins of St Mary's Abbey, and newer features like the story telling area.
It's established with lots of flowers and shrubs, and is home to some fairly tame squirrels too, who aren't in the least bit camera shy.
Visiting the Museum Gardens is one of the best free things to do in York on a lazy Summer afternoon with a picnic.  Every Sunday, you can join a waking tour of the garden to find out more about  it's stunning 10 acre landscape.
York City Walls
From the Museum Gardens, we also crossed over the River Ouse to take a short walk along the City Walls.  It was the only access we found without steps, but there maybe more.  We didn't go far along it, as part of it didn't have railings and our 3 year old can be a little unpredictable.  It is another free attraction in York, and provides a great opportunity to see the city from a different angle.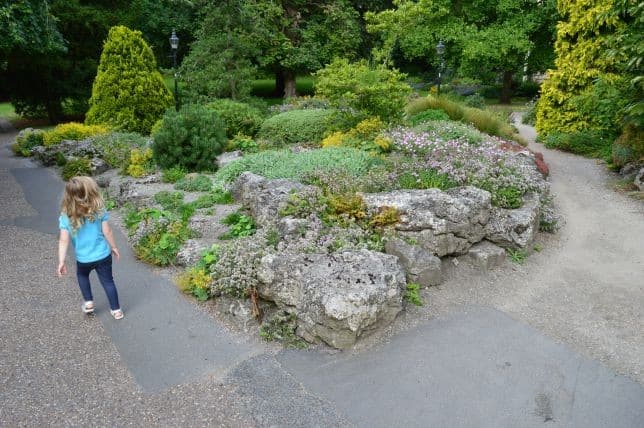 The National Railway Museum was on our York family bucket list and is advertised as a free attraction in York.  Our daughter is a huge fan of trains so it was a no brainer.  We walked to the National Railway Museum, but noticed there was a land train you could catch that took you between York Minister and the visitor centre.  We thought we would catch it on the way back, to save all our legs after a busy day!
When we arrived at the National Railway Museum, we joined a queue and were directed to a till.  I was asked if I wanted to make a donation, but advised the attraction was free to enter.  When I've visited other free attractions, there have been donation boxes provided, and I'm usually happy to make a donation under these circumstances.
As I was put on the spot, I offered £6 for our family which I felt was reasonable, until I'd been around the museum.
Don't get me wrong, this is an amazing attraction and you can easily spend a day here.  I was impressed with the number of trains, the number of exhibitions they had and the play areas they provided for small children.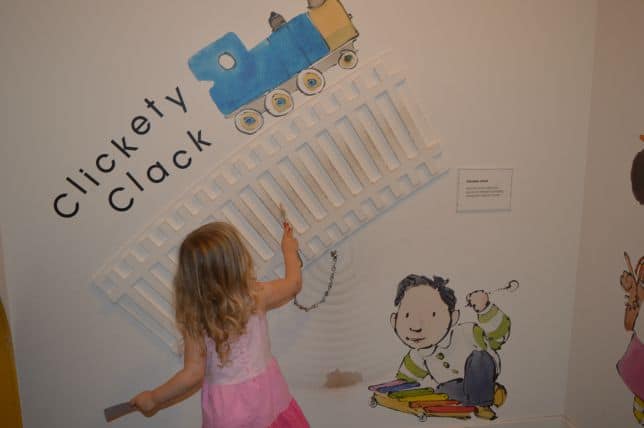 That all being said, for a free attraction, this ended up being the most costly part of our weekend in York.  We found the miniature railway, and of course Indie really wanted to have a go. For our 3 year old and I to take a trip on the miniature railway at the National Railway Museum was £5.  This felt a little inflated to me.
Also you need to be aware there is no where local to grab lunch near the National Railway Museum.  I was hoping we could eat at a cafe nearby or grab some sandwiches.  I asked a museum assistant who advised there was nothing, but pointed us in the direction of the Mallard Cafe.  With hungry kids in tow this was our only option.  For 2 children's sandwich boxes, 2 pulled pork sandwiches and a couple of drinks, we paid the princely sum of £26.
Other parts of the National Railway Museum also had charges attached to them, like the Mallard Express simulator and different events that were taking place throughout the day.  We caught the train back to York Minster after our visit to the National Railway Museum, and the fares were £2 per adult, £1 per child and under 2's are free.  Our total fare back to York Minister was £6.
If I'd have known how much the day was going to cost us in advance, I wouldn't have been so quick to hand over my donation.  Here's how to make the best of your visit to the National Railway Museum on a budget.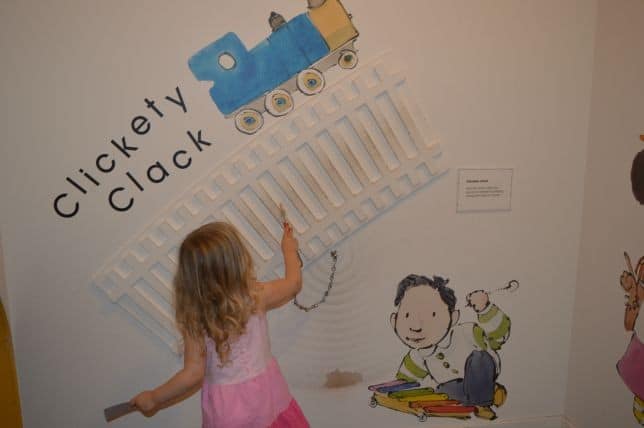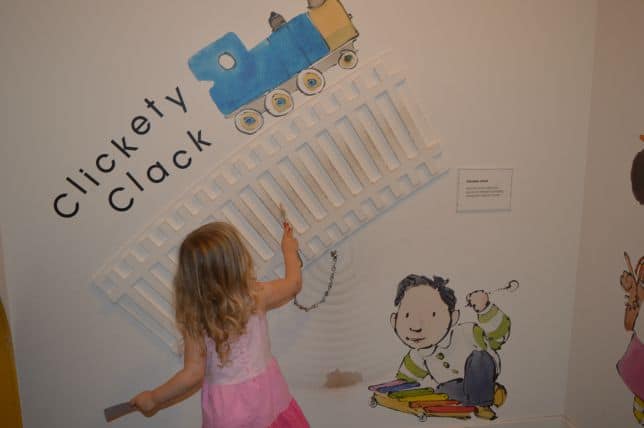 Tips For A Free Day Out At The National Railway Museum In York
Take a picnic, as there is no where to get food nearby.  The cafes and dining room are pricey.
Don't feel pressured into making a donation, it is free to enter.
Be aware that there are several things at the National Railway Museum that cost money that you and your family may want to enjoy.  This may effect whether you want to make a donation or not.
It is a great attraction, and we had a lovely day here, but it cost a lot more than we thought it was going to.  If you have a train enthusiast in your family you have to visit here, it is an amazing day out, but it's only free if you are prepared.  We easily could have spent more time here, as we didn't get round it all during our visit, and we would definitely visit again, but with a picnic hamper next time.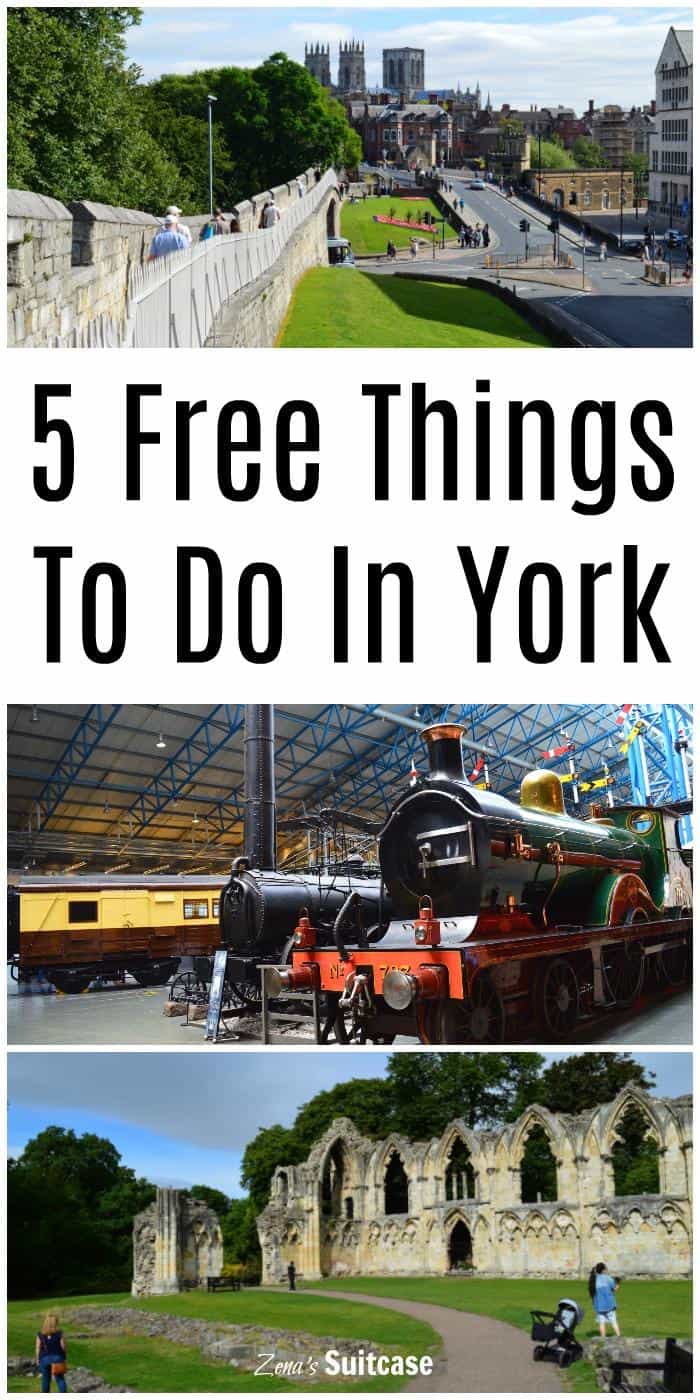 As a city of such National interest, I was disappointed that the York Museum and recently reopened art gallery didn't provide free admission, like similar attractions in other UK cities.  When I compare it to what is on offer in London or what we were able to enjoy on our recent visit to Liverpool, I was a little disappointed.  York seems to be all about cashing in on it's global visitors.