Glamping at Warwick Castle is probably one of the best castle stays in the UK for children.  We were lucky enough to stay in a Warwick Castle Knights Lodge last year which we loved and were overjoyed when we were asked to come and stay over at the new Warwick castle glamping for 2018 in The Avenue of the Kings.
It happened to be Brook's birthday too, so what better present for a 4 year old princess than to provide one of the latest Warwick Castle clamping reviews.  It seemed like our Warwick Castle stay over would be a very fitting event for our very special birthday princess.  Everyone was really excited about this overnight stay as Warwick Castle is a fantastic family day out.  Being able to stay at Warwick Castle in the Knights Village is a fantastic experience to add to an already fun packed day out.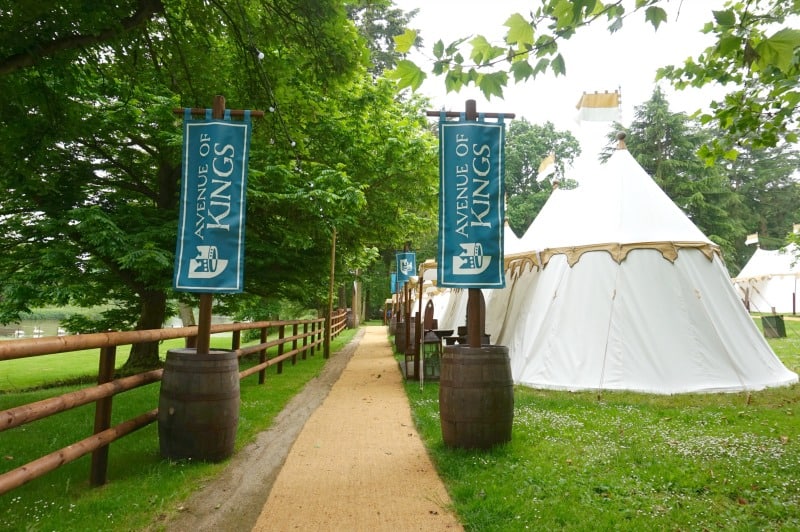 Warwick Castle Knights Village Review
Is There a Car Park For Warwick Castle Glamping
We arrived at Warwick Castle  for our stay over a little later than we had planned, as about half an hour after leaving home our car broke down. After a slightly stressful start to our Bank Holiday Monday, which you can catch up with on our Instagram Stories, we finally arrived at our Warwick Castle holiday in a hire car at about 3pm.  Car parking is included in your overnight stay at Warwick Castle and you are given a token for the barrier when you check out.
As soon as we arrived at the glamping at Warwick Castle our day started to get easier.  There is separate car parking for people who are glamping at Warwick Castle and there are plenty of spaces too, even at that time of day.  We went up to the Warwick Castle Knights Village reception to let them know we had arrived and to make our arrangements for going inside the castle.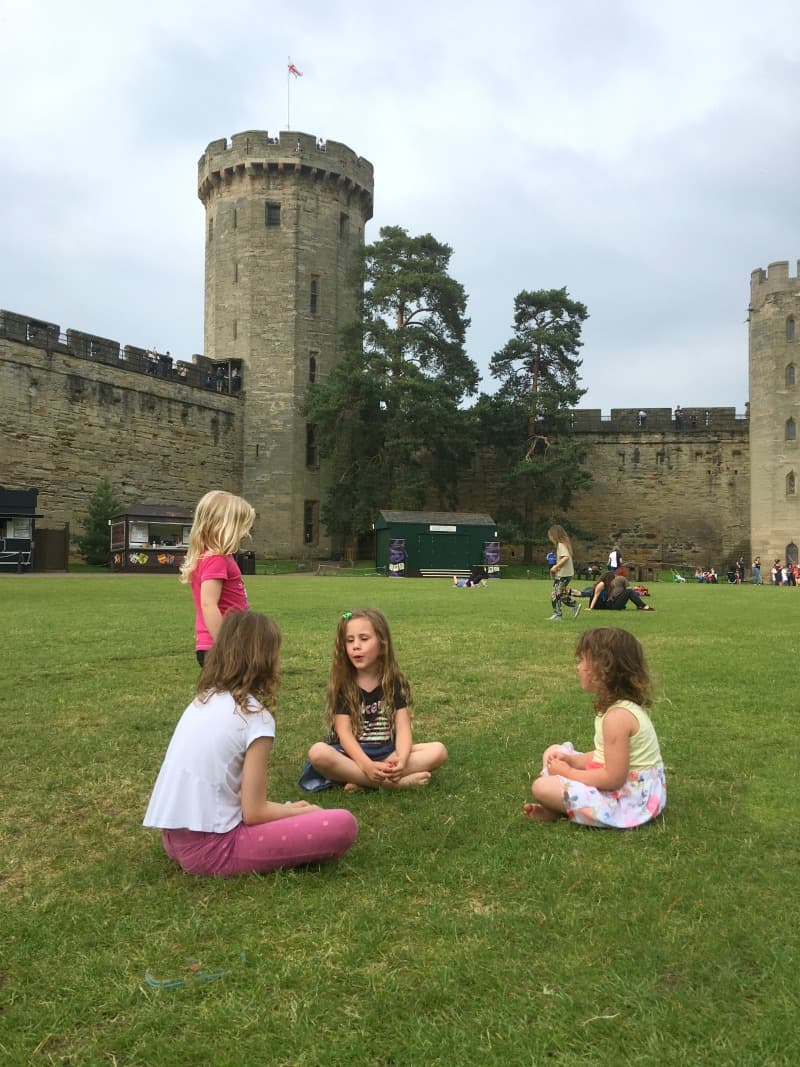 If you are staying at Warwick Castle glamping or lodges you also get 2 days access into the castle during your stay.  We were given a code to access the castle through the Knights Village entrance and given a programme of events for the day ahead.
We were due to be meeting A Moment With Franca and her family when we arrived as they were also staying overnight, so we joined them in the castle grounds to explore the Horrible Histories Maze and visit the Princess Tower.
The girls loved just hanging out in Warwick castle grounds and playing together, which meant we could relax and catch up after what had been a very eventful morning by all accounts. Sitting and enjoying the sunshine in this beautiful location was just what we needed to be honest.  It's what makes the Warwick Castle holidays so very special.
What is a Warwick Overnight Stay Castle Like?
Staying at Warwick Castle is a lot of fun for everyone we think!  We started off by heading back to the Knights Village for about 6pm as we were booked into the Mediaeval Dinner Hall at about that time. The three course meal was lovely and we were served fairly quickly.  I can certainly recommend booking early for dinner as the hall does get busy with guests staying at Warwick Castle.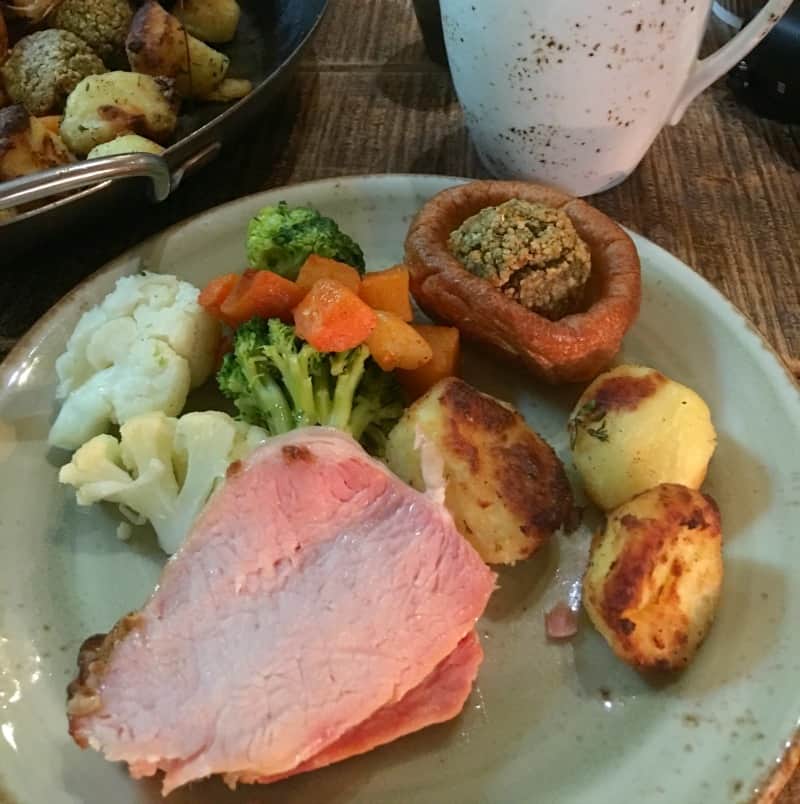 We were given a choice of starters, and the main was a turkey and gammon feast with roast potatoes and a selection of vegetables. Desserts were buffet style with jelly and cakes and a hot dessert option of a fruit crumble.  All our soft drinks and coffees were included in the price but anything from the bar was charged extra.
As we were eating our meal the Knights who had greeted us as we entered the hall came round to our table to introduce themselves.  There was going to be a bit of a stand off between the two Knights later, and this was a great way of getting the kids excited for the show that was to come.
Warwick Castle Glamping Review
After dinner and an exciting sword fight between the Knights we headed over to our Kings Luxury Glamping Tent situated in the Avenue of the Kings to get settled for our Warwick Castle stay.  The location of the glamping tent was just perfect as we looked out onto the river.  The girls wanted to explore and say hello to the resident ducks and geese.  I could take a seat on the very fitting wooden armchair outside our tent and keep a watchful eye while Daddy dug out the PJ's for later.  Everything was falling into place for our Warwick Castle overnight stay.
Inside our Warwick castle tent was pretty impressive to say the least.  We had a four poster bed in the centre and 2 single beds either side.  There was an overwhelming feel of medieval luxury with velvet drapes decorating the bed and surrounding the tent.
The Warwick castle glamping tents are also set on a wooden floor making them feel pretty warm and cosy to be honest.  There were wooden trunks for storing our personal items and even a couple of sockets for charging phones, tablets and cameras. For staying overnight in Warwick Castle, it looked like we were going to be pretty comfortable all round.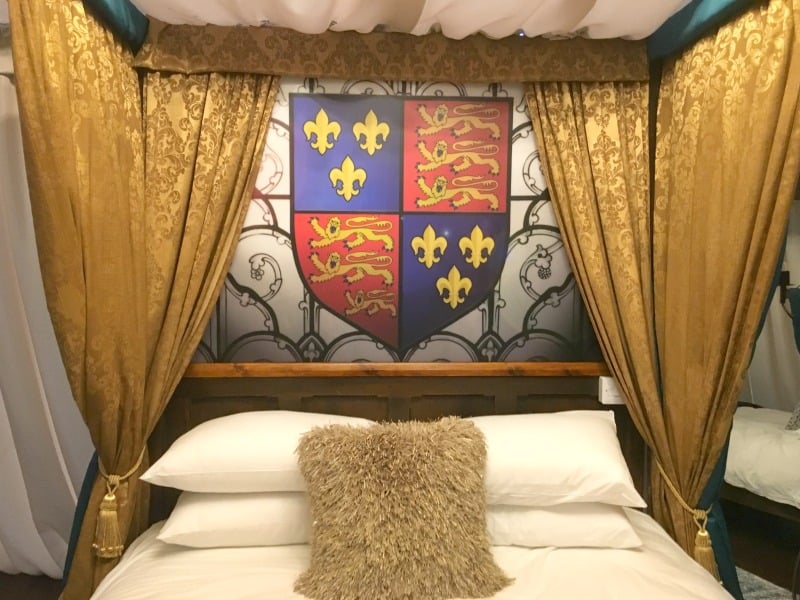 Showers and toilets are provided for your holiday to Warwick Castle in a separate block just a short walk away from the glamping tents.  There are designated paths and lighting along the way so a torch isn't absolutely necessary for your Warwick Castle holiday.  I would recommend taking some bottled water though as the nearest drinking water is in the dinner hall, which might just feel like to far to walk in the middle of the night if someone gets thirsty.
We slept so well in our glamping tent, made all the more comfortable by the great beds and duvets provided for our overnight stay.  A family of four would be very happy for a night in the Knights Village glamping tents during a stay at Warwick Castle in our opinion.
Breakfast was included in our Warwick Castle stay, and it's served from 7.30am.  We arrived at about 8am, with our little princesses dressed up for the day ahead.  We mentioned to the waitress that it was Brook's birthday, and a few minutes later she came over from the kitchen with the chef to sing her happy birthday. They decorated her a breakfast muffin with icing and a candle to go with it and it was literally the best start to the day she could have had.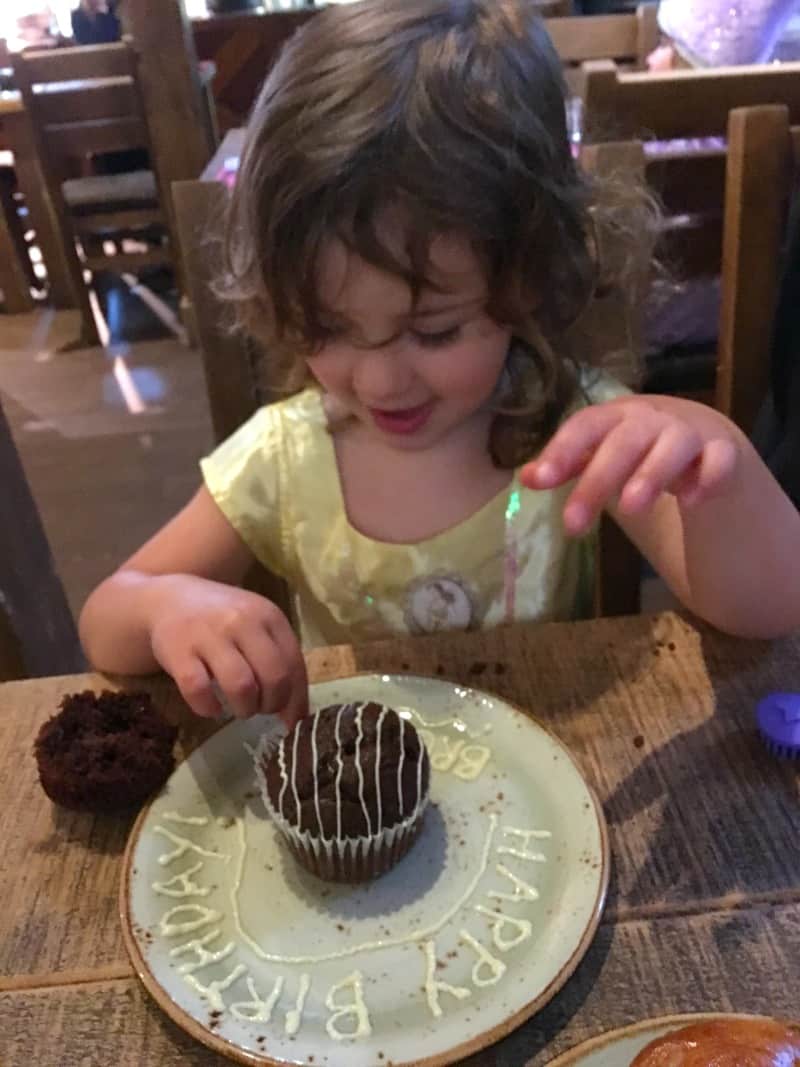 We continued to enjoy the cooked and continental breakfast until everyone was feeling refuelled for a busy day in at Warwick Castle. Once we were all packed up for the day ahead, we started to head towards the castle gate and spotted the archery set up for the children to have a go at.
Both the girls were keen to try it out, and it was a lovely way to start the day for them.  You can do archery when you are inside Warwick Castle but if you are glamping at the castle, then you can enjoy archery without the long queues and it's included in the price of your stay.
What Events Are On At Warwick Castle
One of the reasons we love Warwick Castle so much is because there is so much to see and do on a family day out.  It's also something different from going to the theme park and it's an experience that the whole family can enjoy together.
When we walked into Warwick Castle we arrived just in time for The Mighty Trebuchet show at the Riverside Arena.  We love watching the siege machine catapult a missile through the air and the excitement is added to by the excellent live commentary provided for the show.  It's definitely not to be missed.
The Flight of the Eagles in the Birds of Prey Arena is also a show I could watch over and over again.  The powerful birds literally swoop over your heads providing one incredibly thrilling show for visitors to Warwick Castle.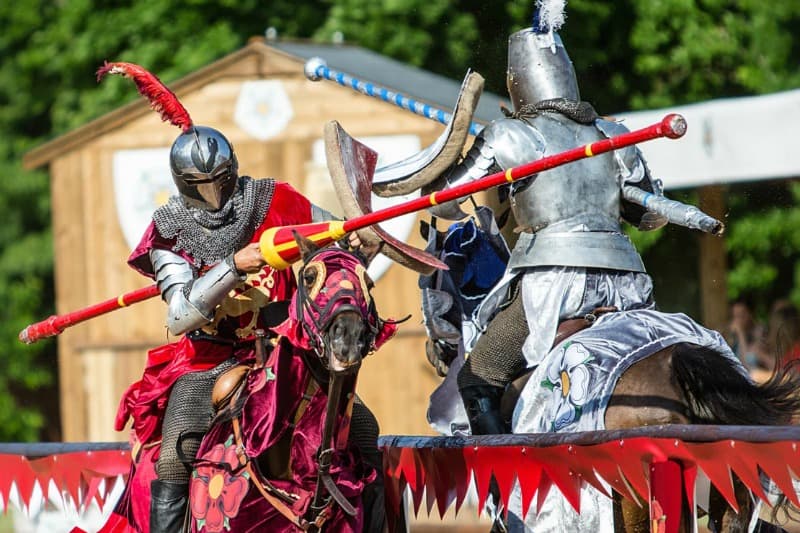 Another event at Warwick Castle not to be missed is the Bowman Show.  This isn't just a display of exceptionally talented archery but it's also an interactive history lesson where you will learn about the perils of shooting arrows and the effects it had on the bowman over time.
The main event though is without a doubt the War of the Roses Live jousting show which brings to life the events of 1455 when the House of Lancaster and the House of York entered into a 30 year bloody battle for the English throne.  This show is live entertainment at it's very best with plenty of thrills and action to keep everyone in the family entertained.
It's safe to say that we had a very fun packed glamping stay at Warwick Castle celebrating Brook's birthday.  As well as enjoying the shows we explored inside the castle rooms, learning more about the people who have lived here over the years.  More than one four poster bed took the girls fancy as we strolled through the castle and I'm sure they would have both moved in given half the chance.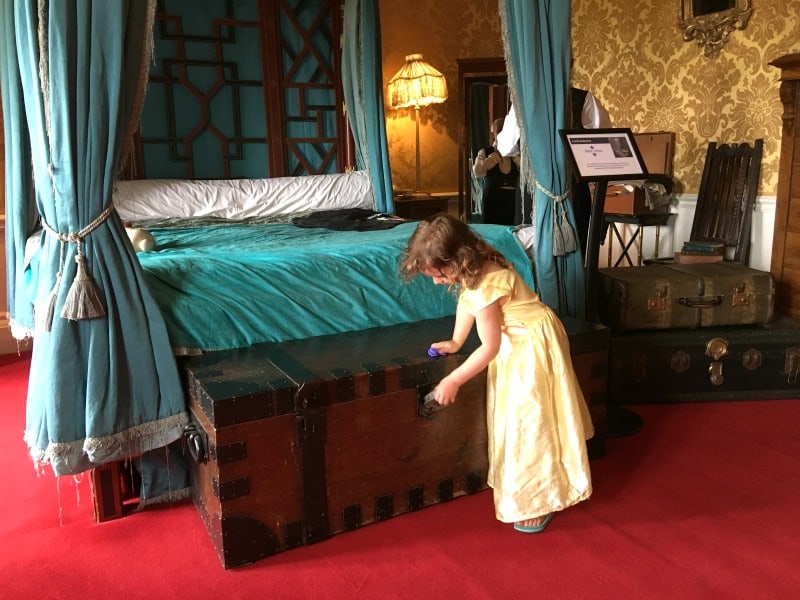 What Are Warwick Castle Opening Hours
Warwick Castle opening times vary throughout the season so it's always worth checking the website ahead of your visit.  During the main season opening hours are 10am until 5pm, but we found that the closing time was fairly flexible.  All of the attractions close at 5pm but people seemed to be able to leave the castle grounds any time up to 6pm.
In the winter months the castle closes at 4pm, but there are some late night opening hours during special events like halloween which are worth looking out for.
Where is Warwick Castle (with Postcode)
Warwick Castle, Warwick, Warwickshire, CV34 6AH (postcode for standard parking).
For all enquiries and to book your castle stay visit https://www.warwick-castle.com/
We were provided with a complimentary glamping overnight stay at Warwick Castle Knights Village in exchange for this review but all thoughts and opinions are our own.