We had an amazing day out at Warwick Castle earlier in the year, and we were so excited to be going back to stay in the Knight's Village.  We knew we were in for a good time, but didn't expect to be completely blown away by the whole experience.  If you haven't stayed at Warwick Castle with your little one's yet, I strongly recommend that you add it to your family bucket list, and here's why.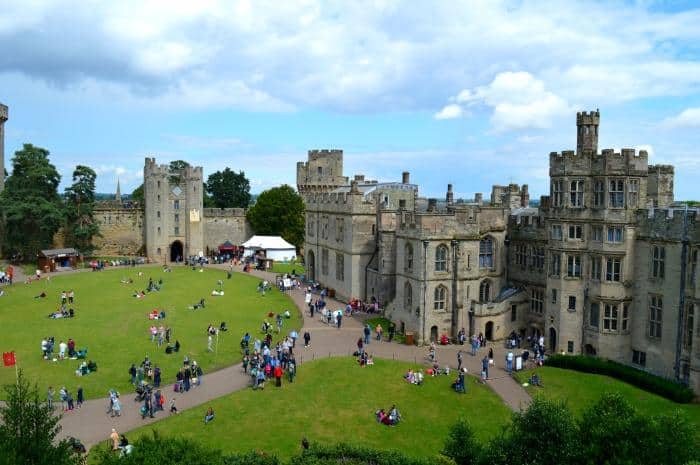 Warm & Friendly Welcome
We arrived at Knight's Village on Saturday afternoon and headed straight into Warwick Castle with our annual season passes.  We started off by exploring the Horrible Histories Maze and had lots of fun with the girls collecting stamps at the different historical locations.  Just as we were finishing up, the weather did that typical British thing and decided to rain on us.  Check in was at 4pm, and it was a little bit early, but we decided to chance our arm and see if our Woodland Lodge was ready.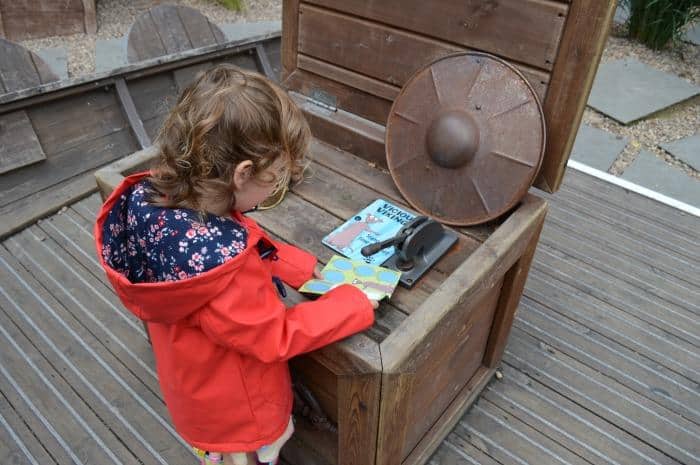 We gave our details to the receptionist and she checked out that we were still happy with the times we had booked for the Medieval Banquet and breakfast the following day.  I liked this as things can change, especially when you have kids.  We kept our bookings as they were and opened an account for any extra purchases we might make during our stay.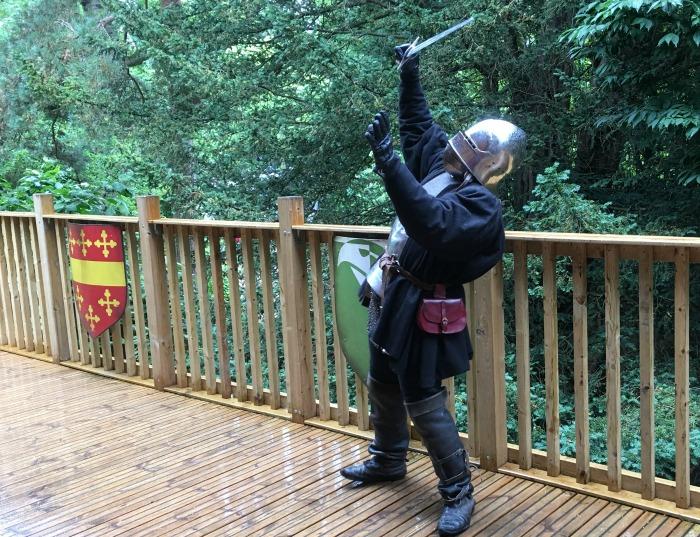 Our lodge wasn't quite ready, so we were invited to take a seat and get some coffees while we waited.  The Knight standing guard outside was keeping the girls entertained while daddy and I fuelled up on coffee.  The staff were keen to get us settled into our room, and made sure our key was ready no later than 4pm.
Fun Mediaeval Themed Glamping
We headed through the woodland to find our cabin, and were very pleased to see decked paths leading all the way to all the accommodation.  The first thing we noticed was the under cover area and wooden seating.  It was nice to have somewhere to sit in the dry, so you could still get some fresh air even if the weather was a little damp.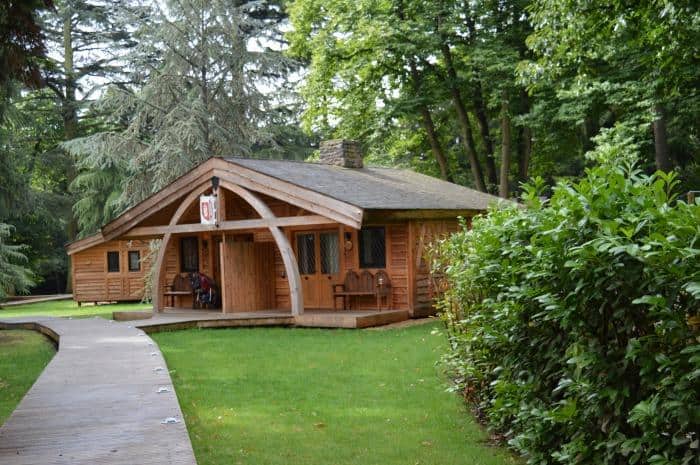 Inside the Woodland Lodge is incredibly magical, with lots of Mediaeval features and decorations.  Everything has been thought of from plush velvet curtains, to the bow and arrows that hang on the wall, and the swords and shields that preside over the bed.  The lodge definitely lived up to the name of the Knight's Village and gave us a really fun place to stay for the night.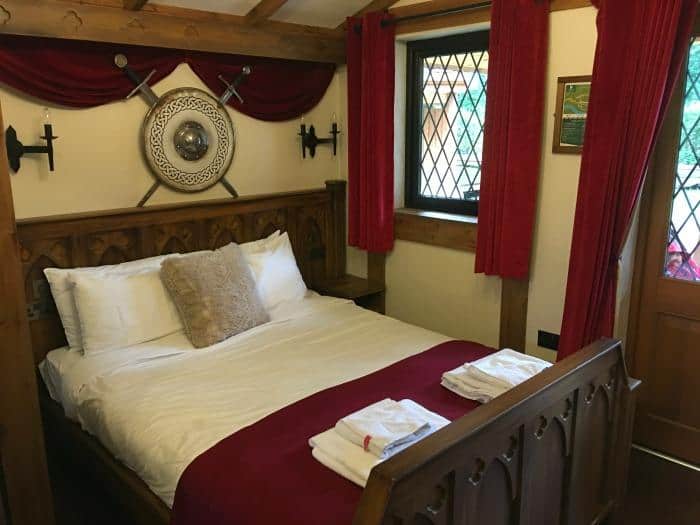 On a practical note, you still have all your creature comforts during your stay.  There is a separate shower room with toilet and sink.  We were given plenty of towels, there was tea and coffee facilities and even a hair dryer and dressing table.  We had a TV and access to wifi during our stay as well.
It was great that the girls had their own room to sleep in, and they were so excited about spending the night in bunk beds.  This was a first for them, so this really appealed to them.  The bunk beds were sturdy and comfortable, providing them with a great night's sleep.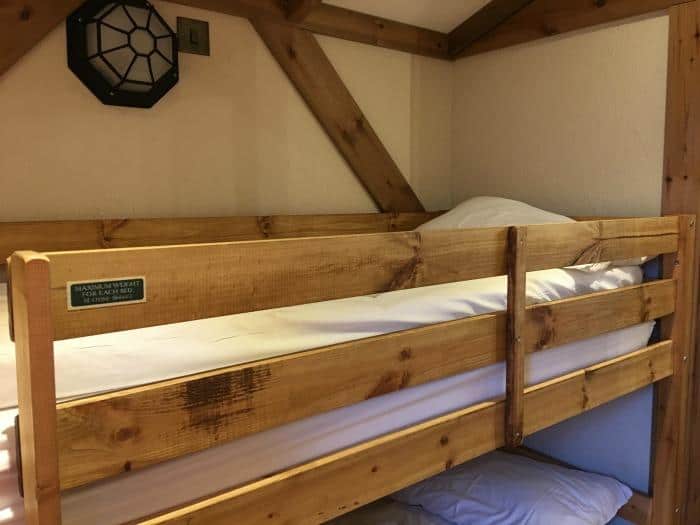 I was a little worried when I saw the double bed as it had a wooden footboard.  My husband is quite tall and I wondered if this would annoy him.  It actually turned out to be plenty big enough for him and the footboard wasn't a problem at all.  Actually the bed was really comfortable and provided a great place to sleep and watch TV from. The lodge was also very warm and seemed to be well sound proofed.  The neighbours didn't complain about all the noise and excitement coming from the girls anyway!
If I was to make one suggestion about the Woodland Lodge, it would be to add some hooks for guests to hang their coats and towels.  There was a cupboard with coat hangers, but if you popped your clothes in there, there wasn't a lot of hangers left for coats.  When we moved the towels off the beds, it would have been nice to have somewhere to hang them ready to use, instead of stacking them in the cupboard as well.
During your stay at the Knight's Village you also get to enjoy some special Mediaeval  themed entertainment.  The Knight's teach families archery and sword fighting, which sounds like a lot of fun.  We heard everyone having a a great time around the Knight's Village, but unfortunately the girls were just too tired to take part, but it's always nice to save something for next time.
Great Quality Food
During our stay at the Knight's Village we were booked in for dinner and breakfast.  We arrived for our Medieval Banquet at 5pm with 2 very hungry children in tow.  We were shown straight to our table and immediately provided with a basket of bread and given the opportunity to order drinks.
The food is self service, but don't let that put you off as the quality is fantastic.  We were all really impressed with the variety on offer and how lovely the food was.  The children had fish fingers, nuggets and sausages and beans to choose from.  I was really impressed that the breaded options were gluten free incase anyone in your party happens to be intolerant.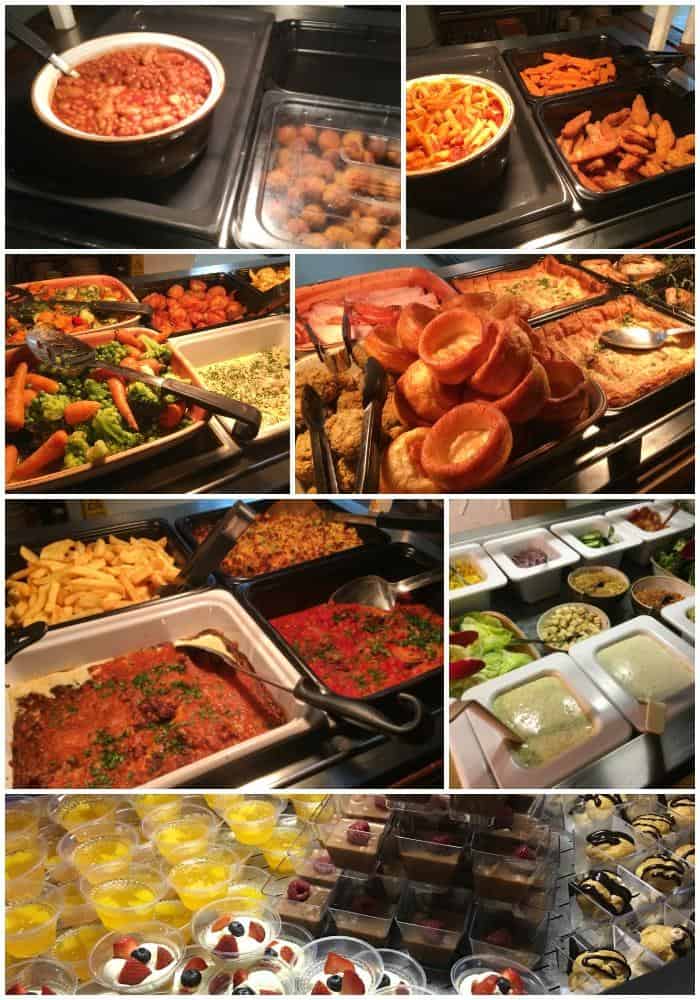 There was vegetable soup for starters, and mains consisted of bacon loin, roast chicken, steak and ale pie, cod and many more.  There were plenty of sides to choose from including Yorkshire pudding, vegetables, potatoes and cauliflower cheese.  It was all delicious, and we might just have had seconds!
They also had a well stocked dessert section, including chocolate mouse, profiteroles and jelly.  I was a particular fan of the chocolate mouse, which was rich and chocolatey, just how a chocolate mouse should be.
Breakfast was also delicious, with plenty of choice for everyone.  The girls loved the freshly made pancakes, as well as the croissants and muffins.  Daddy and I enjoyed the cooked breakfast, and can also vouch for the coffee.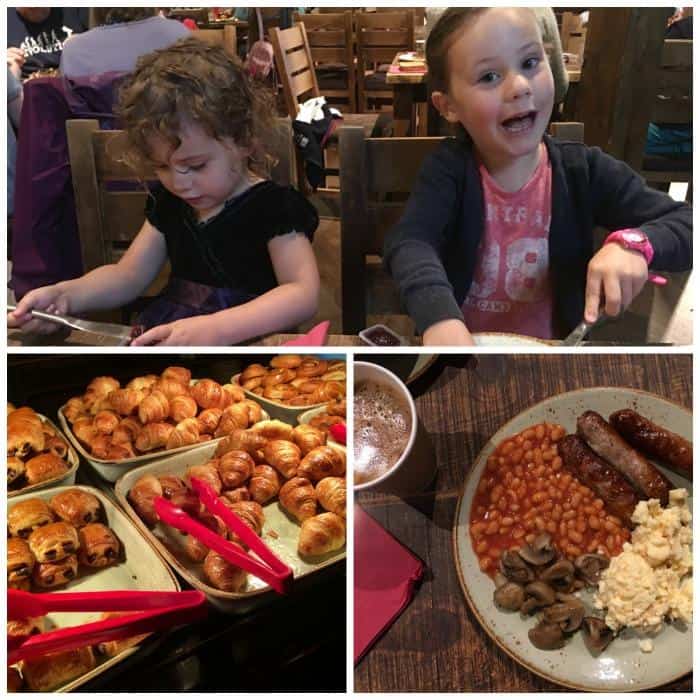 All meals are served in a very Mediaeval like setting, with flags on the wall, iron chandeliers and even a place for the King and Queen to sit, making for a lovely photo opportunity for the children.
The food at Knight's Village definitely gets a 10 out of 10 from us, and overall the service was good.  If I was to offer one suggestion to help things run a little more smoothly it would be to have a member of staff clear plates from the tables during the meals.  We ended up with quite a stack of dirty plates on our table, which meant we were a little short on room.
Another Great Day Out at Warwick Castle
A stay at Knight's Castle includes entry to visit Warwick Castle,  which in itself is a very special and unique experience.  If anyone is looking to visit a castle in the UK, I would definitely recommend putting Warwick Castle at the top of that list.
When we arrived at the castle, we were given War of the Roses cards to collect.  This was such fun and involved us playing a War of the Roses style Top Trumps game with the Warwick Castle staff to win cards from them.  Visitors could also play and trade with each other which was also a lot of fun.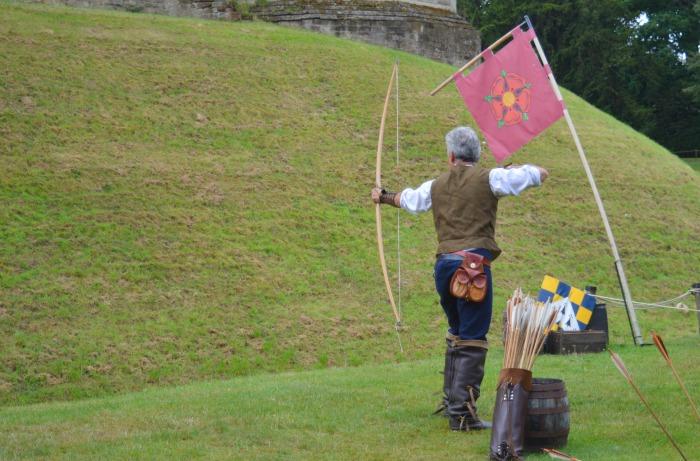 As we entered the castle grounds we spotted the bowman firing his bow and arrow.  He was a fantastic introduction to the day ahead we were going to have sharing historical facts, things to look out for during the day and the odd joke about eating children.  We saw him again later at The Mighty Trebuchet display which was brilliant.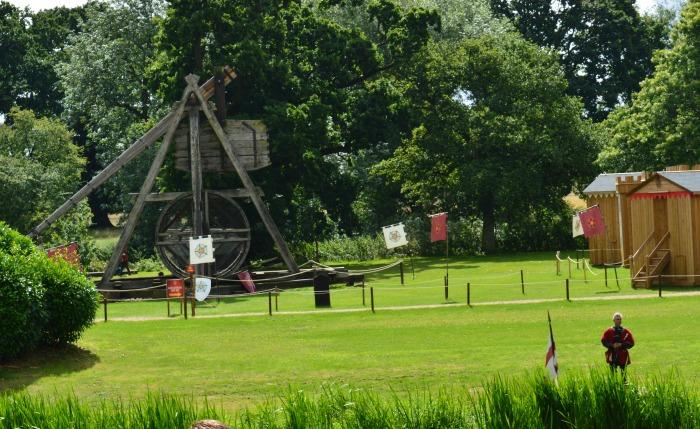 Other highlights to our day included the Flight of the Eagles birds of prey display and the Horrible Histories Wicked Warwick stage show.  They are both worth a watch so definitely add them to your schedule.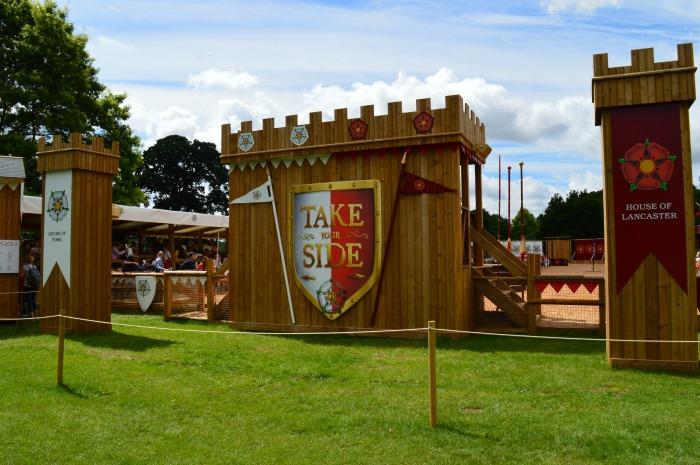 Our favourite event though was the War of the Roses Live. This is one incredible display bringing historical events to life in a truly unique way.  We were gripped from beginning to end by the story of the feuding houses and the incredible stunts and jousting from the riders.  The show takes place twice a day and do not be put off by either the queues or the weather as there is plenty of space for everyone and there are covers to stand under if you get caught in the rain.  War of the Roses Live is an epic visual spectacle you cannot afford to miss.
Final Thoughts on Knight's Village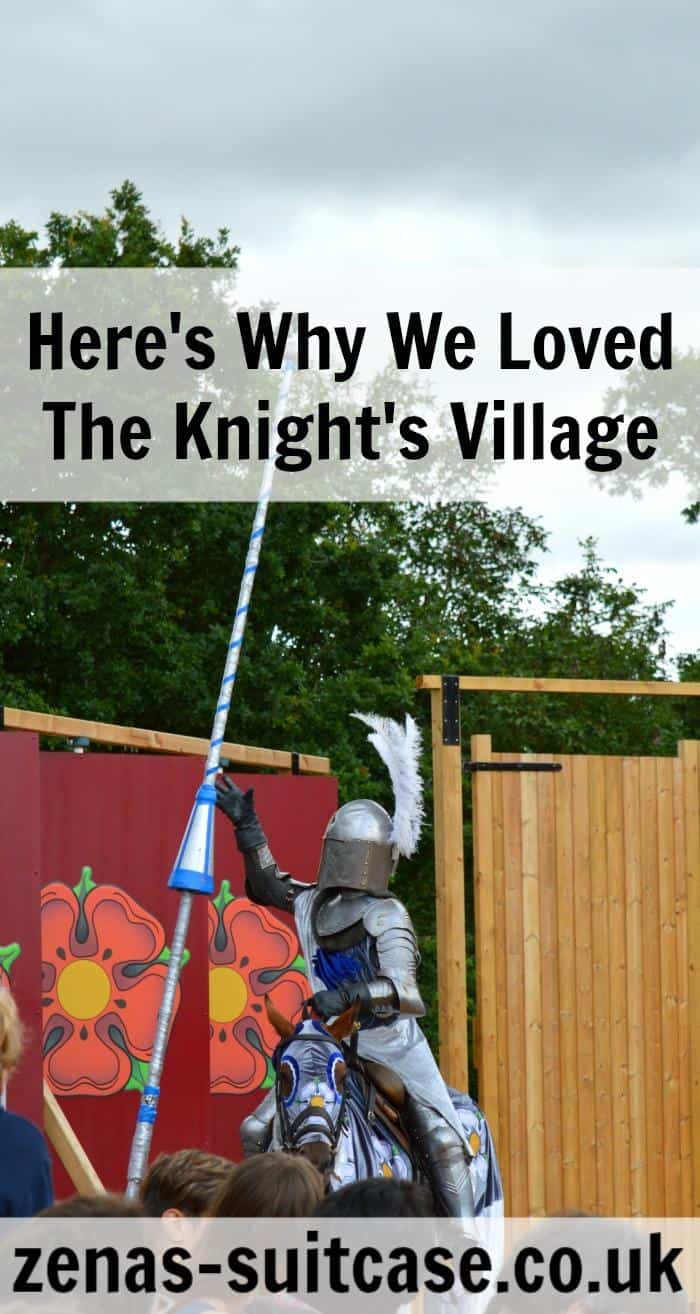 We thoroughly enjoyed our stay at the Knight's Village at Warwick Castle and were genuinely impressed by the quality of the accommodation and the food.  The staff were welcoming and helpful at all times, and Warwick Castle delivered again in terms of an amazing day out.
What we really loved about the whole experience was how excited the girls were about staying at the castle and everything they got to see and do at Warwick.  I would have absolutely no hesitation in recommending a stay at the Knight's Village to friends or family looking for a unique and special family short break.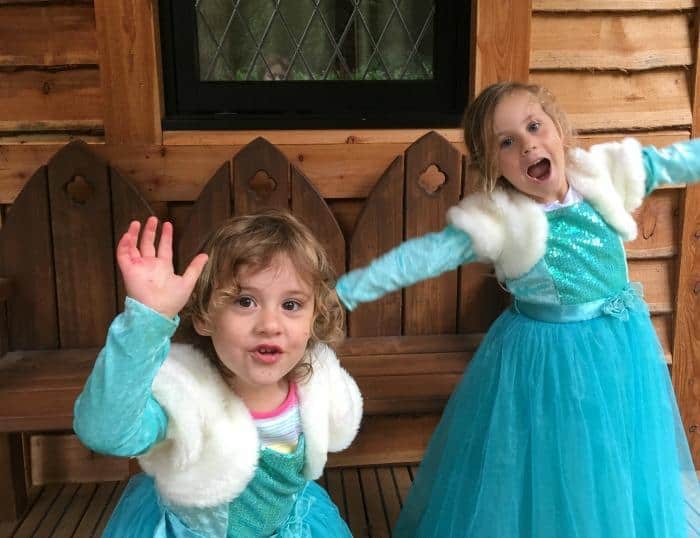 We were invited to stay at the Knight's Village at Warwick Castle in exchange for this review but all thoughts and opinions are our own.