I'm really not a huge fan of having a bored 4 year old and 6 year old at home over the summer holidays.  Can you relate?  We've actually been on the look out for some new days out near Nottingham to take Brook and Indie for this very reason. Our visit to Timber Festival in The National Forest reminded us about taking them to Conkers in Derbyshire, namely because it was straight across the road from the festival site and it sounded a lot of fun too. 
Shortly after being at Timber Festival, I spotted a deal on Wowcher for a family ticket to Conkers for £22.95.  Well that was all the excuse I needed, how many family days out can you buy for that price?  I think it's safe to say they are few and far between.  Our ticket was booked in less than a minute!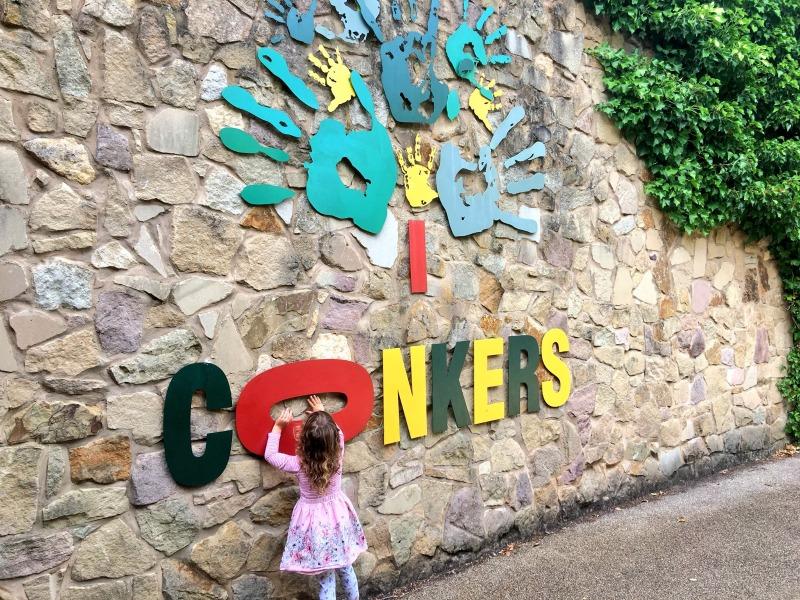 Our Day at Conkers
We had a free day so I made a picnic and loaded the girls up in the car.  We took the 40 minute drive from Nottingham to Conkers which was pretty straight forward down the A42.  The girls were full of energy and raring to go when we arrived. We picked up our map and timetable of events from the ticket office and got started with exploring the site. 
Conkers is set in 120 Acres of woodland so it's perfect for a huge dose of fresh air and outdoor fun.  It's a pretty active day out too, perfect for tiring out the kids.  We spotted the Twisty Towers first but the girls were distracted en route by the ducklings that appeared from the reeds next to the pond. It was cute watching them call them like little dogs, in the hope one might come and sit on their laps. The ducks were really tame, and if I'd bought them a box of duck food that might just have happened.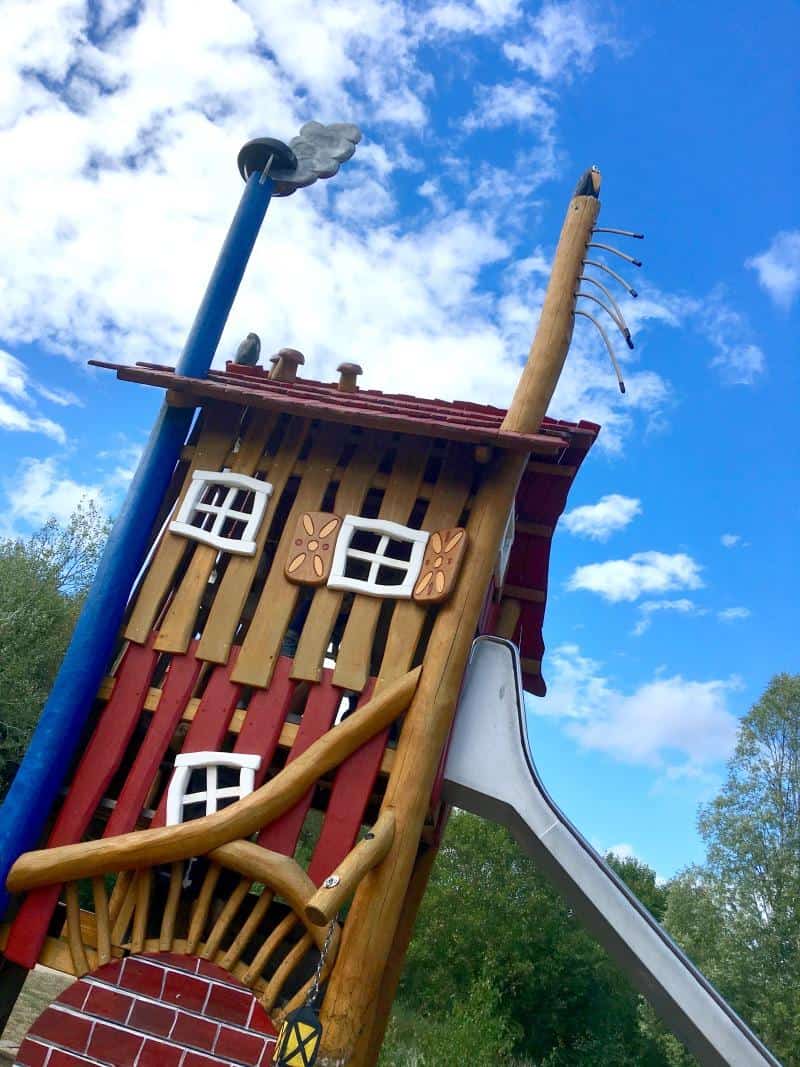 When they finally got started on the Twisty Towers it was a huge success.  They spent ages climbing to the top with the prize of taking on the pretty big slide and landing in the sandpit at the bottom well worth the effort.  I managed to drag them away after the promise of going to find the Fairy Labyrinth Maze near by.  When we arrived, they took the lead trying to figure out the best way to the centre. They were in their element giving orders to Mum about the best way to go. 
Lunchtime was quickly upon us and we headed back towards the Conkers Discovery Centre.  There were picnic tables next to a small play area, which we thought was a great idea.  I tried my best to get them to eat their sandwiches but the duck family turned up again and they were desperate to try and stroke them.  I didn't have the heart to the them they were after their lunch.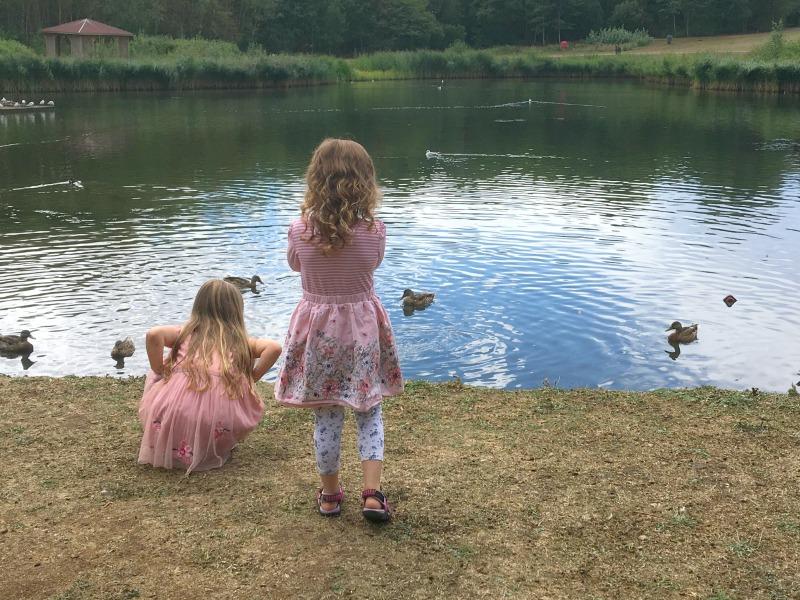 The only thing that was going to prize them away from the ducks was the promise of handling some snakes and lizards. We headed to the Animal Encounter inside the Discovery Centre at Conkers. Throughout the summer there are different special events and we just happened to catch the reptile experience.  The girls got to stroke snakes, a bearded dragon and feed tortoises. It was definitely a highlight to the day. 
While we were at the Conkers Discovery Centre we took a peek at the Enchanted Forest play area. Indie was being a bit sensitive and decided it scared her.  Brook who is 4 years old, on the other hand wanted to explore and for her sister to join her.  We ventured into the 'soil' tunnel and took a peek inside the giant Conker.  Indie soon realised there was nothing to be frightened of. She decided it would be ok to go upstairs and climb through the tunnels. I hope that on our next visit to Conkers she feels a little braver as it was a fantastic indoor play area.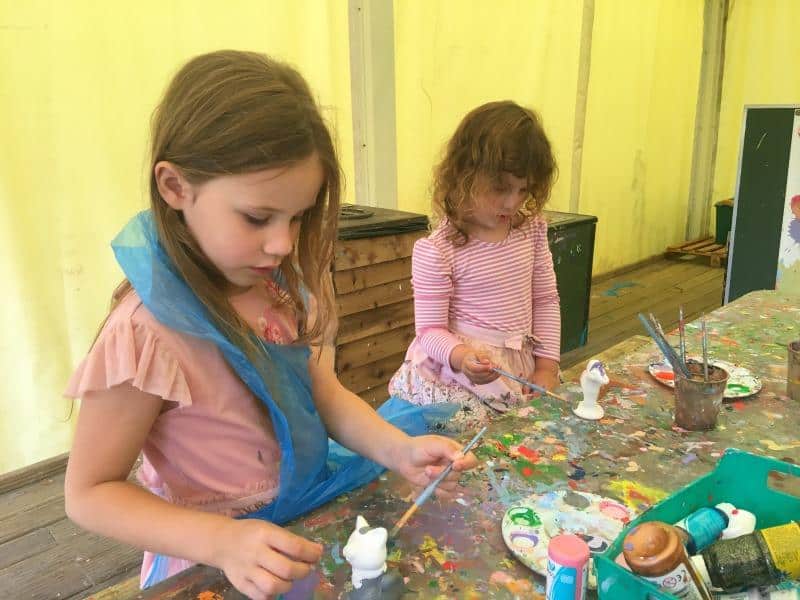 There was a rumour that there were some craft activities taking place at Conkers that day, and Brook & Indie love making things.  They enjoyed the Paint a Pot activity and created a beautiful unicorn and cat (additional cost) to bring home as keepsakes. They also made craft flowers at the Waterside Centre which was a free craft activity running all day.  
We were all really excited about going to the new 4D Cinema in the afternoon. We were given free tickets for the 2pm showing when we arrived at Conkers.  We managed to finish our pots just in time to make the show.  It was a great action packed film about the exciting escapades of an ant living in the forest. There was also some exciting additional effects in the 4D cinema to bring the story to life.
Young kids always enjoy a train ride and Conkers has one running all day between the Discovery and Waterside Centres. It carries a lot of families, so we didn't have to wait to long to take a trip.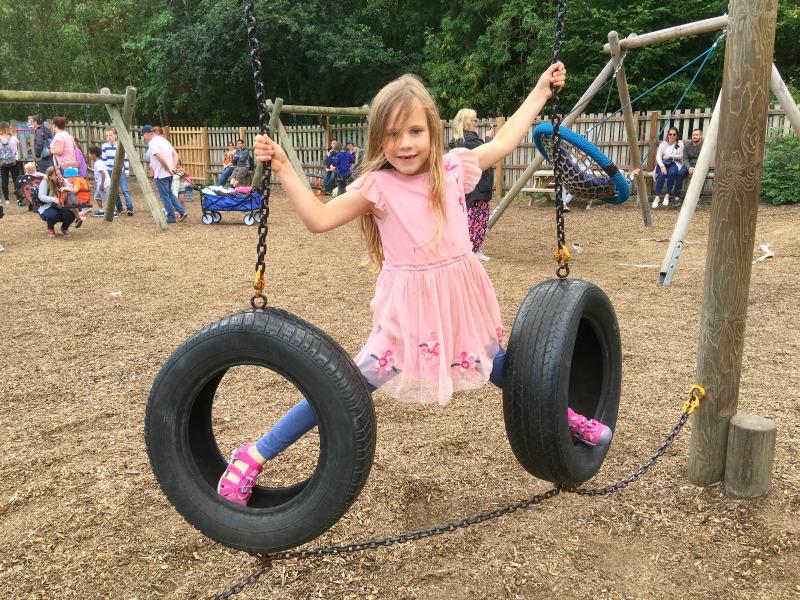 Also at the Waterside Centre is an incredible adventure play area. It's fenced and gated so that kids can be encouraged to stay in the park easily. There's lots of scope for them to push themselves out of their comfort zone safely on the equipment here too. Brook was definitely keen to see if she could take on the large climbing frames, and with a little encouragement she could do it to. 
After a quick stop at the water play feature and one last visit to the Twisty Towers, it was time for us to head back home. I was super impressed with the fun the girls and I had had especially for the price. We filled the whole day but we didn't even see all of what Conkers has to offer. We missed out on the sensory trail, the bush craft activity and the high ropes, simply because we ran out o time. There's no doubt in my mind we will be heading back to Conkers to see the rest of the activities and we'll be sure to write another blog post about how we get on when we do.
We bought our own tickets to visit Conkers, but enjoyed our day so much that we decided to share how we got on.