It was Indie's birthday at the weekend, so we decided to head over to the Red Kangaroo Trampoline Park in Nottingham to celebrate.  We've not been to a trampoline park as a family before so this was a first for all of us.
What is Red Kangaroo Trampoline Park Like?
Getting to Red Kangaroo
We drove to Red Kangaroo as it is on Blenheim Industrial Estate which is about 30 minutes from our house by car.  There is a bus stop about a 10 minute walk away if you want to use public transport though. We were booked into the Kanga Family session at 11am that is for children between the ages of 2 and 12 and their parents.  With Brook and Indie being 4 and 7 years old this seemed like the ideal trampoline session for us.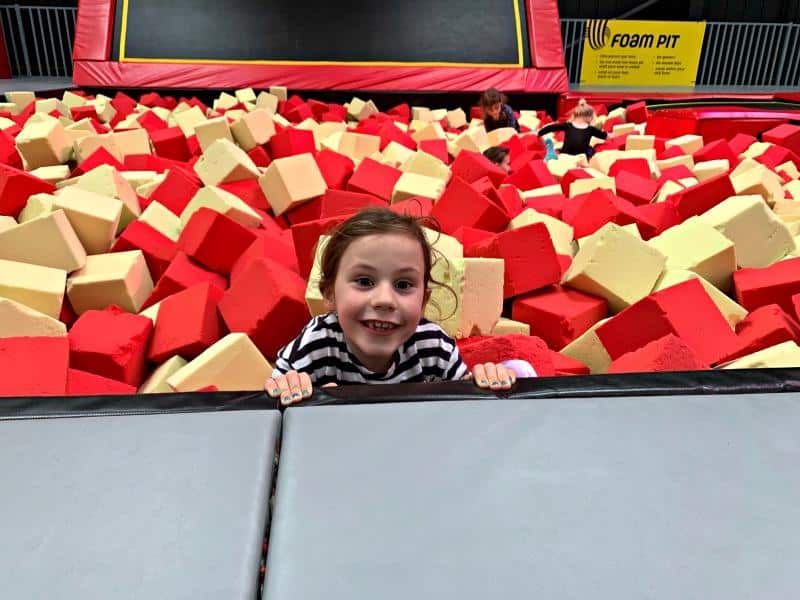 We were able to get a space in the car park when we arrived, but when we left spaces were very limited.  There is parking available on the road, so even if you don't get in the car park there is going to be somewhere for you to park.
We were running a little late because I took a wrong turn.  I would strongly recommend getting there 20 minutes before your session begins to make sure you have socks, waivers in place and can attend the quick safety briefing.  You can complete the waiver online before your session, and it's valid for 1 year, so that is definitely the best option if you want to save time. I wish that we had been more organised for sure!
Getting Inside Red Kangaroo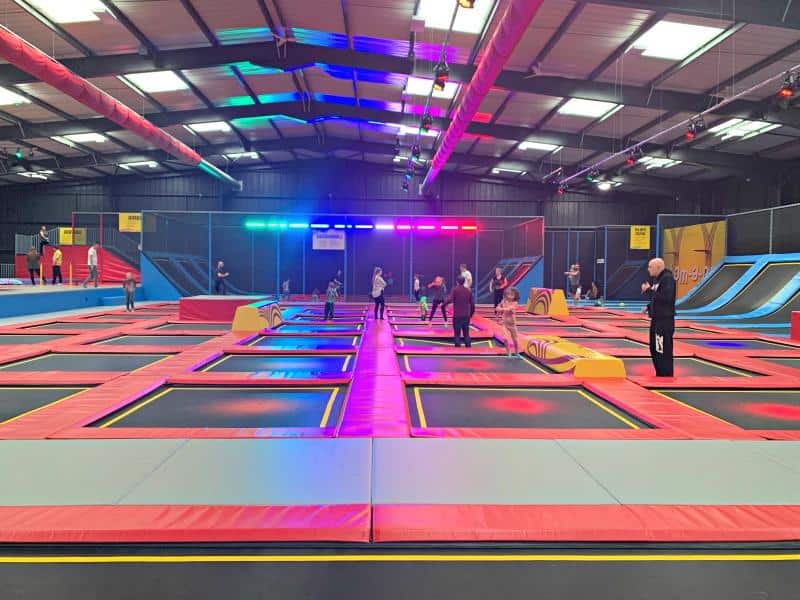 Once we entered the trampoline park we were pretty impressed with the size and facilities.  The kids couldn't wait to get started to be honest and left Daddy and I to put the coats and bags in the free secure lockers provided.
The arena is huge, and there are lots of trampolines for the kids to play on.  There was always something  free the girls to play on which was great, nobody likes hanging around waiting for things, right?  There is music playing and disco lights so the overall vibe of the park is fun and high energy.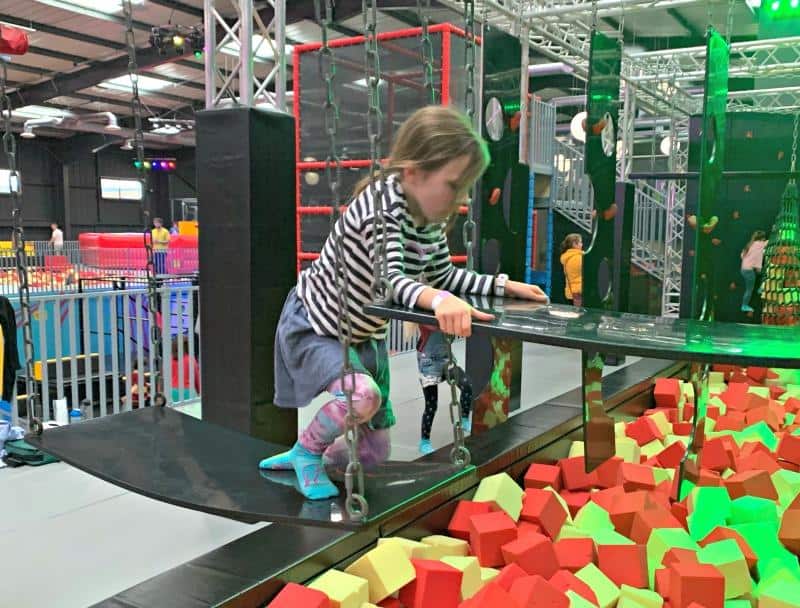 You might also be surprised to read that as well as trampolines there is a ninja warrior type assault course, a soft play area with drop slide and other activities for the kids to do.  There is definitely no opportunity to get bored at Red Kangaroo.
We found climbing frames, tight rope walking and a Total Wipe Out Zone.  There are some height restrictions on a few activities so only Indie could go in the arena and try and jump over the revolving pole.  We all thought it was pretty hilarious to watch as she was catapulted over the top though.  Fortunately she stood up smiling too!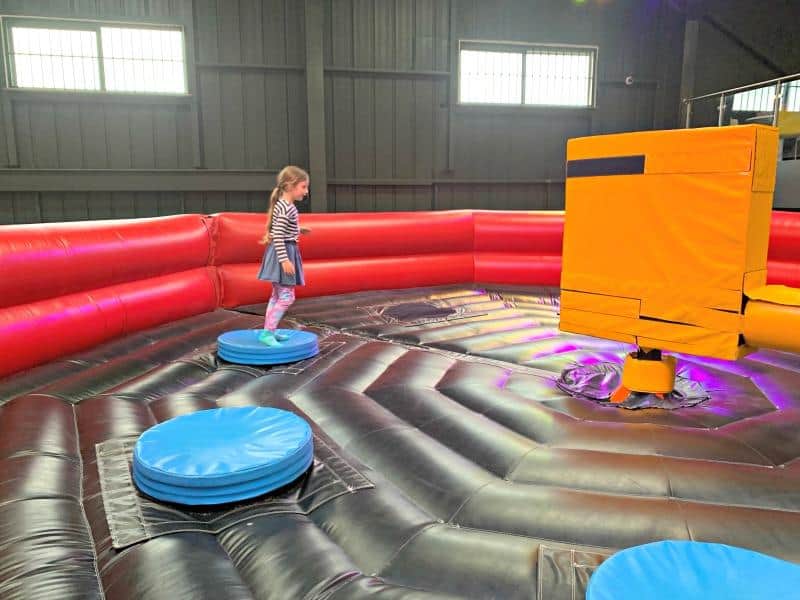 The girls enjoyed a really fun packed hour in the trampoline park either bouncing, climbing or scrambling out of foam pits.
Eating at Cafe Roo
Once our trampoline session was over, the kids had built up quite an appetite.  We headed up to the cafe bar which over looks the trampoline park.  If you are visiting Red Kangaroo with older kids this is the perfect place to go for a coffee while the kids are bouncing.  You can keep an eye on what is going on without being intrusive from the balcony, which has a full  clear view of all the trampolines.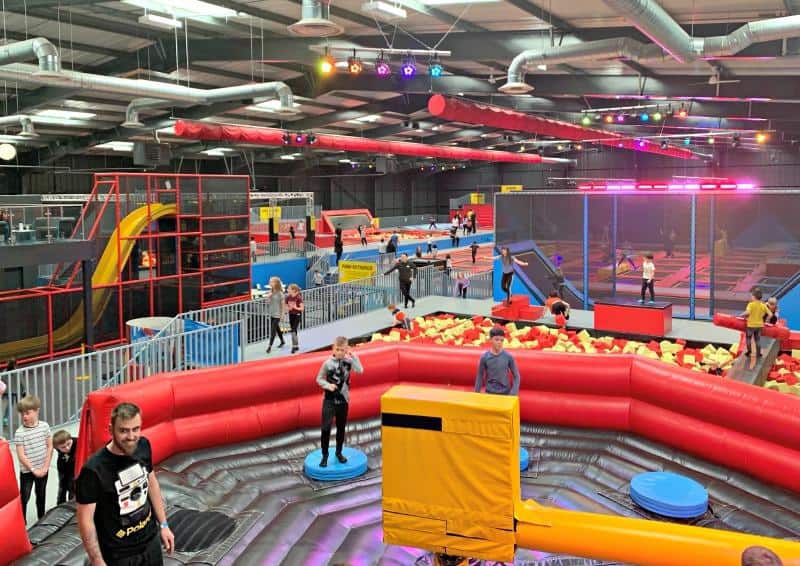 The staff at the cafe were lovely and helpful.  The only problem here is the queue is quite slow moving which can be a little frustrating.  It might help if they had a person who prepared the drinks while the other servers took the orders.  I think this would move the queue along quicker and the customers would not get quite so fidgety.
Our food took a little while to arrive from the kitchen, which I'm putting down to it being a busy Saturday with birthday parties in full swing too.  You can get burgers, pizzas, nachos and kids lunch boxes.  The food was reasonably priced, for example you could get a 10′ pizza with 2 drinks for £8.95.  The kids sandwich box was £4 and had a choice of jam, ham or cheese sandwich, raisins, yoghurt, a milky way and a drink.  It also had a lovely colouring book and crayons too, which is always a hit with our kids.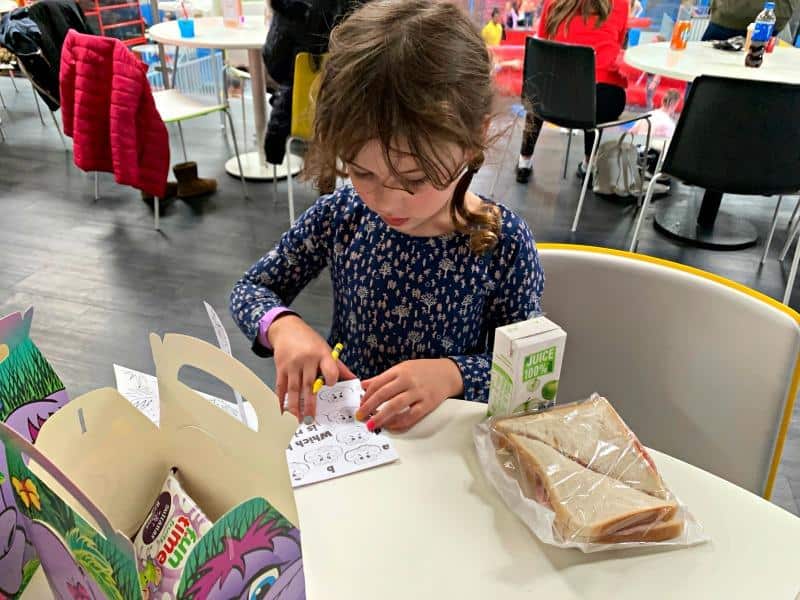 For the price and the venue I would say the food was OK.  The coffee was fresh and hot which is a must for us.  I was surprised that they didn't have french fries or chips on the menu and some salsa to go with the nachos.  These items would be sensible additions to the Red Kangaroo food menu from my point of view.
Did We Like Red Kangaroo Trampoline Park
Overall we were really impressed with our experience at Red Kangaroo Trampoline Park in Nottingham.  The size and facilities, including free lockers variety of activities, were great.  I would say going to this trampoline park is a great family activity for kids of all ages, including teenagers.  It would also make a great rainy day activity for kids in Nottingham.  The staff were friendly and helpful and genuinely seemed to care that we were having fun.
We are more than happy to add Red Kangaroo Trampoline Park to our list of things to do in Nottingham with kids and can see us going back to the venue with the girls very soon.
Red Kangaroo Useful Tips and Information
Complete your Red Kangaroo waivers online in advance of your session
You will need Red Kangaroo socks to jump which can be bought when you arrive.  They cost £2 a pair and are completely reusable.
There are a range of sessions available so you can pick the right one for your family
Kanga Bounce  – Over 4 years old
Kanga Tots – For children aged 1 – 5 years old with an adult or parent
Kanga Family – For children aged between 2 and 12 years and their parents
Kang Calm – For children over 2 years old with anxiety, autism, sensory needs or any other disability or access requirements
You will find the trampoline park here (including postcode):
Red Kangaroo Nottingham
2 Dabell Avenue
Blenheim Industrial Estate
Nottingham
Nottinghamshire
NG6 8WA
United Kingdom
The opening times are:
Monday 10am – 8pm
Tuesday 4pm – 8pm
Wednesday 1pm – 8pm
Thursday 4pm – 8pm
Friday 10am – 8pm
Saturday 10am – 7pm
Sunday 10am – 6pm
You can contact Red Kangaroo either online or at 03333 445 933 or via email [email protected]
We were provided with complimentary entry to the Red Kangaroo Trampoline Park in Nottingham for the purposes of this review, but all thoughts and opinions are our own