I'll be the first to admit that I don't go into town as much as I used to.  In fact it's probably been years since I went out for a few drinks and some dancing.  When I found out there was a Bierkeller in town  though, I couldn't resist popping along to find out what it was like.  As you might already know, I've been to Germany a few times this year and I love their attitude to socialising.  The Germans know how to let there hair down and going out and having fun is a big part of their culture.
Now, we can't all fly off to Germany for a good night out when we feel like it, but going to the Nottingham Bierkeller is probably the next best thing.  I met my sister in town and we were looking forward to a good catch up.  She had been to the Bierkeller before, and was raving about the Oompah Band and what fun it was going to be.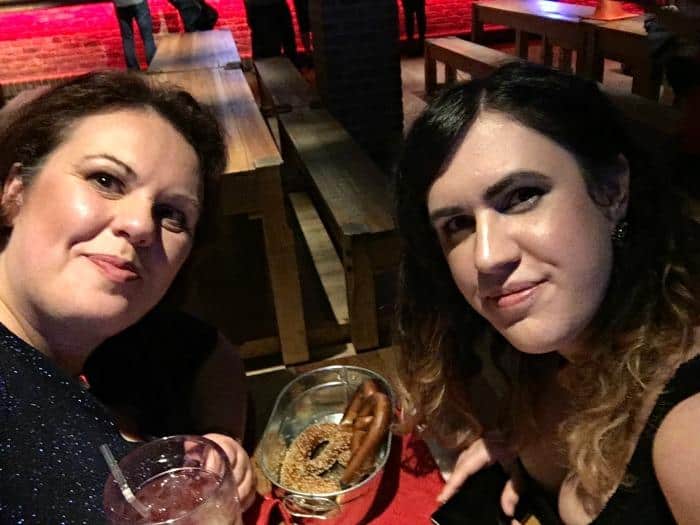 When we arrived, the Bierkeller was already buzzing.  It definitely seemed to draw a crowd so I was pretty sure we were in for a fun evening.  We headed downstairs with a waitress who told us how it all worked.  There was a hog roast style buffet that we could help ourselves to and for the first part of the evening we would have table service for the drinks.  We also got Santa hats and crackers to get us into the festive spirit.
After the food, no time was wasted getting into the party spirit.  The show started at 9pm, and the Amazing Bavarian Stompers are hilarious and have some cracking drinking songs up their sleeves.  It is obligatory to dance on the benches, in fact, if you don't you are going to feel pretty left out.  You'll soon get the hang of it along with raising your stein at every opportunity.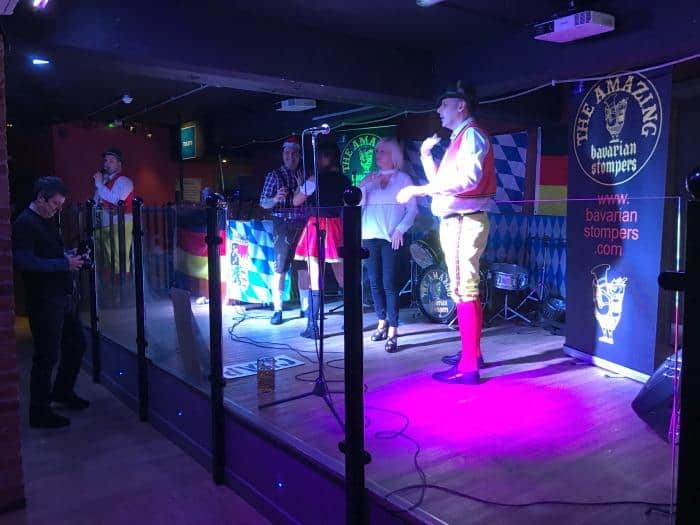 Is It Just Beer?
Beer clearly plays a big part in the proceedings at a Bierkeller, but not everyone likes it or can manage many of those steins.  A litre of beer is quite a lot and will undoubtedly result in a lot of trips to the toilet if you drink them all night.  You can buy beer in pints and halves as well, if you prefer your sizes a little more sensible.  The Bierkeller also has a fully stocked bar so if you prefer spirits or wine this won't be a problem.  We tested out the Stein cocktails and can confirm they are really good!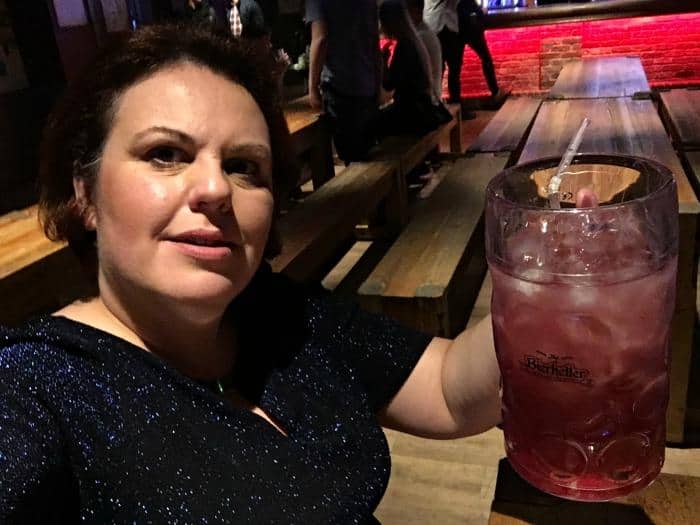 After The Show
Once the Oompah Show is over, everyone still wants to party so the DJ takes to the stage with some cracking dance tunes.  We thought the music was really good, and I even got a few requests played.  Who doesn't love Mr Brightside by the Killers or Don't Stop Me Know by Queen.  These are some of my favourite going out tunes so it was great to be in a bar where they fitted right in.
What We Loved About The Bierkeller
For someone who hasn't been on a good night out in a while, the Bierkeller was just perfect.  We spent the whole night there from 7pm until around 2am when our feet could literally take no more.  It ticked all the boxes of a good night out without having to move from bar to bar in search of the perfect atmosphere.  We got to catch up and have a chat over food, the show was hilarious and perfect entertainment for a fun night out and we also got to have a good dance.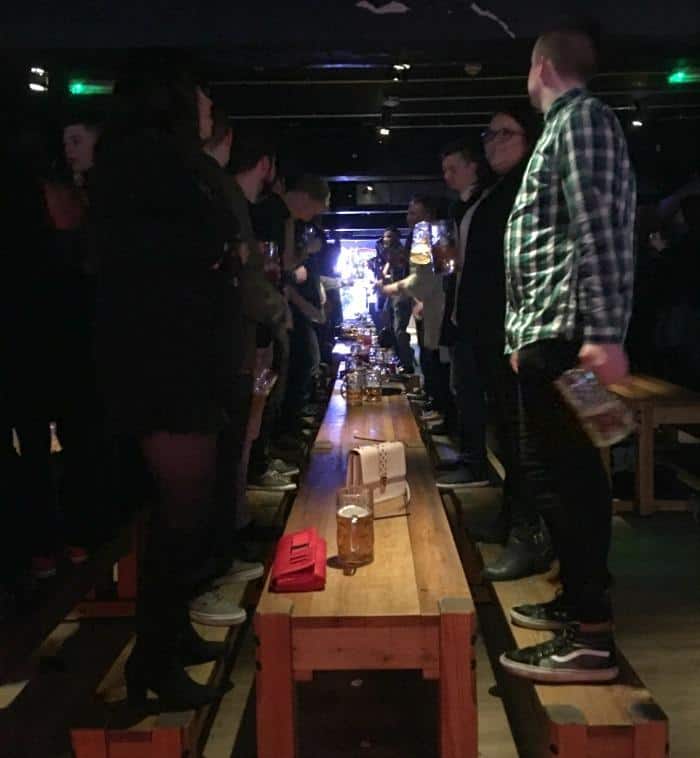 One of the reasons that the Bierkeller is such a good fun night out is because of the staff.  Everyone who works there from the waitresses and the bar staff to the security and the management are so friendly and helpful.  They want everyone to have a fun night out and this was something they genuinely cared about.  When you've got people dancing on the benches and have thrown copious amounts of beer into the mix, safety is really important and the team at the Bierkeller seemed to have this covered.
If you are planning a night out in Nottingham I would have no hesitation at all about recommending a visit to the Bierkeller.  From our experience here I would certainly be happy to visit any of the Bierkeller bars across the country.  If you live in Cardiff, Leeds, Liverpool, Manchester or Birmingham you will be pleased to here there is a Beirkeller near you too!
Useful Information About Nottingham Bierkeller
15-17 FRIAR LANE, NOTTINGHAM, NG1 6DA
Call To Book 0845 302 2665
OPENING TIMES
MON – THURS 5PM – LATE
FRI 7PM – LATE
SAT – SUN 1PM – LATE
Check out their 'What's On' page for the perfect night out.
We were invited to the Nottingham Bierkeller in exchange for this review but all thoughts and opinions are our own.