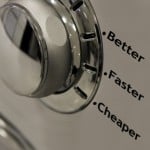 Mr Washing Machine and I normally get along famously.  We see each other most days, if not everyday.  Perhaps even a couple of times a day, even when there's other things I'd rather be doing.  I tend to fill him up, put the cycle on and off he goes on his merry little way cleaning everything that's given to him.  We always meet up later to see how he's doing.
It's been bothering me though, just how much time we've spent together in recent months. It feels like we're getting on top of each other.  Perhaps a break is needed, or a change maybe?  How does the saying go, a change is as good as a rest after all!  It's strange how no one else in the house wants to spend quite as much time with you as me, especially when you are so incredibly helpful.
It's come to my attention I owe Mr Washing Machine a huge apology.  Never say I don't admit when I'm wrong. I wanted you for your big drum.  I knew with 3 kids it would make a huge difference. I've really let you down recently, not filling you up enough!  I thought I knew all the saving water tips but I was too busy trying to get the chores done, not realising flinging just a few bits in would make you so unhappy.  I promise I will make sure you are full from now on, and you won't have to work so hard to keep me happy in future.
I hadn't forgotten you either Mr Dishwasher.  I've been putting you through the mill too, how can I put it right? Perhaps it's about how to save energy?  I always seem to be in a rush, needing plates quickly and using the fast cycle.  Putting you under unnecessary pressure.  I found out you work much better on the longer setting than trying to push through a short cycle.  Perhaps you'll be less frazzled with me if we use the economy setting after all.
So seeing as a break or holiday isn't on the cards anytime soon I promise I'll change, for the better.  I hope it makes you both happy and we can all get along much better.  It's awful having tension at home, especially in the kitchen.  Let's all get along, we've been so close for so long, I'd hate any bad feeling, especially for Christmas.
This is a collaborative post