We were just about to leave the house to start our trip to the Hotel Stella & Spa in Pineda De Mar when Daddy starts offering some last minute holiday assistance. Throwing in questions like, have you got the passports and did you pack the toothbrushes as we are leaving the house is bound to be met with a frosty response from me. Fancy not having faith in my holiday planning lists! This holiday to Costa Brava had been planned like a military operation, all in an effort to reduce the stress of travelling to Spain with small children.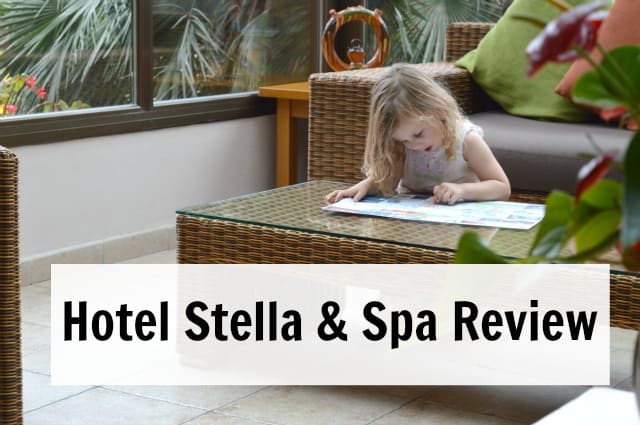 Arriving At Hotel Stella & Spa
When we arrived at the Hotel Stella & Spa a sense of calm descended over us after our trip from the UK with 2 small children. As soon as we walked into the reception it felt like a weight had been lifted of our shoulders. I knew instantly we were going to have a good family holiday here.
We were given a friendly welcome by the hotel staff and everything was explained to us about our all inclusive arrangements. We headed straight to our room to drop of our bags and freshen up. We filed into the lift and headed for the second floor, looking forward to getting settled in.
Family Accommodation At Hotel Stella & Spa
As we opened the door we were very pleasantly surprised by our accommodation. Off the corridor was 2 comfy double bedrooms, a large tiled bathroom and a balcony over looking the rear of the hotel. It was huge for a hotel room! There was also air conditioning and the curtains were black out quality, ensuring the kids weren't up at the crack of dawn! Perfect! Perhaps a lie in was possible, after all.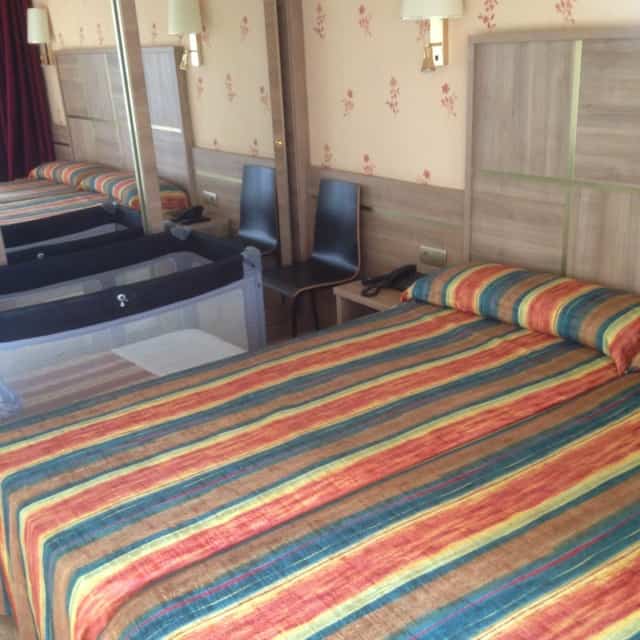 It was the perfect family room, with lots of wardrobe space, a desk and a fridge to boot. Each bedroom had a TV with remote controls. The balcony was accessed through the patio door off the second bedroom and had a bistro table as well as two sun loungers. It was the full length of the accommodation, so plenty of space.
The view wasn't great but the location was quiet, which went a long way with having small children. We had a very comfortable stay in this fantastic room. It was very clean and well presented. It was cleaned every day, and we were given fresh towels if we needed them.
The bathroom, which was fully tiled, was equipped with a bath and a shower along with a toilet and wash basin. It was very well lit, and had a great mirror. There was also a hairdryer provided.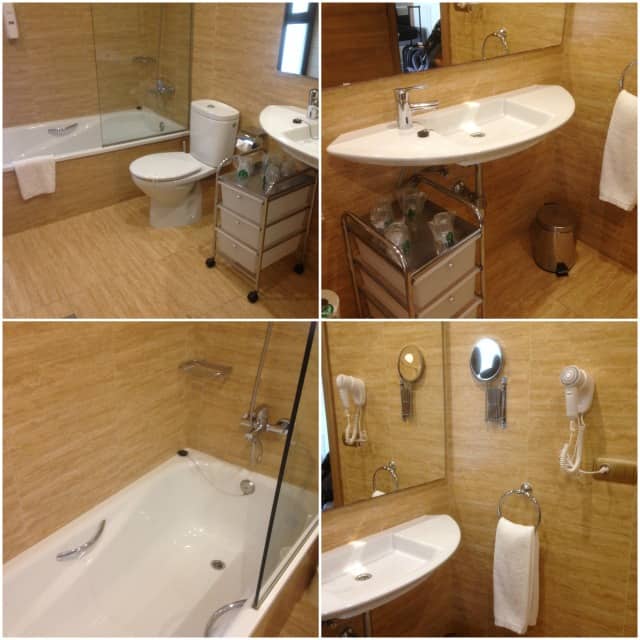 Hotel Stella & Spa All Inclusive Drinks & Snacks
I have to say the drinks and snacks were great on the all inclusive offer at Hotel Stella & Spa. Local alcoholic drinks, soft drinks, teas and coffees were available at the bar between 10am and 11pm.
There was also a great range of bar snacks available during the day. The all inclusive package included pizzas, hamburgers, baguettes, ice cream, fruit, chips and crisps. This worked really well with the kids. You know how often kids like to snack right?
It meant we were able to access snacks for them at their regular times and give them some dinner if they weren't going to make it until the restaurant opened. I have to recommend the pizzas. They were really good, to say they were available over the bar.
Hotel Entertainment
The Hotel Stella & Spa also provides entertainment in the bar most evenings including karaoke, flamenco and a disco. We popped in and out briefly to the bar during these times and everyone seemed to be having s lot of fun, even if some of it was a little on the cheesy side. I have to say the flamenco was particularly good from what I saw of it. More entertainment is provided for guests during peak season.
Hotel Stella & Spa Restaurant
We ate breakfast (8am -10am), lunch (1pm-2.30pm) and dinner (7pm-9pm) in the Hotel Stella & Spa restaurant every day. On the evening that we arrived it was theme night. We were greeted by a huge pan of steamed mussels, and the rest of the food on offer was presented beautifully too. It was the first time I've seen guests take photos of the food at an all inclusive restaurant, everyone was taking photo's, not just the blogger!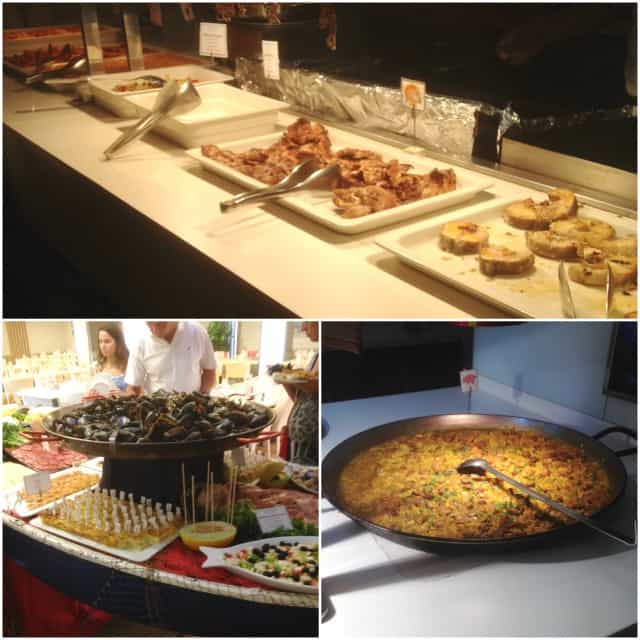 We were also blown away by the quality of the food available. There was a selection of cheeses, meats and salads. There was a grill with a selection of freshly cooked meat or fish as well as paella.
There was the usual offering of chips, meat stews, fish dishes, soup, and pasta.   All of which were excellent quality. After all that, if you still had room for dessert there was fruit, ice cream and a variety of cakes and puddings to choose from. There was definitely something for all tastes.
On the all inclusive deal house wines, some beers, soft drinks and bottled water was available. We really didn't want for anything. Lunch and breakfast was of a similar quality.
During the week's stay, there were 2 theme nights which gave us something to look forward too. There was an element of repetition with the food during the week, but we really couldn't grumble about the quality of the food. I spoke to a few guests during our stay, and those that had been coming back for a number of years said the food was one of the main reasons. Compared to other hotels we've stayed at this is one of the best for food.
The Spa
As the name of the hotel suggests, there is a Spa available at the hotel. Unfortunately with having our hands full with 2 small children we didn't get chance to use it. The spa is only available to people over the age of 15, which is completely appropriate given its a space for adult relaxation.
On the all inclusive package the spa was available for €5 per day. There were also massages and personalised treatments available at an extra cost. The price of the spa without the all inclusive package is €10.
Hotel Stella & Spa Lounge
The hotel provides a quiet lounge for guests to play games and read. It's a great space for some quiet relaxation, so out of respect for the other guests we didn't subject them to our 1 year old and 3 year old.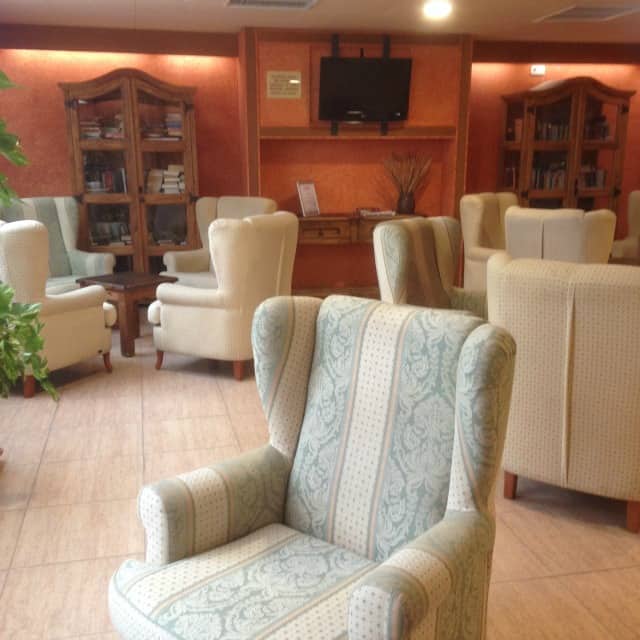 There's also a less formal sun lounge just opposite the reception area. This is filled with rattan sofas and coffee tables. Lots of guests were catching up with their favourite book or playing a game of cards here too. Princess took the opportunity to use it to catch up with her favourite CBeebies magazine.
Pool and Play Area
There are 2 pools at Hotel Stella & Spa. A large pool for confident swimmers and a small pool for children. As our visit was in October, it wasn't ideal swimming weather, but our 3 year old was determined to have a dip. She was able to swim in the children's pool quite happily as I sat on the side. She managed about half an hour before her lips started turning blue. She was reluctant to get out, but the promise of some ice cream saved her from a bout of pneumonia.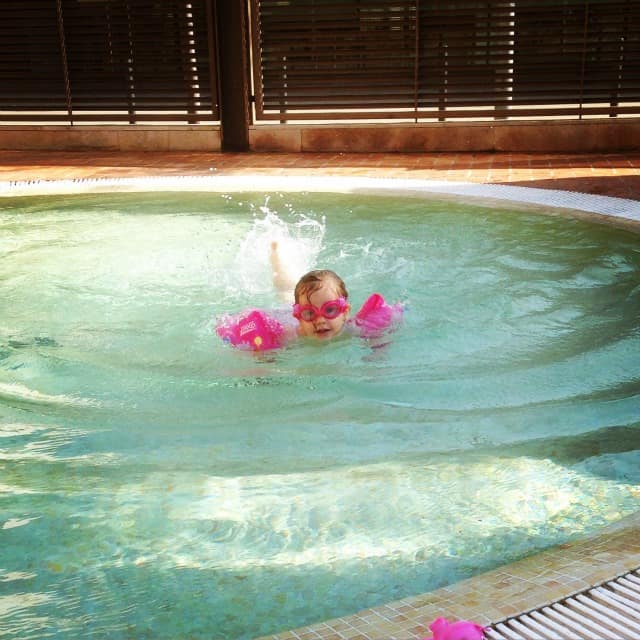 There's also a play area at Hotel Stella & Spa which is great for children. It's completely enclosed in the hotel grounds and has a slide, climbing frame and swings. It was perfect for older children who could play unsupervised.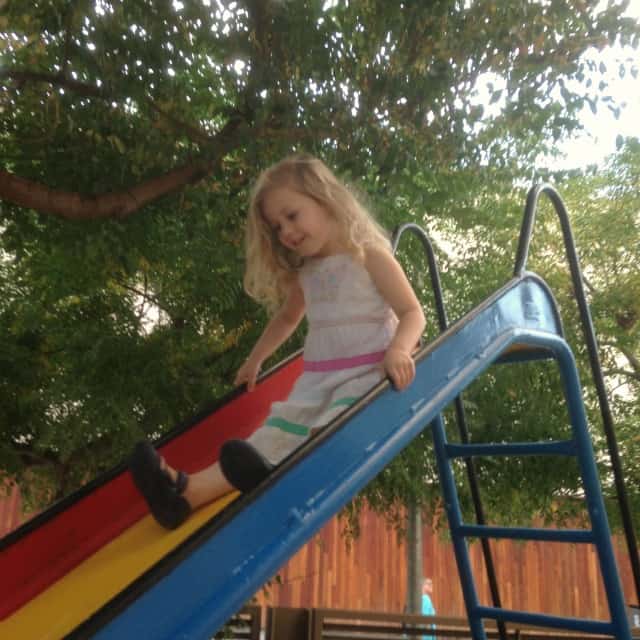 Kids Club
There is also a kids club available during high season. Sadly it was closed during our stay so we didn't get chance to use it.
Location
The Hotel Stella & Spa is a really short walk from the beach at Pineda De Mar. This was perfect for us, as the girls loved being able to go and play in the sand every day. We were really impressed with the quality of the beach too. It went on for miles, and you could walk to neighbouring towns really easily.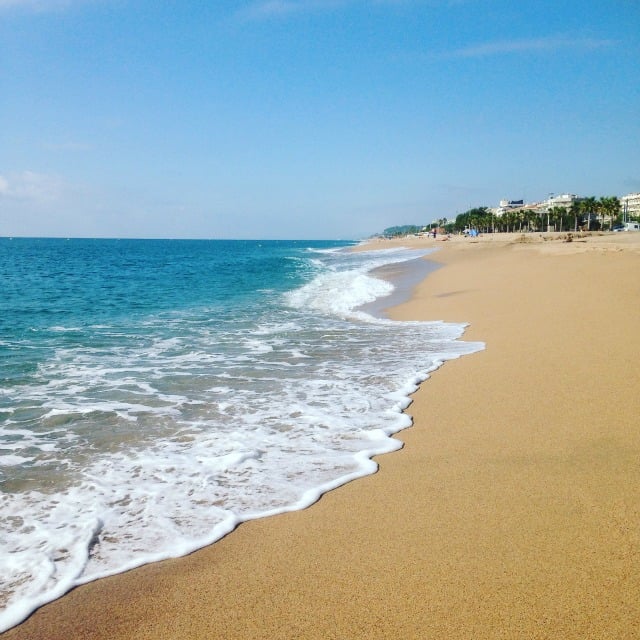 We stayed local as the girls don't really do long walks yet, they are all about paddling in the sea and making sand castles. There was a children's play area on the beach too which they both really enjoyed visiting.
The train station is also on the beach, and trains run along the coast to Barcelona and Girona. There's plenty of stops in between too for visiting other areas in Costa Brava like Lloret De Mar. We didn't take the train on this holiday but if we go back its definitely something we would do. Pineda De Mar seems like a great base to explore Costa Brava from and I think you could have a very different holiday with each trip, adding different places to go each visit.
What We Thought Of Hotel Stella & Spa
We really enjoyed our stay at Hotel Stella & Spa that we booked through online travel agent Low Cost Holidays. It's definitely a hotel we would consider returning to with our family, or as a couple. There were even guests at the hotel who were quite happy to visit alone.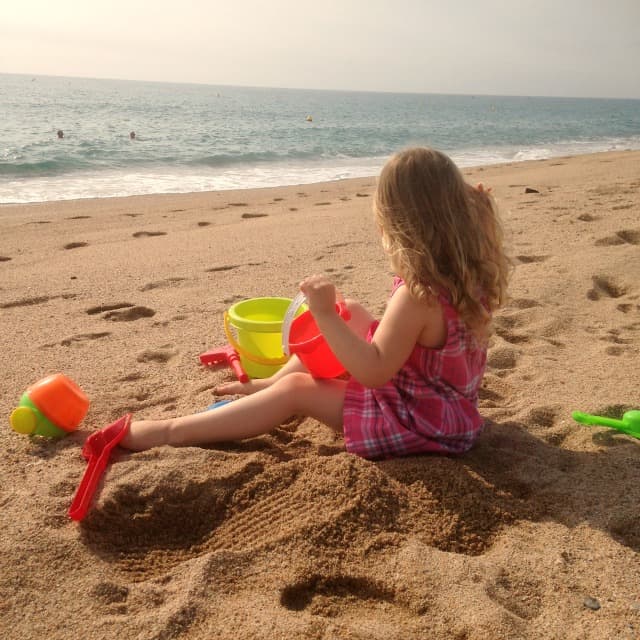 The overall atmosphere at the hotel is friendly and relaxed. There are guests from UK, Finland, Germany, Spain and other European destinations. Our daughter spent a lot of time playing with a little boy from France. I really enjoyed that the hotel wasn't dominated by one nationality and enjoyed the mix of cultures. I think this really added to our holiday experience.
Overall we were impressed with the location, ambience and quality of the hotel, and would definitely consider returning.
We visited Hotel Stella & Spa during October 2015 (not UK school holidays). We paid for our stay and there was no expectation from Hotel Stella & Spa to write this review. All thoughts and opinions are our own.