We are well and truly on countdown to our holiday in Costa Brava and it really can't come quick enough. It feels like the right time for us to be taking a break as a family.  We haven't been abroad since our trip to Ibiza, which was exactly 2 years ago.
I wasn't feeling my best for that trip at all.  I was about 4 months pregnant with Little Pudding, and I felt grotty.  I hadn't packed a thing and I remember lying on the sofa feeling like death giving instructions to my husband about what needed to go in the suitcases.  I had no idea how I was going to make the flight the next morning, but had my fingers crossed that some sleep would perk me up.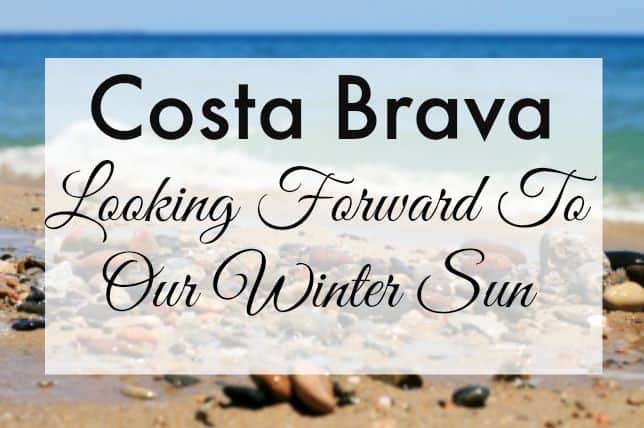 We forgot lots of things that I would usually take on holiday.  This was put to the test when my husband would ask 'have you got ……?' or 'did you bring ….?'.  He always tells me off for packing so much, but the reason I take so much on holiday is because I know the kinds of things he asks for while we are away and I like to be prepared.  These things don't pack themselves into the suitcases now do they!
Anyway, despite not packing as thoroughly as I would have liked we had an OK time.  We stayed at Playa D'en Bossa due to it's close proximity to the airport.  Unfortunately this was all it was close to in some respects.  We weren't far from Ibiza town, but it was a bus ride away and there was no where nearby that you could just go for a walk.  Of course there was the beach, but we like to see a bit more than the beach when we are on holiday.  The weather was surprisingly hot too, which took us by surprise.  Sadly, our daughter didn't really enjoy going in the pool either which put a bit of a dampener on things.
It was a break, it was a change of scenery and there was no cooking or cleaning to worry about so that in itself is a holiday.  I'm hoping our trip to Costa Brava will be far more successful, due to some things I learnt from that trip.
This time round I've picked a small town so there will be some where for us to explore, as well as play on the beach.  There is also a train that runs along the cost so we will be able to visit Barcelona for a day, or venture north to Lloret De Mar.  My children love trains, so they will think this is a great adventure.
Princess has also been having swimming lessons and these have been going really well. Considering she had had very little practise before joining her class her technique and confidence has grown so much.  I think the pool will be a big part of her holiday this time round.  Anything Princess likes, her little sister likes too so we know she will love getting in with her.
It also feels like a good time with our 1 year old starting to walk.  She's been on her feet about a month now and is really confident.  Although we are well aware this will present us with new challenges, having a baby that is really mobile but not walking is a far bigger challenge on holiday.  Not everywhere is suitable for a baby to crawl and it can be quite restrictive when you think about what you want to do as a family.
We are staying all inclusive at the Hotel Stella and Spa and I can't tell you how much I'm looking forward to not having to cook or clean (not that I do a great deal of that!).  We are all ready for a change of scenery as the weather here in the UK turns very wet and grey.  The temperatures in Costa Brava are looking to be around the low 20's, which is perfect for us and the children.  It won't be too busy either, so we will really be able to relax and take our holiday at our own pace.
We haven't visited Costa Brava before, but we are huge fans of Spain.  We love the culture, the food and their attitude to families and children.  They are so very welcoming and always make a fuss of the kids.  You don't have to feel apologetic for your children crying or making a fuss as the Spanish are really not in the slightest bit bothered by it.  Families are at the heart of their culture, and it really shows when you visit Spain.  It is my go to holiday destination for a good family break, without a doubt.