WaterWipes are chemical free baby wipes, that claim to be the world's purest and also carry the Allergy Friendly kite mark.  With big claims like this, I was keen to find out more about WaterWipes so jumped at the chance to meet the people behind the brand when they invited me to London.  Here's why I was so impressed I'm now using WaterWipes for my children, and there's no going back!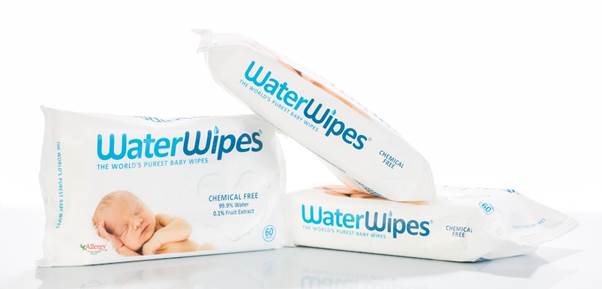 So with my journalist head on I headed to Kettner's in Soho wanting to know what was so good about WaterWipes, and why we should consider using these on our children's delicate skin.
The WaterWipes Story
When Edward Mccluskey's baby daughter was born, she suffered with very sensitive skin and developed bad nappy rash.  He took a keen interest in what was being used on her skin, and noticed that the baby wipes they were using came with a long list of ingredients, some of which were unpronounceable.  This begged the question as to whether the long list of chemicals were suitable for his daughter's newborn skin.
Desperate for a better solution, the birth of WaterWipes began.  They have been 8 years in the making, through vigorous testing and have been developed with patented technology.  That's how serious Edward was about developing a kind chemical free baby wipe, that would be suitable for any child's delicate skin.
My Baby Wipes Story
We are all strongly advised by healthcare professionals and midwives to only use cotton wool and cooled boiled water on a newborn baby's skin.  When I had my first child, I followed this rule diligently in the house, but when it came to going out and about it wasn't so convenient.  Baby wipes were a feature in my changing bag from day one I'm sorry to say.
When my daughter came along, I tried to stick to using cotton wool pads and boiled water in the home.   Unfortunately it soon became apparent that if my husband was to go anywhere near the nappy end and deal with that sticky meconium, he was only doing it with baby wipes.  Baby wipes were soon added to the weekly shopping list!
By the time our third daughter arrived there wasn't a cotton wool ball or bowl of cooled boiled water in sight.  With a toddler, a teenager, a husband and a newborn to deal with there just wasn't time.  We fast forwarded straight to the baby wipes, with what I thought was a natural product to use on her delicate skin.  Well that's what it said on the packet anyway.
Can WaterWipes Be Used From Birth?
The great thing about WaterWipes is they are the only baby wipes that are recommended to be used on a newborn baby.  In Ireland, Mum's To Be are allowed to take WaterWipes into hospital with them if they wish.
They are made from ultra pure water, and only have a small amount of fruit extract added. The wipe itself is very strong, and will stand up to any poonami situation your baby throws at them.  We all know about those don't we Mums?
I would definitely have used WaterWipes from birth, knowing what I know now.
Why I've Swapped To WaterWipes
Skin is the biggest organ on a baby, just like us grown ups, but it is 5 times thinner.  If you put something on your skin or your baby's skin, it can penetrate into the bloodstream, in as quickly as 20 seconds.
My daughter suffered with infantile eczema, and I've always been conscious of the chemicals we use.  I seek out gentle, natural and non-biological products so her skin won't be irritated.
When I came home from meeting the WaterWipes team, the first thing I did was pick up our regular packet of wipes.  I ignored the claim they were natural on the front for a change, and went straight to the list of ingredients.  There were 10 ingredients in the packet of baby wipes I was using, and some of them I couldn't pronounce.  If I didn't know what I was putting on my child's skin, how could I possibly know what effect it could have. All of a sudden they didn't feel quite so natural!
The list of ingredients on WaterWipes is simply 2 things, 99.9% water and 0.1% fruit extract.  I know where I stand with water and fruit, and I feel a lot happier about using it on my children's skin.
I went straight onto Amazon and ordered a box of WaterWipes to be delivered.  They cost slightly more than regular wipes, but I found that ordering in bulk bought the cost down a lot.  A single packet costs £2.99, but I was able to get a box of 12 packets for about £18.00. You get 60 wipes in a packet and I have to say they are great!  I feel completely happy using them on their bottom's, faces and hands.  I've even tried them myself and they leave my skin feeling clean and refreshed.  Perfect!
So, Mum's,  I urge you,  take a quick look at your packet of baby wipes. Find the list of ingredients and see if it's what you thought you were putting on your baby or toddler's bottom?  If it's a surprise, then give WaterWipes a go, you will know exactly what you are getting!