If you follow my twitter feed you might already know that last Thursday was a big day in our house.  It had seemed like ages waiting for the GCSE results to come out.  School finished for Teen at the May Half Term, and the list of exams he had to sit seemed endless.  Just down to the sheer volume of what he had to cover, I never expected him to do as well as he did.
The summer dragged, and despite our best efforts of trying to keep him busy days were spent in front of the PC gaming his life away.  This bought a whole set of different  challenges to the household.  Don't get me wrong, he did help with his little sisters and he started volunteering again, but it seemed like a missed opportunity somehow.  3 months is a very long break!
So how did he get on?  To say we were all very pleased is an understatement.  He achieved an A* with Distinction in Further Maths, 5 A*'s in Maths, Physics, Biology, Chemistry and ICT, 3 B's for English Literature, English Language and History and C for Spanish.  He came home from collecting his results completely elated, and it was in that moment that it hit me quite how much of a shadow the exams had cast over his summer.
He had been with his friends the day before and he told me (once he had his results) that they had been on the exam board websites analysing the grade boundaries, adding to their teenage anxieties.  Everything is so much more accessible for them these days, far more than it was back when I was doing the first year of GCSE's anyhow.  Teen's school didn't just teach them the subject matter for each exam, they taught them how the GCSE system worked encouraging them to use whatever tricks it took to do their best.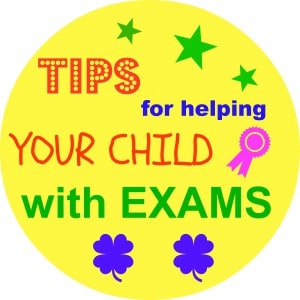 The school has with out doubt played a huge part in Teen's GCSE success.  Teen himself has clearly played the biggest part, but I'd like to think that somewhere along the line I had a little bit to do with it too!  I thought I'd share with you some of the things we did that may have helped him along the way, tips that will help support your child generally with their education as well as with their exams.
1. Talk About School  Talk to your child regularly about school.  We would go through the school day at dinner, everyday.  This might sound tedious but some days you'll get to find out the exciting things they've done, and it will definitely highlight if there are any issues.
2. Support Your Child  If a problem becomes apparent, take action!  We discovered that Teen had been put in the wrong Science stream and wasn't being challenged enough.  Schools can be reluctant to move children around but they will do it if pushed.  I spoke with the Head of Science and we agreed that if Teen's mock Year 9 results were high, he would go into a higher stream.  Teen moved streams!  It also became obvious there was a problem with the quality of English teaching Teen was receiving.  It was too close to the exams to get any real action out of the School, so Teen went to a tutor for a few months.  He went from a Grade D in his mocks to Grade B.
3. Use Progress Reports  Take these along to Parents Evening and use them in your discussion with the Teachers.  I discovered by doing this his English Teacher had merely copied the previous year's grades!
4. Go To Every Parents Evening  Use Parents Evening wisely, have a set of questions in your head and make sure you are happy with the support your child is getting.  A teacher should be able to tell you your child's strength's and weakness's, give you advice on how they can improve their work, contribution to class and key areas to focus on.  If they can't, you may want to have a chat with the Head of Department.
5. Encourage a Focus  This is possibly the most difficult.  One thing that has most certainly attributed to Teen's success has been his desire to become a Software Engineer and he is completely focused on what he needs to do at each stage of his education to achieve this.  If your child isn't sure what they'd like to do, perhaps focusing on how they would like there life to be and how exam success can contribute to this might help.
6. Responsibility  It's important to encourage children to take responsibility in their own education and completing their work.  I never stood over Teen and made him do his homework, I just reminded him that if it wasn't done then he would have to face the consequences at school with his teachers.  No child likes detention do they!
7. Sport/Hobbies and Interests  There are so many reasons why children should pursue interests outside of the school curriculum,  but one has to be reducing exam stress.  Teen plays basketball outside of school and did so throughout the exam period, unless there was an exam the next day.  Having an outlet, somewhere to release the tension and do something completely different will help get a child through a very stressful time.
Every child is different, and these are just some of the things you can do to support them with their exams.  How do you support your child with their education?